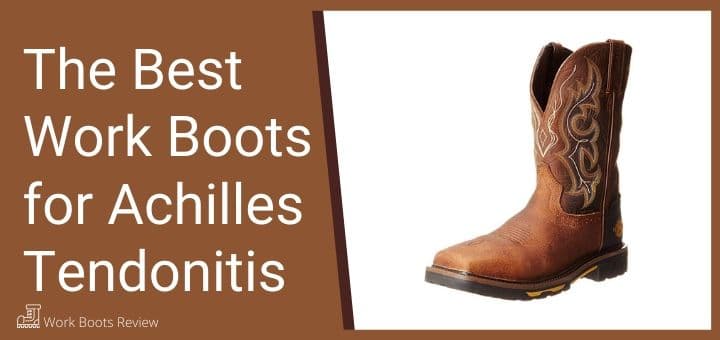 Achilles Tendonitis can affect anyone, at any stage, and in any occupation of their lives, from the housewife to the athlete and the businessman.
To avoid this condition, or relieve pain associated with Achilles Tendonitis, you will need proper footwear.
---
What Exactly is Achilles Tendonitis
Your Achilles tendon is the muscle that attaches your calf bone to your heel bone, without this tendon you will not be able to jump, walk, run or even stand.
Achilles Tendonitis is basically the inflammation of this tendon, which causes pain when you walk, run, jump, or stand.
If your Achilles Tendonitis is not taken care of appropriately, you may in time tear your Achilles Tendon, which is quite severe and requires urgent medical attention.
---
Causes of Achilles Tendonitis
In most cases, Achilles tendonitis generally affects athletes, as its main cause is running, walking, and excessive exercise.
Though there are other factors and health conditions such as rheumatoid arthritis, which can similarly be a culprit in this case.
Most repeated activities have a likelihood to result in inflammation of the Achilles tendon.
A few more factors include;
Not warming up before exercise.

Straining your calf muscle with repetitive exercises.

Suddenly increasing physical activity without allowing the body to adjust.

Improper shoes such as heels, old worn out shoes, and poorly fitting shoes.

Certain sports, like tennis which requires quick stops and direction changes.

Age, which is unfortunately unavoidable.

---
Characteristics of a Good Work Boot for Achilles Tendonitis
There are quite a few features to consider in a work boot suitable for Achilles tendonitis or in preventing such;
Arch Support – Good arch support in any shoe, for any reason, is always a must. Select a work boot that offers the best arch support for your specific arch type. In general, individuals with a high or flat arch in the middle part are more likely to suffer from Achilles tendonitis.

Bending – Another important feature which you need to consider with implicit attention is how your work boot bends. A work boot that is not firm enough can create an unfavorable movement that can aggravate Achilles tendonitis. Henceforth, it is crucial that the boot you choose bends exactly beneath the ball of your foot, alone, and nowhere else.

Cushioned Heel – It is simple, in this regard, the more cushioned your heel is, the less pain and pressure you will experience with abrupt, harsh movements.

Higher Heel – A heel not to low, or too high, will offer added comfort and support to the heel, with the addition of easy movement and less bad movements.

Comfortable Ankle – The ankle collar is there to provide stability and support, preventing incorrect movement of the foot that can aggravate inflammation in the Achilles tendon.

Supportive Insole – Lastly, the best support and comfort comes from a well designed and cushioned insole. The insole not only adds cushioning but also adaptive height for better support of the heel and arch.

---
As you can see with your Achilles tendon, it all boils down to supporting the arch and heels, and stabilizing the movement of your feet;
Reviews: Best Work Boots for Achilles Tendonitis
---
1
The Justin Original Hybrid is built for style and comfort, with a rustic design and protective composite toe.
Protective lightweight composite toe.

Waterproof 11 Inch Shaft, to keep out unwanted moisture.

Breathable mesh fabric lining, keeping your feet cool and dry.

Oil, slip, and abrasion resistant outsole.

Comfortable Orthalite cushioned insole.

Rustic style design for added class.

---
2
The Caterpillar Diagnostic features the ERGO comfort system to support the natural movement of your feet. The contoured shape offers added comfort and supports every step that you take.
Flexion technology and an ERGO comfort system to give therapeutic comfort and support.

A removable EVA sock liner to replace with a choice of your own orthotics.

PU molded midsole, for comfort and added durability.

Breathable lining, to keep your feet well ventilated and dry all day long.

Shock absorbing insole, reducing the impact on your joints and feet.

Sports a durable slip resistant outsole, that will keep you securely on your feet.

---
3
For structured stability, comfort and lasting protection, you need to look no further than the Keen Utility, Milwaukee.
Constructed with high-quality full-grain waterproof leather.

A patented wrap-around outsole that covers and protects the toe, while enhancing durability.

Metatomical footbed for stable support and comfort, that contours to the shape of your foot.

The steel toe will protect your feet against falling objects.

A casual and comfortable style available in brown and tan color options.

---
4
The Boondock from Timberland Pro offers you superior anti-fatigue technology, superior comfort, and weather-defying performance. Everything you need in the perfect work boot for Achilles Tendonitis.
Anti-Fatigue technology.

The best waterproof protection.

The thermal plastic urethane outsoles are rugged and ready to tackle any terrain.

Comfortable fit that supports the foot.

Reliable durability and long-lasting performance.

Longer shaft for better ankle support, aiding in Achilles tendon support.

Rigid heel cup for improved stability.

Insulated and waterproof, to keep you dry and warm.

A dual density PU midsole for better shock absorption, and cushioned comfort.

---
5
Ultimately this work boot will guarantee you unparalleled comfort and excellent flexibility, with just enough room for movement not to aggravate pain in the Achilles tendon.
Contour welt leather construction securely molded to the outsole, for superior durability.

A sweat-wicking mesh lining and insole, for comfort and all day freshness.

The fully cushioned footbed is removable for the addition of your own orthotics.

The Nylon Shank improves stability.

A durable, slip resistant rubber sole.

---
6
The ariat Rebar Flex has a comfortable and supportive design which is ideal for individuals with Achilles tendinitis.
Genuine leather uppers with decorative stitching and protective leather overlays.

Completely waterproof uppers and a slip-resistant rubber outsole.

Anatomical last for support and comfort.

Designed to protect your feet and provide support and stability.

---
7
A tough yet comfortable work boot ideal for Achilles tendinitis.
Genuine leather uppers with a comfortable lining and soft composite protective toe.

There is a TPU slip-resistant outsole and rubber toe protector.

Complete waterproof construction and tough leather design.

For comfort, there is an anti-fatigue technology footbed and cushioning.

Good ankle support and stability.

---
8
Skechers offers some of the most comfortable and supportive shoe models, and the same goes for their Workshire, protective Peril work boot.
Full-grain durable leather uppers, with a relaxed fit and roomy toe box.

Electrical hazard protection and a steel protective toe that is ASTM compliant.

A durable and shock absorbing, slip and oil-resistant rubber outsole.

Gel-infused memory foam footbed that is removable allowing you the use of your own orthotic devices.

---
---
Index Table: Top Work Boots for Achilles Tendonitis