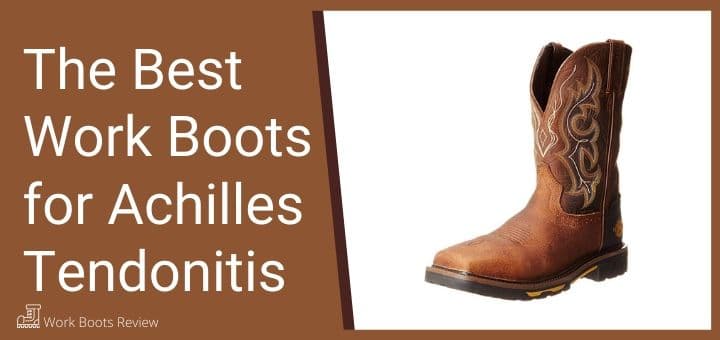 Achilles Tendonitis can affect anyone, at any stage, and in any occupation of their lives, from the housewife to the athlete and the businessman.
To avoid this condition, or relieve pain associated with Achilles Tendonitis, you will need proper footwear.
---
What Exactly is Achilles Tendonitis
Your Achilles tendon is the muscle that attaches your calf bone to your heel bone, without this tendon you will not be able to jump, walk, run or even stand.
Achilles Tendonitis is basically the inflammation of this tendon, which causes pain when you walk, run, jump, or stand.
If your Achilles Tendonitis is not taken care of appropriately, you may in time tear your Achilles Tendon, which is quite severe and requires urgent medical attention.
---
Causes of Achilles Tendonitis
In most cases, Achilles tendonitis generally affects athletes, as its main cause is running, walking, and excessive exercise.
Though there are other factors and health conditions such as rheumatoid arthritis, which can similarly be a culprit in this case.
Most repeated activities have a likelihood to result in inflammation of the Achilles tendon.
A few more factors include;
Not warming up before exercise.

Straining your calf muscle with repetitive exercises.

Suddenly increasing physical activity without allowing the body to adjust.

Improper shoes such as heels, old worn out shoes, and poorly fitting shoes.

Certain sports, like tennis which requires quick stops and direction changes.

Age, which is unfortunately unavoidable.

---
Characteristics of a Good Work Boot for Achilles Tendonitis
There are quite a few features to consider in a work boot suitable for Achilles tendonitis or in preventing such;
Arch Support – Good arch support in any shoe, for any reason, is always a must. Select a work boot that offers the best arch support for your specific arch type. In general, individuals with a high or flat arch in the middle part are more likely to suffer from Achilles tendonitis.

Bending – Another important feature which you need to consider with implicit attention is how your work boot bends. A work boot that is not firm enough can create an unfavorable movement that can aggravate Achilles tendonitis. Henceforth, it is crucial that the boot you choose bends exactly beneath the ball of your foot, alone, and nowhere else.

Cushioned Heel – It is simple, in this regard, the more cushioned your heel is, the less pain and pressure you will experience with abrupt, harsh movements.

Higher Heel – A heel not to low, or too high, will offer added comfort and support to the heel, with the addition of easy movement and less bad movements.

Comfortable Ankle – The ankle collar is there to provide stability and support, preventing incorrect movement of the foot that can aggravate inflammation in the Achilles tendon.

Supportive Insole – Lastly, the best support and comfort comes from a well designed and cushioned insole. The insole not only adds cushioning but also adaptive height for better support of the heel and arch.

---
As you can see with your Achilles tendon, it all boils down to supporting the arch and heels, and stabilizing the movement of your feet;
Reviews: Best Work Boots for Achilles Tendonitis
---
---
---
---
---
---
---
---
---
---
Index Table: Top Work Boots for Achilles Tendonitis