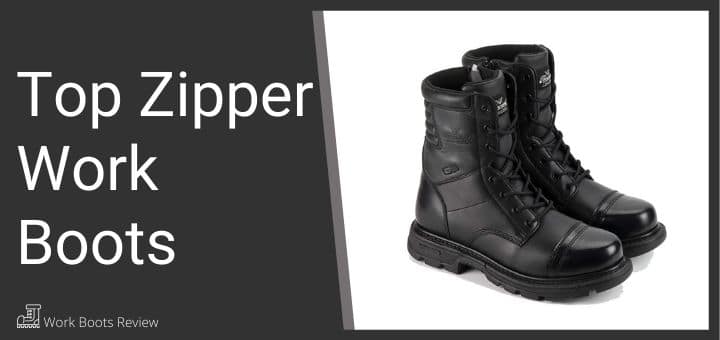 More and more people, particularly in the law enforcement industry, are opting for work boots with a zip closure.
Zipper Work Boots usually give you the option of lace up or a side zipper, although there are work boots that only feature a zipper either on the back side of the boot.
Zipper boots are quick and easy to put on and take off and a great choice if you need to changes shoes rapidly for your occupation.
---
The Good and The Bad of Zipper Work Boots
The greatest advantage of a zipper boot is that you can put it on and take it off quick and easily as needed. Because of this reason you can easily change from shoes on site to shoes for the office or change your shoes before entering your home or an area that you do not want to track dirt into.
Your boots will fit the same every time you put them on because the zipper will not change the fit as with lacing where you may lace up too tight or too loose.
The downfall with zipper boots is that poorly constructed zippers may fail and break easily.
Always look for zippers with the YKK tag as they have a great reputation for being durable.
Zippers also do not provide much water protection and it can seep through the zipper in some of the boots.
---
How to Wear a Zipper Boot
When you are wearing a zipper boot that also has the lace option for the first time, you will need to use the lace up function a few times until the boot is broken in and you can lace the boot to fit perfectly.
The zipper can be used after you have a correct and comfortable fit, make sure to secure the laces as you will no longer be using them. Zipper boots without the lace up option need to be fitted to make sure they are comfortable; a tight fit is advised for work shoes that tend to stretch with time.
---
Qualities of a Good Zipper Boot
Protection – First of all despite the zipper when you are looking for a work boot you need to make sure that the boot has all the protective features and comfort characteristics that you will require for your specific occupation and the specific function that they will be performing.

Zipper Construction – When you look at the zipper or any other closures on a work boot, make sure that the stitching and material are tough and durable and that the zipper closes tightly and easily.

Fit and Comfort – The fit of the boot is imperative to make sure that it fits tightly but still comfortable as particularly in the law enforcement industry you do not want a boot that comes off easily or fits uncomfortably.

---
Reviews: The Best Zipper Work Boots
We have researched some of the best brands with the most wanted features in zipper boots for work purposes;
---
---
---
---
---
---
---
---
---
---
---
---
---
---
---
---
A zipper boot is a good option for any fast-paced work environment where you may need to change your shoes quite often or if you are just looking for a quick and easy fitting work boot.
The above choices of zipper work boots all have exceptional safety and comfort features along with being some of the most popular and tough brands of work boots that are on the market today.
---
Index Table: Top Rated Zipper Work Boots