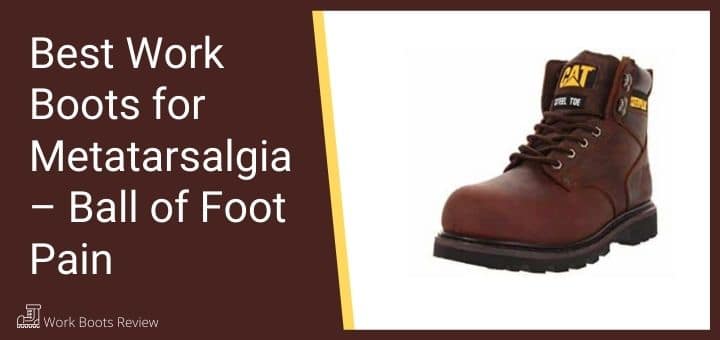 Best work boots for Metatarsalgia/ball of foot pain
Metatarsalgia, or pain in the ball of your foot is a very common condition describing pain and inflammation in the ball of the foot.
Mostly this is a condition caused by overuse and repetitive strain on the ball of the foot, though there are other causes. The best shoe type for Metatarsalgia overall is a shoe that has a uniform sole.
---
Symptoms and Causes of Metatarsalgia
The main symptom of Metatarsalgia is a pain at one or more of the metatarsal bones, which is basically at the ball of the foot. This pain may be aggravated by standing, walking or running.
Many athletes who take part in high impact exercises and sports activities may develop this condition, and likely other inflammatory disorders such as bursitis which causes forefoot and midfoot pain.
The pain caused by Metatarsalgia develops over several months, and is not instant.
Causes of Metatarsalgia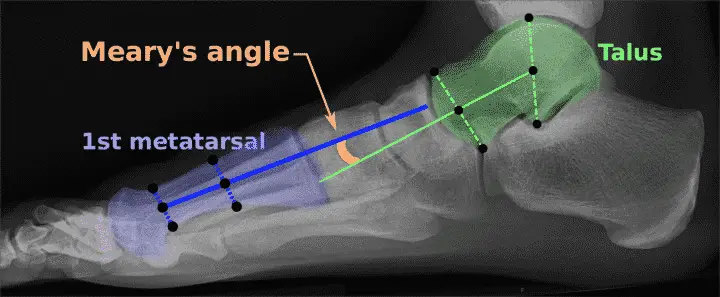 Injury during sports activities or high impact activities.

The result of an alteration in the natural biomechanics causing abnormal weight dispersion.

Chronic strain and stress to the bone covering and adjacent tissues, such as the tendons and ligaments of the foot.

Localized pressure caused by, high activity levels, prominent metatarsal heads, tight toe muscles, tight Achilles tendon, excessive pronation.

Ill-fitting footwear is likewise a main cause of Metatarsalgia.

Having a high arch, short metatarsal first bone or a hammertoe deformity can all aid to the cause of Metatarsalgia.

The correct footwear will not only reduce the pain and further development of Metatarsalgia but likewise prevent this condition from pending.
---
Best Shoe Types for Metatarsalgia
The correct type of shoe for Metatarsalgia has a biomechanically engineered structure in most cases, or features some therapeutic comfort and support characteristics.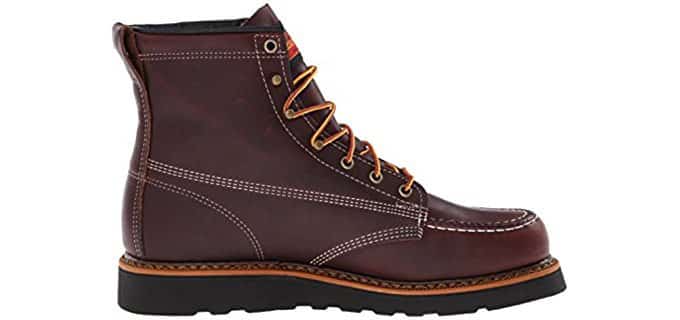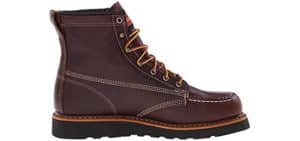 The main factor to look for in a good shoe for Metatarsalgia is a uniform sole, which is basically a sole of which the heel is not elevated much more than the front of the shoe.
There are quite a few work boots available with features that will accommodate Metatarsalgia, providing pain relief, or that may likely prevent this condition from ever arising.
---
Features to Look Out for
A soft and cushioned footbed or insole that offers good support and comfortable cushioning.

Good shock absorbency technology.

A snug fit with a wider toe box area.

A rocker sole can be advantageous.

A uniform durable outsole that provides shock absorption and stability.

A firm midsole.

Good arch support for your specific arch type.

---
Reviews: Best Work Boots for Metatarsalgia
Below are some great choices in Work Boots for Metatarsalgia Symptoms.
1
Caterpillar is a well-known brand when it comes to work boots. The Second Shift features some ideal characteristics that aid in pain relief when you are suffering from Metatarsalgia.
A durable, slip and oil resistant outsole.

The steel toe offer protection against falling objects and compression hazards.

The plush tongue and collar offer a comfortable and snug fit.

There are hex shaped grommets with a speed lacing system allowing you to put on and remove these work boots fast and with ease.

Pure 100% Nubuck leather uppers with a comfortable and breathable mesh nylon lining.

The PU sock liner is comfortable and supportive providing all-day pain relief

---
2
Dunham is a name that is fast becoming very popular when it comes to tough and comfortable work boots. This is a mid-cut boot with a luxurious memory foam footbed ideal for Metatarsalgia symptoms.
100% pure durable and comfortable leather uppers with a reinforced toe guard.

The leather uppers are similarly waterproof with sturdy seamed and extra strong laces.

The mid-cut designs offer excellent ankle support.

There is an aggressive tread on the rubber outsole that offers exceptional grip and shock absorbency.

The premium memory foam insert from high-density open cell foam, conforms to the shape of your foot providing all-day comfort and relief.
---
3
The Timberland Pro is a leader in its class, a sturdy and comfortable pair of work boots, that will offer you the best support and protection, in an industrial environment.
Tough and durable leather uppers with a protective steel toe.

These boots are completely waterproof and offer exceptional slip and oil resistance.

Designed with incomparable industrial traction and anti-fatigue and shock absorbing technology.

The comfort system returns energy back to the feet and offers outstanding cushioning and support.

---
4
Not your average work brand, but similarly on the fast track to becoming a top work boot brand. The Dr. Martens Ironbridge is ideal as a work boot with the benefits of symptom relief for Metatarsalgia.
Pure and genuine tough leather uppers that are water and abrasion resistant.

A protective steel capped toe for the industrial environment.

The outsole is manufactured from the high grip and durable PVC that is slip and oil resistant.

A comfortable cushioned insole and wider toe area, ideal for Metatarsalgia symptoms.

---
5
Dr. Comfort is one of the top orthopedic shoe brands, and in this instance, they likewise offer a unique choice in work boots such as the Protector, and the Boss. Concentrating on the steel toe protector, here are some first-rate features;
Soft and supple leather uppers of fine quality and sophisticated style.

The Gel insert offers you the best in comfort and support for a long day on your feet.

A lightweight work boot with an adjustable lace closure.

The outsole is durable and highly slip resistant.

Electrical shock resistant meeting ASTM requirements as well as a protective steel toe.

Available in many sizes and wider widths.

---
6
The Icon from Dr. Martens features comfort and design features that will offer you full protection and support if you suffer from Metatarsalgia.
Safety features such as electrical hazard safety, a steel toe, chemical resistance, and a shock-absorbing oil and slip-resistant rubber outsole.

Comfort features include Air Cushioning and a comfortable padded insole and smooth lining.

A comfortable fit that molds to the shape of your feet with full-grain durable leather constriction.

---
7
From Carhartt, we have the soft and lightweight composite toe work boot with a wide and comfortable fit.
A shock-absorbing and slip-resistant rubber outsole.Full-grain leather uppers and a roomy toe box for a more comfortable fit.

Completely chemical resistant and safe.

a lightweight EVA midsole and Ortholite orthopedic insole with multiple layers of cushioning.

---
8
One of your best work boot options if you suffer from metatarsalgia or other similar foot conditions.
Full-grain waterproof leather upper with a patentedwrap-around the outsole for durability and to protect your toes.

The Metatomical footbed contours to the shape of your foot, for support and stability.

A protective steel toe and casual and comfortable style.

Available in a black or tan color option.

---
In Conclusion
Each and every one of us can benefit from a comfortable and supportive work boot. But for those who suffer from painful foot condition, such as Metatarsalgia, this becomes a requirement.
Often foot pain and conditions can be a result for wearing the wrong footwear for your feet, therefore investing in a comfortable, well-fitting and supportive pair of work boots, can make all the difference.
Keep in mind that the key characteristics to look for in a work boot for pain in the ball of your foot is good cushioning, shock absorbency, and a wide enough toe room for movement.
---
Index Table: Top Work Boots for Metatarsalgia