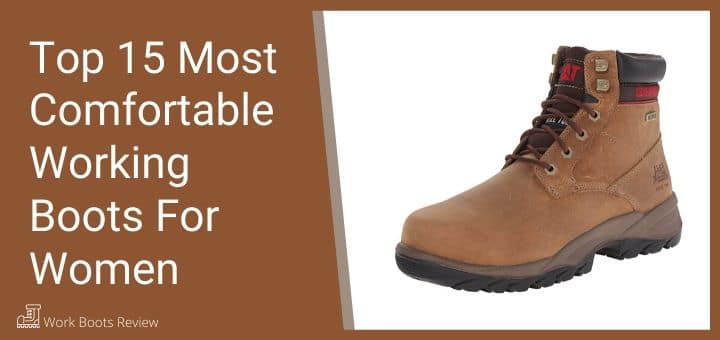 Most ladies find a comfortable and stylish pair of high fashion boots quite desirable.
A high-quality fancy pair of work boots can make a big difference in the women's life.
Work Boots for Women offer maximum protection to delicate feet and legs as well as well deserved comfort and support.
---
Advantages of Safety Work Boots for Women
Work boots for women offer safety features such as a steel toe to protect the toes and feet from heavy loads and falling objects, a rubber sole for better grip on slippery floors, oil and chemical resistance, as well as protection from electrical hazards.
A work shoe that is water and abrasion proof is also beneficial to improve the boots durability and to keep your feet dry and safe from liquids seeping in.
Women have more fragile feet and need extra support and cushioning especially if they are on their feet for extended periods of time. Breathability to keep your feet dry and cool in hot weather, as well as insulation for colder or wet weather conditions, are also great additions to any work boot.
---
How to Choose the Perfect Women's Work Boot
The type of work boot that you will need will depend on your specific occupation and work tasks as well as the environment that you are working in.
Factors such as floor surfaces, wet or dry conditions, extremely cold or hot environments, heavy-duty work, electricals work or if you are just working in an office will have a huge impact on the choice of a work boot.
You also need to consider your foot type, the kind of comfort you require and how long you will be on your feet.
Lastly, your personal style and preference will also affect the choice of work boot that will be unique for you. When looking at a good pair of work boots, they should have safety, comfort and durability features that suit your specific needs.
Every woman should invest in a pair of classy and functional work boots that will give them the required safety and comfort requirements as well as make them feel feminine and chic.
Features of a Good Women's Work Boot
Safety features such as steel or composite toe.
Tough and durable construction.
A cushioned insole or padded footbed for comfort.
Breathability and moisture wocking materails.
The outsole must be slip and oil resistant as well as tough and durable.
---
Women's Safety Work Boots Reviews
Here are the most popular work boots for women that all provide comfort and protection as well as robust durability and style;
You can perform your work tasks in complete comfort and protection in any one of the listed work boots.
These work boots are tough, durable as well as protective, comfortable and good-looking.
---
---
---
---
---
---
---
---
---
---
---
---
---
---
---
Women's Work Boots vs. Men's Work Boots
With the constant rise of women on construction and industrial work sites, there is a growing need for safety gear that is specialized to provide protection and comfort to a woman's build.
A woman is genetically different from a man in many ways; they are smaller, lighter, and their feet have a different structure.
There are a few characteristics that make women's work boots different from that of a man;

Women are much smaller than men and so their feet are also smaller.

Women's feet are also less wide than a man's so a work boot in the correct size length may be much too wide.

A woman's shoe should also be lighter because of her small posture.

There is a very small selection of work boots available to Women.

A woman's work boot may be more expensive because the supply and demand for women's work boots in the market are less accessible and harder to locate.

---
Comparison Table for Women's Work Boots