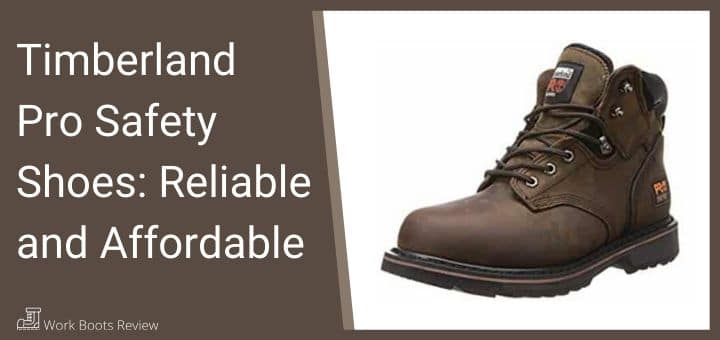 Timberland creates shoes that are a fashion classic, as well as a functional and durable safety shoe, adored not only by the working men and casual wearers but also by pop stars and fashion designers all over the world.
---
What makes Timberland such a Unique Brand
It takes up to 39 components and 80 factory steps to create a pair of Timberland boots. Timberland has been on the market for over forty years and is one of the most recognizable pieces of footwear in fashion today.
Timberland uses environmentally friendly and recycled materials to manufacture their boots.
Their boots are built using only the highest quality materials and using the least amount of water and energy to save natural resources, and the laces of the boots are made from recycled plastic.
A durable Ortholite anti-microbial foam footbed is used with mesh lining to cover the footbed to improve breathability and help prevent your feet from developing an odor or becoming sweaty as well as provide excellent cushioned comfort.
The soles of Timberland boots are thick enough to protect your feet and absorb shock.
Timberland offers a shoe brand that has advanced comfort features as well as exceptionally stylish and fashionable looks.
The Timberland boot is ideal for walking and hiking and smart enough to wear casually as a fashion statement. Timberland also designs some excellent Working Boots.
---
Timberland Pro Work Boot features
Slip, Oil and Abrasion resistant Outsoles.

Steel or Composite protective Toe.

Waterproof Construction.

Seam sealed.

Lightweight construction.

Moisture-wicking and antibacterial Mesh inner lining.

Comfortable and shock absorbing, cushioned footbed or insole.

Protective plate.

---
Best Timberland Pro Work Boots
Below we provide you with the finest Timberland Pro Work Boots in the safety work shoe series.
These are technologically advanced boots that offer great features yet are still quite affordable.
---
1
A superb work boot manufactured using full grain leather for the top part that has been seam-sealed to keep out all moisture so that your feet are kept dry during any situation.
Extra padding, a padded collar, and tongue provide you with exceptional comfort for long wearing. A dual density EVA footbed will improve the breathability of the boot reducing odor and sweat.
This boot is designed to keep you thoroughly grounded with the Brake Support Flex and Propel system which gives you excellent grip and traction abilities, it is vastly used as mechanic boots.
A robust and comfortable nubuck leather upper.

Manufactured using Goodyear Welt construction for added durability.

A protective steel toe.

Added Polyurethane midsole for durability and comfort.

The padded collar and tongue also offer a snug comfortable fit.

The Cambrelle lining is treated with antimicrobial materials to control odor and prevent infection.

The top hooks are made from cast metal to improve durability.

A nylon shock-diffusion plate has been inserted for added support and torsional rigidity.

An abrasion, slip and oil-resistant Timberland Pro rubber outsole.

---
2
Another addition to the Timberland waterproof work boot lines up. These boots were created using new improved technology but still retain their classic and traditional Timberland appearance.
An all-purpose boot which provides durable traction and the waterproofing capabilities of seam-sealed leather to keep your feet dry in even the wettest of conditions. Another advantage of this boot is the PRO 24/7 Comfort system that is well reputed for giving you the highest class of comfort.
Manufactured with seam-sealed leather making these boots waterproof and very durable.

A Soft toe for added comfort.

Padded top collar for a comfortable and snug fit.

A lightweight blown-thermal midsole made from plastic to give you flexibility and cushioned support.

Contains a mesh lining with anti-microbial properties to reduce sweat and odor, and prevent infection.

Seam-sealed waterproof leather uppers for durability and dry, comfortable feet.

Steel safety toes for protection.

Direct-inject construction for durability.

The padded top collar also has the nylon shock diffusion plate.

Thermolite insulation.

An Open-cell polyurethane footbed that is also treated with anti-microbial materials.

Lightweight blown-thermal plastic midsole for flexibility and cushioning.

Oil resistant, Non-marking Timberland rubber sole with rubber lugs to improve traction and durability.

---
3
Manufactured using top of the line full-grain waterproof leather that has been seam-sealed to keep your feet dry, and giving you the ultimate protection in wet weather conditions or work environments.
This boot promises you all day comfort and durability and with it's high-density removable EVA footbed you have added support and cushioning as you require.
Made with new BSFP technology, this boot is an excellent choice for a work boot as it offers all the desired safety and durability features for robust industrial work.
Steel safety toe shaped on the Titan last for improved protection and a roomy fit.

A cement construction to reduce break-in time and improve flexibility.

Uses anti-fatigue technology along with conical geometry in the polyurethane midsole to reduce shock while returning energy to your foot.

An antimicrobial treated mesh inner lining.

The fiberglass shank gives structural support.

Original Timberland Pro slip, oil, heat, and abrasion resistant Ladder Lock rubber outsole.

A metallic puncture resistant plate to give you flexible underfoot protection.

This boot meets the CSA Grade 1 requirements.

---
4
A waterproof work boot featuring a rugged look with an athletic design still keeping all the classic features and comfort technology of this brand.
Only the highest grade materials are used to manufacture this superb boot giving it unmatched durability and protective functions.
This boot meets the ASTM stamp of approval succeeding in delivering the safest possible work boot for the toughest work in the most testing environments so that you can enjoy a worry-free, safe day at work.
Manufactured using premium leather with a waterproof membrane and Ever-Guard leather heel that is abrasion resistant.

A molded Timberland Pro toe protector for added durability.

A composite safety toe shaped on the Titan last.

Features a rigid external heel cup for lateral stability.

The top collar is padded.

A fiberglass shank.

Dual-density ant-fatigue technology for shock absorption.

Slip, oil and abrasion resistant thermal plastic urethane sole with deeper lugs for improved traction.

---
5
This boot introduces a world-leading design, engineered with the highest class materials. It features all of the durability and safety characteristics, with Goodyear welt construction as well as a very fashionable appearance.
This is one of the most durable and safety orientated work boots out there; it will certainly not disappoint you in performance and rugged style.
The premium soft leather design with waterproof membrane will keep your feet dry and has a minimum break-in time.

A steel safety toes for added protection.

Molded polyurethane midsole for lightweight and durable supportive cushioning.

Anti-microbial treated mesh inner lining.

Nylon diffusion shank for support.

The polyurethane footbed helps to absorb shock and keep your feet dry and comfortable.

Slip, oil and abrasion resistant rubber outsole.

---
6
The Timberland Pro Gridworks is a stylish Moccasin toe design Work Boot with an all weather proof wedge sole and a protective steel shank.
Premium full grain leather upper construction with a waterproof membrane for protection in wet conditions.

A durable rubber outsole with a all weather Thermo-Plastic urethane materials and a shock absorbing EVA midsole.

Inside the is an antimicrobial mesh lining to keep your feet dry and odor free as well as a dual-density anti-fatigue technology polyurethane footbed for comfort and support.

The steel shank, in turn, offers excellent structural support

---
7
The Timberland Pro Endurance Work boot is designed and built for those harsh and demanding work environments, where you need tough performance, as well as good protection.
Durable and tough leather upper construction that will last in even the toughest environments.

A thick rubber sole that is abrasion resistant and slip resistant.

There are double rubber toe enhancements for increased wear and additional protection.

Comfortable and supportive footbed for all day wear.

Available in BROWN and BRAIR color options for you to choose from.

---
8
An extremely tough and weather resistant work boot, in a tall Wellington design, for that extra protection and superior durability.
Premium full grain leather uppers with Everguard, complete weather and waterproof protection for long lasting durability.

Goodyear Welt Cast Bond construction that gives you the most powerful mechanical and chemical bonded construction.

Very aggressive tread design that is abrasion and slip resistant to the extreme.

The leather and sole is ten times more abrasion resistant than any other regular leather shoe.

---
9
All the durability and protective features of a great work boot in an elegant and feminine style ideal for the ladies.
Tough and durable 100% smooth leather uppers with a comfortable lacing system for dainty feet.

Built specifically on a women's last to provide the optimal fit and comfort.

features premium full grain, waterproof leather uppers and a protective Alloy safety toe.

the all weather TPU outsole and polyurethane midsole ensures excellent slip resistance on all terrain, as well as good shock absorbency.

A dynamic anti-fatigue technology footbed, which ensures superior comfort and support for all day wear.

Available in five gorgeous neutral color options that suit a woman's style and pre-requisites.

---
10
There is nothing that quite matches the style and elegance of the traditional and original Timberland Pr boot style in the Wheat color.
100% Pure and genuine leather uppers with a Waterproof membrane.

For warmth there is 200 grams of insulation to protect your feet in cold conditions.

A protective Steel toe and and lug, oil and slip resistant rubber outsole for Safety.

Inside there is a complete comfort system that cushions and cradles your feet, while ensuring anti-fatigue protection and excellent arch support.

---
Not only are Timberland Work Boots and Shoes extremely popular as a fashionable shoe or boot but they are also durable and comfortable enough for heavy-duty work boots.
Timberland Pro Work boots feature many safety characteristics such as a steel toe, waterproofing, insulation and oil, and slip resistance.
---
Index Table: Timberland Pro Safety Shoes