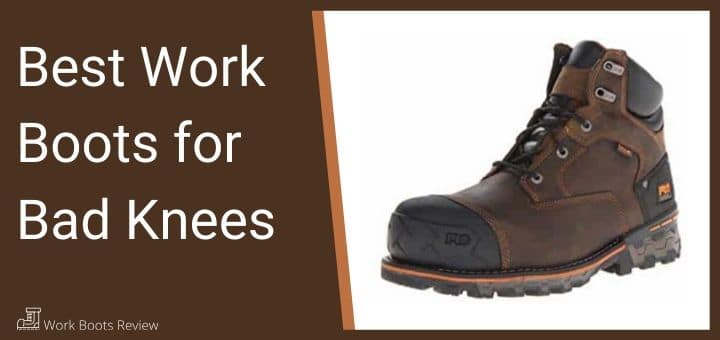 Our feet are more important than people realize for keeping our knees in good shape, which is why wearing the correct footgear is vital.
Find out more below on why the wrong work boots will add to your knee problems and why the best work boots for bad knees help.
---
How The Wrong Work Boots Contribute to Knee Pain
Our knees and our feet are closely interrelated to one another.
When we walk, our bodies do a good job of evenly distributing the pressure on our feet, knees, hips, and back.
If the footgear we are wearing is incorrect for the type of feet we have or the way in which we walk, then it can cause strain on the knees, which eventually leads to bad knees.
There are a few ways in which a badly made work boot can affect how we walk:
The wrong boot for your foot type can lead to over or under pronation, where your foot rolls too much inward or outward. This will cause your knees to do the same.
The heels are too high or too low, applying too much pressure on either the back or front of the knee.
The heels of the boots wear down unevenly.
The boots don't have enough arch support, resulting in fatigue and pain.
Too much stiffness and not enough flex will restrict your feet's movement and place pressure on your knees.
---
Best Features of Work Boots for Bad Knees
All the above-mentioned problems can be solved with the right work boots.
Here are some must-have features for work boots to prevent or treat knee pain:
Flexibility – The middle of the shoes near the toe joints should be flexible to allow for natural movement and pronation.
Stability – The heel of your work boots should fit snugly, securing the back of the foot in place as well as the arches. A shank in the boots also helps to provide extra stability, as does a more level work shoe without too much of a raised heel.
Arch Support – A comfortable footbed with optimal padding and arch support is vital. This takes the pressure off your feet and helps you to walk with a good posture, in turn aiding your knees. A longer shank is also better for firmer arch support. Make sure the inner sole accommodates your foot type or replace the sole with an insole that works for you.
Shock Absorption – Shock absorbing shoes will deflect the impacts your feet are exposed to while out and about. This minimized the pressure on your entire body, especially your knees, hips and feet.
Slip Resistance – Slipping and sliding on the ground, even if you don't completely fall over, puts a lot of strain on the knees as your body catches and corrects itself. Getting slip-resistant shoes will prevent this from occurring.
---
Reviews: The Best Bad-Knee Work Boots
The below boots will help immensely for those who need protection and pressure-relief for bad knees.
---
1
Secure your feet inside these rugged work boots and face your labors like a champion!

The inner sole is designed for supreme comfort with added extra energy return, lightweight shank support, and total shock absorption.

Cement/welt constructed heels provide your feet with a stable position, keeping them correctly aligned and locked in place.

Toe protection with a composite safety toe ensures lightweight endurance and a shield against pressure or heavy objects.

Able to withstand extreme weather and electrical hazards without harming your feet.

Abrasion resistant and durable, these boots will help to alleviate pressure on both your feet and knees while providing you with the protection you need.

---
2
PUMA's leading expertise in foot support make them one of the best options for preserving your knees.

These work boots have a replaceable Evercomfort footbed which secures the foot in the correct anatomical position, offering the best degree of support.

This inner sole is accompanied by a flexible midsole that adds another layer of supreme cushioning.

The outer layer is waterproof, made of the finest quality leather possible which will not only last long but keeps your feet firmly planted in your shoes.

The underside of the sole is slip-proof, even in places where oil spills are frequent.

A steel safety toe protects your feet from impacts along with shock absorbent outer soles.

---
3
Keen's Flint work shoes are perfect for those who suffer from knee or hip pain, offering a low profile athletic comfort solution.

A metatomical insole supports the movement of your toes while offering supreme dual-layered comfort.

The inner soles are removable if they don't cater to your foot type.

The shank embedded in the midsole is made to withstand force, relieving pressure off your foot using prime torsional stability technology.

A contoured heel lock ensures your feet never slide about and keep the pressure off your knees.

An oil and slip resistant outsole does its job at keeping you on your feet while also deflecting any impacts that come your way.

---
4
Here is an ultimate work boot designed for use in any industry and to help accommodate tired feet and aching knees.

The footbed of these work boots was scientifically constructed after reviewing more than 100 000 3D foot scans to bring you superior comfort.

High rebound compression foam provide all-day anti-fatigue support while an ultra grip top layer keeps your feet secure.

FastDry technology wicks moisture away in a flash, keeping your feet dry even when you break a sweat!

Chemical, slip, and abrasion resistant with a steel toe in the front and an electrical hazard protection unit concealed within, what more could you want in a work boot?

---
5
Who says cowboy boots have to be bad for your knees and posture? ariat has taken cowboy work boots to the next level with these Rebar Westerns.

A sturdy inner mesh lining and heel grip hold your feet securely in place without the slide commonly seen in ordinary cowboy boots.

Four layers of seamless comfort line the inner sole of the boots, providing your feet with the support they need on the job.

The semi-square toe profile of these boots adds more space to the toe box, giving your toes the room they need to move.

A lightweight composite toe, anti-slip tread, and waterproof leather construction complete the deal making these work boots safe and comfortable.

---
6
These stylish full-grain leather are top quality and crafted with expert skill to ensure that your feet, knees, and legs work the way they should with minimal strain.

Rugged Flex outsoles allow your toes to splay and flex as they usually would, providing an optimal range of motion and control.

Ortholite support insoles and cushioned midsoles help to take the pressure off your feet, making your work more enjoyable.

A lightweight composite toe ensures that the boots won't weigh you down.

Oil, slip, and acid resistance is incorporated in these boot's design, making them perfect for many industrial purposes.

The outer sole traction is built to last and includes potent shock absorbency to protect your joints from jarring impacts.

---
7
Feel confident and comfortable with every step that you take in the Wolverine DuraShocks, ideal for bad knees and foot conditions. This work boot offers you the most of the one thing required for knee protection, and that is; shock absorbency.
The Wolverine MultiShox and DuraShocks technology offer you the best in shock absorbency and impact resistance.

A tough polyurethane midsole and protective fiberglass shank.

Lined with Dri-Lex in the pigskin uppers to wick away moisture and seal out external liquids.

Lightweight and available in a steel toe option.

A true iconic american brand.

---
8
The Danner Vicious is tough as its name states, manufactured to perform in harsh work environments, although still warranting you all day comfort and support.
Genuine, durable, leather uppers with a waterproof, breathable Gore-Tex lining.

Features a tough slip, and oil resistant Vibram outsole.

The low profile 90-degree heel puts less pressure on your knees.

Excellent shock absorbency.

Insulated with 400 grams of Thinsulate Ultra insulation.

Also offer the lightweight, athletic performance Trailguard Platform, ideal for sore knees.

---
9
Whether it is for roofing, tiling, construction or any other job in extreme heat, the Irish Setter 83605 makes the cut. Not only is it excellent at heat resistance, but it also features superior comfort features that are perfect for painful knees.
Full grain water resistant, leather uppers manufactured with Goodyear welt construction methods.

Electrical hazard safe.

High heat resistant outsole, with thick rubber EVA traction treads, ideal for shock absorbency and good grip.

A removable supportive polyurethane insole.

Offers a better fit with the heel-molded counter

Vamp lining for better ventilation.

---
Comparison Table: Best Work Boots for Bad Knees