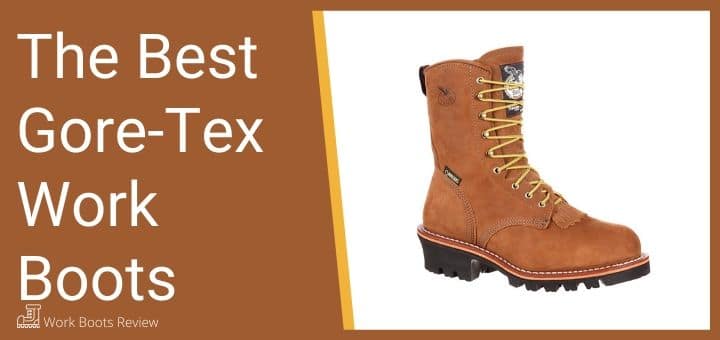 Gore-Tex is an amazing and highly functional waterproof textile material that you will find in most high-performance clothing and shoes.
The main function of Gore-Tex is to keep rain and liquids from getting in and allowing moisture and perspiration on the inside to be expelled.
Gore-Tex is one of the most sought-after waterproofing methods because of exactly that reason, it is breathable but still offers exceptional waterproofing capabilities.
---
How Does Gore-Tex Work
Let me first create a scenario for you.
You are in your kitchen on a very cold, stormy winters day, cooking up a storm, soon enough the windows are steaming up and it feels like a sauna in the kitchen. The storm is still raging on outside. If you open up the kitchen window just a slight bit, the steam and heat will escape, but the rain will not enter the kitchen.
The exact same principle applies to Gore-Tex, it allows perspiration to get through while still keeping outside liquids out.
Gore-Tex consists of three layers of material, two layers of nylon and one layer of microporous Teflon, which you may know as the slippery non-stick coating on cookware.
The Teflon has pores less than one micrometer in diameter which allows water in one form to pass through, but in another form to keep out.
When you sweat the sweat is produced in a steam form, which is a gas, the molecules in the gas are not yet joined together, therefore it is easily diffused through the Gore-Tex.
Whereas, water and rain are made up of droplets that have trillions of water molecules stuck together, which is around 20,000 bigger than the microporous holes in Gore-Tex, so there is no way that it can enter the material.
This is the ultimate secret behind Gore-Tex, a modern miracle, and one of the most astonishing materials in the world!
---
The Pros and Cons of Gore-Tex Waterproofing
It largely depends on where you live and what the weather conditions or your work environment are like. There are more breathable waterproof options, though they do not offer as much waterproofing.
Ultimately it all boils down to your own personal preference and the conditions that you are working in.
Here are a few of the positive and negative factors regarding Gore-Tex work boots;
Pros
Your feet will mostly stay warm and dry.

You have the least chance of getting frostbite or having cold and wet feet.

You can perform work tasks in bad weather without any excuse.

You will perform better at work knowing your feet are protected.

The work boot is breathable so even in hot wet weather you will stay comfortable and dry.

Cons

In extremely hot weather your feet may overheat.

Most waterproof work boots are not very flexible.

Waterproof work boots generally cost a lot more than non-waterproof models.

Waterproof work boots similarly have a tendency to be a bit heavier.

Your feet may still get wet if moisture enters at the sock.

---
Features of a Good Gore-Tex Work Boot
If you want to purchase the best waterproof Gore-Tex work boots out there, there are a few things to take heed of;
Height – Keep in mind that a boot with a shorter shaft still leaves your feet unprotected, as water may enter from the top of the boot.

Material – Gore-Tex and rubber are your two most sought after waterproof materials. The sole of the work boot should also be waterproof and similarly, the stitching must not allow for any liquid to be able to enter the work boot.

Quality – Quality materials and construction in any work boot are crucial, this greatly affects the endurance and functionality of the work boot.

Budget – Unfortunately better quality materials and craftsmanship tend to have a higher price tag, although there are always cheaper alternatives that are just as respectable.

---
Taking these factors into consideration, here are some of the top brands and models of Gore-Tex waterproof work boots available today;
Reviews: Best Gore-Tex Work Boots
1
The Georgia I have listed here is a Logging work boot, that emphasizes, safety, performance, and durability.
A very strong boot that is flexible, slip resistant and has all the safety features you will need, along with some comfort features, such as a cushioned insole.
Safety features include a steel toe and electrical hazard safe materials.

Waterproof and slip resistant.

A tough steel shank.

Comfort features consist of a cushioned insole, orthotic insert, and 400 grams of Thinsulate insulation for protection against the cold.

Manufactured from full grain leather using the very tough Goodyear Welt method, with an eight-inch shaft.

Also has a durable slip resistant rubber outsole

---
2
If you are up and down and on your feet all day, the Wolverine DA WPF is just the work boot for you. It is lightweight, comfortable, while still being durable and protective.
Durable leather uppers.

A Gore-Tex breathable membrane for waterproofing and good ventilation.

A lug Vibram outsole that offers excellent grip and slip resistance.

Gore-Tex breathable waterproof membrane

The 400 grams of Thinsulate insulation will keep your feet toasty warm in the cold weather conditions.

Features an advanced polyurethane midsole.

---
3
When it comes to work boots, Timberland sets very high standards of performance, durability, and protection.
The Timberland Chocorua is a Hiking boot that is waterproof and safe to use as a working boot, particularly if you work in very wet conditions.
Completely waterproof leather and mesh uppers.

Infused with anti-fatigue technology, to keep you on your feet all day.

Gore-Tex Boot construction for waterproof safety.

EVA midsole for added comfort and support.

The hardware on this shoe is completely rust proof.

Lightweight and breathable.

---
4
The Vicious from Danner is not to be messed with! This durable work boot is as much comfortable and lightweight as it is tough.
Genuine leather upper construction.

A durable and slip resistant vibram outsole.

A Gore-Tex breathable waterproof membrane.

The heel cap is abrasion resistant.

Waterproof upper leather.

Comfortable PU cushioned footbed.

The dual density EVA cushioning absorbs shock and provides full support.

A Vibram oil and slip resistant outsole.

---
5
Rocky has many options in work boots, but the ranger is an exceptional work boot with all the safety and comfort trimmings.
Durable leather uppers manufactured using Goodyear Welt method.

A protective steel toe.

The Vibram outsole is oil and slip-resistant.

Insulated with 600 grams of Thinsulate for protection against the cold.

Breathable and waterproof, keeping you dry in any wet environment.

---
6
From Danner we have the Gore-Tex lined slip-resistant and highly durable industrial work boot the Vibram Quarry.
Features the popular Vibram Quarry slip and oil-resistant rubber outsole.

Full-grain leather uppers with a Gore-Tex waterproof Lining.

Triple-stitched construction for durability and a protective safety alloy toe cap.\The Fiberglass shank improves stability and provides further protection.

---
7
The perfect work boot for the service industry, or for delivery workers which features a Gore-Tex breathable waterproof membrane for full protection against wetness.
Full-grain Gore-Tex lined waterproof uppers.

A comfortable and supportive Terra Suspension footbed.

The durable rubber outsole is constructed via direct attachment methods for durability and offers excellent slip resistance.

The footbed is treated with Aegis antimicrobial treatment to diminish germs and odors fast.

---
A comfortable and durable Gore-Tex protected tactical work boot from Under Armor.
Leather uppers with a breathable and waterproof Gore-tex membrane and integrated gussets on the tongue to deter water.

High abrasion textile uppers with an anafoam overlay and anatomically precise fit for support.

A protective high abrasion molded rubber toe cap and Vibram rubber outsole.

The TPU chassis offers excellent stability and heel lockdown support.

---
Index Table: Top-Rated Gore-Tex Work Boots