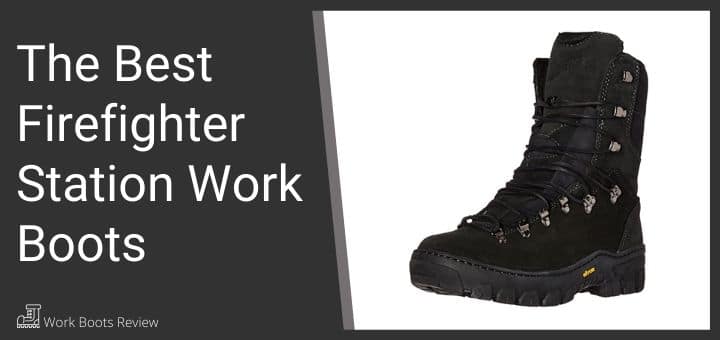 Station wear basically refers to the standard Uniform that fire-fighters wear when they are not out on the field, fighting fires in their full protective gear.
Every fire department has their own unique color and design of uniform. Firefighting station work boots are generally a tough utility work boot with some protective features.
---
Required Functions of a Fire Fighter Station Boot
Although the firefighter station boot is not the footwear that is used when on duty putting out a fire, they still perform an important function;
The largest function is to be put on and taken off easily and very fast.

Logging for long days in the firehouse the boot needs to be very comfortable, and prevent fatigue.

A good temperature control system or breathability features are a must to keep feet cool.

Moisture-wicking and anti-microbial inner linings are ideal, because firefighters spend many hours in these boots, sometimes in very hot conditions.

Similarly, in colder conditions, your feet need to be kept warmer.

A good fire station boot will provide excellent cushioning and arch support, as well as good shock absorbency as part of its comfort functions.

Safety precaution features such as a steel toe, puncture resistance, electrical hazard safety and slips resistance is likewise some functional features that a fire station work boot offers.

The main purpose of a firefighter station boot is to keep you comfortable for long hours, offering protection against general hazards such as falling objects, punctures, and slips.

When in wet conditions waterproofing in a work boot aids to keep your feet dry and bacteria free.

---
Hazards and Dangers Faced by Fire-fighters
Besides getting burnt by fires, or inhaling toxic smoke which can cause many health issues, let us just have a look at the
basic hazards that a firefighter needs station boots for;
Sharp Objects that can puncture your feet.

Slip hazards such as loose gravel, dust, sand, water and wetness and oil and grease.

Falling objects that can damage toes.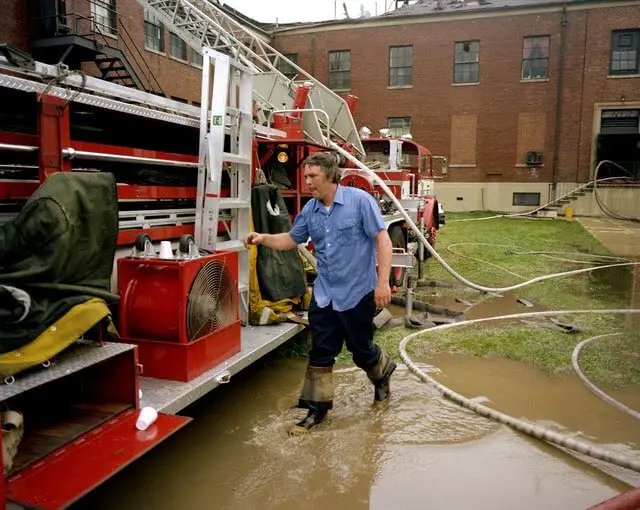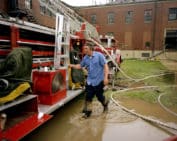 Compression and cutting hazards from machinery and heavy objects, or moving vehicles.

Water and wetness seeping into shoes.

Extreme heat or cold conditions.

Molten Metals.

These are just a few hazards which a good station work boot offers protection against;
---
Features of a Good Fire-Fighter Station Boot
Three crucial Characteristics to look for in a Fire Station Work Boot;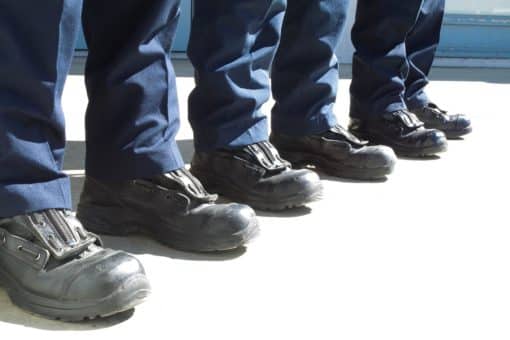 Top Protection
A composite toe and composite materials aid in providing protection against extreme heat and electrocution hazards. Another important characteristic is slip resistance, fire station floors can get pretty wet and slippery.
Comfort
Working on your feet all day is very tiring, and there is nothing worse than sore feet from an uncomfortable work boot.
So it is vital that you find station boots that are comfortable, supportive and well fitting.
Along with comfort a fire station boot needs to be quick and easy out on and take off!!
Durability
Lastly, durability is key! If you don't want to replace your boots on a regular basis and spend tons of money, then buy good quality from the get-go.
Look at good brands and the materials and craftsmanship they offer in the manufacturing of their products.
---
Reviews: The Best FireFighter Station Work Boots
1
The Danner Wild land is a tactical fire station work boot with all the features that you may require. A tough and durable work boot that will give you as much protection as it will comfort.
Tough and durable, genuine leather uppers with a lightweight mountaineering-inspired athletic design.

The 8-inch shaft offers full leg protection, with a full-length polypropylene board, and an integrated steel shank for rigidity and stability.

Inside there is a breathable and moisture wicking lining t keep your feet cool and comfortable.

The double rough outer leather uppers are fully fire resistant.

The Vibram outsole is tough and slip resistant.

A supportive and comfortable OrthoLite footbed.

---
2
When you report for duty, particularly as a firefighter, you never know what to expect. That is why you need a reliable work boot, that offers you optimal comfort, protection, and durability.
Smooth full grain leather uppers with a shiny toe cap and heel counter that are abrasion resistant.

A comfortable and removable single density polyurethane footbed.

The composite shank offers further rigidity and stability.

A Gen-Flex highly durable and slip resistant outsole.

Constructed with the tough and durable Goodyear Welt construction method.

---
3
Viking footwear offers you the full protective work boot for more on terrain firefighting work.
A snug fitting design for comfort and safety that is easily slipped on and off when needed in a rush.

Superior ankle and heel support to prevent ankle roll-over and even better arch support preventing foot fatigue.

The heavy-duty rubber is fully flexible with a 13.75-inch shaft ideal for structural firefighting.

Heavy-duty rubber pull-straps, along with touch and slip resistant outsole.

Electrical hazard safe with a steel toe and steel plate.

---
4
The Airpower EMS station boot, from HAIX, is the perfect ASTM rated fire fighter work boot!
This boot offers exceptional bloodborne pathogen, chemical, and electrical hazard protection.

NFPA certified for emergency medical operations as well as ASTM certified for electrical hazards.

A quick on and off feature with a front zipper, offering a snug fit.

There is an ultra-light, protective composite toe for the best toe protection.

A Crosstech waterproof and breathable inner liner as well as a Secura liner that never wrinkles up or pulls out over time.

The Sun reflects leather uppers control climate to provide a good temperature balance.

The durable and slip-resistant rubber outsole is similarly heat resistant.
---
5
Bates is a trusted name when it comes to tactical and fire station work boots. The Ultra-Light is ideal for being on your feet all day and offers good slip resistance and superior comfort.
Breathable and comfortable leather and fabric uppers in a high top design with a breathable inner lining.

A durable and, oil and, slip-resistant rubber outsole.

The insert is cushioned and removable.

Lightweight with extra tough and durable cement construction.

A protective safety toe and 8-inch shaft for full leg protection.

---
6
The Gen-Flex is a comfortable and flexible boot that is ideal for firefighters as a station work boot.
Tough and flexible leather uppers with an adjustable lacing system and side zipper for easy on and off.

A comfortable and supportive PU insole and EVA midsole that absorbs shock.

Goodyear Welt construction for long-lasting durability.


A smooth reinforced toe cap and thick and durable rubber outsole.

---
7
For in and around the station I highly recommend the Rockrooster slip-on work boot that is easy to put on and take on when you need to change into your Fire Site boots.
A durable rubber outsole that is slip-resistant.

Steel toe cap for toe protection.Full-grain leather uppers and a smooth interior lining.

Features, COOL MAX technology to keep your feet cool and prevent moisture build-up.

Static electricity build up preventative matearils and a TPU outsole.

---
8
A comfortable workboot for wearing and and around the fire station from Skechers, with a durable design.
Leather uppers construction that is durable and comfortable.

Electrical Hazard safe construction.

A slip and oil resistant durable rubber outsole.

Inside is a memory foam comfort footbed and a smooth moisture wicking lining.

---
In Conclusion
When a fire-fighter hears the alarm signaling an emergency, time is of the essence. Taking off station boots and putting on their full fireproof gear needs to happen in a matter of seconds.
Therefore a very important feature of a station boot is to be easy and quick to put on and take off!!
Furthermore, comfort and some protective features are necessary with this regard, and not to forget good robustness.
---
Index Table: Top Rated Fire Station Work Boots