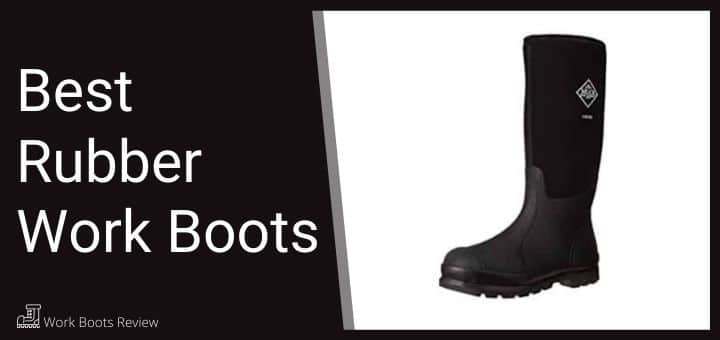 Functional & versatile, rubber work boots work very well in almost any work environment. Need a new pair? We've reviewed several rubber boots for work and narrowed them down to the best boots to consider.
Rubber safety work boots have become very popular; not only are they protective, they offer many advantages and can be worn for work or play.
Rubber work boots are suitable for almost all work conditions and environments but are particularly ideal for working in wet conditions such as mines, wet cement or in mud and sludge.

---
---
Advantages of Rubber Work Boots
Insulation and Waterproofing – Rubber boots will retain heat and are therefore are excellent in cold or wet weather conditions; they are also completely waterproof so they can be worn in wet conditions and for occupations such as concrete and outdoor work.

Slip Resistance – Boots with rubber soles offer excellent traction and grip properties helping to protect you against slips and falls on wet or oily surfaces.

Safety Features – Rubber Work Boots may also come with a steel toe and many other safety and comfort features. Electrical hazard protection is one of the main functions of rubber work boots.

Easy Maintenance – Rubber boots are extremely easy to clean and only need to be rinsed before their next use. Most rubber work boot brands offer an easy slip-on and easy slip off functionality which makes them easy to wear when you are in haste.

---
Features of a Good Rubber Work Boot.
The best rubber boots for work are made from the finest quality durable rubber materials.

These boots are also waterproof and easy to clean.

Rubber work boots are engineered with oil and slip-resistant, high-traction rubber outsoles.

The best rubber boots are Insulated and comfortable on the inside.

These boots also come with padded footbeds and comfortable insoles that provide cushioning and absorbs shock.

Some of the most reliable pairs also come with protective features such as steel or composite toes.

The best rubber steel toe boots also come with electrical hazard protection.

This type of work boots normally come in calf-length to provide just enough protection for the legs and ankles.

Some pairs are chemical-resistant and abrasion-resistant, making them fit for tough work conditions.

The best rubber work boots are comfortable and durable in general.

---
Reviews: Top Rubber Work Boots for Men
Below is a selection of the most comfortable rubber boots that all feature unique designs and offer protection against a variety of work-related hazards, especially in industrial and outdoor environments.
Rubber boots are ideal to keep your feet warm in freezing conditions. They are also water-resistant, keeping all unwanted liquids out.
Some rubber boots also offer an added steel toe safety feature for extra protection, and others offer added comfort features for everyday wear and every foot type.
---
1
The original Muckboot Adult Chore is probably one of the most dependable working boots that you will find, they are very durable for heavy-duty work but also light and comfortable for everyday wear.
These boots are made of 50% nylon and 50% rubber and are an ideal pair of work boots for both women and men.

Waterproof with a stretch fit topline and a breathable mesh lining.

The low cut base provides extra stability.

They are very easy to slip on and slip off with the added kick rim on the counter, even without using your hands.

The rubber soles offer slip resistance on wet and oily floors.

Because these boots are made of rubber, they are also extremely easy to clean as you will only need to rinse them off and they are ready for the next use.

The one-inch heel offers extra support especially if you are walking or standing for long periods of time.

A reinforced Achilles, heel, and toe area for protection and durability.

Provides comfort and warmth even in sub-freezing weather conditions.

---
2
Bogs are a well-known brand in rubber work boots. The Bogs Classic High Waterproof Rubber Work Boot is a completely waterproof men's working boot made for comfort and endurance.
This boot offers 100% water resistance and can be worn in the wettest of conditions with no liquids penetrating the boot.

Made of high-quality rubber and stretchable neoprene that is waterproof and will help to retain heat.

The high traction rubber sole provides excellent grip and traction on any wet surfaces.

The removable sock liner that it comes with will help to keep your feet cool and free from odor and moisture.

This boot will keep your feet dry and warm in cold conditions and cool in warmer weather conditions.

A great pair of boots for trekking in the snow or in wetlands.

The added cuffs seal the boots to prevent water and liquids from seeping in.

---
3
This is an all-weather boot that has superior insulation capabilities the Original Muckboot Adult Jobber is an ankle boot that will keep your feet cool in warm weather and warm in cold weather.
It has a Seamless quick overlay that makes cleaning of this footwear very easy.

This boot is embedded with a diamond tread outsole and a wrap-up bumper for additional toe protection.

Made from lightweight CR flex-foam with 4-way nylon stretch material providing enough flexibility for easy movement and everyday wear.

Offers water resistance and will keep your feet dry and comfortable even in sub-freezing weather conditions.

Durable enough for a work boot and comfortable enough for everyday wear.

The reinforced Achilles support panel ensures that you have the stability and support to prevent any Achilles and heel injuries.

---
4
The Baffin Tractor Canadain is an ideal work boot for the agricultural sector, providing lightweight durability and being able to withstand extreme work conditions and environments.
This boot is made from a very lightweight material that will reduce strain on your feet during prolonged wear.

This boot is completely waterproof keeping your feet dry and keeping out all moisture and hazardous liquids.

A flexible and durable boot that will offer comfort and needed protection.

Constructed with a tread outsole to maintain secure footing and excellent grip.

This rubber boot is designed to withstand the most extreme work conditions and environments.

Baffin boots are very popular for their uniquely designed sole and midsole that is molded together at the base offering good grip and balance to the wearer.

An easy slip-on and slip off design, as well as very easy to clean.

A tough and durable boot that will last you very long.

---
5
The Bogs Forge is a comfortable steel toe rubber work boot with additional safety features perfect for heavy-duty and industrial work environments to provide you with optimal safety, comfort, and durability.
Designed with an ASTM approved steel toe for additional safety and protection from falling objects and compression risks.

This steel toe rubber boot is waterproof and many other liquid-proof.

The Neoprene upper lid covering will prevent any water or foreign liquids from entering the boot to keep your feet dry and safe in all conditions.

The added anti-microbial protection will help to eliminate all foot odor and keep your feet dry and fresh as well as free from any infections.

A Four-way inner lay boot cover has been added to provide better insulation and durability, as well as improved comfort.

This boot has been rated to withstand temperates below subzero.

An ideal boot for any weather condition.

A chemical and slip-resistant durable outsole.

---
6
Excellent value for money, that does not compromise on comfort or durability, you can count on the Servus Comfort technology rubber boot to get you through a tough day's work.
Manufactured from PVC that is polyblend molded constructed as well as seamless.

Completely waterproof and resistant to degradation, and similarly agricultural chemicals and animal waste.

The Comfort Technology ensures and unique scalloped top-line fit that flexes easily.

All the stress points are reinforced for improved durability.

Flexible and lightweight with foot form contouring and a cushioned insole for heel and arch support.

The insole is removable and washable.

A deep angled cleated outsole is electrical hazard safe and slip-resistant.

An excellent choice in the food processing industry and farming or ranching industries.

---
7
The Tingley Economy is all-day comfort and protective rubber work boot that is designed for general purpose work. These comfortable rubber boots also work well when it comes to farming, construction, and chemical industries.
The Tingley® Men's Economy All Purpose Rubber Work Boots are designed to be knee-high for complete protection.

These rubber boots also come with cleated, tough outsoles that spit out rubble and debris.

These durable rubber boots are designed to be rough and are abrasion-resistant.

The pair is also engineered to be completely waterproof, thanks to their injection-molded construction.

The Tingley® Men's Economy All Purpose Rubber Work Boots are built for rough work as they are crafted to be chemical and farm waste-resistant.

---
8
If you are looking for the best-insulated rubber work boots, then the Arctic Shield® Men's Outdoor Cold Weather Rubber Work Boots are your top pick. Waterproof, well-insulated, and ideal for working outdoors, these boots are designed to adapt well to cold and wet weather conditions.
The Arctic Shield® Men's Outdoor Cold Weather Rubber Work Boots are engineered with the ArcticShield technology which retains your body heat inside.

The same technology also protects the feet from extreme heat on the outside.

These rubber boots offer 7mm neoprene with rubber overlays along with lightweight insulation.

Built for the cold and wet conditions, these rubber work boots are crafted to be waterproof.

The pair is designed to be conveniently worn as they come with easy on and off pull tabs.

These insulated rubber boots come with outsoles that are manufactured from extremely durable rubber which guarantees reliable traction.

---
9
The Lacrosse Alpha is top of the range when it comes to durable rubber work boots.
Made from tough and robust 100% natural rubber.

Completely waterproof design with hand-laid rubber.

Extra-long shaft for full protection.

The rubber outsole has a lug tread for slip resistance.

---
10
The Tingley Economy is an outstanding choice for agricultural and ranching work, where you are constantly in a wet environment.
A 15-inch shaft and a plain round toe for better toe room.

The outside is cleated to keep dirt and debris out.

Injection-molded construction ensures 100% waterproofing.

Made from high grade flexible and durable, rubber, that is eco-conscious and abrasion resistant.

A rubber outsole that ensures excellent slip resistance.
---
11
This rubber work boot likewise features a protective steel toe and very durable design.
Made from 100% natural and durable rubber that is completely waterproof and Hand Laid.

The ZXT, rubber used in this boot is abrasion resistant, ozone and tear resistant.

Multiple layers of rubber on the toe for even more protection.

A soft and comfortable insole.
---
Index Table: Best Rubber Work Boots for Men
The Final Take Away
Certain industries often call for certain footwear to be worn. And if you work in an environment that is often wet, then rubber boots are your perfect choice.
Functional, durable, and sure to keep your feet protected, rubber work boots are also designed to be comfortable. More often than not, this type of footwear also comes in steel toe variety.
So whether it's for a tough workplace or for everyday fishing, the best rubber work boots definitely are worth the investment.
And from our list of today's best-selling rubber work boots, which pair do you think is right for you?