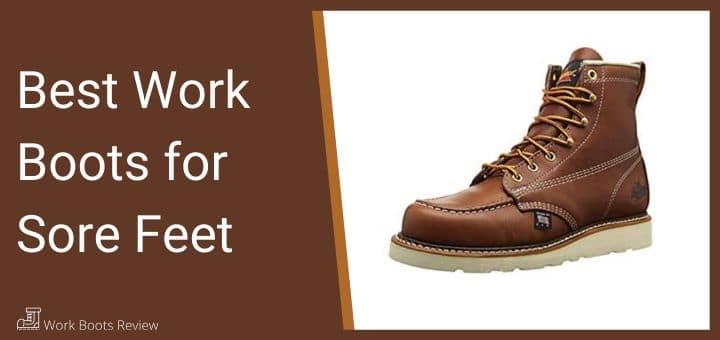 There is nothing worse than painful and aching feet, which in turn can cause many other complications as well as interfere with your work performance.
Work Boots that do not provide the proper comfort and support characteristics will place pressure on your feet and lower limbs and not provide adequate comfort and support to keep your feet pain-free and reduce foot fatigue.
---
What Cause Sore Feet
Conditions and Injuries
Injuries or overuse if certain muscles and joints in your feet are a substantial cause of Sore Feet, which usually involves, tendons, muscles and ligaments are causing the pain.
Arthritis is henceforth one of the greatest conditions that cause Sore Feet, along with Peripheral Neuropathy, which affects the nerves in your feet.
Some Common Conditions that can Cause Sore Feet are;
Platar Fasciitis, which is basically a sharp pain in your heels.

Achilles Tendinitis, pain in the heel and ankle.

Bone spurs, and fractures.

Bursitis, which is inflammation in your joints.

Corns, Callouses and Bunions, which are painful deformities in the toes and feet caused by pressure.

Flat Feet and Overpronation.

Stress Fractures, caused by overuse and excessive and continual pressure.

[/strong]
---
External factors causing Sore Feet
You can generally look at these external factors that are the main culprits when it comes to Sore Feet;
Improper fitting shoes.

Shoes that offer no support or comfort features.

A narrow or tight toe box shoe.

Hard or concrete floor surfaces.

Standing, or walking all day.

Excessive activities that place strain on your feet and lower limbs.

Jumping or climbing.

Slippery and uneven floor surfaces.

Wearing the same shoe for many hours.

---
Tips and Shoe Characteristics to Help Alleviate Sore Feet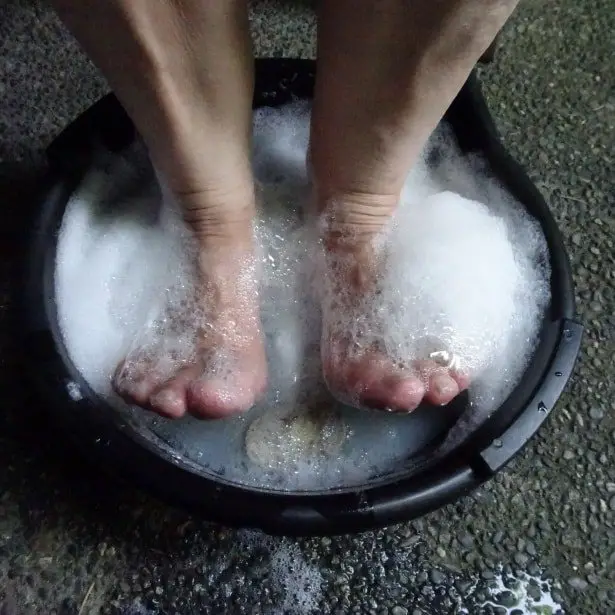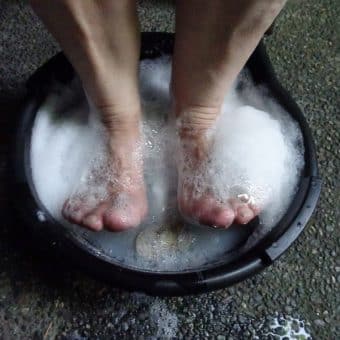 Sore Feet Treatment
Here are a few things you can do to prevent and treat painful feet;
Always remove your work shoes after work and give your feet a rest in comfortable slippers or bare feet.

Wear supportive and proper fitting Work Boots at all times.

Rest and take a seat in between long shifts standing or walking.

Place your feet in ice or use a relaxing muscle soak after long hours at work.

Keep your feet dry in your shoes and use a comfortable and supportive insole.

Try to change your shoes regularly if you can, and maybe invest in two pairs of work boots.

Characteristics of a Work Boot for Sore Feet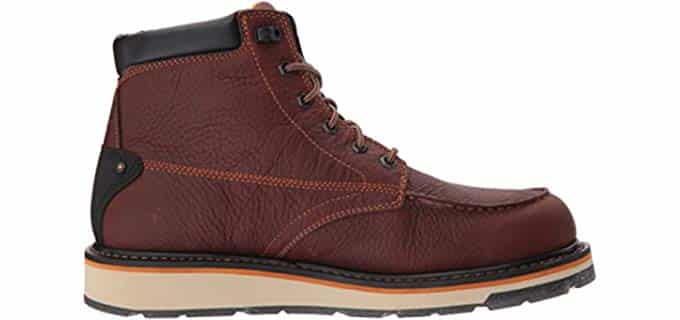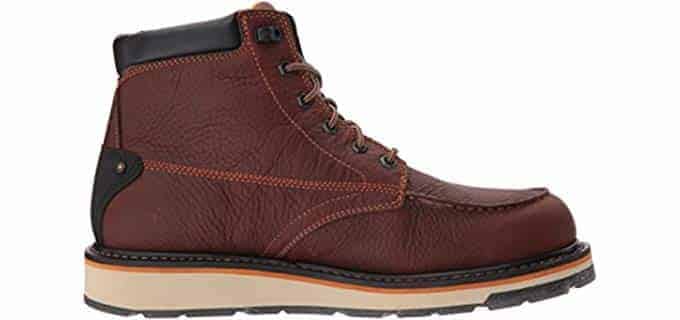 A Cushioned insole or footbed.

Good shock absorbency such as an EVA or thick rubber outsole and midsole, and Gel padding.

A comfortable fit with a Roomy toe box.

Moisture-wicking and sweat resistant lining.

Good Breathability to keep your feet cool and comfortable.

Memory foam, or contoured insoles and footbeds are ideal.

---
Reviews: Best Work Boots for Sore Feet
1
Rated as one of the most Comfortable Work Boots the Thorogood american Heritage is sure to relieve and prevent sore feet.
Made from full grain leather in a Tobacco Oil tanned option, Trail Crazyhorse, black or black walnut color option.

Manufactured using Goodyear Welt construction methods for long lasting durability.

A Cotton Drill vamp lining to reduce moisture and keep your feet dry, with a shock absorbing, removable footbed on a Poron cushioned insole for comfort and pain relief.

A MaxWear slipping resistant and shock are absorbing Wedge outsole with superior traction capabilities and a tough rubber midsole.

---
2
The Timberland Pro Titan has an adaptive comfort footbed that cushions your feet while providing superb temperature control.
Leather uppers from full grain leather with a PowerFit comfort system for all-day comfort, and a moisture-channeling, air-mesh lining treated with Agion for dry and fresh feet.

The Titan safety toe cap meets all relevant ASTM standards for quality and compression protection.

An Outlast Adaptive comfort footbed that regulates temperature and cushions your feet preventing sore feet.

Electrical hazard safe according to ANSI Z41 T99 standards.

The Nylon diffusion shank ensures exceptional torsional stability.

A durable and slip-resistant rubber outsole that offers good traction.

---
3
An excellent choice in Safety Work Boot for more Risky work environments, with the option of a removable insole, so that you can use your own orthotic devices for additional support and comfort.
An Electrical Hazard Safe with a protective Steel Toe that meets ASTM regulations and standards ideal for industrial work environments.

Comfortable and lightweight leather uppers with a tough slip resistant and shock absorbing rubber outsole that has a V-Grip system.

A comfortable and supportive footbed that prevents sore feet and foot fatigue.

Good shock absorbency to prevent impact on your feet and joints.

---
4
A remarkable safety Work Boot with so many comfort and protection features, this is truly a comfortable and superb protective Work Boot from Carhartt.
Full grain leather uppers with Rugged Flex technology and created using Cement Construction methods for a tough and flexible work boot that moves with you.

Water resistant and ankle protection with string tie boot laces that are strong and sturdy.

Meets ASTM standards for electrical hazard safety and has a shock absorbing oil and slip resistant rubber outsole.

The EVA midsole and Ortholite footbed ensure all-day cushioned, and lightweight comfort and support.

---
5
Another superb addition from Timberland pro, the Gridworks is a Waterproof Work Boot for Industrial work, with the addition of an anti-fatigue comfort footbed.
Industrial strength leather and textile work boot with a slip-resistant rubber outsole.

The premium full grain leather uppers have a completely waterproof membrane.

The steel shank offers exceptional structural support.

A mesh lining with antimicrobial treatment to control odor and wick away moisture.

A dual-density dynamic anti-fatigue technology polyurethane footbed that will reduce pain and sore feet.

The EVA midsole and outsole have an all-weather Thermoplastic urethane design.

---
6
Should you suffer from any painful foot conditions or protrusions that are the cause of your sore feet, the Dr Comfort Orthopedic work boot is the ideal work boot with a wider and more comfortable fit.
Included are Dr. Comfort Gel inserts that are removable for the use of your own orthotic inserts and insoles of your choice.

Lace-up closure for a snug and comfortable fit with a roomy toe box for painful foot conditions and sore feet.

Seamless padding and a comfortable and shock absorbing footbed.

The durable outsole is tough and slip resistant.

---
Index Table: Top Work Boots for Sore Feet