Tarsal Tunnel Syndrome is a painful condition affecting your feet and lower limbs for which you will need a supportive and comfortable shoe, particularly when it comes to working boots that are worn for long periods.

---
What is Tarsal Tunnel Syndrome
Tarsal Tunnel Syndrome also is known as Posteriar Tibial Neuralgia, is basically a compression of Neuropathy and a very painful foot condition, which occurs when the Tibial Nerve is compressed when traveling through the Tarsal tunnel.
To explain, the Tarsal Tunnel is found along your inner leg, behind the bump inside of your ankle, your tibial arteries, nerves and tendons travel through this tunnel in a bundle, hence a Tarsal Tunnel.
When these nerves are compressed it causes a shooting pain or burning sensation in your feet and legs.
---
Symptoms, Treatments and Causes of Tarsal Tunnel Syndrome
Symptoms
Individuals with Tarsal Tunnel Syndrome will experience sharp shooting pains, pins and needles, or a burning sensation anywhere along the tibial nerve in the feet or ankles.
Symptoms will vary from individual to individual and may progress gradually or begin suddenly. Physical activity can greatly increase symptoms and pain, though some people may even experience pain and discomfort while resting.
Causes
The Main Cause of Tarsal tunnel Syndrome is ,strong> Compression of the Tibial Nerve which can be cuased by other conditions;
Flat feet that stretch the tibial nerve.

Deformities on the tarsal Tunnel area.

Varicose veins.

Arthritis.

Trauma or Injuries.

Diabetes.

Some of these conditions in turn can be caused or aggravated by using improperly fitting and un-supportive footwear!
Treatment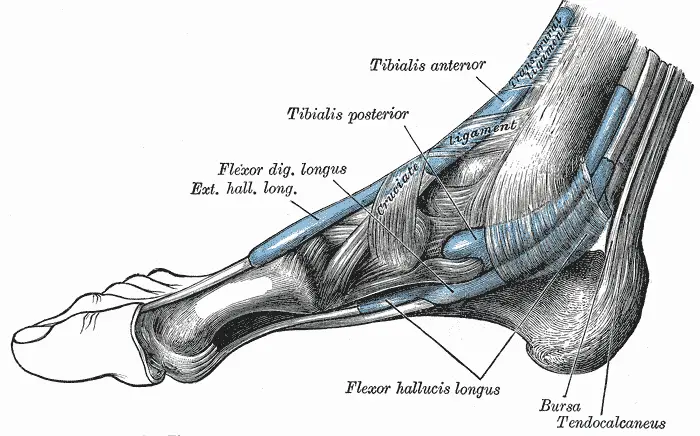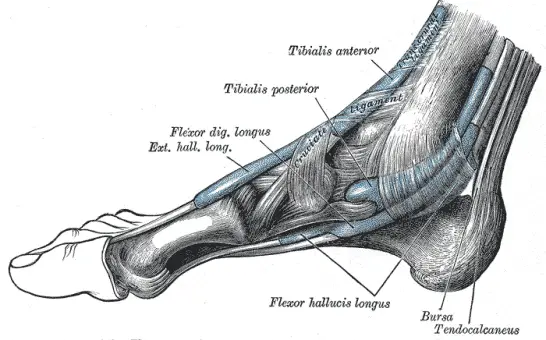 Usually anti-inflammatory medication will aid to reduce pain and inflammation. Though the best treatment is the <strong.RICE treatment; resting, Icing, Compression and Elevation.
Proper footwear in this case, particularly when it comes to Work Boots is an absolute must!
What to Look for in a Work Boot for Tarsal Tunnel Syndrome
Orthopedic shoe types are obviously your best option when it comes to footwear for any serious foot condition, including Tarsal Tunnel Syndrome, though this might not always be feasible, particularly in an industrial work environment.
So here are some great features to look for in a work boot that will most certainly help;
Gel cushioning in the rear and forefoot are always great to have.

Sizing is vital as a proper fit will make a huge difference.

Lace-up features are ideal as you can customize the fit easily.

Look for a roomy and wide toe box that will not place pressure on your toes or metatarsal area.

Look for shoes that are easy to put on and take off, with a Velcro or zip closure, or a slip-on design.

Durability is key in any good workboot so look for proper construction and quality materials.

A proper insole that offers cushioned support will reduce the symptoms of TTS.

Cushioning is vital but so is a shock absorbing and stabilizing, slip resistant outsole.

Good arch support.

Look for a shoe that allows you the use of your own insole or orthotic devices.

Lightweight and breathable Work Boots are ideal with a wider width fit for more comfort.

---
Reviews: Best Shoe for Tarsal Tunnel Syndrome
---
1
We kick off with the Propet Clif Walker, a Hiking style boot ideal to use as a Work Boot, with Velcro strap closures, and orthopedic support.
A soft and supple leather work boot that is A5500 Medicare approved ideal for foot conditions such as Tarsal Tunnel Syndrome.

The rubber outsole is thick, shock absorbing and ensure excellent grip on a variety of surfaces.

A removable supportive and cushioned footbed allows you the use of your own orthotic devices.

Available in different width options uto an extra wide option to accommodate painful foot conditions.

---
2
The Smith & Wesson Breach is a tactical work boot for occupations in the Law enforcement or Security industry, that features an easy on and off the design with a side zip closure.
Leather uppers that are tough and comfortable with Nylon for breathability and a gusseted tongue to keep out dirt and debris.

An EVA midsole for lightweight cradled support and a steel shank for stability.

The rubber outsole minimizes traction loss and has an innovated pattern for exceptional grip on all surfaces in all conditions.

A waterproof HydroGuard to keep you dry in all weather and environments.

A comfortable footbed and wider fit for Tarsal Tunnel Syndrome and other foot conditions.

A zip closure for easy on and off.

Available in Black and Tan color options for you to choose from.

---
3
A
wider width option fit and comfort contoured footbed is promised with the Keen Utility Detroit,
along with Electrical Hazard protection and slip resistance for Indus trail work Environments.
Synthetic upper construction with a waterproof membrane that is completely breathable.

A left and right asymmetrical aluminum safety toe that is more lightweight, yet just as protective as a steel toe.

Electrical hazard, non—marking rubber outsole meeting ASTM standards for safety.

Underfoot protection against punctures.

Tech-Flex design and contoured underfoot support with enhanced flexibility.d safe meeting ASTM standards and regulations.

A high traction, oil and slip resistant

---
4
The Rock Rooster is a highly comfortable and protective Work Boot with an anatomical footbed, extra wide width availability, as well as an easy access zip closure system.
Nubuck leather uppers that are waterproof with CoolMax technology for moisture and odor control as well as keeping your feet cool.

A protective steel toe cap that is ASTM rated with static electricity dissipative features and protection against static electricity build-up.

The PORON materials and Microban technology are reliable and consistent.

A TU Rock rooster outsole for better support and grip.

The anatomically contoured footbed cradles your foot for maximum support and comfort.

The durable outsole is oil and slip resistant.

---
5
A comfortable, Orthopedic and handsome looking Work Boot from Orthofeet, that is meant for less hazardous work environments. Providing you with more relief from Tarsal Tunnel Syndrome Symptoms.
Black or Tan leather upper construction options with a slip resistant outsole that offers excellent traction.

Soft and supple seamless construction with extra depth and extra width design, ideal for a range of foot conditions.

An Ortho-Cushion system and lightweight sole with a bio-mechanical design for the best support and comfortable cushioning.

Excellent stability features which help to facilitate motion.

---
Some Tips for Buying Shoes for Tarsal Tunnel Syndrome
Measure your feet and buy the correct size and width.

Look for shoes with removable insoles so you can use your own orthotic devices.

Ask other individuals with TTS what Work Boots they may recommend.

Make sure you have a set budget as an Orthopedic Work Boot may cost more.

Fit the shoes when you receive them, and walk with them a while to see if they cause any pain or discomfort.

As I always recommend with any condition, if the pain persists and get worse, consult your physician!!
Index Table: Top Work Boots for Tarsal Tunnel Syndrome