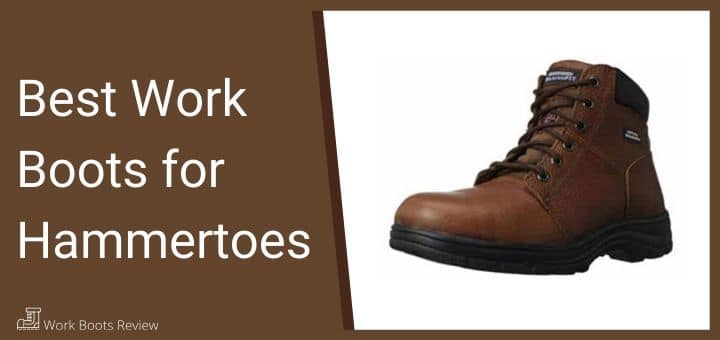 Hammertoes are a foot deformity which main Cause and Aggravation is a direct result of wearing improperly fitting, and improper footwear.
When you have Hammertoe you will need a specific shoe type, particularly when it comes to Work Boots that you wear almost all day, every day.
The most important and most aggravating characteristic in any shoe when it comes to hammer toe is PRESSURE.
Anything that presses or scrape against Hammertoes can cause much pain and damage as well as further enhancing the condition
---
What is a Hammertoe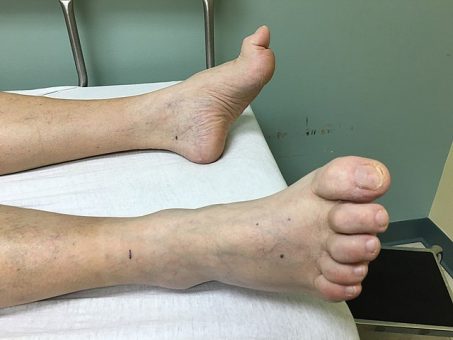 A Hammertoe is basically an abnormality or deformity that occurs in your toes because of an imbalance in the muscles, tendons or ligament that are there to keep your toes straight.
Hammertoe usually occurs in the second third and fourth toes, and causes an unusual bend in the middle joints of these toes. Moving the affected toes can be difficult and painful, and any pressure placed on them will similarly cause much pain.
Causes
The wrong Shoes, such as high-heels and footwear with a tight or narrow fit and toe box can crowd your toes and cause this condition.

Trauma, from an injury or broken toe can result in Hammertoes developing.

Imbalance, in the toe muscles and joints lead to instability causing your toes to contract.

---
Hammertoe Risk Increasing Factors
The risk of developing Hammertoe greatly increases with age.

Women are more likely to develop Hammertoe that men in general.

When your second an third toes are much longer than the rest of your toes, you likewise have a higher risk of developing Hammertoe.

Conditions and diseases such as Arthritis and Diabetes may make you more prone to foot conditions and deformities such as Hammertoe.

---
Complications
Initially, a Hammertoe will maintain its flexibility to a certain point, though in time if not properly cared for this might worsen.
Later on, the tendons and the toe will contract and tighten to the point where it will become permanently bent and stiff.
Shoes that rub against these toes will, in turn, cause painful corns and callouses, among other damage to your toes.
---
Features of a Good Work Boot for Hammertoes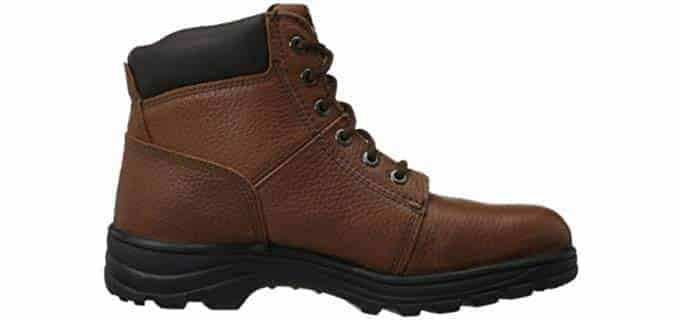 The correct Footwear is one of the main methods of TREATING and PREVENTING Hammertoe
Look for a Work Boot that offers Ample Toe Room, with a wide and high toe box area, or a flexible toe box from soft materials. A Lace up or Velcro strap closure Work Boot ensure a customizable fit that will generally place less pressure on your toes.
Similarly, check for a soft and cushioned footbed to reduce pressure from the bottom of the shoe, and look for a moisture wicking lining, as sweating and overheating will only agitate and increase the pain and symptoms of Hammertoe.
Lastly Make sure your Work Boots Fit, never too tight or loose and without any tight or irritating sports that place pressure on your toes.
---
Reviews: Best Work Boots for Hammertoes
1
The Skechers for Work Workshire is a Protective Safety Work boot with a Steel toe, as well as a relaxed fit, wider toe box, and comfortable memory foam insole for comfort and relief from painful Hammertoe symptoms.
A genuine leather upper construction with a relaxed fit and wider toe box to accommodate Hammertoes.

The memory insole ensures luxurious comfort and contoured support.

A traditional lace-up design with tough metal eyelets and Crazy Buffalo Horse leather used on the uppers.

Meets ASTM standards for the protective steel toe and electrical hazard safe materials.

The lug outsole is durable, slip and oil resistant, made from natural rubber.

---
2
A superb Safety Work Boot, as well as a Highly comfortable and accommodating boot for all-day wear.
The Timberland Pro Pitboss features a wider and higher toe box fit for more movement room and a soft and well-cushioned footbed.
Soft and supple genuine leather uppers with a tough and slip, oil and abrasion resistant leather outsole.

The top collar is padded for comfort and there is an accommodating asymmetrical toe cap for protection and less pressure on your toes.

Comfort suspension technology that reduces foot fatigue and offers cushioned arch support.

Available in a wider width and larger size options.

Three neutral and darker shade color options for your own personal preference and requirements.

---
3
The Wolverine Loader has a soft Moccasin style toe, and is available in a Wider width option, as well as having a removable insole to allow you the use of your own inserts and orthotic devices.
The PU wedge outsole is extremely comfortable and shock absorbing with a tread that sheds away dirt and debris from the sole.

Genuine full grain soft and supple leather uppers.

Time tested and constructed using Goodyear Welt Construction methods for the ultimate in long-lasting durability.

A breathable unlined design and padded collar for comfort and a better fit.

A fully cushioned removable footbed.

---
4
From Dr. Comfort we have the protective Steel toe Construction Work Boot, that is available in extra wide widths and comes with a removable, and highly supportive Gel Insole.
Soft and comfortable leather uppers with a wider and more roomy toe box to accommodate foot conditions, such as Hammertoes and Bunions.

Included you will receive a free pair of Gel Plus comfort insoles that are removable for the use of your own orthotic devices.

Available in a variety of widths from medium up to extra wide.

A protective steel toe, in a heavy-duty work boot, with a slip-resistant rubber outsole.

---
5
The Propet Cliff Walker Work Boot is completely waterproof with a self-cleaning, slip-resistant rubber outsole.
For comfort and pain relief this work boot is available in wider widths and has a comfortable design with a supportive footbed.

100% tough and durable leather construction with Sealtex waterproof technology and flexible design.

The Nylon mesh lining and D-Ring speed lacing system offer extensive comfort and convenience.

The slip-resistant rubber outsole has a self-cleaning design, keeping dirt and debris off your shoes.

A Medicare/HCPCS A5500 approved orthopedic and Diabetic shoe for all foot conditions.

---
Index Table: Top Work Boots for Hammertoes