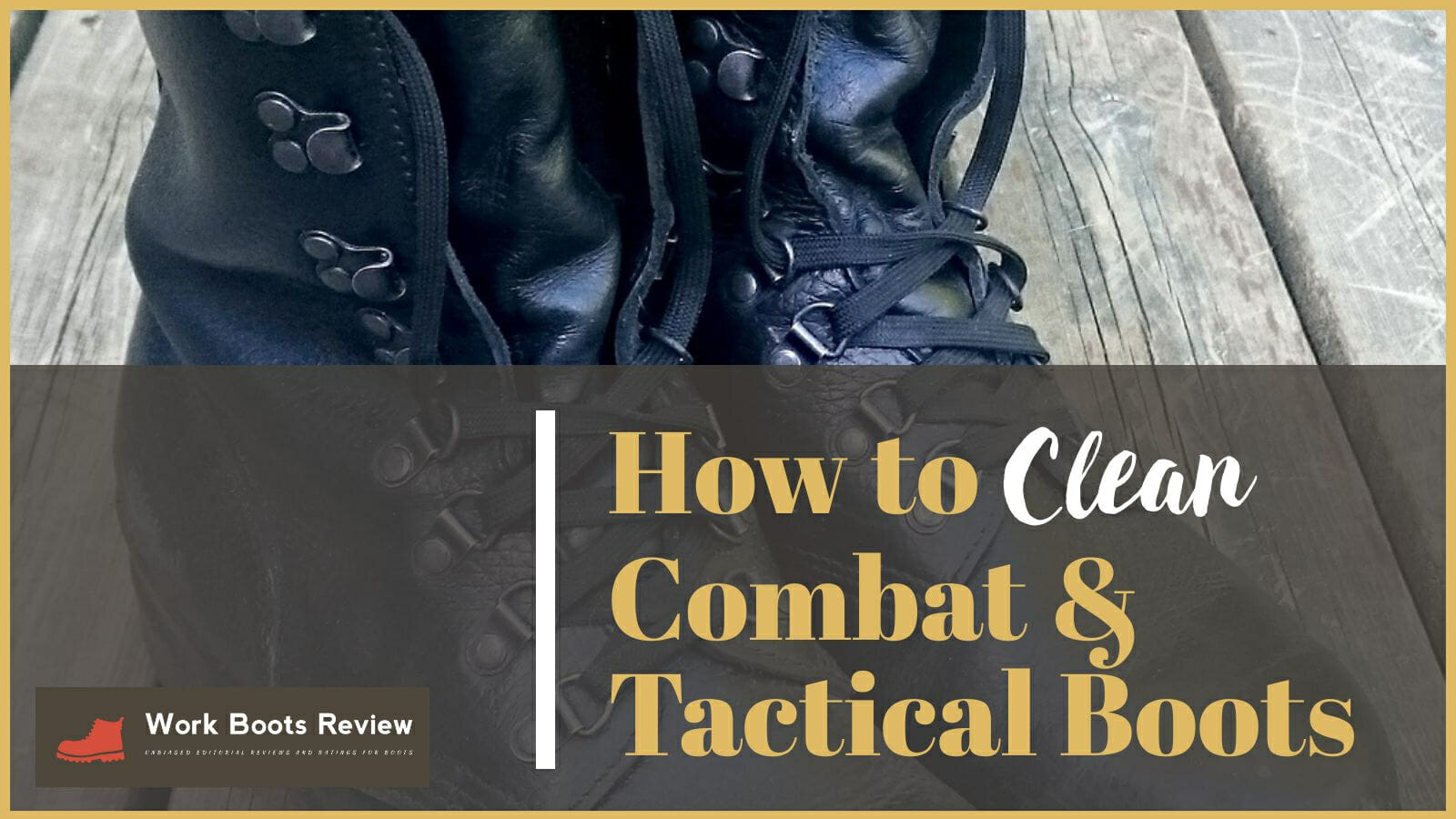 When you are out in the field with your unit or walking through mud with your squad, your combat boots are going to take a beating.
It's a given – they are going to get dirty.  And it's likely they won't just have a little soil on them – no, they are going to get caked with dirt and God-knows-what.
It's a cleaning nightmare that will likely leave you with one question:
How do you clean your favorite tactical boots made from suede, leather, and fabrics like nylon?
Lucky for you, we've got the answers.  We can help you clean your tactical boots no matter what material they are made of – suede, leather or nylon.
Regardless of the material, there are two over-riding tips to keep in mind when cleaning military boots. Always brush away dust and dirt first, and be careful how you dry the boot.
Before You Begin – Identify Your Boot Material
This might seem like a simple step, but it absolutely essential to make sure you know what kind of matter your boots are made of.  It's especially important if you have suede boots that you follow those instructions and not others – otherwise you will likely ruin your footwear!
The primary distinction between leather and suede is that leather is silky and velvety, whereas suede is textured and matty. Leather, as opposed to suede, is more durable since it is created from the animal's exterior, which is naturally the outer layer of the animal's skin. Suede is typically manufactured from lambskin, but it can also be made from goatskin, pigskin, calveskin, and deer skin. Suede is a softer, thinner material that is not as strong as full-grain, typical leather.
Nylon is artificial, woven textile – you're smart enough to tell the difference between nylon and either type of leather.
We've included instructions for cleaning all three types of tactical boots.  Just follow the instructions for the pair you own, and before you know it your boots will be looking GOOOOD!
How To Clean Suede Leather Combat Boots
Brush suede leather combat boots daily to get rid of any dust and dirt. Cleaning your combat boots twice a week is good practice. Don't leave mud stains or any other stains on the boots; clean the boots soon after noticing the stains.

Use A Suede Cleaning Kit
Buying a quality suede cleaning kit is an excellent investment to help take care of your combat boots. The suede shoe cleaning kit should include a nonmetallic bristle brush, suede boot cleaner, and suede conditioner.  If you go this route, follow the instructions that come with the kit.  Different cleaners and conditioners have their own specific amount of time they need to be applied, so one size fits all isn't applicable here.
What You Need
Warm water
Dishwashing liquid
Art gum eraser or suede eraser
Baking soda
Foot powder, baby powder, or cornstarch
Anti-fungal spray if needed
Additional Tools To Clean
Soft to a medium nonmetallic bristle brush or horsehair brush
Soft cloth or brush for cleaning
Clean cloth for wiping
Old toothbrush
Cleaning Method for Suede Boots
Daily Care Of Suede Tactical Boots
Use the soft brush or cloth to brush away dust and dirt from the boots.
Brush the suede in one direction.
A toothbrush works great for dusting around the eyelets, sole tread, and small areas.
Leave damp boots to air dry at room temperature. Suede combat boots are water-resistant, not waterproof. Water enters through the eyelets and top of the boot, and perspiration may also cause dampness.
Clean Bootlaces
When bootlaces become dirty, you can hand wash or machine wash the laces. Handwash is easier and safer. You could lose a bootlace in a washing machine.
Mix warm water and a little dish soap in a bowl.
Soak the laces for at least 15 minutes in the dish detergent-water solution.
Squeeze the soapy water through the laces.
Rinse in clean water.
Hang the laces to air dry.
Remove Mud Stains
Allow the mud to dry before you clean the boots; it's easier to remove dry mud than wet mud.
Scrub off excess mud with the brush.
Mix one cup of water with 1/2 teaspoon dishwashing liquid.
Use circular motions to remove the stains gently.
Suede boots may have nylon fabric on the uppers. Gently wipe the boots clean with a soft cloth and dish soap-water mixture.
Use a clean cloth to wipe the boots down with clean water.
Allow boots to air dry.
Get Rid Of Scuff Marks
Scuff marks are unavoidable, and it makes the combat boots look old and shabby.
Buy suede erasers or suede stones to remove marks.
Use the tools gently by rubbing back and forth a few times to remove the marks. Vigorously rubbing removes the boot's texture; the damage is unrepairable.
Use an art gum eraser for notably rough areas on the suede leather.
Remove Oil Stains With Baking Soda
Sprinkle the oil stain area with baking soda to absorb the oil. You can also use corn starch, baby powder, or foot powder. Alternatively, make a paste and apply it to the oil stains.
Leave the baking soda for at least half an hour.
Remove the baking soda with a soft brush.
If there are oil traces left, repeat the process.
The Dont's Of Cleaning Suede Leather Boots
Don't use polish on suede combat boots.
Don't use oil-based cleaners; it stains the boots.
Don't use alcohol to clean the boots; it dries out the leather.
Don't use excessive heat to dry the boots. Even if in a hurry, don't use a blow dryer, heating vents, or direct sunlight; it damages the materials and glue that holds the boots together.
Don't wash insoles in the washing machine. The spin cycle destroys the insole's shape, and it doesn't support your feet the way they should, which could cause unnecessary foot pain and foot fatigue.
How To Clean Full-Grain Leather Boots
Keep your leather boots in good condition by regularly cleaning off the mud and dirt and periodically doing a deep cleaning. Deep cleaning takes your boots out of circulation for about three days.
Tools And Product You Need
Soft bristle brush
Dry, cotton cloth
Damp cloth
Cotton balls and cotton swaps
Wax shoe polish
Old toothbrush
Leather cleaning product (for thorough cleaning)
Waterproof impregnation spray
Boot polish
Cleaning Method For Leather Boots
Taking Care of Leather Boots Daily
Knock boots against each other to rid of mud and dirt.
With a soft brush and gentle back and forth motions, brush away all dirt and dust stuck to the leather.
Use a toothbrush for crevices and small areas.
Air dry damp boots overnight in a well-ventilated area.
Deep Cleaning Military Boots
Make sure your boots are dry before you start.
Remove the bootlaces, insoles, and pull back the tongue for easier access and better ventilation.
After you've removed the loose dirt or mud, wipe the combat boots with a damp cloth to remove the remaining soil or dust.
Warm water will get rid of heavily, caked mud.
Use a leather cleaning product for a thorough clean.
While wet, use impregnation spray to waterproof the boot again. (Leather cleaning products remove the waterproofing spray).
Leave the boots for 24 hours for the treatment to take effect. (Repeat waterproofing every three weeks.)
Apply a light coat of polish in circular motions with the dry cloth.
Allow the polish to dry for 15 minutes.
Remove excess polish with a soft bristle brush or cloth. Wait five minutes before applying more polish.
Apply small amounts of polish in circular motions with a damp cloth.
Repeat the process for shiny tactical boots.
Buff the boots until they shine.
The Dont's For Cleaning Leather Boots
Do not use excess polish; it smothers the leather reducing its breathability.
Do not use hair dryers, heat vents, or direct sunlight to dry boots; too much heat shrinks the leather.
Do not leave leather cleaning products on the boots. Always rinse off with clean water to ensure the pores close when dry.
Do not forget to reapply waterproofing to the boots.
How To Clean Nylon Fabric Boots
Cleaning nylon boots is quick and easy. All you need is a brush for the dirt, a soft brush, and water for the cleaning process. Never polish nylon boots.
Brush the dirt of the nylon boots.
Clean the fabric with water and a soft brush.
Air-dry the nylon boots; do not place them close to any heat.
Cleaning Inside The Combat Boots
Cleaning The Insoles
Remove the boot's insoles, and allow to air dry; no excessive heat.
Handwash dirty insoles. Use a gentle soap like saddle soap.
Leave to air dry.
Cleaning the Interior
Wipe the inside of the boots with a soft cloth using a dishwashing soap-water mixture.
Wipe down with a dry cloth.
Let the boots air dry.
Use an anti-fungal spray to avoid athlete's foot (optional).
How do you clean your combat boots? Do you have a tip you like to share? Those familiar with cleaning normal leather boots may share with the readers your boot care and cleaning technique in the comment section below.