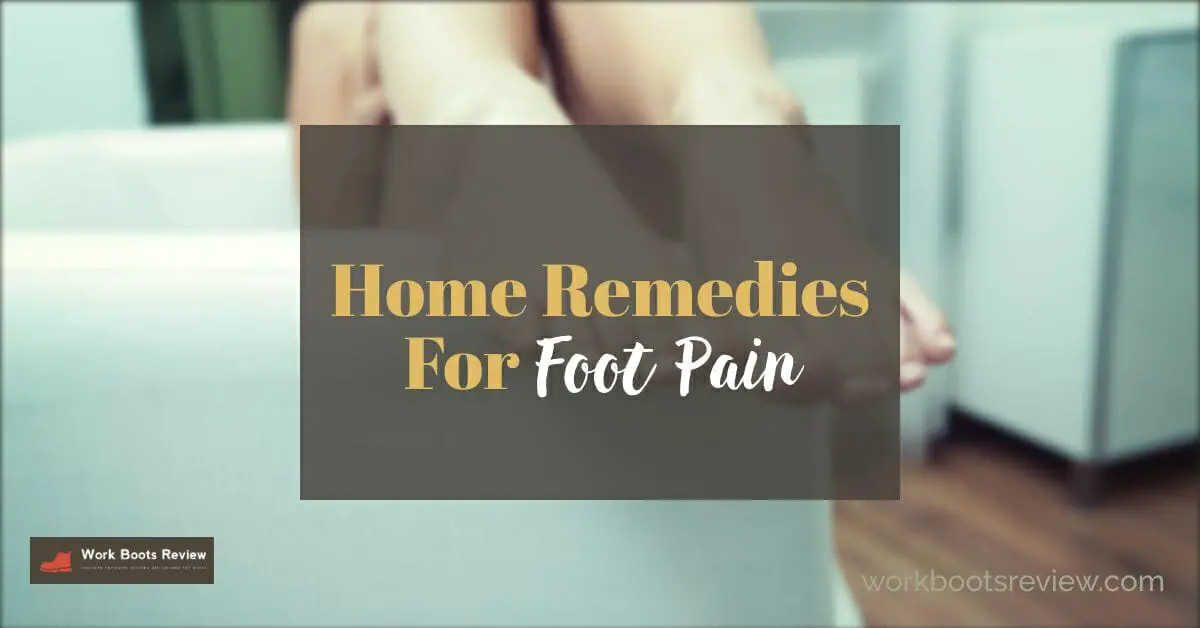 Some of the best fixes for swollen feet, sore feet, or foot pain from standing while wearing shoes are household items in your kitchen. According to the
Jacksonville Orthopedic Institute
,  over a million people in the US every year see a foot doctor because of foot pain.
I've been in that group in my life.
For some, it's painful to take those first few steps early in the morning, while others can't wait to get rid of poorly fitted shoes after a long day at work. Foot pain causes can be as apparent as an ingrown toenail, athlete's foot, and other fungal infections, corns, or a callus. Less apparent causes are heel bone spurs, lack of mobility, flat feet, high arches, overpronation, supination, arthritis, and other chronic diseases.
Whatever the cause of your pain, you would like to ease sore and aching muscles. If the cause doesn't require professional treatment, here are home remedies that can help alleviate the pain.
Home Remedies For Sore Feet
Many people stand and walk for long hours at work and come home with sore feet and tired feet. Here are some practical remedies to help alleviate foot pain.
Warm Foot Bath For Foot Pain Relief
Soaking aching feet in warm water can improve blood flow to the legs and feet, reducing nerve pain. Don't use too hot a temperature of water. Apply moisturizing lotion afterward if your skin gets dry.
Epsom Salt Foot Bath. Soaking sore feet and tired feet in Epsom salt baths reduces swelling and relieves sore muscles; the soothing properties provide foot pain relief. Add one half cup Epsom salts to a container of warm water that covers your feet—soak feet for 20 minutes. Magnesium in Epsom salts removes toxins and can ease arthritis pain.
Baking Soda. Products like baking soda contain antiseptic and anti-inflammatory properties, which help with skin irritation.
Lavender Essential Oil. Add warm water to a foot soak bath, and a few drops therapeutic essential oil like lavender oil with anti-inflammatory effects.
Essential Oil. Soak feet for ten minutes; your feet will appreciate the pampering. Add two drops peppermint oil to a basin of hot water, four drops eucalyptus, and four drops rosemary oil. Alternatively, soak your feet in a footbath with half an ounce arnica tincture for instant foot pain relief, or use a strong cup of peppermint tea instead of peppermint oil.
Hydromassage Boosts Circulation. Fill a basin with cold water and another with hot water (hot water temperature you can comfortably tolerate). Soak sore feet for five minutes in cold water and then for five minutes in heated water. Repeat about six times. The hydromassage dilates and constricts blood vessels boosting blood circulation.
Warm Bath. Take a warm bath to relax tight muscles. Adding Epsom salts to your bath can relieve foot pain and body muscle aches.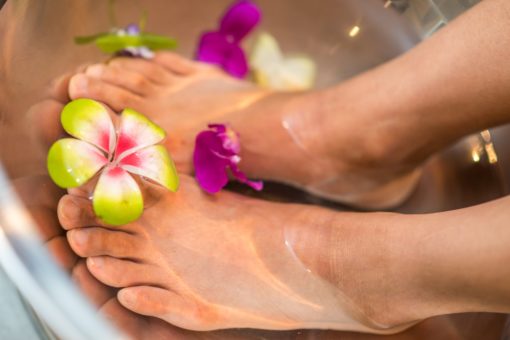 Exercises For Sore Feet
Did you know: Muscle groups in your feet contribute 25% of your body's total muscles. Strengthening exercises strengthen feet and improve flexibility; it may even help prevent future pain.  Stretching exercises improve suppleness, help prevent muscle cramping, and reduces foot pain. Exercise the entire foot or target the painful areas.
Foot Warm-Up. Sit with extended legs. Move toes around. Point them away from you and then toward your body. Move ankles clockwise and anti-clockwise in a circle.
Toe Exercises. Flex all the toes, point the toes and then flex them for a few seconds. Repeat ten times.
Stretch Feet. Shift your weight from heels to toes in a standing position. Alternate between lifting the front of your feet off the ground and then the back of your feet.
Elevate Feet. An elevated position improves blood circulation throughout the body and rests feet. It reduces pressure from the legs; you should feel immediate relief.
Relieve Foot Ache. Drop a towel, marbles, or pencils on the floor and pick them up with your toes.
Stretch Shoe-Bound Feet. Wrap a thick rubber band around the toes of one foot. Spread the toes pushing against the rubber band. Hold for five seconds. Repeat the toe stretching exercise ten times.
Physical Therapist. Ask your physical therapist for an exercise program to alleviate your foot pain issues.
More Home Remedies For Foot Pain Relief
Foot Massage. Use a roller specially designed to massage feet or roll your bare foot over a golf ball, tennis ball, or rolling pin for a few minutes.
Essential Oil Massage. Gently massage the sore foot with a stimulating massage oil mixture. Mix two drops clove oil with three tablespoons sesame oil.
Foot Rub. A true-and-tried foot-rub recipe to ease painful feet mixes one drop chamomile oil, three drops lavender oil, and one drop geranium oil with two teaspoons olive oil.
Shoe Inserts/ Arch Supports. Orthotics can relieve foot pain caused by fallen arches or flat feet.
Proper Footwear
Wearing comfortable shoes that support ankles and arches will help prevent foot pain.
Low-heeled shoes can help with swollen feet and arch pain.
Replace shoes regularly; poorly fitting shoes will cause foot pain. New blisters or foot pain could be signs you need a new pair of shoes. Worn outsoles, shoe interior breakdowns, and insoles molding to foot shape are definite signs to replace your work boots or shoes.
Replace athletic shoes every six months; runners should replace their shoes every 400-500 miles.
 Home Remedies For Plantar Fasciitis And Heel Pain
Heel pain in the morning could signal Plantar Fasciitis (the plantar fascia runs from the heel base to the toes), a common foot condition. Other common causes of heel pain are obesity, heel spurs, bursitis, stress fractures, Achilles tendonitis, arthritis, and foot pronation.
RICE (Rest, Ice, Compression, Elevation)
The RICE protocol helps with foot pain relief and the healing process.
Modify your activity and rest the heels.
Apply one of the ice remedies mentioned below.
Compression socks reduce discomfort and swelling; it applies pressure to the lower legs and helps with blood flow.
Make sure you elevate the feet above heart level.
Ice Remedies
Ice Packs. Wrap an ice pack in a towel and place on sore heel 3-4 times per day for 15-20 minutes at a time.
Ice And Water. Fill a shallow basin with cold water and ice to soak heels for 10-15 minutes several times per day. Place only your heel in the ice water, not your toes.
Frozen Water. Freeze a cup filled with water or use a small frozen water bottle and rub it over the heel for 5-10minutes.
Strengthening And Stretching Exercises
Strengthen lower leg and foot muscles with exercises to help stabilize ankles and reduce pain. Stretch calf muscles, the bottom of the foot, and Achilles tendon.
Calf Muscles Exercise. Stretch calf muscles seated with a towel, standing, or on an incline. With the right leg straight, the left leg bent, and heels on the ground, hold the position for one minute at a time. Change leg positions and repeat.
Stretches For Plantar Fascia. Stretch the plantar fascia by pulling toes upwards, stretching the bottom of the foot.
Stretch Achilles Tendon. Stand about three feet from a wall placing your hands on the wall. Move the right leg forward, knee bent, and keep your left leg straight—both heels on the floor. Hold for 10 seconds, change legs and repeat. You should feel a gentle stretch in the heel and foot arch.
Foot Massage. Use both thumbs to massage the aching feet. Apply gentle pressure with both thumbs to the painful spots to relieve pain.
More Home Remedies for Heel Pain And Plantar Fasciitis
Anti-Inflammatories. NSAIDs (Nonsteroidal anti-inflammatory drugs) reduce inflammation and reduces foot pain, primarily caused by rheumatoid arthritis, gout, bursitis, and other foot conditions that cause inflammation.
Insoles, Arch Supports, Orthotics. Shoe inserts provide extra cushioning and support. Select an insole that gives arch support. Another option is to see a podiatrist for a custom-made insert; these are more expensive than the over-the-counter ones.
Night Splints. Use night splints for one to three months; it stretches calves and arches overnight. Night splints work best for people suffering from Plantar Fasciitis for six months or more.
Heat
Medical laser
Manage your weight
Ball foot rolls
Which home remedies work for your sore feet?