Carpenters need some of the best possible foot protection possible to avoid dangerous injuries.
Learn more below about carpenter safety hazards as well as what features the top work boots for carpenters should include for the best protection.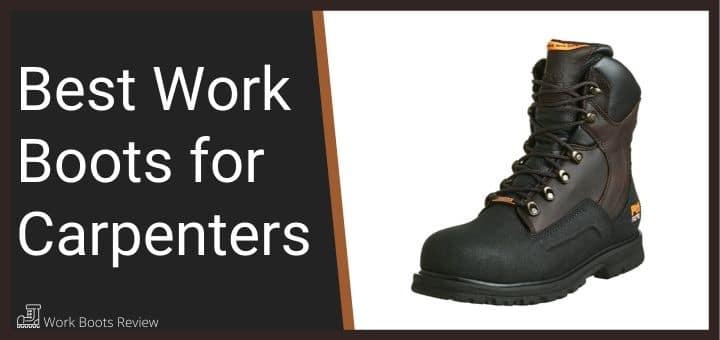 ---
Safety Hazards Carpenter Work Boots Should Be Able To Handle
Carpentry is a hazardous occupation that is needed to cover a variety of jobs from making furniture to fixing wooden fittings in a construction site.
Whatever your take on your profession, the below safety concerns are common to all carpenters:
Working and lifting heavy objects, such as wood and machinery.
Exposure to toxins and chemicals such as molds, fungi, varnish, formaldehyde, wood dust, oils and wood glue.
Exposure to flammable materials including wood dust.
Working in extreme temperatures in outdoor environments.
Injuries due to working at awkward angles or doing repetitive tasks.
Foot fatigue and exhaustion from climbing ladders and being on their feet all day.
Risk of stepping on piercing objects like nails, wood offcuts or large splinters.
Possibility of slipping at construction sites.
The best work boots for carpenters are capable of protecting your feet from all the above risks, including proving enough support to prevent fatigue at the end of a long day.
---
Qualities of a Good Work Boots for Carpenters
Here are some of the best work boot features that all carpenters will love!
Chemical Resistance – Carpenters work with all sorts of chemical solvents and oils to protect and coat wood. Boots that are resistant to these substances are perfect for the job and will last longer.
Flexibility – Work boots need enough flex, particularly around the toe region, so that one can easily climb ladders or get on all fours without much of a hassle.
Good Traction – Grip and traction is crucial for preventing potentially lethal slips and falls while on the job.
Cushioned Support – Work boots are traditionally heavy and the work done while wearing them tends to tire out the feet. Cushioned support helps to fend off fatigue and alleviate pressure while on the job.
Anti-Static – Static is one thing that keeps wood dust and similarly fine particles from clumping on your boots. An anti-static pair of boots will keep them cleaner and in better condition, also making them easier to clean.
Puncture Proof – To avoid hurting yourself if you accidentally stand on a nail, make sure to get a pair of puncture-resistant work boots.
---
Reviews: The Best Carpenter Work Boots
Take your pick from our selection of top notch work boots for carpenters.
---
1
The PRO Series Powerwelt work boots are aimed at delivering precision comfort from within the confines of a heavy-duty waterproof work boot.

The EverGuard leather uppers prevent water from entering your shoes as well as protect against abrasion, extending the life of the boots.

The outer soles have rugged traction, ideal for any construction work or woodwork.

A contoured footbed provides your feet with perfect arch and foot support, further enhanced by a heavy-duty steel shank for maximum protection from exertion.

A steel toe in the front will guard your toes against being crushed under any heavy falling objects.

---
2
May be unavailable as of 2 Aug 2020.

An elegant yet tough-as-hell work boot, this Timberland PRO Endurance set will have you working safely all day long.

A steel toe with TiTAN rubber heel and toe add increased durability, protection and abrasion resistance.

The base of the shoe is flexible enough to allow for kneeling and bending in awkward positions as well as climbing ladders without exhausting your feet.

anti-fatigue technology, shock resistance, and energy return all add a bounce to your step and fight off foot fatigue even after the hardest days of work.

The inner sole is exceptionally comfortable and has been treated with an antimicrobial layer to control odors and infections.

---
3
These boots go over and above the scope of a carpenter, keeping your feet safe in any situation.

A composite toe allows for the boots to be lightweight while still protecting your toes from heavy duty machinery and pressure.

The inside of the boots is insulated with 400 grams of 3M Thinsulate, which make them perfect for all extreme weather conditions.

Slip, heat, and oil resistant outsoles will keep you at your best for the job at hand and prevent further accidents.

Waterproof and chemical resistant, you never have to worry about any fluids or acids coming into contact with your skin or ruining your boots.

---
4
The Oliver 55 series is a favorite of many carpenters and construction workers alike for their unique anti-static coating, which keeps dust from thickly coating the boots.

Heat resistant and slip-proof soles offer the best dual density flex and traction, while also preventing the boots from melting should you need to work with high temperatures of up to 572F (300C).

Chemical resistance makes these boots ideal for working with acids, bases, solvents, oils and more.

Abrasion-resistant bumpers ensure a long shoe life and better-looking shoes.

A padded collar and tongue provide additional support on top of the cushioned insoles for pain relief.

A unique shock absorption system deflects any incoming force away from your feet.

---
5
These rugged flexible Thorogood work boots offer the best protection to hard working feet with their oiled-uppers, moisture wicking liners and slip resistant soles.

A non-metallic safety toe does not weigh your shoes down and keeps you prepared for any dangerous scenario.

Electrical hazard rated to meet safety standards, allowing you to work heavy machinery with confidence and style.

The heel and toes are abrasion resistant, preventing scuffs and scratches especially in a tight spot.

Compression molded EVA midsoles provide foot support and shock absorbency, keeping your feet stable and ready for a full work day!

---
6
The next generation up from the 55, the Series 65 from Oliver ensures that your feet will be well looked after.

Electrical hazard rated, even the steel toe in this boot is safe to wear without worrying about electric shocks.

The dual-density soling technology combines enough flex and shock absorption to work with the way your feet move and prevent exhaustion.

The soles are puncture resistant, preventing nails or other sharp objects from penetrating to your feet.

Resistant to mineral oil, gas, acids, solvents, animal fats and oils, these are the perfect addition to a carpenter's workshop.

---
Index Table: Top Rated Work Boots for Carpenters
---
Work Boots Review may collect a share of sales or other compensation from links on this page.