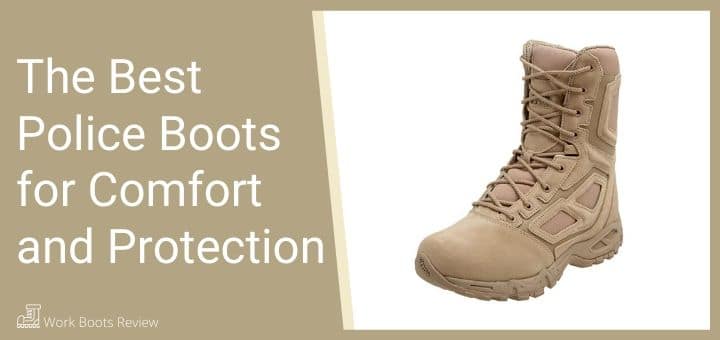 We all understand that the day to day tasks of a Police officer is full of potential dangers that can be life-threatening. Any law enforcement officer is in harm's way on a daily basis, not to mention long hours actively on their feet.
In the end, the last thing any police officer needs is the best police boots standing in their way, therefore the right choice in footwear for this occupation is absolutely critical.

---
Police Work Boots for Comfort and Protection
A good work boot in the law enforcement industry should provide three things, COMFORT, DURABILITY, PROTECTION;
Police Work Boots Comfort
Working long hours actively on your feet can surely take its toll, so you will want a shoe that provides a comfortable fit and good cushioning. Shock absorbency is likewise very important to protect your feet against impact when running or jumping.
Other features such as a waterproof membrane, moisture-wicking lining, and odor control can help to keep your feet dry and fresh inside out and will prevent foot conditions and bacteria from developing.
In very hot weather conditions a breathable and well-ventilated boot will be quite handy, whereas you will need to look at some form of insulation when I come to extremely cold weather conditions.
Best Police Boots Protection
Police officers come into contact with many hazards on a daily basis, slippery, oily and wet surfaces, sharp objects that can cause punctures and uneven terrain.
For all of these, you need a durable slip-resistant outsole with a puncture-proof plate, and good ankle support to prevent injuries.
Water seeping in, heat, chemicals, and abrasion can likewise be a factor, therefore tough and durable upper materials that are resistant against these elements is a good option.
Then there is also the risk of heavy falling objects and compression hazards, for this a safety capped toe, and a metatarsal guard can come in quite handy.
Police Work Boots Durability
Last but not least, you want a good quality shoe that will last. Investing in a quality brand with durable construction and materials is always a good option when you want your shoes to last. Look for quality
Goodyear Welt or Cement construction, along with strong materials such as Nylon and leathers, and a good Vibram rubber outsole.
Related Content: Best Slip Resistant Work Boots, making a huge difference?
---
Some Common Foot Problems Faced by Police Officers
Police officers face the risk of ankle and foot injuries because of running and in some cases climbing on uneven terrain that can cause them to twist or bend their ankles. Heavy falling objects and compression hazards can similarly cause injuries.
Then there are factors such as fires a, chemicals, extreme heat and cold conditions, puncture hazards and slip and trip hazards, and other types of work hazards that could all cause injuries.
Besides injuries foot fatigue, chafing, blisters, wet foot conditions, and sore and achy feet are all common conditions many police officers face.
---
Choosing the Best Police Boots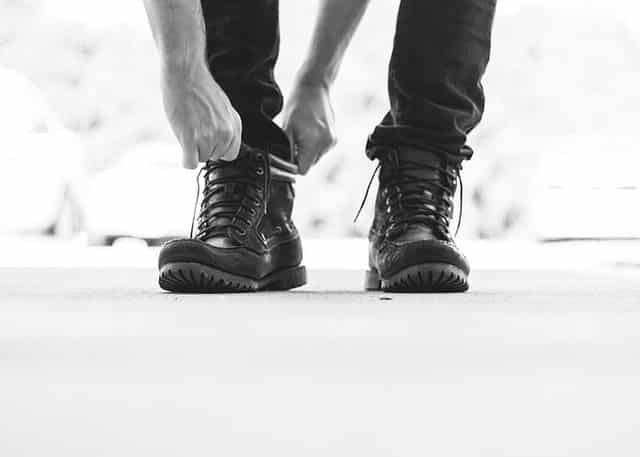 So, all in all, here are some good tips to follow when choosing the best work boot, as a police officer;

Materials
Look for durable and waterproof or water-resistant leathers or nylon for the upper's construction, and a durable and slip-resistant rubber outsole with lug pattern for better grip and traction.
Midsoles
An EVA midsole that provides good shock absorbency and cushioning is your best bet. Then also, you can look at a puncture plate in the midsole or outsole for protection against sharp objects.
Outsole and Heel
A Vibram rubber outsole is absolutely the best choice you can go with, although there are some other excellent options. Rubber is your best bet in an outsole with lug patterns for better grip and good slip and oil resistance.
Fit
The most important factor of any great shoe, is the FIT, make sure your work boot fits snugly but does not squeeze your feet, or slips.
Protective Features
Steel, alloy or composite protective toe.

Metatarsal Guard.

Puncture Plate.

Heat resistance.

Oil, Chemical and Abrasion resistant outsole.

Slip resistance.

Waterproofing.

Insulation.

Fire resistance.

---
Reviews: Best Workboots for Police Work
---
---
---
---
---
---
Reviews: Best Police Work Boots for Women
---
---
---
---
Index Table: The Best Law Enforcement Boots for Men
Index Table: The Best Law Enforcement Boots For Women
Recap of the Best Features of Police Duty Boots
Finding the best pair of police boots can be a little tricky. With that being said, here are a couple of things to look for in finding the most comfortable police boots:
Lightweight and flexible, allowing the feet to move freely and comfortably
Designed with protective toes, ensuring that the feet are secured even under the toughest situations
Equipped with other protective features, such as heat, chemical, fire, and abrasion resistance, ensuring that the pair can withstand rugged work conditions
Waterproof or water-resistant, keeping the feet dry and comfortable even under wet conditions
Durable and reliable, crafted to meet varying tactical demands in the field
Recap of the Advantages of Wearing Police Work Boots
Working as a police officer is indeed a tough job. And this tough field also calls for wearing good boots for police work.
Essentially, a good pair of police work boots come with the following advantages:
Keeps the feet less fatigued and comfortable all day long
Keeps the feet fully protected and safe from unexpected work hazards
Encourages the natural gait of the feet, allowing you to move more naturally
Encourages speed and agility, making it perfectly fit for tactical operations
Sturdy enough to withstand the toughest terrains and work conditions
In Conclusion
There are so many men and women who risk their lives to protect us from harm, and as a society, we are thankful for them. These public servants venture into desperate situations and burning buildings to shield us from injury.
Even when they are carrying out the more mundane facets of their work, however, they can spend a lot of time on their feet. Foot pain in firefighters and police officers is a very common aspect of their jobs. That is simply why the best police boots could really provide comfort and protection, all at the same time.
Which pair have you found to be the best for you?