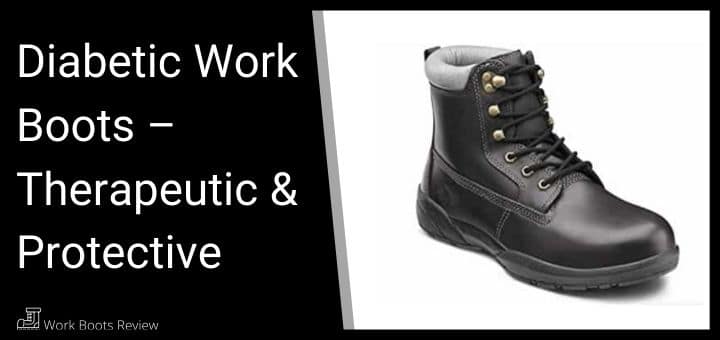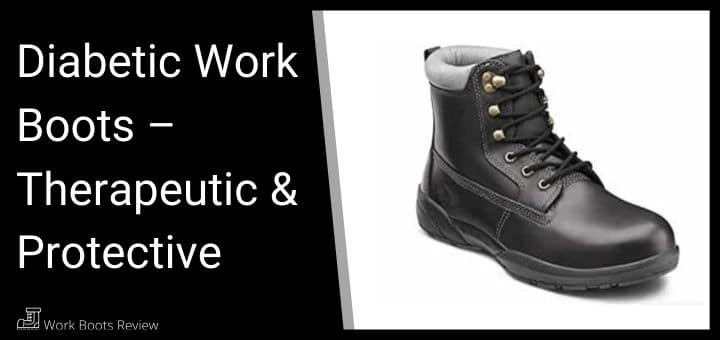 Diabetes causes too much sugar to be circulated in your blood-stream, which in turn, causes nerve damage and poor blood flow, leading to some serious foot problems.
Diabetes can also cuase you to lose feeling in your feet, therefor, it is vital that you wear therapeutic diabetic work boots to protect your feet against injuries and infection.

---
---
How Does Diabetes Affect Your Feet at Work
Nerve Damage
Diabetes can often lead to nerve damage which means that the nerves in your body either stop sending signals or slow down and send signals at the wrong time. This nerve damage can cause you to lose feeling in your feet, so you will not feel the heat, cold, or pain.
You may injure your feet unknowingly and sores on your feet can become infected. The extra glucose in your blood also feeds an infection making it worse. Nerve damage can in some cases cause pain, foot deformities, and changes in the muscle and bone structure of your feet which ultimately alters their shape.
Poor Blood Flow
Poor blood flow basically means that there is not enough blood circulating to your legs, feet, and other extremities which makes it much harder for an infection to heal usually resulting in gangrene. Because of the excess glucose in your bloodstream from diabetes, you may develop poor blood circulation.
Ultimately Diabetes can cause you to lose a foot or leg if not treated properly because of poor blood circulation and nerve damage leading to an infected sore which develops gangrene.
Features of The Best Work Boots For Diabetics
A good pair of diabetic work boots boast features such as a steel toe; metal plate in the sole and electrical hazard protection.

Some diabetic boots may also have waterproofing and insulation where required.

These boots also feature impressive breathability and moisture-wicking materials.

Diabetic work boots are designed with durable and long-lasting quality construction.

Work boots for diabetic feet also come with durable, oil, and slip-resistant outsole.

They also often have a wider and longer toe box to protect the toes from bumps and provide wiggle room.

A good pair of diabetic boots boast seamless stitching construction to avoid chafing and blisters.

Diabetic work boots are designed with a padded tongue and collar to prevent irritation and provide comfort.

This type of tailored footwear is comfortable and comes with a deeper heel cup or counter that controls motion and cups the heel.

Diabetic boots often have cushioned and supportive sock liners or footbeds.

These boots feature shock-absorbent and cushioned midsoles.

The best work boots for diabetic feet also come with shock-absorbent and flexible outsoles.

---
Reviews on Diabetic Work Shoes
Here are some of the most comfortable and supportive, protective work boots for Diabetics;
1
If you are looking for diabetic steel toe boots then look no further than this pair from Dr. Comfort. The Dr. Comfort is Protector with steel toe provides durable protection against work hazards as well as extra protection and comfort for the symptoms of diabetes.
These diabetic steel toe boots come with durable and comfortable leather uppers with a protective extra width and depth toe box and forefoot that prevents potential foot injuries and toe-stubbing and reduces pressure on the feet.

The firm and padded heel counter provide excellent comfort and support along with the padded tongue that reduces irritation and improves the overall fit.

These diabetic safety shoes have a lightweight construction which reduces foot fatigue and a long-lasting slip-resistant non-skid outsole.

The added steel toe improves the safety of the boot and meets the legal requirements of a safety shoe.

---
2
A therapeutic work shoe designed with the Diabetes patient in mind, the Orthofeet 481 will provide you with the ultimate protection and comfort.
The Orthofeet 481 offers you exceptional anatomical arch support and cushioning for each step creating a feeling of walking on clouds.

The non-binding relaxed fit reduces pressure on all the key areas for a better and non-irritating fit.

A Gel orthotic insert and ergonomic cushioning provide exceptional comfort and support.

The deeper toe box allows your feet to spread out and relax and protect your toes.

The Orthofeet 481 aids in enhancing stability and facilitates the natural motion of the foot.

---
3
The Dr. Comfort Boss is a therapeutic work boot with a sophisticated style that provides many comfort and protective features.
Durable and comfortable leather uppers with a wider toe box for more wiggle room.

The lace closure allows you a comfortable and custom fit.

Durable enough for the work environment and comfortable enough to provide relief for those suffering from Diabetes.

The Dr. Comfort Boss is available in different widths and sizes.

---
4
The Irish Setter from Red Wing is not a classic Diabetic Boot but it has all the comfort and protective requirements that are needed by someone who has diabetes.
The uppers are manufactured from full grain waterproof leather.

The polyurethane footbed is removable allowing you the use of your own orthotics.

The outsole is made from rubber and EVA with a high traction tread for added protection and shock absorption.

This boot meets ASTM standards and is also an electrical hazard safe.

---
5
A comfortable and protective hiking boot for those who suffer from diabetes symptoms, you cannot go wrong with the Ranger from Dr. Comfort.
Tough and comfortable leather uppers.

This boot is available in wider widths.

Comes with a Gel Plus insole.

A perfect choice for any foot condition.

---
6
If you are looking for a pair that features exceptional comfort and support, then the Drew Men's Rockford is the right choice for you. Designed to showcase both quality and durability, these work boots for diabetic feet are also tailored to meet therapeutic and orthopedic standards.
These diabetic work boots feature manmade sole for excellent grip on all floor surfaces.

The pair is also designed with a breathable membrane for better ventilation to keep your feet dry and fresh.

These work boots are crafted with premium full-grain leather uppers.

The pair is also designed to keep your feet on the ground as they feature anti-slipping technology.

These diabetic work boots come with breathable, moisture-wicking linings that keep all liquids and moisture out.

These diabetic boots are engineered with molded EVA midsole for extra comfort and support.

The Drew® Men's Rockford Therapeutic Orthopedic Work Boots also come with Orthaheel motion technology.

---
7
This orthopedic work boot offers all the necessary characteristics of a work boot with extra depth for comfort.

These are Therapeutic Orthopedic work boots with Extra Depth for advanced comfort and support.

Made from high-quality materials for durability and comfort.

The sole offers excellent grip on slippery floors.

A great work boot with added orthopedic functions.

Extreme comfort and support, especially with feet that have suffered an injury.

---
8
An all in one orthopedic work boot that offers all the safety features of a work boot and the comfort and support features of an orthopedic boot.

Constructed with an Orthopedic grade Polyurethane midsole for cushioning: polyurethane midsoles have a long-life and durability since they do not compress over time.

A protective toe for work in areas with falling object hazards.

Work boots that are lightweight and will last you for many years.

Made from premium, soft, full-grain leather for everlasting comfort.

Excellent arch support for inner foot stability and support.

Moisture-wicking, breathable fabric inner lining with anti-microbial properties.

Slip-proof rubber outsole that is water, grease, and oil resistant.

---
9
There is nothing like the Dunham Cloud to give diabetic feet the comfort and support that they need. Not forgetting the tough construction and waterproof features, making this an excellent work boot.
The Tru-Trak multi-directional outsole grip technology ensures maximum traction on even the slipperiest surfaces.

The soft and durable leather uppers are also completely waterproof, superb for working in wet weather conditions.

For comfort and support, you have the molded EVA and memory foam footbed, as well as the stability cradle.

---
10
An exceptional weather-resistant, hiking style work boot, that is simply ideal for outdoor work.
Full-grain leather uppers that are water and weather-resistant, with a speed lacing system.

A removable footbed, with a cushioned EVA midsole, offers the best in support and shock absorbency.

The durable and high traction outsole will keep you firmly grounded on all terrain.

Available in wider widths to accommodate foot conditions such as hammertoe and arthritis.

This work boot is also A5500 Medicare-approved.

---
11
The ultimate in comfort and flexibility. The Wolverine Buccaneer is as much tough as it is a comfortable and supportive choice in work boot for arthritic feet.
The contour welt and MultiShox platform guarantee easy and flexible steps, for freedom of movement.

A pull-on wellington work boot that is completely waterproof for protection in wet work conditions.

The steel toe will protect you against falling objects and compression hazards.

Inside there is a moisture-managing mesh lining, and a comfortably cushioned footbed, which can be removed.

For the best stability, you have a nylon shank.

---
How do Diabetic Work Shoes Help
Work shoes have the main function of keeping your feet protected against work hazards such as falling objects, compression, hot substances, electrical hazards, and water and chemicals.
Work boots are also comfortable and durable because they are worn for extended periods of time in heavy-duty work environments.
A work shoe for Diabetics offers other features that aid in reducing and eliminating pain and other symptoms of Diabetes as well as preventing further damage. A diabetic shoe is mainly a therapeutic shoe that has extra depth and allows you the use of your own orthotics. Most diabetic shoes have custom-molded inserts that provide cushioning and arch support. Shoe fillers, lifts, wedges, and heels are also advantageous in diabetic shoes because they offer extra support and protection.
It would be wise to choose a shoe with a steel plate in the sole for added puncture protection in work environments where this is a likely hazard as with nerve damage caused by Diabetes you may not feel an object that punctured your shoe and foot.
Overall the main aim of a Diabetic shoe is to prevent any foot injuries that can cause infection of the foot.
Ill-fitting shoes are one of the main reasons for developing foot ulcers and foot injuries when you have nerve damage or poor circulation resulting from Diabetes. It is absolutely crucial to wear protective and supportive therapeutic footwear that is specifically designed for Diabetes sufferers if you have either nerve damage or poor circulation from Diabetes.
---
Index Table: Top Diabetic Work Boots
The Final Takeaway
Diabetes is a health condition that shouldn't be taken for granted. While it can be controlled, taking precautionary measures is still a must.
Among these precautionary measures is getting the right pair of diabetic work boots. This is especially crucial if you spend your working days in tough environments.
From diabetic safety shoes to diabetic steel toe work boots, the choices of the right footwear just seem to be endless.
Which pair of diabetic boots do you think is fit for you?