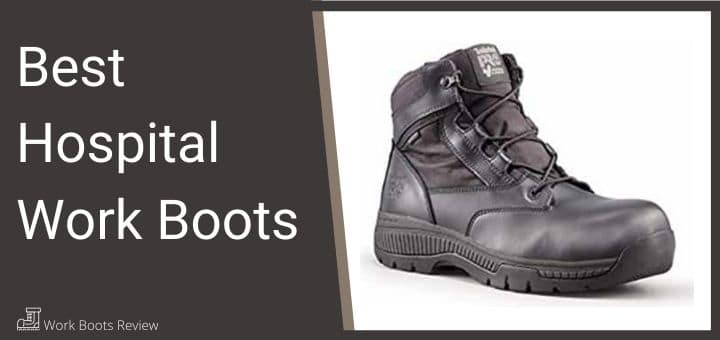 Hospital workers such as nurses, doctors, surgeons and many other staff face many hours actively on their feet, on a somewhat hazardous surface area on a daily basis.
Having protective, comfortable and slip resistant work boots or shoe when working in a hospital, is an absolute given in any circumstance.
---
Some Workplace Hazards in Hospital Environments
Healthcare or hospital environment hazards can be divided into four categories; HAZARDOUS AGENTS, ERGONOMIC HAZARDS, PHYSICAL HAZARDS and PHYSIOLOGICAL HAZARDS.
A short explanation of each will help you understand why safety precautions in a medical environment are so crucial;
Hazardous Agents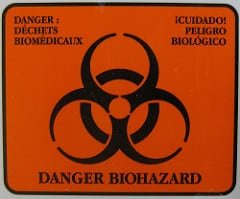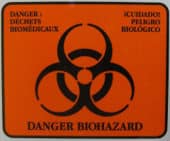 These include biological agents, chemical agents, disinfectants, antibiotics, hormones, waste products, gases and many more. These agents can be found anywhere in the hospital, from the surgery room, to the staff eating area, and they can pose many dangers to staff when coming into contact with or inhaled in some cases.
Ergonomic Hazards
When hospital staff does the heavy lifting, bend, kneel, run, or repetitively move or function in the same position for long periods, their bodies become strained and their postures may not always be correct. In turn this can cause aches and pains, muscle and tendon sprains, which can all result in injuries or health issues.
Physical Hazards
Physical hazards refer to anything that can cause physical damage or an injury. These hazards are plentiful in a hospital environment. Anything from broken glass, sharp tools and equipment, paper and many more can cause cutting hazards. Then there are radiology machinery, kettles, hot equipment, all can cause serious burns and health conditions. Slip and trip hazards, one of the most common and most dangerous, along with many more that can cause incidents and injuries.
Physiological Hazards
Working for very long hours every day with peoples lives in your hands, hospital violence, bureaucracy, demanding patients and patient deaths definitely does take its toll on the hospital staff. Serious depression, fatigue, anxiety and stress-related conditions can develop due to these factors.
Fortunately most hospitals do have efficient and constantly improving safety measures and equipment implemented to keep their staff safe and comfortable, in this article we are looking at one of those key factors, and that is Hospital Work Boots;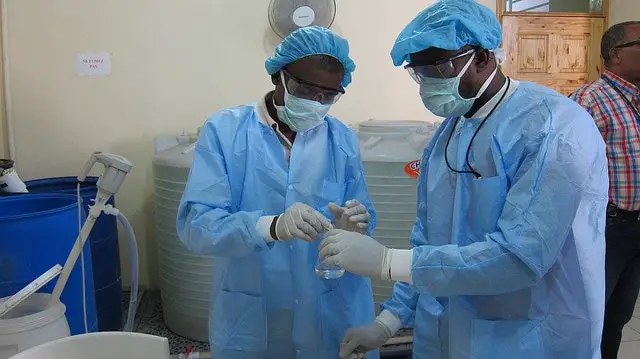 ---
Choosing the Best Hospital Work Boots
A few things to consider when choosing the best hospital Work boot;
Look for a boot that is lightweight and comfortable on your feet that will not cause fatigue from long hours on your feet.

Cushioning and shock absorbency is crucial, and EVA midsole and cushioned insole can provide this.

Breathability or a moisture wicking lining to prevent your feet from becoming wet and sweaty.

Back and ankle support is something much sought after by nurses and doctors, and a supportive shoe that can help with this, is ideal.

The most important feature, which is a must-have is slip resistance, particularly for wet and oily surfaces, you need excellent grip in a Hospital Work Boot.

There are plenty of styles, colors and designs when it comes to hospital footwear, but in the long run, always opt for comfort and safety, rather than style.

Durability is another key element, good shoes should last and be manufactured from quality and long lasting materials, made for heavy-duty use.

Waterproofing is optional, although I would recommend a waterproof and pathogen proof work boot particularly for staff that works with patients regularly.

---
Reviews: The Best Hospital Work Boots
1
The Keen Utility PTC is not exactly a boot but more of a Slip-On Safety work shoe, which has ideal comfort and protection features for the hospital environment.
Genuine leather uppers with a patented toe where the outsole wraps over the toe for additional protection.

The durable rubber outsole is a slip, and oil resistant, meeting ASTM standards.

Features the PU, cork and memory foam contoured comfort cushioning to give you all-day comfort.

A shock absorbing and cushioning EVA midsole.

Easy to slip on and off design.

---
2
A comfortable and protective work boot from one of the most trusted names in work footwear, Timberland Pro. This work boot features two key characteristics for the hospital environment, Bloodborne Pathogen resistant materials, and anti-fatigue comfort technology.
Durable textile uppers with waterproof leather and a composite safety toe.

Lace-up closure for a snug and comfortable fit.

An EVA midsole and anti-fatigue technology to reduce stress on your feet and body.

The interior membrane is water and bloodborne pathogen resistant.

A Medial side zip entry for easy on and off.

Meets ASTM standards for Electrical Hazard protection.

---
3
This is more of a tactical, military styled office work boot, though I came across some outstanding features in this boot that would be ideal for working in a medical or hospital environment likewise.
An easy on and off the slip-on design with stretchable nylon fabric on the sides of the upper portion, and pull tabs.

The full grain leather uppers are polishable and highly durable.

The durable outsole is slip resistant with pentagonal lug patterns for superior traction.

Completely waterproof and body fluid born pathogen proof, exceeding NFPA standards for safety.

---
4
An excellent choice in work boot from a highly sought after and trusted brand, Wolverine. The Quest offers you all day lightweight comfort, and reliable safety features.

Premium Leather and High Denier Nylon uppers, that are durable and completely waterproof.

Inside there is a moisture wicking lining to keep your feet dry all day long.

The rubber outsole offers excellent grip and is slip, oil and abrasion resistant.

A protective yet lightweight composite toe, and electrical hazard protection.

This work boot is available in a brown or grey color option.

---
5
Rockrooster is a new and upcoming name in protective and comfortable work boots, with its patented Coolmax technology that controls temperature and keeps your feet dry.
Choose between a composite or steel toe option, and a lace up or slip on design, in lovely dark or light brown, and black color options.

A protective steel or composite toe cap.

Poron materials with microban technology for long-lasting anti-microbial protection.

Coolmax temperature control and moisture wicking technology.

Anti-static control materials to prevent static build up.

The uppers are made from full-grain tumbled leather with a waterproof membrane and an anatomically contoured footbed for support and comfort.

The outsole is fully, slip resistant and offers excellent grip and shock absorbency.

A comfortable and lightweight design.

---
In Conclusion
Any good Hospital work boot should be comfortable and supportive for long hours on your feet, while offering you protection against the hazards in this environment.
The boots I have chosen will give you exactly that, with the quality of some of the top-rated brands in work boots.
---
Index Table: The Best Hospital Work Boots