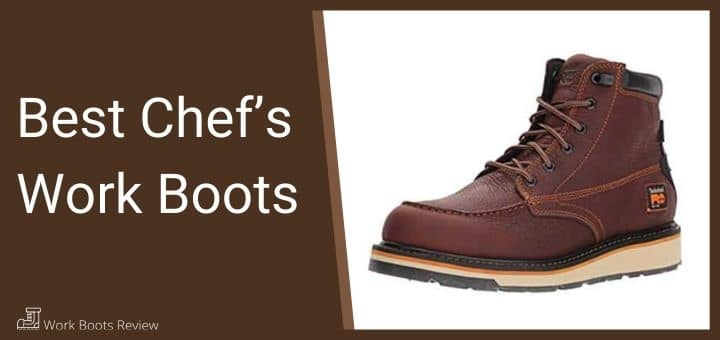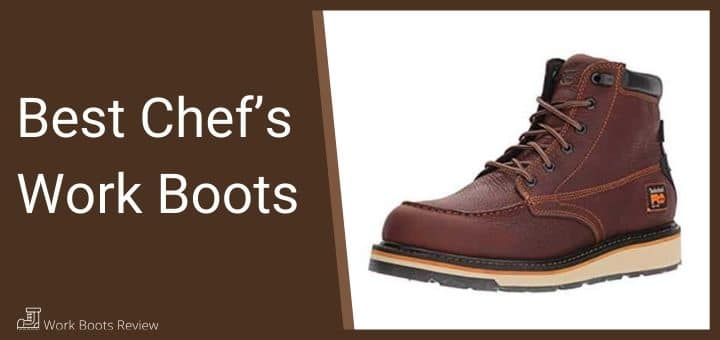 For any cook, particularly the head cook of a large kitchen, there are many challenges to be faced daily. Any Chef works long hours on their feet all day in a hot and steamy kitchen under great pressure.
Therefore a good, slip resistant and supportive shoe, can make a great difference when it comes to comfort and safety in the kitchen.

---
Dangers in the Kitchen
Chef's face many dangers in the kitchen, particularly if they are low on staff, and if it is a fast-paced and busy restaurant. Most accidents in the kitchen happen
under stress
and can include anything from severe cuts, burns, to dehydration.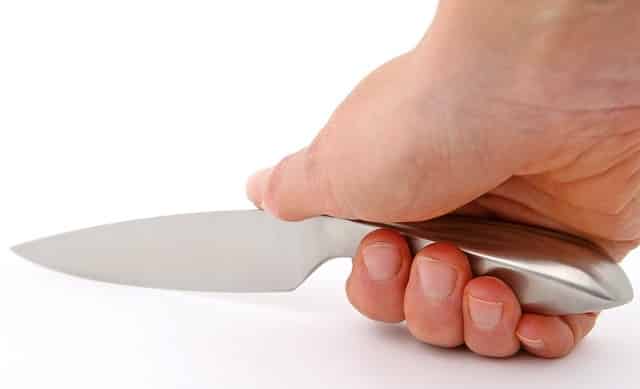 Cuts
Most of Chef's use super sharp knives and utensils, so cut lacerations are inevitable. Anything from small paper sized cuts to losing the tip of a finger is possible in this fast-paced and high-stress industry.
Slips and Falls
One of the most common hazards in a kitchen or restaurant itself is slips and falls. Floors become wet and greasy, and when you need to move from one area to the next in a hurry a slip and fall could easily occur.
Burns
Just as working with sharp utensils will some or other time cause a cut, so will working with hot stoves, ovens and burners, eventually cause a burn incident. Hot steam, a hot pan, hot equipment, and handling hot food are all risky business when it comes to the kitchen, that could end up in a burn hazard.
Strain
To be a chef today you need physical stamina, as well as strength to lift heavy pots, cartons and other objects. Muscle sprains and tendon sprains are not injuries uncommon in the world of Cheffing. This along with being on your feet all day in uncomfortable positions, with an incorrect posture, can add much stress and strain physically to your body. Let's not even get started on the mental strain and fatigue!
Pathogens
The kitchen as we see it is a place of hygiene that needs to be spotless and germ-free. Regrettably the kitchen, no matter how clean does harbor some dangerous viruses, parasites, fungi and bacteria, as well as many chemical hazards. Unfortunately in the food industry this is something that cannot easily be prohibited.
Not to mention bloodborne pathogens from customers and staff members that may be carried to you or others.
---
Chef's Foot
Chef's foot is a condition uniquely related to those individuals working in industries such as the food industry. This is basically a form of
Hallux Rigidus, which is arthritis in your big toe.
Working on your feet all day causes long term stress that causes the cartilage in the joints of your feet to thin out. This in turn ends up in a stiff and painful big toe, which may not seem like much, but keep in mind you keep your balance with your big toe.
Luckily there is prevention and pain relieving cure. Wearing appropriate footwear reduces strain on your feet and will ensure pain relief. Chef's shoes are designed to support your feet in the specific areas where this type of pain or conditions could develop.
---
Some Features of Good Chef's Work Boots
Laces in any shoe for a Chef is a direct tripping hazard. Make sure you pick a shoe with a safe lacing closure or no laces at all.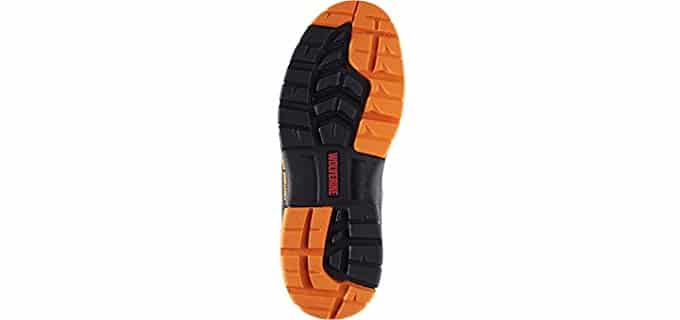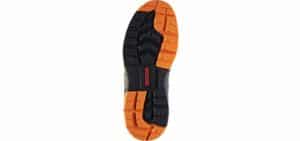 The slip and oil resistant outsole is an absolute must.

You are working on wet and greasy floors, make sure your work boot features a tread with excellent grip on these surfaces.

Because kitchens get very hot and steamy, good ventilation keeping your feet dry on the inside is key.

Look for a breathable mesh lining, or perforated upper construction.

A protective, steel, composite or alloy toe cap, is your prerogative, this will protect your toes against heavy falling objects.

If you can look for a CE certified work boot, this certification guarantees you a boot that is safe for the kitchen.

Water resistance is likewise a must as there may be spills or wetness on your shoes. Soggy feet are incredibly uncomfortable to work with, so I'd definitely check for waterproof construction in a work boot.

Last but not least look at durability and comfort features such as cushioning and shock absorbency, these are quite important when you are going to be actively on your feet all day.

---
Reviews: Best Work Boots for Chefs
1
More of a "short boot', but nonetheless, these are a much-loved work bootie in the hospitality industry because of the extraordinary grip they offer and their exceedingly comfortable and supportive fit.
Available in Nubuck Suede leather in a Gunsmoke Grey or Black color option.

100% genuine leather uppers with an M select Dry waterproof lining.

The heel is air cushioned for comfort and shock absorbency.

A compression molded EVA footframe.

The Nylon arch shank is molded for improved stability and arch support.

Treated with FRESH odor prevention treatment on the inside.

---
2
This is a work boot made in heaven, perfect for the kitchen. The Wolverine Overpass will keep your feet dry and comfortable, while preventing slips on wet and oily floors, and offering you a shoe with lasting durability.
Genuine leather and textile uppers with a flexible contour welt construction and waterproof membrane.

Features an abrasion-resistant toe and an Ortholite cushioned footbed for all-day comfort.

The rubber outsole is slip, oil and abrasion resistant, as well as chemical resistant for protection in the kitchen.

---
3
---
4
An industrial work boot, ideal for use in the kitchen, with a smart casual appearance and some excellent comfort and protective qualities.
Leather and textile uppers from full grain leather with a breathable waterproof membrane.

A durable and slip resistant all-weather Thermoplastic urethane outsole.

The steel shank offers excellent structural support, and the dual-density Dynamic anti-fatigue technology, polyurethane footbed, ensures all-day comfort.

The midsole features cushioned comfort with the EVA construction.

---
5
I came across a Chef who just loves his styled cowboy boots in the kitchen, and I thought, why not. You can look stylish while being comfortable and protected in the kitchen.
These ariat work boots feature some stunning designs, they are super comfortable and supportive, as well as having excellent safety features ideal for the kitchen.
[/super_list] Durable and waterproof full grain leather uppers.
A breathable, mesh lining on the inside.
It is constructed with the tough and durable, Goodyear Welt method.
A self-cleaning non-tracking, rubber outsole with a high traction tread offering excellent slip resistance.
A shock absorbing and comfortable EVA midsole.
This is a stunning cowboy styled boot that can be used in the kitchen, and outside to tend to customers.
Available in a few design and color options.
---
6
You can go to work in style and comfort with the Skechers Chef's sneakers.
Available in black and white color options for you to choose from.

Genuine leather uppers with an athletic style that is customizable.

A durable slip resistant, rubber outsole and comfortable PU footbed.

The EVA midsole offers great shock absorbency and support.

---
In the End
At the end of the day, being a Chef is not the easiest task, but it is a satisfying occupation which you truly have a love for. The fast-paced environment and long hours on your feet surely take their toll.
Therefore with this list of work boots I hope you will find something to help you live your dream in comfort and style.
---
Index Table: The Best Cheffing Work Boots