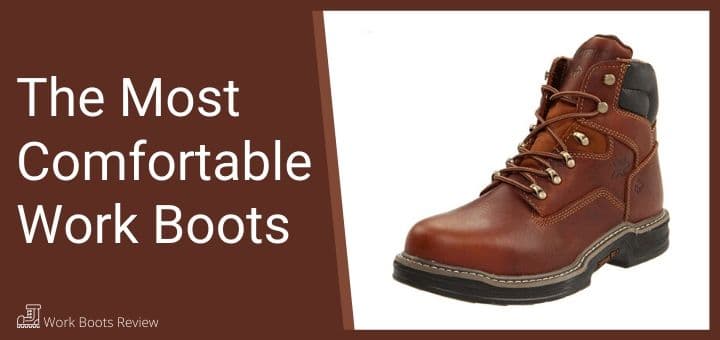 Comfortable work boots are an absolute must for an occupation where you are actively on your feet for long hours.
A comfortable work boot does also not mean that you have to scale down on durability or protection.
There are many durable safety work boots available with some amazing comfort features to keep you protected as well as comfortable and supported.
---
The Importance of a Comfortable Work Boot
Besides the protective and durability functions of a work boot, you need to consider the comfort features unique to the work environment and condition.
Wearing uncomfortable or ill-fitting work boots can drastically affect your performance and increase your risk of suffering a work-related as well as improper footwear related injury.
In an occupation where you are on your feet all day wearing unsupportive footwear could cause pain in your feet, ankles, knees, and lower back as well as long-term issues. Therefore you need a work boot that provides good support, cushioning, and shock absorption, particularly if you are working on hard floor surfaces.
Standing for Long Hours Take a Toll on Your Body.
When you stand for five hours, or more you can suffer from prolonged lower-limb muscle fatigue your risk for developing long-term back pain and other musculoskeletal disorder also increases.
This can be quite bad news for the millions of people who perform work duties where they are on their feet for more than three-quarters of the day. Being on your feet for more than two hours at a time can have detrimental effects on your overall health as well as your feet.
Short-term problems such as leg cramps and backaches are also caused by standing on your feet too long.
Muscle and foot fatigue is one of the main concerns for long hours on your feet.
---
Characteristics of a Good Work Boot
Weather Related
If you work in extremely cold weather conditions a waterproof and insulated work boot with good grip for icy and wet surfaces is your best option. For warmer conditions, a work boot with lightweight and breathable materials or temperature controlling technology is more suitable.
Safety Features
Depending on your work environment safety features such as a steel or composite toe, metatarsal guard or electrical hazard protective materials may be needed.
Comfort
Never slack on comfort, a comfortably fitting work boot with a supportive and cushioned insole, good shock absorption, and a breathable moisture wicking lining will provide you with the best comfort and support.
The Outsole
Make sure that the outsole of your work boot provides good grip and traction on slippery floor surfaces. Elements such as grease, oil, petrol, alkali, dust, wood shavings, water, and powder can make a floor quite slippery.
---
Features of a Comfortable Work Boot
When you are working, you want a boot that will be comfortable and will have the following specifications:

A Boot that will keep your feet dry and fresh in warm weather.

A Boot that is well insulated and warm in cold or wet weather conditions.

A boot that offers excellent shock absorbency.

It should give support to your feet and ankles to make your work day go much smoother.

A lightweight pair of work boots will ensure your feet are free from stress and strain

Good padding to make you are relaxed and able to move around easily.

---
Reviews: The Most Comfortable Work Boots
Below is a list of the Most Comfortable Choices in Work Boots available on the market today;
1
The Wolverine Boot is an industry leading brand with plenty of features, advanced technical specs and general qualities that catch the attention of many customers. This brand of boots is extremely well known in developed regions. The fitting, comfort, performance, quality, stability, and designs of this product are unmatched and fabulous. Here are some of the fantastic features this boot has to offer:

Leather crafted shoes with a shaft measuring up to 5.5 inches from the arch.

30 Day Comfort Guarantee!

Platform measures 0.75 inches.

The extraordinary rubber sole is very tough and hardy.

Complete full grain leather construction.

A steel-tipped toe for extra protection.

Wolverine multishox contour welt construction and the full cushion footbed makes it as one of the best work boots for plantar fasciitis.

---
2
A comfortable and protective work boot that will stand the test of time, the Timberland Pro Titan is popular for its long-lasting comfort and protection.

Full grain leather uppers with a PowerFit comfort system design for the most comfortable all day wearing fit that you can find.

The Moisture-channeling air mesh liner with Agion treatment will keep your feet cool dry and infection free.

A Titan safety toe cap and electrical hazard protection make this boot safe for any work environment.

The Outlast Adaptive Comfort footbed provides the best support and comfort for a long day on your feet.

Lastly, the Timberland Pro Titan is topped off with a durable slip resistant outsole that will keep you firm on your feet and protect against punctures.

---
3
If you are looking for a pair of comfortable work boots for men with the highest ratings, then your search stops here! The Red Wing boot is known for their exceptional durability and comfort. They are fit for wearing on any terrain in any industry. These are by far the most comfortable work boots that you will find.

A Lace-up style boot.

Made in the USA from the highest quality materials.

Made from full grain leather.

The upper part is manufactured from stylish patent leather.

The sole is made of rubber and leather offering good grip and durability.

The Shaft measures almost 5.5 inches from the arch.

The Heel measure is the same as in other boots; 1.25 inches.

A well crafted, durable boot that will last you for many years.

Offers protection to the ankles and heels.

The soft toe is comfortable and roomy.

---
4
The Thorogood american Heritage has a wedge sole and comfortable insole to provide you with all-day support and comfort for standing on your feet.

The Thorogood American Heritage is available in different widths to provide the most comfortable fit for you.

Oil-tanned leather uppers with a cotton drill vamp lining to keep your feet dry and comfortable.

The Cushioned insole on PORON 4000 provides exceptional support and comfort.

A rubber midsole and durable Vibram outsole ensure good shock absorption and traction.

The Thorogood is constructed using the tough and durable Goodyear Welt Construction method for a long lasting shoe.

---
5
Made in the USA, the Danner II features many excellent characteristics with a classic design! This construction offers unparalleled durability and stability on almost any terrain.
Danner Light II is ideal footwear for any outdoor work or even just an adventure thanks to its breathable Gore-Tex technology, which keeps the moisture and dirt out of your boot. Apart from being a tough bad boy, this boot is lightweight and can easily absorb shock with excellent traction.
Although these boots are still on the expensive side, the comfort, quality, excellent fitting, gorgeous design, and exceptional performance and durability that they offer and unbeatable in any global market.

Manufactured from textile and leather.

The Nubuck Leather and 1000 Denier nylon are combined with exclusive Stitch down.

100% reliable waterproof product to keep your feet dry and fresh.

Shaft measures 6 inches.

1.25″ heel is measuring from the surface.

Synthetic sole offering extended durability.

Vibram sole (Norwegian welted).

A Collared shoe for the protection of the ankle and easy foot movement.

---
6
A beautifully stylish work boot made from quality leather that performs excellently in hot weather and provides an abundant deal of protection and comfort to the wearer.
The upper part of the boot is made from full grain waterproof leather

The smooth leather lining technology will help to wick away moisture so that your feet do not get sweaty or wet in hot or humid weather.

A boot suitable for rugged wear in rough terrain because of its superb durability.

The leather footbed molds to the precise shape of your foot to improve comfort and give great support.

---
7
These Work Boots are made for those who love the outdoors. The Timberland Pro Endurance redefines comfort! Featuring anti-fatigue technology for absorbing shock and giving balanced support when you need it the most!
The Timberland Steel Toe Boot is made of rugged leather with a slip, oil, and abrasion-proof rubber which helps you step out with confidence.

An imported quality boot made from leather.

Rubber sole with a curve at the bottom.

Shaft measures nearly 5 inches from the arch.

The Sole is abrasion-resistant.

Excellent cushioning for more comfortable and relaxed feet.

An exceptionally comfortable and durable pair of boots.

Breathable to keep your feet dry and moisture free.

Offers great protection against foot injuries.

A Waterproof membrane to keep all liquids out.

These Boots comes with a 30-Day Comfort Guarantee! So you are protected from any surprise.

---
8
These Work Zone Boots are made from a premium handcrafted, lightweight leather to offer you a lightweight boot that is both comfortable and durable.

The upper part of the boot is constructed from very comfortable and durable genuine oiled full-grain tumbled leather.

It is Water Resistant to keep all moisture out.

Goodyear Storm Welt construction and Double Stitching on the Toe for Durability and Additional Reinforcement.

It comes with a Shock Absorbing, Long Wearing Sole.

The outsole is made from oil and slips resistant polyurethane material.

A Removable, Deep Cushioning Insole.

The Thermal Plastic Rubber Midsole offers comfort and protection.

---
9
The Irish Setter Steel Toe work boot also provide protection against electrical hazards and is an extremely comfortable and supportive work boot.

The Irish Setter features a protective steel toe and electrical hazard protection that is desirable in heavy-duty work environments where electrical hazards are present.

Full grain leather uppers with triple stitch construction and a hiking style for comfort and durability that will last you very long.

A cushioned polyurethane footbed and padded tongue and collar for all-day comfort and arch support.

The Direct attached V-Grip outsole provides excellent slip resistance and grip and is also flexible and shock absorbent.

---
10
Comfortable, Durable and protective, the Caterpillar Argon Hi will not let you down with its fantastic protective and comfort features for a safe and injury-free work day.

Rugged and comfortable construction that will withstand the toughest challenges that you can face.

The reinforced composite toe provides excellent protection and durability for confidence and safety.

The removable EVA sock liner provides cushioned support, and the nylon mesh lining keeps your feet dry and fresh.

The Strobel construction adds a touch of comfort to these tough and rugged work boots.

A durable SureGrip outsole provides you with exceptional grip and slips resistance on even the most uneven and slippery terrain.

---
11
Remuvable Smartmask PU cushioned footbeds for all-day comfort.

Wooden shank provides mid-foot rigidity to keep the foot aligned properly.

Cosmo moisture-wicking lining to keep the feet dry and fresh.

---
Conclusion
Throw away your old work boots and invest in a comfortable and supportive pair of work boots that will provide you with the best benefits to protect your feet against the damage caused by standing for extended periods of time.
Each of the chosen work boots has superior protective features for heavy-duty environments as well as comfort and support features that will not let you down.
You are sure to feel the difference in one of these exceptional work boots chosen from only the best and most popular names in work boot brands.
---
Index Table: Most Comfortable Work Boots