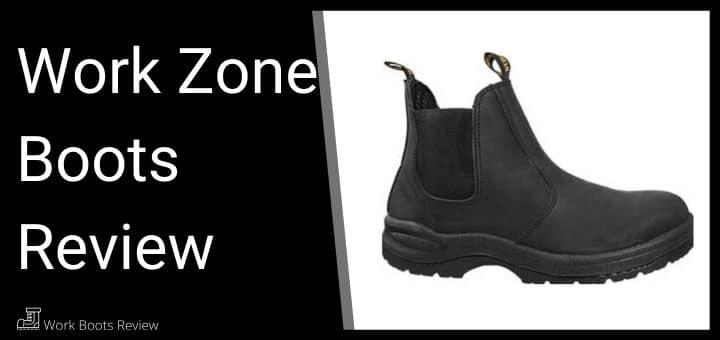 Work Zone is a wholesale distributor that specializes in outdoor and safety work boots for industrial, engineering, and construction work environments.
Work Zone prides itself in providing work boots that are comfortable and durable, manufactured from the finest quality materials and using the latest technology to create comfort and protection features that are superior in its class.
Not only is Work Zone committed to providing the best work shoes and boots they are also fully devoted to their customers and their needs and requirements.
---
Types of Boots Featured by Work Zone
Work Zone offers a large variety of work boots for every work task and every work environment, each with its own specialized safety and protective features.
Work Zone boots come in shaft sizes from the work zone work shoe that is 4 inches up to the Work Zone Workboot that is anything from 6 inches to nine inches.
There are different protective features such as a steel or composite toe for protection against falling objects and compression, and Electrical hazard protection.
There is also a waterproof option for working in wet conditions and a non-metallic option. Work Zone also offers tactical boots for work in law enforcement and security.
Work Zone boots are not only durable, functional, and comfortable they also have a classic and stylish appearance making them suitable to wear in the office and in a professional environment as well as on-site.
---
What makes Work Zone Boots So Special
All the Work Zone work boots and shoes feature the COMFORTTUF removable footbed that offers comfort, support and is very durable while allowing you the use of your own orthotics if required.
The high-quality Pu/TPU density soles on the Work Zone work boots and shoes are all oil and slip-resistant, some offer added flexibility particularly those in the tactical work boots.
The waterproof work boots and shoes are made from the finest quality waterproof leather with a moisture-wicking liner to keep your feet extra dry.
The tactical boots have breathable and leather uppers making them more lightweight and allowing for good ventilation. Work Zone uses the finest quality full-grain leather with Goodyear Welt construction in their boots.
These boots are durable, comfortable, and protective, and most definitely of the finest quality.
The electrical hazard safety work boot range offers you protection against electrical hazards in the workplace along with other great features.
---
Top List of Work Zone Work Boots Reviews
Here are some of the most popular and best-rated work boots from Work Zone;
---
1
The Oxford Black is a work shoe that can be worn both in and out of the office. This shoe is comfortable enough for all-day wear and provides the necessary protection when you are on-site, particularly from electrical hazards.
May be unavailable as of 2 Aug 2020.

The 4-inch upper shaft is made from smooth Cordura leather for comfort and durability.

A COMFORTTUF removable footbed allows you to use your own orthotics and also provide excellent support.

There is a moisture absorbent lining in the footbed to keep your feet dry and cool all day.

The PU/TPU Dual Density sole ensures good support.

This shoe offers protection against all electrical hazards.

The outsole is slip and oil-resistant, so you are protected on any floor surface.

---
2
The Pull-On Black Oil Leather boot is a flexible and electrical hazard protective work boot that is easy to put on and take off. Still, classy looking enough to wear in the office while durable and comfortable enough to wear on site.
A 6-inch boot made from oil-tanned leather that is flexible and elastic making it easy to put on and pull off.

The COMFORTUF removable footbed offers comfort and support while staying durable.

The PU/TPU lightweight dual-density outsole is flexible, as well as oil and slip-resistant.

This shoe will protect you against electrical hazards.

---
3
The F/G 8 Inch work boot is a Tactical boot that has all the necessary features for work in the military, security, or law enforcement fields. This boot also provides electrical hazard safety as well as being flexible, comfortable, and breathable.
An 8-inch shaft with a YKK side zipper for a secure fit.

The uppers are manufactured from full-grain Cordura leather.

The COMFORTUF footbed is removable and offers exceptional support along with dryness and comfort with the added moisture absorbing lining.

The PU/TPU density lightweight outsole provides slip and oil resistance as well as being flexible for easy and quick movement.

This boot also offers electrical hazard protection.

---
4
A comfortable and good looking six-inch work boot that can be worn on-site and in office. The Lightweight and water-resistant work boot offer you all-day comfort and protection while remaining durable with its Goodyear Welt construction.
The 6-inch uppers are manufactured from the highest quality full-grain tumbled leather for comfort and a superior appearance.

Genuine Goodyear Welt Construction is used for a durable and long-lasting work boot.

The Wedge sole is oil and slip-resistant as well as lightweight for easy movement.

A COMFORTTUF removable footbed offers you superb comfort and support.

---
5
The six-inch Swat boot is an excellent choice for a work boot if you are in the security or law enforcement field, even if you are not it still makes a fantastic electrical hazard safe work boot that is lightweight and flexible so you can get around easily.
Manufactured from full grain Cordura leather.

The footbed features a moisture absorbing lining to keep your feet dry and fresh all day.

A COMFORTUF footbed ensures all-day support and comfort and is removable as well allowing you the use of your own orthotics.

The D-Ring speed lacing system ensures a secure and fast fit.

A PU/TPU lightweight density Outsole that is flexible as well as slip and oil resistant ensures that you can move with ease and confidence.

Provides excellent electrical hazard protection.

---
Table of Contents for Work Zone Boots
---
Work Zone is a fast-growing name in safety and outdoor work footwear. Do not miss out on these exceptional work boots that will offer you superior protection, tough durability, and luxurious comfort.