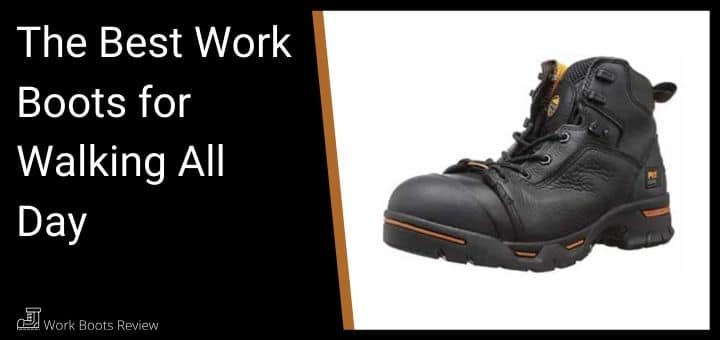 It's not news that walking all day long can be tasking to your feet.
Scroll down to read about how being on your feet for extended periods can cause foot fatigue, exactly how the best work boots for walking all day can benefit you as well as where you can find a pair.
---
How Walking All Day Can Cause Foot Fatigue
Our feet are built for walking, but just like any overused muscle, they can tire out after walking for long periods of time.
There are a few other factors that come to play to tire out our feet, which the right work boots can protect against. These include:
Flat Feet or High Arches – Many people do not have foot types that fit standard generic insoles, and they need specialized support. Having either low or high arches can cause your feet to hurt a lot more on average unless you get the support you need.
Problems with Pronation – Pronation is the rolling motion our feet make when we take a step. In some work boots, this motion is restricted or due to other foot problems, the feet themselves either over or under pronate. This causes the shoe to wear down faster as well as pain in the feet, knees, hips, and back.
Dehydration – Dehydration or sweating too much without drinking enough water with minerals can cause your feet to cramp.
---
Must-Have Work Boot Qualities for Walking All Day
To prevent the above issues, here are some must-have work boot features for walking all day long in.
Arch Support – Arch support is vital for walking or standing all day. A padded insole that is anatomically contoured or cushioned with something that adapts to your foot's shape is best. A shank can also provide good arch support, especially if you have to exert your feet over and above walking.
Energy Return – Look for energy returning work boots, which provide a bounce to every step you make, taking the pressure off your feet.
Shock Absorption – Shock absorption or deflection prevents impact from jarring your feet, which allows the arches to remain more at ease.
Flexibility – Your feet need to be able to flex in order to work properly. Most work boots are very stiff, so make sure you get a pair that offers a decent amount of mobility and flex.
The Right Fit – Ideally a work boot should have enough room to accommodate your feet. The best fit tends to have a tighter heel for better motion control and a roomy toe box for comfort.
Mesh Lining – A mesh lining is breathable and often wicks the moisture away from your feet, keeping them dry. It also allows air to circulate, which minimizes perspiration and reduces the risk of cramping.
---
Reviews: Best Walking Work Boots
Browse our selection of top-rated work boots, designed for being on your feet all day.
---
1
Timberland PRO endurance work boots offer enhanced support with specialized anti-fatigue technology, returning energy with every step you take.

An abrasion resistant double-membrane toe consists of both rubber and steel to prevent punctures, scratches, scuffs, and compression.

A flexible, puncture resistant steel plate lines the midsoles of the shoes, keeping nails and other sharp objects at bay.

The insoles are removable, allowing you to place your favorite insoles inside if the ultra comfort cushioning does not suit your tastes.

Superior shock deflection, electrical protection, and slip-resistant outsoles provide a stable platform for walking on the job site.

---
2
If you prefer the comfort of athletic sneakers for being on your feet all day, yet need safety shoe protection, Timberland PRO Powertrain shoes have you covered!

The anti-fatigue soles of the shoe provide both shock absorption and energy return, keeping your step lighter and comfortable.

A static resistant midsole dissipates any static charge buildup, preventing the risk of shocks from static surfaces.

Cement construction offers improved stability, flexibility and a relatively short break-in period.

An alloy metal safety toe can withstand immense pressure and keep your toes safe and sound from heavy objects.

Available in two stylish colors with a breathable mesh lining.

---
3
The Condor Idaho work boots are ideal for being on your feet for long hours, providing comfort padding and arch support insoles.

Excellent traction and flexible midsoles ensure an optimal balance between comfort and stability.

Safety tested to protect your feet from weights of up to 2500lbs; these boots were made for heavy duty work.

AM-TECH bonding technology ensures that the boots will remain highly durable as the uppers are inseparably melded to the outsoles.

Never worry about falling on slippery floors again, as these boots are slip and oil proof.

Made from genuine nubuck leather.

---
4
Ideal for construction workers, farm labor and much more, these safety boots provide perfect protection and comfort.

An advanced adaptive foam footbed was constructed for these boots based off 120 000 3D foot scans for the best fit, arch support and cushioning.

Abrasion-resistant heels and toes extend the life of the boots as well as provide additional protection to the lightweight composite toe.

Chemical and slip-proof, you can rest assured that you will be on your feet all day without having your feet feeling fatigued.

Equipped with electrical hazard protection from static and shocks.

Complete with signature Carhartt Storm Defender membrane, these boots are waterproof while still allowing sweat to exit them.

---
5
A robust pair of working safety boots, the Irish Setter Kastoa features all the very best qualities for keeping your feet safe and happy.

ENERG technology dual-layer insoles confer a high rebound, making each step feel light and bouncy with optimal energy return.

Anti-fatigue footbed contouring and design prevents tiredness or pain at the end of a long day.

The ultra dry mesh lining keeps moisture at bay, channeling immediately out of your boots.

ArmaTec provides a specialized abrasion-resistant rubber bumper to the toes and heel of the boots, which not only make them more durable but keep them clear of mud.

---
6
Ideal for farming or being a hard-working cowboy, these ariat Workhogs provide fantastic traction and comfort.

Shock-absorbing midsoles and outsoles prevent foot strain and ensure your feet are comfortable all day long.

Slip-resistant and self-cleaning soles maintain perfect stability and traction, even in wet or muddy environments.

Easy to get your feet in and out of, just tug on the leather straps on either side till you hear your feet plop in.

Made from superior grade leather with stylish western embellishments, you won't be sorry you bought yourself a pair if you love cowboy boots.

---
Comparison Table: Top Work Boots for Walking All Day