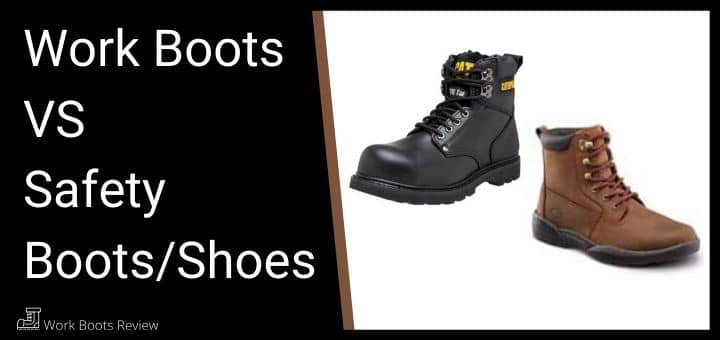 Here we have the age-old discussion, are work boots and safety shoes the same, can you use work boots as safety shoes, and so the list goes on.
Well, hopefully, we can clear the air when it comes to Work Boots compared to Safety Boots, with this article.

---
Is there Really a Difference in a Safety Shoe and a Work Boot
I am going to answer this question in one sentence;
"Almost any boot or type of shoe that is durable and comfortable enough can be used to work in, but only a certified safety shoe with the required features of a safety shoe will pass as a safety work boot. "
Thus, in conclusion, both work boots, and safety shoes can be used to work in, but only safety shoes provide protection against hazards present at your specific work site.
We all know how hefty the price tag can be on a new pair of work boots, particularly those with safety features. Thus, if you can get some double duty out of a pair of boots, or save on non-safety work boots, why not. For instance, hiking boots have many features that are acceptable as a work boot.
Nevertheless, here is the thing, as in the case with any specialized sport or hobby, having the right equipment for the job is always key! Likewise, when it comes to your career, your feet are one of the most important parts of your body that enable you to perform your duties.
Taking care of your feet and wearing footwear suitable to your assignment and work environment is an absolute must!
When you look at a good work boot, without safety features, these are the three vital factors to contemplate;
Weight
You are going to be wearing your work boots for a long day at work, walking, running amongst other movements.
For this reason, the weight of your work boot is imperative, go as lightweight as you can, and if you do not need a steel toe safety boot, well lucky you, as this is a heavyweight. Then there is also the composite toe that you can consider, similar protection, without the weight.
Flexibility
Most work boots are hard and do not offer much flexibility, this is particularly the case with safety boots. The lack of flexibility, in turn, enhances safety and protection capabilities. In the end, this can be quite uncomfortable, and with plenty of movement, of course, you will need adequate flexibility in a shoe to keep up.
Slip Resistance
A very important factor to take heed of is slip resistance. In most industrial work sites, and even in occupations such as chefs and waitering, there is the dreaded slipping hazard. Whether it is on a wet, oily, greasy surface or surface covered with loose rubber, always look for good traction and slip resistance.
---
What to Look for in a Good Safety Work Boot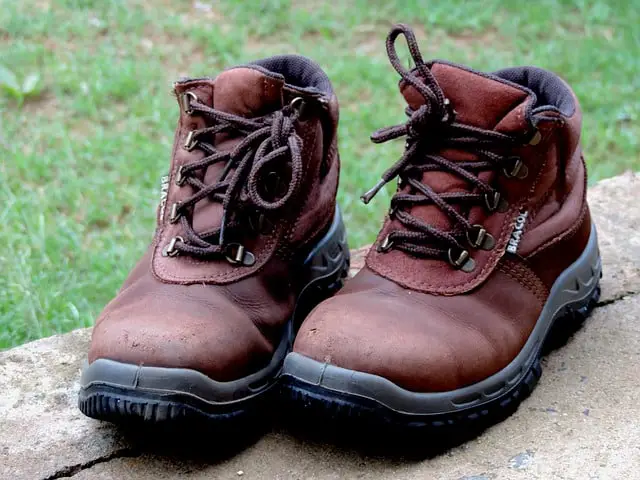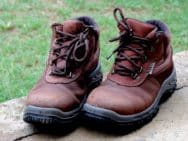 Whether you work in a kitchen, factory, warehouse, or an industrial site, having the right protective gear that meets the appropriate standard, is fundamental!
However, the types of safety feature will be specific to your work environment and job description.
I have compiled some of the most important characteristics of a good safety work boot in general that will offer you protection against most hazards in an industrial, and other work sites;
Safety Features
First and foremost, safety features;
Let's start with the safety toe. You have the choice of steel, aluminum or composite toe, in order of their weight and protection levels, steel being the most protective and heaviest.
Then there are metatarsal guards which protect the upper portion of your feet and toes against heavy falling objects and compression hazards.
We move on to chemical resistance, abrasion resistance, and then heat resistance where the material of the shoe is manufactured to withstand all these hazards.
Last, but not least, slip resistance, which can be only water and loose rubble, or oil and grease included.
Waterproofing
For those who spend the majority of their work day in wet work or weather conditions, waterproofing is crucial. There is nothing more uncomfortable than wet, cold feet, and not to mention how unhealthy it is.
Waterproof Work boots are insulated to keep water and moisture from seeping into your shoes, and likewise to keep your feet dry and comfortable.
Along with insulation and waterproofing, you also have the choice of a boot that is insulated to withstand cold weather up to extremely cold weather and similarly hot weather conditions.
Good Support
As with any other shoe that you are going to be wearing for a long period of time, good support is a requirement to keep your feet safe and healthy. A comfortable cushioned insole, arch support, and ankle support should do the trick in this regard, and not to forget good shock absorption, thanks to a study midsole and outsole.
Comfortable Fit
When it comes to work boots and safety shoes, getting a comfortable fit may not be as easy as you think, as you need to be reminded that these shoe types have a break in period.
Granting, as a word of advice, make sure that your work boot or safety shoe fits well, and that the pitch point will, in fact, be eliminated after a break in procedure or time. Remember, this is a solid investment in something that forms an important part of your everyday work life, a very important part for that matter.
Durability
To end the list, I have added durability! You do not want to spend a ton of money or less money on a shoe that is finally comfortable works well and offers excellent protection, only for it to last a short while. Then again, you also do not want a work boot that will ben and break under the first bit of stress or punishment it endures.
Proper good quality work boots are made to last and to withstand harsh work conditions and the elements, taken that they are cleaned and maintained appropriately on a regular basis.
Keep this in mind as well when you are looking at the price tag of that work boot or safety shoe, that is a dream come true, sometimes quality and durability go hand in hand.
---
In Conclusion
Finally, we have arrived at the conclusion, I hope I have cleared up this matter adequately.
Consequently, not every work shoe can be a safety shoe, but every safety boot can be a work boot if that answers your question.
In the end, it will all depend on your work environment and the type of work you are going to be performing, if you need safety features, the safety work boot is your answer, if not many other tough boots, that will do.