What are the three main things every farmer or rancher require of their footwear – durability, protection, and comfort!
There are several styles of farming and ranching work boots available, but make sure that, comfort, protection, and durability are their foundation.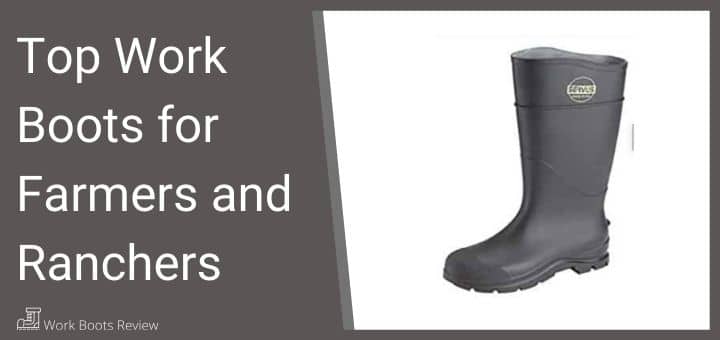 ---
Importance of Proper Footwear for Ranching and Farming
As a rancher or farmer, you are on your feet all day, up and down running, walking, thus requiring a work boot that is comfortable and will not cause pain or fatigue halfway through your day.
Farming and ranching also hold many hazards that can cause injuries to your feet, such as falling g objects, getting trampled on by an animal, or even punctures from sharp objects. Therefore you need a boot that provides the protective features appropriate to this environment.
Working on a farm or ranch similarly involves working in wet environments frequently, therefore a waterproof work boot is a given in this case.
Lastly, durability, the harsh environment that you are working in, and physically demanding work being performed will take its toll on your shoes, therefore only the toughest and best quality work boots will do.
---
Hazards and Discomforts Faced by Ranchers and Farmers
There are many dangers that farmers and ranchers face on a daily basis that can cause either injury or great discomfort, here are only a few;
Scratches on legs from twigs, branches, and other sharp objects.

Snake and spider bites.

Slippery gravel or wet floor surfaces pose a fall risk.

Wet conditions, such as water, mud, sludge, and snow.

Extreme cold or extremely hot weather conditions.

Sharp objects that cause puncture risks.

Heavy falling objects.

Heavy cattle and farm animals that can crush your feet.

Dirty work environments.

Chemicals.

Farm equipment with sharp or rolling parts bringing about compression or cutting hazard.

---
What To Look for in the Best Ranching and Farming Work Boot
Here are a few simple characteristics to contemplate in a respectable workboot for farming or ranching;
The Outsole
The outsole of your work boot should be durable and puncture resistant, with a pattern that prevents slips.
A rubber outsole offers the best slip, oil and abrasion resistance, and is perfect for rugged terrains, because of its excellent traction capabilities.
A Thermoplastic polyurethane outsole likewise offers good slip, abrasion and oil resistance, as well as chemical resistance. It is generally more lightweight, and much tougher when it comes to splitting.
Lastly, the polyurethane outsole is lightweight, flexible and comfortable, with somewhat good slip, oil and abrasion resistant qualities.
Protective Toe
For those falling and crushing hazards, steel, aluminum or composite toe are the most popular.
The steel toe is the most protective, but sadly the heaviest and the composite toe, the lightest, but less withstanding.
Durability
Good quality construction with fine, tough and durable materials is key in this regard, enhancing longevity and performance capabilities of your work boot.
Look for direct attach or injection construction methods, which is more flexible and lightweight, along with being watertight.
Goodyear welt construction, and cement is also very popular and durable, extending the life of a work boot
A solid rubber outsole and high-quality leather uppers are what you should be looking for in the best work boot that will last you the longest.
Synthetic materials, however, should not be forgotten, they will give the rest a challenge when it comes to durability, and are a leader when it comes to lighter weight.
Comfort
The inside of your work boot is what mostly keeps your feet comfortable, that with the shock absorbing capabilities of your outsole and midsole.
Breathability, cushioning and waterproofing is what you need in a good work boot on the ranch or farm.
A breathable waterproof lining such as gore-tex will allow circulation while keeping moisture out.
Good arch support and a cushioned insole will add to comfort, not forgetting the right insulation levels for the weather you are working in, such as Thinsulate.
In the end, make sure that your boot fits properly, not causing any pain or pinching, there are nothing worse than an improperly fitting work boot!
---
A Few of The Best Work Boots for Farms and Ranches
1
The Servus is a work boot aimed at providing the most comfort and protection, specifically when it comes to farming and ranching.
Lightweight construction with a cushioned insole for superior comfort.

Chemical and water resistant.

Soft and flexible PVC that is injection molded.

Noteworthy heel and arch support that can be removed, washed and replaced.

The longer length protects your legs and keeps you dry.

Better flexibility with the CTC comfort technology.

---
2
The Keen Utility Pittsburgh is designed to offer comfort and durability that lasts.
Tackle hard days work knowing that you are protected at all times
Nubuck leather uppers.

Durable and high traction rubber sole.

A contoured heel lock, with medium-duty capabilities.

Enjoy additional comfort with the metatomical EVA footbed.

Nubuck Leather

Keep dry with the Dr-Lex lining.

Available in four neutral colors.

Comes with a protective steel toe.

---
3
What farm outfit is complete without the muck boot?
Enjoy the comfort and protection offered by the Chore Classic, designed to keep your feet dry, retain heat, and to work hard for you.
Rubber construction that is waterproof and easy to clean.

Durable and slip-resistant rubber outsole.

Twelve-inch shaft to protect your legs and ankles.

Great shock absorbing characteristics.

Breathable air mesh lining provides moisture wicking capabilities.

Supportive steel shank.

---
4
The Workhog from ariat performs well in all conditions and excels under pressure. A durable, waterproof work boot offering maximum torsional stability and lightweight cushioned comfort.
Durable and slip resitant Duratread outsole.

High-quality leather upper construction.

Ten-inch shaft.

Western style with dual pulls for easy on and off.

The AST Max platform guarantees the best torsional stability to reduce foot fatigue and ensure proper body alignment.

Available in four gorgeous paterened, neutral colors.

---
5
True to its roots, the Justin boot is authentic and stylish with its Western panache.
The patented J-Flex comfort system will make sure that you are wearing the most comfortable work boots ever to exist.
Manufactured from pure, genuine leather.

A high traction, slip resistant, durable rubber outsole.

Comfortable J-Flex System.

Shock absorbing and supportive memory foam midsole.

Availble in black and tan color options.

---
To Conclude
To get back to my point, comfort, durability, and protection are key for any farmer or rancher.
The work boots that I have chosen will offer you the best features, to ensure the four requirements are met to the max.
---
Index Table: Top Work Boots for Farmers & Ranchers
---
Work Boots Review may collect a share of sales or other compensation from links on this page.