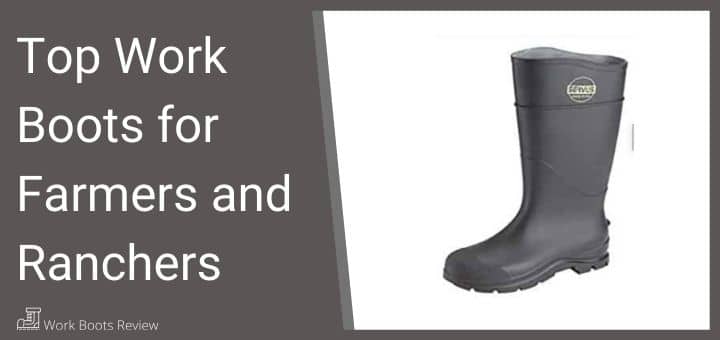 All footwear is not equal; runners require different shoe features than hikers, equestrians, or walkers.
The same goes for farmers and ranchers. There are unique challenges faced in the field that not every shoe or boot can handle. This is why we've come up with a list of the best work boots for framers and ranchers.
We spent days researching and reviewing top quality farm boots. Our list contains work boots with general features all farmers need and also boots for specific needs. The editor's choice is the Muck Chore Classic Men's Rubber Workboot because the boot is lightweight, has a good shaft height, is comfortable, and supports your feet for long working hours. The boot is also durable and provides the necessary protection against weather and elements.
This farm boots list also features rain boots, muck boots, boots for extreme winters, cowboy ranch boots, boot for heavy-duty, messy farm work, boots horseback riders may approve, and boots with extra traction for the hilly countryside. Most of the boots are custom-designed for men, but our list contains unisex and the best farm boot for women too.
Top Farm Work Boots and Ranch Boots
Our List Of The Best Work Boots for Ranches and Farms
1
The Muck Chore Classic Men's Rubber Work Boots is the best farm boots for farmers, ranchers, and landscapers. The gusset construction, added to the original Muckboots, keeps feet dry and comfortable when working outdoors.
With the extra 5 inches, the calf area is boosted to accommodate muscled legs. These lightweight boots sit comfortably while providing heavy-duty protection. A reinforced Achilles, toe, and heel area feature extra material for a comfortable and snug fit with ample space in these muck boots.
These rubber farm boots are waterproof, making it a great boot for any weather condition and everyday farm work. The gathered collar retains the warmth inside and mud, gravel, muck, and water on the outside. The rubber outsoles provide excellent traction and slip-resistance when treading on wet surfaces.
A breathable Aimesh stitched lining keeps feet hygienic and dry by wicking sweat and moisture away from the feet. The waterproof lining is shock-absorbent and, for extra comfort, molds to the contours of the wearer's foot. Keeping feet warm when working outdoors on cold days, the lining retains heat up to 85 degrees Fahrenheit.
These classic work boots are unisex with shoe sizes for men and women.  It's a traditional pull-on boot for ease of use.
Rubber construction that is waterproof and easy to clean.

Durable and slip-resistant outsole.

The original muckboots!

Twelve-inch shaft to protect your legs and ankles.

Great shock absorbing characteristics.

Breathable air mesh lining provides moisture-wicking capabilities.

Supportive steel shank.

---
2
The Servus Comfort Technology 14" Steel Toe Work Boot is the best boots when working with fertilizers, agricultural chemicals, or animal waste. The PVC, waterproof boot with its steel toe is ideal for fieldwork to keep your feet dry and safe. Agricultural and industrial workers may appreciate the durability and protection these boots offer.
Designed for all-day wearing, the boot's top line is scalloped, providing additional flexibility. The insole is heavily padded, and the Foot Form contours according to the foot's shape providing arch and heel support, reducing foot pain and fatigue. A cupped heel area provides non-slipping of feet inside the farm boots.
The PVC polyblend injection-molded construction makes the boots 100% waterproof, and the seamless CT (Comfort Technology) provides the flexibility and comfort hard workers appreciate. The synthetic sole and molding of the plastic material make the possible degradation resistant when working with hazardous materials like chemicals and fertilizers. They are a mix of oil and slip resistant at the same time.
Fieldwork means muddy, slippery, wet conditions; these farm boots have high traction to keep feed stable and steady. The 100% waterproof material ensures dry feet despite working in mud, water, and rain. The round toe of steel
protects your toes
from impact, bruising, and compression; farms, like construction sites, have high probabilities of potential accidents that can happen. The 14-inch-long boot also protects the leg against poison ivy, scrapes, mud, and debris.
Lightweight construction with a cushioned insole for superior comfort.

One of the best ranch boots to protect yourself from spills.

Chemical and water-resistant.

Soft and flexible PVC that is injection molded.

Noteworthy heel and arch support that can be removed, washed, and replaced.

The longer length protects your legs and keeps you dry.

Better flexibility with CTC comfort technology.

---
3
If you were looking for a dress boot that functions as a work boot too, then the Ariat Men's Workhog Pull-On H2O Work Boot is an excellent choice. It is one of the
best pair of boots for farmers
who need
maximum shock absorption
and
stability
on and off horseback and equestrian athletes. Ariat's goal is to provide technologically advanced riding boots for world-class athletes to work, ride, and compete with the utmost comfort.
Made of 100% full-grain leather, the Western-style boot design comes with a fashionable embroidered shaft that measures 10 inches from the arch. The trendy scallop topline comes with dual pull-on loops for easy pulling on and taking off. The work boots come in narrow sizes for smaller feet and in Army Green or Aged Bark color options. The Ariat farm work boots fit comfortably, and although they have leather uppers, no break-in is needed.
The rubber sole is constructed of
three compounds of rubber
that covers from the heel to the arch. The bottom layer is hard for impact, abrasion resistance, and provides the traction needed when working in mud, snow, and slippery conditions. The EVA midsole and top layer are softer, cushion layers providing comfort and shock-resistance. The orange insert on the sole supports the arch when using a shovel or standing on a ladder.
With maximum shock absorption, the work boots reduce foot and knee fatigue for farmers that spend hours riding from one field to the next. The farm boots provide the stability and support for a comfortable trot.
Durable and slip-resistant Duratread outsole.

High-quality leather upper construction.

Ten-inch shaft.

Western-style with dual pulls for easy on and off.

The ATS Max platform guarantees the best torsional stability to reduce foot fatigue and ensure proper body alignment.

Available in four gorgeous patterned, neutral colors.

---
4
The Bogs Men's Classic Snow Boot is a pair of the best farm boots for mud, snow, and other slippery surfaces. These pair of boots are comfortable to wear and designed for farmers working long hours during winter months. If you are preparing for winter, you may consider a good pair that provides comfort, heat, non-slip protection, and traction.
With temperatures from 60F to -35F, your feet will experience the utmost in comfort when wearing these farm boots. The synthetic upper features a four-way stretch for extra flexibility; the boot opening measures 16 inches around. Boot height is ideal for working on a farm, protecting legs without being uncomfortably high.
Pull-on tabs make these great farm boots easy to put on, and the toe holds helps with kicking off the boots after a hard day's work. If you are in a hurry and there is no time for socks, these boots will pull on easily. The Aegis anti-microbial
insoles
are odor-resistant, keeping the boots fresh.
A rubber outsole provides excellent traction for secure stepping on slippery surfaces and in the snow. It is also 100% waterproof making it ideal for working in pastures, barnyards, muddy and water surfaces, or winter sports.
The boots run a bit large, which is ideal for wide feet and workers who like room. If you prefer a snug fit, buy a smaller size.
Non-slip and non-marking outsole for secure footing in snow and mud.

100% Waterproof. Constructed with 7-mm waterproof Neo-Tech to keep feet dry.

Internal midsole for extra warmth.

Easy-on pull-on handles.

DuraFresh biotechnology keeps boots smelling fresh.

Best ranch boots for outside winder protection.

---
5
The Keen Men's Targhee II Mid Waterproof Hiking Boot is an excellent hybrid boot for all-terrain farming over hills and valleys with stability and support features you expect to find in a hiking boot. These boots work well for outdoor activities and hobbies like fishing, trail hiking, and camping also.
A pair of Keen Targhee II work boots are safety boots for a work environment that requires footwear that protects and stabilizes feet over rough terrains. Non-marking outsoles should not leave traces or markings when stepping indoors with the boots. The rubber outsoles grips and provides aggressive traction outdoors across all landscapes and fields.  These aren't bad snow boots either – as long as it's not too deep.
When fully laced up, the enhanced torsion stability ESS shank provides ankle support on uneven terrain. The padded collar and tongue add to comfort and stability, the lacs tie crisscross for a secure but comfortable fit. Another excellent feature is the Dual Density Compression-molded EVA midsole. The work boots are more robust with the two different densities and provide stability to avoid overpronation. The removable metatomical dual-density EVA footbed offers a comfortable fit. According to the foot, the EVA foam shapes and the insoles provide excellent arch support for secure footing and comfort. The removable insoles mean it can be cleaned and aired regularly.
The Keen.Dry waterproof breathable membrane provides air circulation to keep feet fresh. Its waterproof feature
keeps your feet dry when walking in water and mud. These pairs of work boots also come in women's sizes.
Excellent traction and grip for all terrains.

100% Nubuck leather upper.

Waterproof and breathable membrane.

Dual Density Compression-molded EVA midsole help prevent overpronation.

Torsion stability ESS shank provides ankle support.

---
6
A pair of Keen Utility Men's Pittsburgh steel toe boots have all the features unique to Keen boots with the additional toe box to protect toes. The footwear comes with a hiking boot's comfort and the durability you would want in a work boot. These work shoes are one of the best picks for working on a farm, ranch, or industries like construction, maintenance, masonry transportation, energy, or landscaping.
The work boots are designed for
maximum protection
when working in accident-prone industries. These quality boots are
oil and slip-resistant
; it's a farm boot made for treading safely without slipping on wet grass, mud, or water, a steady footing on rocky terrain when working on asphalt and providing ankle support in the sand. It is also compliant with ASTM F2892-11 EH standards and protects against electrical hazards and any static electricity build-up.
An asymmetrical safety toe cap provides space in the toe region and protects toes against incidents like a falling hammer. The asymmetry of the steel toe boot ensures equal protection for both feet and less toe pinching.
The dual-density compression-molded EVA and PU midsole and footbed provide shock absorption and comfort cushioning that absorbs the impact when jumping or landing hard on your feet. A soft padded tongue and color give a snug fit and comfort. The crisscross lace design also helps with a cozy fit. The work boot also features excellent arch support minimizing foot fatigue when working long hours.
Nubuck leather uppers do not need breaking in; you can wear the farm boots out of the box. The Nubuck leather is durable and breathable for sweating feet. These moisture-wicking feature and the patented Keen waterproof lining membrane ensures dry feet even when it rains or stepping in water.
Nubuck leather uppers.

Durable and high traction rubber sole.

A contoured heel lock with medium-duty capabilities.

Enjoy additional comfort with the metatomical EVA footbed.

Keep dry with the Dr-Lex lining.

Available in four neutral colors.

Comes with a protective steel toe.

---
7
If you were looking for a winter boot that can also handle diesel or fertilizer spills, then the Dunlop E66284310 Purofort Thermo+ Full Safety Work Boot is one of the
best pair of boots
for you! These boots were built to keep feet warm in icy temperatures up to -58F. Dunlop is a known brand, and these boots give farmers and ranchers the safety they need when working outdoors.
The
Purofort Thermo
+ 100% rubber material provides excellent insulation keeping feet warm in the coldest work conditions. The outsole is fuel and oil resistant, protects against chemical degradation, and keeps water and mud out with its waterproof features.
These work boots not only offer a protective toe cap but steel midsole too for maximum protection against sharp object penetration and accidental dropping of equipment. The steel toe cap protects the toes, and the midsole protects the sole.
The SRC rated outsoles are dirt-repellent, providing the perfect grip for protection against slipping in water, mud, snow, and ice. Deep groves give excellent traction and are one of the best pair of boots to wear in the mud.
These farmer work boots are comfortable to wear, provides safety in hazardous situations, and keeps feet warm on the coldest winter days.
SRC rated with the dirt-repellent outsole for a secure grip.

Water, oil, chemical degradation and slip-resistant.

Steel toe and midsole provide certified protection.

100% waterproof.

Removable Foot Form contour cushion insoles.

Reinforced at stress points for more extended wear.

---
8
A pair of Justin Boots Men's 3001 Farm and Ranch 10" boot is a dedication and salutation to hardworking cowboy ranchers and farmers. When you think of cowboy boots,  near the top of the list is Justin Boots. Justin Boots is known as the "Standard of the West Since 1879," providing authentic and stylish Western work boots for farmers and ranchers.
Made from 100% cowhide leather upper, the boots are decorated with a Western stitch pattern on the upper shaft. The slip-on design makes wearing and removing the ranch boot quickly; no laces are needed for a comfy fit.
The patented J-Flex Comfort System is the reason why comfort is associated with this brand. Ranchers and farmers may wear the work boots all day long without foot fatigue or heel pain. The midsole's memory foam and the cushioned footbed creates comfort to the feet. A 10-inch leather shaft provides protection and support, and the medium round toe allows space for toes and avoids pinching.
The farm and ranch boots combine the comfort of wearing your favorite casual shoes with the outer ruggedness needed when working outdoors. The leather upper is stitched to the rubber outsole with a single welt enhancing the boot's durability and strength. There have been sporadic complaints from some customer reviews  about the craftsmanship – it's hard to tell if that was an isolated incident from a batch years ago or something more.
With over 130 years of boot-making experience, the Justin work boots are one of the best farm boots for hardworking ranchers.
Manufactured from pure, genuine leather.

A high traction, slip-resistant, durable rubber outsole.

Comfortable J-Flex System.

Shock absorbing and supportive memory foam midsole.

Available in black and tan color options.

---
9
The Georgia Boot Men's Wedge Wellington Work Shoe is the type of protection you would want for your feet when working with harsh chemicals, oil, barnyard acids, and agricultural products. The
SPR leather
is three times stronger and two-and-half times more abrasion-resistant than conventional leather. They'd work well in a factory as manufacturing boots too.
The
full-grain leather
the boot is constructed from underwent a unique tanning process making it more robust and providing the protection against caustic
alkali
,
calcium hydroxide
,
sulfuric acid
,
potassium phosphate
,
caustic potash
, and other barnyard chemicals I can't pronounce.
If you were looking for long-lasting rugged boots, then the Georgia Wedge Wellington Boot is an excellent pick. The Goodyear welt construction is known for strong bonding in footwear assembly, allowing for resoling without compromising the boots structure. The full-grain leather upper is sewn with flexible stitching to the rubber sole, enhancing the work shoe's durability.
The steel toe can withstand impact and compression up to 75 pounds. Farmers and ranchers regularly carry or load heavy equipment; the steel toe protects the forefoot against unintentional incidents. The steel toe meets the ASTM F2413-05 I/75 C/75 safety standards. These work boots also comply with the ASTM F2413-05 electrical hazard standard, protecting workers when accidentally stepping on live wires.
These Georgia Boots are comfortable to wear with cushioned insoles providing the soft comfort for feet. A steel shank supports the arch, prevents unwanted pressure points, and offers steady footing.
Chemical and oil resistant protecting feet against barnyard acids.

SPR leather is three times stronger than conventional leather.

Upper made from full-grain leather.

Goodyear welt construction ensures longevity and durability.

10″ shaft height, wedge heel, and cushioned insole provide comfort.

---
10
While we all know farming takes some real work, there are times you want to look good while doing it.
The Kamik Women's Waterproof Jennifer Rain Boot is more than a rain boot; it is a stylish work boot for women. The work boot may keep feet dry when busy with farm chores, playing with the kids, or walking through muddy puddles. The boots are also stylish for a quick friend's visit.
These farm boots are designed for women. A contrasting colorful sole, the polished medallion, and buckle detail provide a feminine touch to a pair of boots that are strong and durable. The lightweight rubber boot is made from a particular type of rubber. The
He
in
RubberHe
stands for helium, which makes the boots 50% lighter than natural rubber and 30% lighter than synthetic boots. The material is durable, and after a million flexes, it will not crack, which is five times more than the industry average.
The waterproof boots are ideal for all seasons. The mid-calf length ensures your feet stay clean and dry when stepping in mud, dirt, shallow streams, or other wet situations. The outsole gives women the grip and traction needed to avoid slipping in water, oil, and muddy areas.
Kamik boots are made in Canada using rejects and recycled rubber. The company recycles enough rubber in a year to produce about 175,000 black rain boots.
100% RubberHe construction making the boots ultra-lightweight.

Designed for all types of temperatures.

Mid-calf waterproof boots.

Stylish design for women.

Durable farm boots.

---
---
Buying Guide for The Best Farm Work Boots
The boot components and comfort to the wearer are essential features for selecting the right pair of boots for farming and ranching.
The Outsole
The outsole (aka sole) of the farm work boots should be tough enough to withstand all types of rough terrains and weather. It should be durable, puncture-resistant, and slip-resistant, ensuring a safe, stable, and secure footing when walking and working on the farm.
Farmer boots come in three types of outsoles.
Rubber Outsole
Rubber soles have superb traction and grip features, essential for rugged terrains and farm work in dry and wet fields. A rubber outsole also offers the best slip, oil, and abrasion resistance.
Thermoplastic Polyurethane Outsole
Thermoplastic polyurethane (TPU) outsoles are lighter on your feet than rubber outsoles and designed for long-wearing without splitting. In addition to providing abrasion and slip resistance, the TPU outsole protects the feet from chemicals and fertilizers that could be harmful to your skin.
Polyurethane Sole
Polyurethane soles are the most flexible, lightweight, and comfortable outsole. Even with these benefits these outsoles still offer slip, abrasion, and oil resistance.  They don't provide much puncture protection, however.
Protective Toe Style
Farm work could be hazardous. Tools slip out of a worker's hands, and foreign objects may fall on your boots, crushing your toes. Farm boots with a soft toe cannot provide the protection. A work boot with protective toes may avoid serious injuries; toe protection is part of the farm boots' design.
Steel Toes
A steel toe cap provides superb protection against compression, falling tools or other foreign objects, electric shock, and chemical hazards. However, steel toe reinforcement adds extra weight to the work boots.
Steel toes provide safety for farmers working with heavy farming equipment, logging trees against burns, and impalement of sharp objects.
Aluminum Toes
Aluminum toes are thicker and not as heavy as steel toes. Aluminum does not conduct temperatures like steel toes, which means feet should be warmer in winter and cooler in summer.
Composite Toes
Composite toe protectors are made of Kevlar, plastic, or carbon fiber and are the best insulators. These toe caps are lighter than steel toes but do not conduct electricity.
Boot Construction
The construction method determines the durability, protection, flexibility, and weight of the farm shoe.
Cement Construction
The outsole and midsole are permanently glued to the upper part of the farm boots. Cement construction boots are flexible and lightweight but not as long-lasting as stitched boots. However, these boots typically cost less.
Injection Construction
Injection construction or direct attach constructed boots are generally water-resistant or waterproof. The boot sole is fused to the upper part, creating the best lightweight and flexible farm boots.
Goodyear Welt / Stitch Construction
A welt or strip attaches the upper and inner soles creating a more substantial boot. This type of construction lasts longer, and these work boots are repairable and can be resoled.
Comfort and Boot Materials
The materials the upper and lining are made determines the protection provided and comfort to the farmer. Working on a farm means working in wet weather and standing in wet fields. Waterproof work boots keep feet dry, avoiding cold and discomfort.
Rubber Material
Rubber boots are ideal when working in muddy conditions. Rubber boots clean easily, is easy to put on, and protect feet against mud and water. These durable boots may last for years.
Nylon Material
Nylon boots provide breathability, the most incredible comfort, and walking flexibility. Nylon is lightweight and waterproof, which is ideal for any wet situation.
Leather Material
Leather boots are possibly the most popular type of material for ranchers and farmers because of their longevity, durability, and waterproof ability. Full-grain leather is the highest quality leather that molds to your feet, providing extra comfort when working 12-hour shifts. Top grain leather work boots are less expensive and come with a finishing coat that avoids staining.
Lining Comfort
The inner lining of the boot also provides waterproof, breathability, and comfort features. A well-insulated lining with moisture wicking may keep feet warm in the winter and cool in the summer.
What Hazards and Discomforts Should Farmers Consider When Selecting Work Boots?
Farmers and ranchers work in a hazardous environment and with elements that are prone to cause injuries and discomfort.
When purchasing the right pair of work boots, consider the work conditions, and how the footwear features may protect your feet.
Scratches on legs from twigs, branches, and other sharp objects.
Snake and spider bites.
Slippery gravel or wet surfaces may cause workers to slip and fall.
Wet conditions, such as water, mud, sludge, and snow.
Extreme cold or scorching temperatures.
Sharp objects that may puncture work boots, causing injuries.
Heavy falling objects.
Cattle and farm animals tramping on feet.
Dirty work environments.
Farm equipment with sharp or rolling parts that may cause compression or slashing.
What Is The Proper Footwear for Ranching and Farming?
Farmers and ranchers spend most of their time on their feet. The right footwear is essential to avoid foot fatigue, protection against elements and environment, and unnecessary injuries. Take care of your feet by wearing a comfortable work boot that provides traction and safety at your ranch or farm.
Features you may consider when looking to buy the best farm work boots:
Steel toe and toe caps protect toes and forefeet from being crushed or injured by falling objects. It could be a tool the farmer accidentally drops, a log falling on your feet when cutting wood, or accidentally letting go of heavy equipment. Toe caps also protect against feet getting stuck or pinched between two objects.
Reinforced soles protect feet against punctures and impalement when stepping on something sharp.
Boots with outsoles providing good traction and grip are essential. It is almost impossible to work on a farm or ranch and not come across water, mud, oil, and other slippery surfaces. Most outsoles have a rubber portion that provides slip and water resistance to keep feet dry.
A waterproof boot may give the water protection needed when working in the rain, snow, and wet surfaces that could cause water damage.
Some farm footwear protects feet against hazards like electricity, chemical spills, pesticides, and other harmful substances.
Ankle support is precisely needed when walking on uneven terrain. Laces help secure feet, and tall laces may provide additional ankle support.
Comfort is high on the list when buying farm or ranch work boots. Heel collars, ankle- and arch support, and cushioned footbed are features that add comfort to feet. Ensure the farm boots are wide enough so that toes are not pinched and no pressure points occur.
What are the most critical features you consider when buying the best farm work boots? Did you find the ideal pair in our list, or are there a pair of boots you would like included in the list?
---