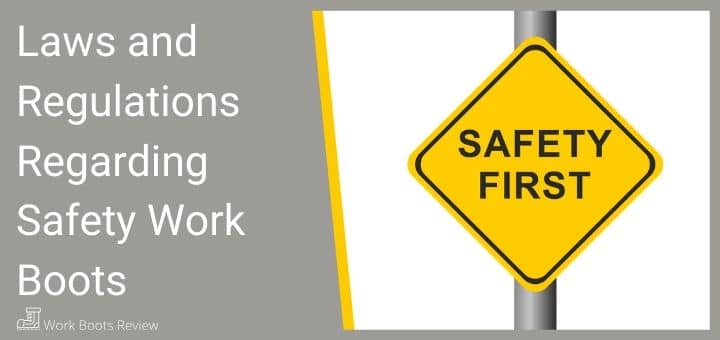 Safety Shoes or Workboots are a must by law and company policy when you are working in an environment that holds risks of causing injuries.
When you are dealing with hazardous materials, chemicals, falling objects or any other risks in your work environment, Safety Certified workboots are absolutely imperative.

Who Should Wear Safety Workboots
Anyone working in a hazardous environment wears the need to wear protective gear, or where their feet are at risk of injury, should wear Safety work boots.
In most construction, heavy duty, engineering or industrial work environments a Safety work boot that offers protection against multiple hazards is required. In these sites hazards such as falling objects, sharp objects, slippery surfaces, electrical hazards and chemical spills are a reality, and your safety work boots should offer protection against these elements.
But if you are wondering, here is a list of occupations that require the use of proper Safety work boots and protective work wear;
Construction Work

Mechanical Work

Plumbing

Roofing

Electrical Work, or Environments where there is electricity.

Tiling work.

General Labor

Chef's (only in some instances)

Store assistants or stock takers (where there are hazards present)

With all these occupations you will need a specific type of work boot which offers either one form, or multiple forms of protection against a variety of hazards.
---
Safety Boot Ratings
As you may have noticed there is a large variety in types of Safety work boots each meant for a specific environment or offering protection against certain identified hazards.
Here are some ratings that you can look out for when choosing a Safety work boot;
SB – Toe protection up to 200 joules of impact, from falling objects or compression.

C – Conductive of electrical currents.

I – Insulated for protection against electricity.

P – Resistant to penetration from sharp objects on the work floor area.

A – Anti-Static, for protection against static electricity build up.

E – Absorbs energy, protecting against electrical hazards.

HI – Insulated for protection against extreme heat.

M – Offers Metatarsal Protection, against falling objects and compression.

CI – Provides insulation against cold environments and work conditions.

WR- Water resistant, for wet working environments.

AN – Protects your ankles.

HRO – The outsoles are resistant to hot contact.

WRU – The uppers are water penetration and absorption resistant.

FO – The outsole is oil and fuel slip resistant.

S1 – Anti Static, Oil resistant and absorbs energy.

S2 – Prevents water from penetrating your work boot.

S3 – The Midsole offers penetration protection.

S4 – Leak proof, offering protection against any moisture or liquids from seeping in.

S5 – Leak Proof as well as midsole penetration protection.

As you can see there are quite a few standards to choose from, some work boot types offering more than one type of protection. In the end, it all depends on your work environment and the hazards and risks involved in your job description.
Most Safety shoes will offer protection against falling objects, with the addition of a steel toe, electrical hazards, and are slip resistant.

---
The Laws Surrounding Safety Workboots
When it comes to the state laws regarding the wearing of Personal Protective Equipment (PPE) which includes certified Safety Work Boots, you can have a look at the Occupational Health and Safety Act, general Safety Regulations, referring to Personal Protective Equipment (PPE) in the workplace.
Personal protective Equipment consists of all the clothing and accessories that you need to wear to protect you against the specific dangers of your work environment. PPE includes your work overall which is normally flameproof, your safety shoes, gloves, gas and dust masks, hard hats, eye protection, and metatarsal guards, amongst other accessories.
In short what this law states is that; All persons who are exposed to hazards in the workplaces, such as, falling objects, slipping, chemicals, electricity and more, must wear Personal Protective Equipment, which includes your Safety Shoes.
It is the employer's responsibility to ensure that the work environment is safe and that employees are protected from injuries. Therefore the employer must at all costs, implement the usage of Personal Protective Equipment, which includes Safety Work Boots suitable for the work environment.
The act states that the employer must enforce the wearing of PPE even if the employee is medically unfit. The employer may enforce a no work, no pay leave of absence until the employee is fit to wear PPE.
In general, the employee is responsible for providing PPE which includes Safety shoes, the employee may insist on purchasing their own PPE and Safety Shoes, granted that they meet the companies safety standards.
The employee is responsible for the safekeeping of their PPE and may not remove such from the premises, unless specified. Failure to do so, results in the employee having to re-purchase that particular item on PPE.
Old and damaged PPE including shoes must be discarded of or destroyed and new ones issued immediately. No employee may be given old or damaged shoes, or any other form of protective gear to take home.
In any company where there are safety hazards present a proper PPE policy must be compiled and communicated clearly to all employees. This policy must be strictly implemented and adhered to, and it is the companies responsibility to do PPE checks on employees.
---
Lastly

Your Safety Work Boots are there to protect your feet, which are the most vital part of your body, despite your hands, enabling you to perform at work. Without your feet, you will not be able to work the same way or walk again for that matter.
Take this into consideration when selecting a pair of work boots.
Ask what your company regulations are, and take heed of the present risks, so that you are able to make an informed decision.
Also, keep in mind to take good care of your work boots in order for them to function properly for a long time to come.
In the end, it is your safety and well being that is at stake here, so keep to the rules and make sure that your work boots are up to standard for your work environment!