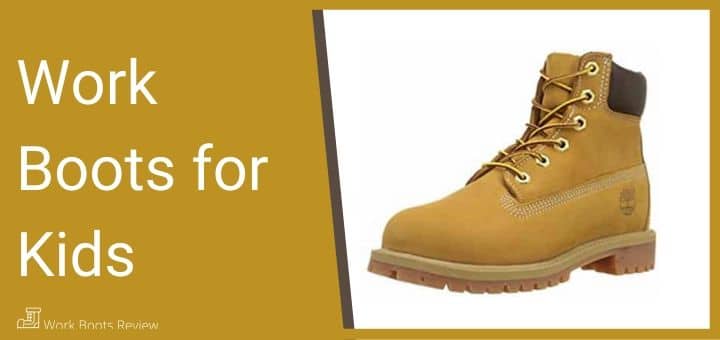 Many children like to join their parents for work as well as to enjoy the outdoors, playing in the mud and dirt.
Just as we need protection for our feet from the many elements and hazards at work or outdoors, a child needs protection even more when in a hazardous environment.
This is why there are growing numbers of brands that manufacture Work Boots for Kids to target this audience from an early stage.
---
Features of a Good Work Boot for Kids
Kids work boots have very similar safety, comfort and durability features to that of a adult work boot;
Constructed from durable and comfortable materails.
Waterproofing and in some cases insulation.
Breathability and moisture wicking lining.
A comfortable and cushioned insole or footbed.
A protective Steel Shank.
A durable and slip resistant rubber outsole.
---
Reviews: Top Work Boots for Kids
Dress up your child with the ultimate classics for style and durability in a protective and comfortable work boot from the top available brands on the market.
You cannot go wrong with one of our top-rated picks of work boots that have been designed to meet the specific needs and requirements of children's feet.
---
1
The fun and funky children's Timberland Pro Premium is a rugged styled work boot that will toughen up any casual look.

The Timberland Pro Premium is a leather ankle boot that has a comfortable padded collar and durable nylon laces with rust-resistant hex shaped eyelets.

This boot provides cushioned comfort and support with the EVA foam footbed.

The uppers are constructed for durability and waterproofing with seam-sealed construction methods.

200 grams of insulation provides cozy warmth in cold conditions.

The synthetic outsole is both durable and provides excellent grip for slip prevention.

The Timberland Pro Premium is available in a vast variety of fun and vibrant colors for kids.

---
2
For those cowboy enthusiasts, the John Deere is a fun and comfortable western style roper boot with some timeless cowboy accents.

The John Deere Western features smooth and comfortable full-grain leather uppers in a slip-in style boot with pull-on straps for easy access.

The Crepe sole is durable and provides good grip and traction.

A cowboy styled roper heel that will last longer and gives a classic Western style.

The John Deere Western is a comfortable and durable children's work boot with a classic design for timeless style.

---
3
The little Giant Romeo work boots from Georgia will provide superior protection and comfort for little feet. Your child can play away in these tough and protective work boots without any discomfort or worry about accidents.
The uppers are constructed from comfortable, and tough leather with a padded collar and gusset covered side seams along with a high-performance lining to offer the best fit and comfortable dryness.

The covered insole ensures cushioned comfort and support for small and delicate feet.

The outsole is oil and slip resistant with an added bumper guard to safeguard your little one against slips falls and bumps.

This work boot is comfortable as well as durable and long lasting meant for harsh and outdoor wear.

---
4
You cannot get more tough and long lasting than the Skechers Bunkhouse Mecca. Kids can have fun in comfort and durable protection with this fantastic work boot from Skechers.

The Skechers Bunkhouse is crafted out of soft and supple faux nubuck leather and synthetic materials for the ultimate comfort and style.

The lace closure with metal eyelets ensures a comfortable and secure fit and the stitching details on the uppers provide decorative detail.

The Interior of the Bunkhouse is lined with a soft fabric that wicks away moisture and protects the feet.

A cushioned comfort insole provides all-day comfort and support.

Finished off with the durable and flexible lug traction outsole the Skechers Bunkhouse is a sturdy and comfortable work boot that will last even the wildest of little rug rats a very long time.

---
5
The leather and mesh textile uppers are durable, comfortable, lightweight and breathable, and along with the Dri-tec waterproof breathable membrane will keep the feet dry in even the wettest of conditions.

A Ghillie lacing system ensures a comfortable yet very secure fit for shoes that will stay on even with rough play.

An abrasion resistant toe cap and heel provides protection and durability in the key areas.

For the best support and stability, a steel shank has been added.

The comfortable compression molded EVA midsole provides exceptional shock absorption and a smooth ride.

The synthetic outsole of the Hi-Tech Altitude provides exceptional multi-directional traction on different surface areas.

---
6
Kids love the Deer Stags Mack 2 for it's grown up looks and classic work boot style. This boot offers protection in wet and cold weather conditions and makes a perfect insulated rain boot.

The uppers are manufactured from faux leather or faux suede leather with a classic work boot style and lacing system.

For a comfortable fit, the collar of the Mack 2 has been padded.

The lightly padded insole provides great comfort and support for little feet.

The Thinsulate insulation used for this Deer Stag boot provides ample warmth in cold weather conditions.

The Deer Stag Mack 2 is completely`waterproof and ideal for wet weather conditions.

The Traction patterned TPR outsole is durable and provides excellent grip on slippery surfaces.

---
7
Keen is a well know brand of work boots and shoes made for sturdy and heavy duty environments. The Keen Kootenay for children is a tough winter work boot specially designed for the feet of a child.

Comfortable and flexible water-resistant leather uppers in a fun and functional design to keep your little ones feet are comfy and dry.

A hook and loop strap allows for an adjustable and easy fit while the abrasion resistant toe cap protects tiny toes and improves durability.

A fleece insulating liner and padded fleece trimmed collar ensure a snug and toasty warm, comfortable feel, perfect for those cold winters.

The high traction rubber outsole has dual climate technology that will prevent slips and ensure excellent grip.

The Keen Kootenay is available in four stylish colors that are perfect for any outfit.

---
8
The perfect little high top work boot with plenty of comfort features and ankle support, as well as durability. The Rugged Bear Kids lace-up boot is a tough and comfortable work boot for little boys.

The Rugged Bear work boot is crafted using the finest quality materials especially for kids that provide durable comfort and support.

The design of this boot is versatile enough to use in the city, country, forest, snow and even as a school shoe.

Durable and comfortable leather uppers with a padded collar for better ankle support and soft insole.

The durable outsole offers excellent grip and will keep your child from slipping.

The Rugged Bear is available in classic black and tan colors that will match any wardrobe.

---
Work Boots as a Fun Part of Growing Up
Children's work boots are available in a large variety of vibrant and fun colors and designs for all purposes. Kids work boots can be a bit of fun and gives a more "grown-up" touch to any outfit.
A pair of work boots looks super cute with some jeans on a boy or with a dress or skirt on a girl. Along with being cute and trendy work boots for kids are also very comfortable, durable and protective.
---
Why Children Need Protective Work Boots
Children are very inquisitive and like to follow in the footsteps of their family. In the garden, outdoors and in any other environments where your child may tag along hazards are lying ahead. You may want to take your child hiking with you or for an adventure trip or even to your work site for a quick show and tell. In the streets, in town in parks and almost everywhere some hazards can cause an injury to your child's delicate feet.
Despite this, a child likes to play rough, and particularly in puddles, mud, and dirt, they can take their toll on a pair of shoes. Therefore shoes that provide waterproofing and are tough enough to withstand these environments along with the harsh wear and tear from everyday activities could be quite an advantage for your child.
Children also endure weather conditions a bit more exceedingly than we do and therefore need extra protection against weather elements such as extreme cold or wet conditions or scorching weather conditions.
---
Hazards that can Injure your Childs Feet
Many things can hurt or damage your child's delicate feet mainly outdoors. Stones, sharp objects, thorns and many other dangerous objects can cause a puncture risk that can pierce through the thin soles of regular children's footwear. Because children love playing in dirt and water, there is also a danger of slipping, a durable outsole that provides excellent grip will prevent your child from slipping and falling on wet or slippery floor surfaces.
---
Work Boots for Winter
Seasons may change, but adventures never stop children still need to play and have fun even in the fall and winter. Therefore warm and comfortable winter boots and clothing are a must. Make winter fun with a colorful and functional warm pair of winter work boots that will keep your little one's feet dry and protected from the cold and snow.
There are three crucial aspects to consider in a winter boot; they need to be comfortable for small feet, warm and well insulated as well as completely waterproof to protect your child's feet against any wetness seeping in that can cause frostbite.
---
What to Consider When Buying a working Boot for Your Child
Protection
Never choose a stiff or sturdy shoe thinking that it provides better protection for a child's feet. Your feet have muscles that provide their support, and a stiff shoe will only weaken those muscles causing more stumbling and less endurance for longer walks especially in the feet of a toddler.
Always look for a shoe that protects the feet from debris and rough terrain, with added ankle support and a more flexible sole for easier movement. A more flexible shoe allows the muscles in the feet to fully function and grow.
Boots designed for a Child Specifically
Try to avoid choosing a work boot or shoe for your child that is the miniature version of an adult style shoe. Kids work boots and shoes are designed specifically with the needs of a child in mind to allow a child to what they do best, play and discover. Some benign features in an adult style children's shoe can cause many problems along the line such as back pain, knee pain, and other foot conditions.
Always avoid hard and tough soles shoes as well as boot with higher heels and high shafts. Rather look for a work boot that has a soft and flexible construction that fully attached his to the child's foot, which also does not pass up further than the ankle or elevate the heel over the toe. Things like adjustable straps, extra padding, flexible uppers and soft and flexible materials are much more functional and comfortable than a boot that looks cute and suits a specific outfit.
The Correct Fit
Never buy a child or toddlers work boot even slightly bigger, thinking that they will grow into the particular work boot, assuming that a bigger boot will last longer is a grave mistake that many parents make. A bigger boot will leave your child vulnerable to trips and falls and many other issues. Make sure that the work boot that you choose for your child fits properly. You can also measure your child's feet and choose the correct size according to measurement. Just keep I mind when measuring to keep a thumbs width between the end of the shoe and the big toe.
Good Grip
Using a leather or canvas sole for a toddler is acceptable until they start to walk well, but once your toddler starts walking well or in the case of older child boots with a smooth sole are an awful idea. Slippery soles on a work boot will interfere with the traction and gait when your child is walking and in the end, will do much more harm than good. Make sure that the sole of the work boot for your older child or securely walking toddler provides adequate grip; a durable rubber sole will usually do the trick.
Old Shoes
Even if your child does not complain check their shoes to see if they still fit well and are not worn out. Old, worn out and ill-fitting work boots can cause quite a bit of harm and discomfort to your child's feet. A child will often not complain about a boot that is uncomfortable or ill-fitting. Therefore, you need to check their boots often to make sure that they have not grown out of them.
By following these tips, you should be able to find a perfect pair of work boots for your child that fits well and provides ample support and protection.
Waterproofing and insulation are also great features in a work boot for a child as they provide protection against wetness and cold weather conditions.
---
Index Table: Best Work Boots for Kids