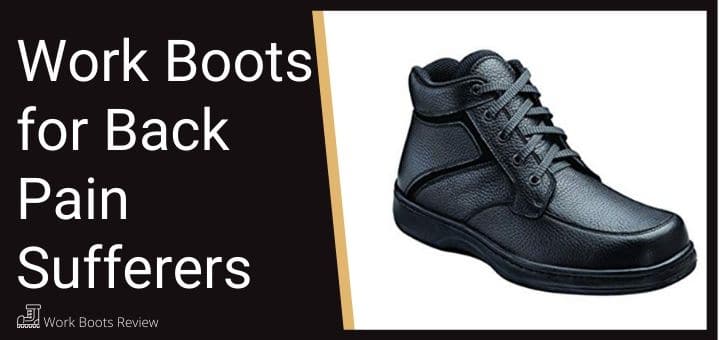 Back pain is one of the many general causes that people may need medical attention or have to miss a day or more at work. Back pain is likewise a leading culprit when it comes to disability worldwide.
Fortunately, there are many measures you can take to prevent or relieve most of the back pain issues and symptoms.
One of these measures is to wear appropriate and supportive Work Boots and footwear in general.

---
General Back Pain Causes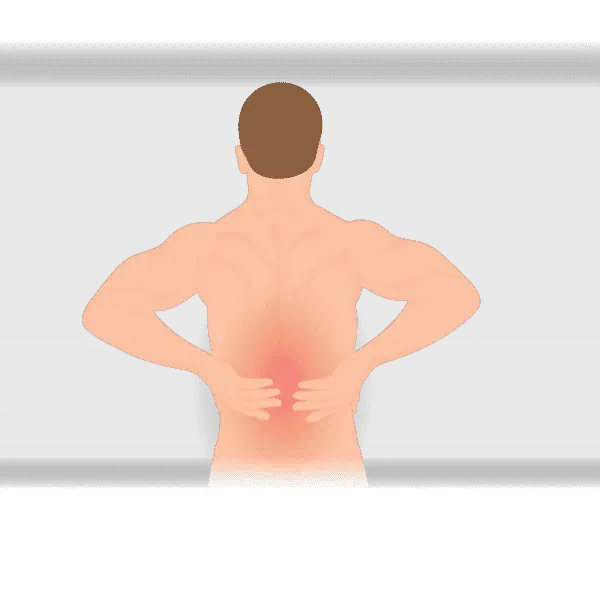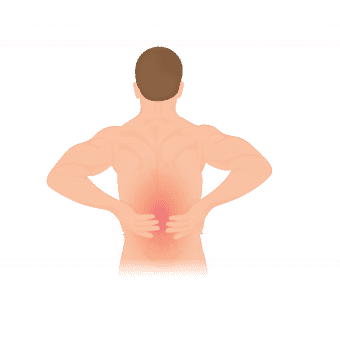 Back pain is classified as being either ACUTE lasting for a short time, or CHRONIC, which means it lasts for longer than three months.
In both cases there are many causes, there are only a few of the main culprits;
Strained muscles or ligaments from repeated heavy lifting or sudden awkward movements.

Discs or cushion between your spinal bones that are ruptured or damaged causing pressure on a nerve.

Arthritis that causes inflammation In the spine.

Osteoporosis which are compression fractures in your spine that develop over time, if you have brittle bones.The impact of walking or certain activities.

Wearing improper fitting and unsupported shoes, particularly on hard surfaces.

Risk factors
Some additional Risk Factor Include;
Your Age, as back pain increases when you get older.

Lack of exercise leads to weakened and unused muscles.

Excess weight places extra stress on your back.

I am improperly lifting heavy objects.

Depression and stress can likewise lead to back pain.

Smoking reduces blood flow to your lower spine, so it is deprived of needed nutrients and deteriorates.

Walking or standing on hard surfaces.

Impact on your feet and back from walking or running with un-supportive shoes.

---
Preventing Back Pain
Regular exercise, particularly back and abdominal exercise will strengthen the back and prevent the risk of back pain caused by muscle weakness. Good nutrition, a healthy lifestyle and proper fitting supportive shoes, will all aid to keep your healthy back and pain-free.
Lastly keep in mind to always consider your posture, by sitting properly, standing up straight, and lifting heavy objects with your knees and not your back.
---
What to Look for in a Work Boot to Prevent Back Pain
SHOCK ABSORBENCY – In the form of gel heel and forefoot pads, a thick rubber outsole, and midsole, or cushioned EVA or Air midsole.

Cushioning in the insole or footbed.

Good Arch Support.

A supportive and comfortable fit.

---
Reviews: Best Back Pain Work Boots
1
There is nothing like the support and comfort of an orthopedic workboot. With that said I introduce the Orthofeet Orthopedic Work Boot for less Hazardous Environments.
Soft and comfortable leather uppers with a lace up closure system, for a customizable and superior fit that will keep you well supported all day long.

An Ortho-Cushion comfort system for shock absorption and support, which is much needed to not only relieve back pain, but prevent it in turn.

Seam-free non-binding design with a roomy toe box to accommodate other painful foot conditions.

A durable and slip resistant outsole and extra depth design.

The perfect work boot for less hazardous work environments and full back pain relief.

---
2
The Danner Vicious is a Full Safety Work Boot with a comfortable, shock absorbing and highly supportive Footbed that prevents shock from impact on your ankles, feet, knees and Back.
Comfortable genuine leather uppers with a Waterproof Gore-Tex lining that is breathable and lightweight.

A Cushioned PU footbed for comfort and support, while absorbing shock that can cause damage and pain in your back, feet, legs, and hips.

The Vibram Vicious outsole offers excellent traction and great slip resistance on almost any type of surface imaginable.

A non-metallic, airport-friendly safety toe that meets ASTM ratings as well as Electrical Hazard Safe materials.

The Dual Density EVA cushioning and shock absorbing midsole is ideal for reducing stress on your joints and feet.

---
3
The Timberland Pro Direct Attach is a Steel Toe Safety Waterproof and Insulated Workboot, with an Extra Thick durable Rubber outsole that offers exceptional shock absorbency.
A comfortable padded collar and a logo tongue, for style and soft comfort with a superior fit.

Supple leather uppers with a protective steel toe, that is ideal for the more hazardous industrial work environment.

The durable rubber outsole is completely slip-resistant and ensures the best in grip on almost all floor surfaces.

A cushioned and supportive footbed and warm insulated interior, that aids in supporting your feet while reducing impact and keeping them warm in colder conditions.

---
4
An excellent Work boot that features a comfortable and removable insole as well as a soft and cushioned wedge sole.
Excellent shock absorbency in this Work Boot ensures that you have less pain and damage from an impact on your back.
A comfortable leather work boot that is electrical hazard safe and ASTM rated, to provide exceptional protection against all electrical hazards present in your work environment.

Comes with a moisture wicking Nylon non-woven lining to keep your feet dry and cool.

The durable rubber outsole is heat resistant and offers excellent traction on slippery and wet floor surfaces which helps to prevent falls which can in turn damage and hurt your back.

A comfortable and supportive footbed and rubber-EVA traction outsole for better shock absorbency.

---
5
The Soft Stride from Skechers has a memory foam footbed that ensures perfect contoured support and cushioning, as well as the protection of a Safety Work Boot.
Cushioning provides impact resistance and shock absorbency which protects your back, knees, ankles, and feet against the damage done by a hard impact while relieving and reducing pain.
Durable and comfortable pure leather upper construction with a relaxed fit design for more comfort.

the relaxed fit is ideal for foot condition such as Bunions, callouses, corns, and Hammertoes because it places almost no pressure on your feet and adapts to the shape of your foot.

A slight heel and platform with a tough rubber outsole for better shock absorbency and traction.

The shock absorbency capabilities ensure that there is less impact on your knees, back, and ankles, as well as your feet, particularly when running or walking on hard floor surfaces.

Electrical hazard safe design for added protection in a work environment where electrical hazards are present and there is a risk of electrocution.

A soft and comfortable memory foam footbed that molds to the contours of your feet, memory foam is likewise very resilient and will not go flat lessening its cushioning and losing its shape.

---
6
The Wolverine Durashock is an SR Direct-Attach Work Boot with Durashock Technology for the best shock absorbency capabilities that you will find.
This boot will prevent strain on your back muscles by absorbing impact and reducing stress.
SR Direct attach design with DuraShock technology for exceptional shock absorbency and cushioning.

Genuine tough leather uppers in a natural brown color, that is ideal for any work environment and looks fashionable and stylish.

A supple and comfortable upper construction that is tough enough for an industrial environment yet offers a superb fit.

The shock absorbing technology aids in preventing strain and stress from an impact on hard floor surfaces, thus protecting your knees, feet ankles and back from pain and strain.

A slip-resistant synthetic outsole that offers excellent traction.

---
Index Table: Top Rated Back Pain Work Boots