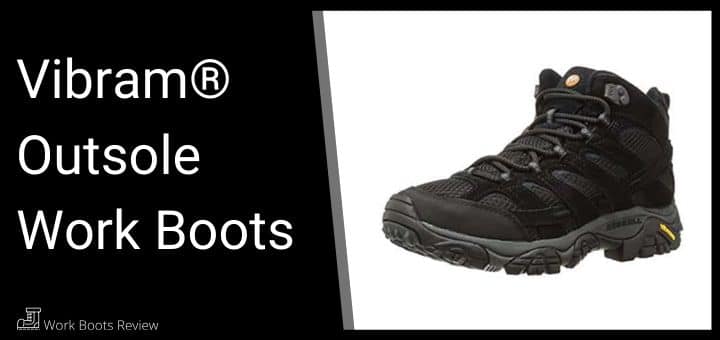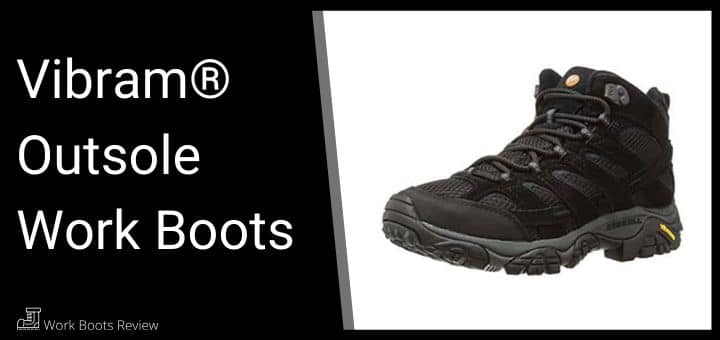 The Vibram Outsole was designed with the main purpose of providing the highest form of TRACTION, on the WIDEST range of surfaces.
Vibram outsoles likewise have a high degree of HEAT resistance and ABRASION resistance, because they are made from the latest versions of VULCANIZED rubber.
In this article, we are going to discuss a few of the best Work Boot Models and Brands that all feature the much sought after Vibram Outsole.
---
The Vibram Outsole History and Present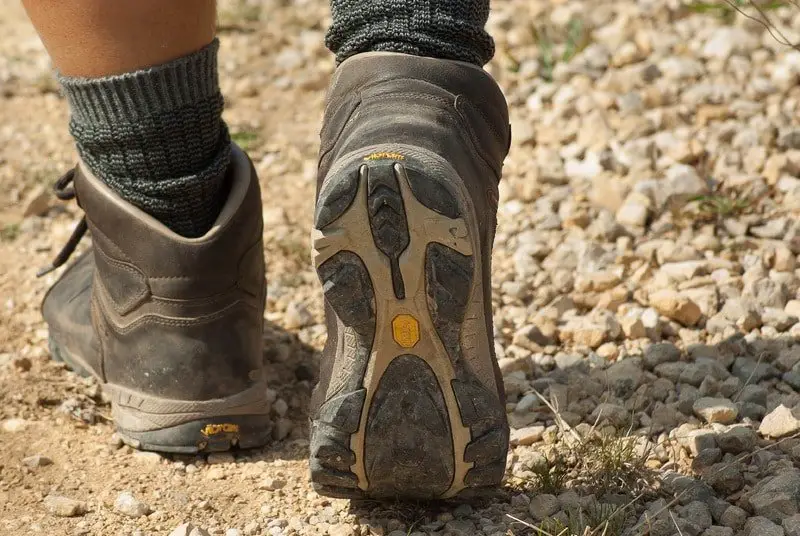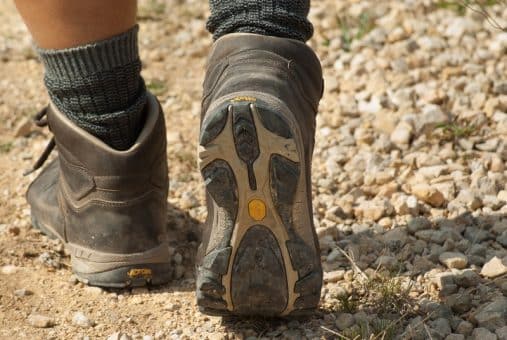 In 1935 six mountaineers died in the Italian Alps, with the blame partly being on inadequate footwear.
These six were the friends of Bramani, the original designer of the Vibram Outsole, who was encouraged by this event to launch his first LUG Rubber OUTSOLe shoe, with a tread design he called the "Carrarmato", meaning Tank Tread.
He created this sole with financial backing from Leopoldo Pirelli who is the owner and designed of Pirelli tyres.
This sole was designed to provide better traction of many surfaces, offer better heat and abrasion resistance, and was the sole type used in the shoe worn by the first person to successfully ascent to the summit of K2, which was an Italian expedition.
Today VIBRAM OUTSOLES are manufactured all over in many countries and used in many types of footwear.
Vibram Outsole feature in Fashion, Military, Rescue, Athletic and Law Enforcement Footwear, as well as , of course, many Work Boot Brands. Vibram outsole likewise has the advantage of being replaced, when they are worn down.
The Vibram outsole likewise comes with different patterns and treads meant for a variety of work environments and floor surfaces, to offer you the best grip for your work environment and challenges.
---
What Makes Vibram Outsoles so Good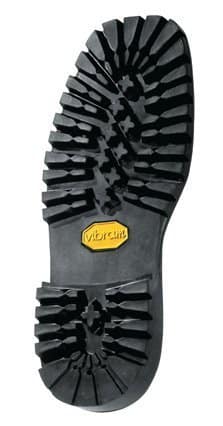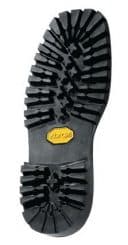 Well, they are made from the highest quality Vulcanized Rubber, so they are extremely Durable and tough and will last much longer than many other outsoles.
Secondly, as mentioned a few times, Vibram Outsoles offer the Best Traction, on the Widest range of surfaces both indoors and outdoors because of their Lug design tread and High-quality rubber.
Then also they offer excellent Heat and Abrasion resistance which is a great advantage in workplaces where this is required of a Safety Work Boot.
The Vibram Outsole is one of the best options for outdoor work,and you will find this specific outsole type on almost all the available hiking boot brands
---
Vibram Outsole Work Boot Functions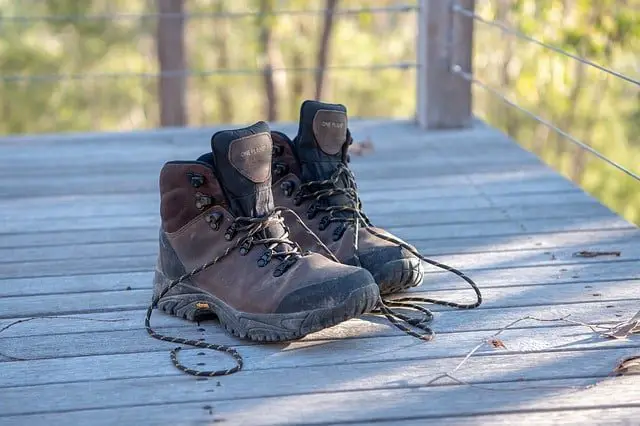 A Vibram Outsole in a Work Boot is ideal for the following Occupations and Work Environment;
Law Enforcement or Security occupations.

Military.

Athletic Footwear.

Fashion and everyday wear.

Work Boots in an industrial Environment.

Excellent for outdoor use.

Great on all slippery, wet, oily, uneven, loose gravel or hot floor surfaces.

The Vibram Outsole makes one of the best Outsole types for Hiking and outdoor work or recreational activities.

---
Reviews: Best Vibram Outsole Work Boots
1
The Moab Ventilator from Merrell is a uniquely designed Hiking boot which has ideal features for outdoor work such as Landscaping.
The uppers are made from pure suede leather with mesh insets for superior breathability and lightweight construction.

There is a removable insole that is supportive and comfortable.

A breathable mesh lining to keep your feet dry and cool.

The protective toe cap and nylon arch shank improve protection and offer better stability.

A closed-cell foam tongue keeps moisture and debris out while the Merrell air cushion in the heel absorbs shock.

A Merrell M select FIT.ECO and blended EVA contoured footbed with xonal arch and heel support.

The Vibram outsole is tough and slip resistant.

An extremely comfortable Hiking Work Boot with unique moisture wicking and breathability technologies that are ideal for outdoor work and tasks, as well as hot weather conditions in general.

---
2
For those occupations requiring you to work in wet and muddy work conditions, in extreme heat and hot weather, the Muck Boot Chore has a full-length shaft and completely slip resistant Vibram Rubber Outsole.
The best work boot for very hot outdoor or indoor weather conditions, as well as wet and challenging work conditions.
Made with 4mm of neoprene that is flexible, comfortable and entirely waterproof, with shock absorbing and heat retention properties.

This boot adjusts to the shape and contours of your feet to prevent blisters and chafing.

Longer length boot for added protection and comfort.

An antimicrobial Xpress Cool fabric lining that reduces moisture and keeps your feet perfectly Cool and dry.

The Spandura treatment ensures abrasion resistance and the sock liner prevents friction and heat build-up.

A triple toe and quadruple rubber heel a reinforcement along with a highly durable rubber Vibram outsole.

If you work in very hot weather conditions or work conditions I would highly recommend this work boot as it has excellent cooling technologies and waterproofing.

---
3
The perfect Logger boot from Chippewa, the Bay Apache, features a durable and slip resistant Vibram Rubber outsole and Waterproof leather uppers.
Features a protective steel toe and a tough and slip resistant Vibram Tacoma Logger Outsole.

Heavy duty oiled and waterproof leather uppers that will likewise resist abrasions.

The Chip-A-Tex waterproof bootie construction keeps you dry and has 400 grams of Thinsulate insulation for warmth.

A rubber midsole ensures excellent shock absorbency and cushioning.

The triple ribbed steel shank ensures better stability and torsional support.

A comfortable removable cushioned footbed and thermoplastic supportive heel counter.

The heavy-duty laces are waxed for durability and waterproofing.

---
4
The Timberland Pro Hyperion is a tough and highly slip-resistant Work Boot with the addition of being quite lightweight and very Breathable.
Leather upper construction with excellent abrasion resistance and a waterproof membrane.

A Mesh interior lining treated with Agion antimicrobial substances to keep your feet dry and fresh.

The molded EVA midsole ensures excellent shock absorbency and cushioning.

A slip resistant durable Vibram rubber outsole that offers only the best in traction on the widest variety of floor surfaces.

the ideal work boot for both indoor and outdoor work environments in the tough industrial environment.

---
5
The Asolo Fugitive GTX is a highly breathable and lightweight Hiking Style, Work Boot with the addition of a Lug Vibram Rubber outsole that ensures excellent traction and grip on a large variety of surfaces, both indoors and outdoors.
Comes in six different neutral Color options for you to choose from.

Highly breathable and lightweight construction.

Mesh uppers with Cordura Leather and Suede for stability and the perfect fit, allowing for exceptional ventilation.

The Lug Vibram Rubber outsole is extremely tough and durable, while also offering you the best in traction and Grip on those slippery and uneven surfaces.

Inside there is a breathable and completely waterproof, popular Gore-Tex lining for protection against liquids that may seep in.

A comfortable and tough work boot that will keep you on your feet all day long.

The waterproof feature along with the Vibram Outsole makes this boot perfect for outdoor work as well as indoor work in wet conditions or weather.

---
Index Table: Top Rated Vibram Outsole Work Boots