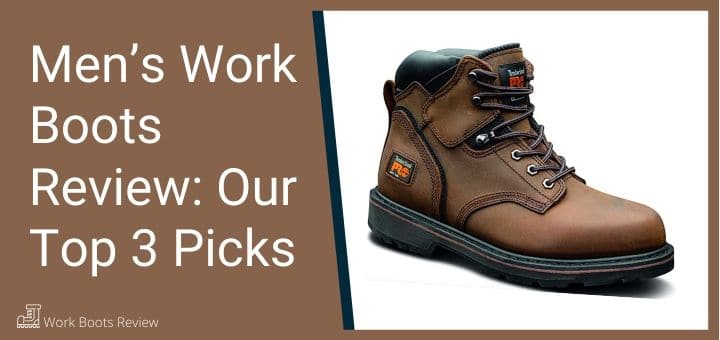 Are you in the market for some new boots and looking for a men's work boots review?
If so, watch this quick guide to our top 3 men's work boots review. This video will give you our best work boots reviews for the 3 steel toes we're looking at for 2020 and why we like them.
We're giving you 2 different timberland pro work boots reviews. We have 2 great options here with both footwear having their pros and cons. Depending on your work and your budget you'll find you're going to like these two Timberland work boots.
We're also going through a Carhartt boots review. In this review we'll discuss our thoughts on them and if you should consider getting them for your next work boots.
Features of a Good Work Boot for Men
Steel or composite toe for safety.
The construction is tough and durable.
The insole has a footbed that is cushioned for comfort.
Material that allows for breathability and moisture-wicking.
The outsole is tough and durable as well as slip and oil resistant.
---
Timberland PRO® Pitboss Review
1
The Timberland Pro Pitboss is best for people who want a hybrid between daily wear and use it for work. This Timberland work boot comes with the steel toe, so it's a good idea to buy it wide unless of course, you have a narrow foot for your first pair of men's work boots, it's not a bad choice considering the price range.
It doesn't come waterproof, but you can fix that yourself with a little water repellent. It has a thick rubber sole with layers that will last you for years. The hardware on this boot has strong eyelids backed by washers with a speed lacing system. This lacing system allows for a strong snug fit around the foot with the ability to loosen it up around your ankles.
I like the sewn-in nylon along the tongue that helps keep the dirt and debris out. You'll notice the collar is surface sewn in and cut away. This may break down over several years of use. The padded collar is comfortable. It has a nice downward slope going to the back of the boot giving you a lot of movement in the heel area.
You may want your own orthotics to replace the insole as the one that comes with the boot doesn't have much padding.
Timberland Pro Pitboss Features
Rugged nubuck leather upper for comfort and durability

Goodyear® welt construction for extra durability

Steel safety toe for comfort

Padded top collar for comfort

Polyurethane midsole for durable comfort

Cambrelle® fabric lining with antimicrobial treatment for odor control

Cast metal top hooks for increased durability

Nylon shock-diffusion plate for support and torsional rigidity

Open-cell polyurethane footbed with antimicrobial treatment for comfort and odor control

Timberland PRO® rubber outsole is abrasion-, slip- and oil-resistant

Single boot weight for size 9: 716 grams/1.58 pounds

Imported

---
Carhartt® 6" Rugged Flex Boot Review
2
For this Carhartt boots review, we're reviewing the Carhartt 6" Flex boot. This boot is a very strong and durable boot heel to toe. There's a lot of space in the toe area making it very good for people with wide feet. So if you do plan on wearing these, don't expect a lot of cushion in the toe area. This does make it good for those who wear thick socks. Also on the inside is a flex pad that runs the entire length of the boot.
The name of the boot is flex. Now when trying it out you won't feel like it's very flexible. After wearing it for a few weeks you should find that it breaks in well and becomes more flexible around your foot.
The tongue of the boot connects by polyester material. This assists in keeping the tongue in place and reinforces with 3 separate sections.
The lacing system consists of larger than normal eyelids, a D-ring, and speed laces. This will allow you to control the tightness around the mid-foot and still loosen it up around the ankles.
The collar of the boot has a nice downward sloping angle from front to back. It also has a U shaped section in the back that will give you plenty of range of motion. The padding is excellent and is very comfortable.
This a great boot if you have wide feet. It's very comfortable, flexible after a little break-in period, and it's waterproof.
Carhartt 6" Rugged Flex Features
Leather

Synthetic sole

Shaft measures approximately 6″ from arch

Heel measures approximately 1.75″

6″ Rugged Flex boot features cement construction

An EVA midsole with PU Strobel pad

Ortholite insoles that provide 5 layers of cushion and flexibility

The shoe also has a waterproof membrane and is oil, chemical, and slip-resistant

Fit: True to Size; Insole: Ortholite; Outsole: Rubber; Upper: Oil Tanned Leather imported

Imported

---
Timberland PRO® Titan 6" Review
3
The Timberland Pro Titan 6" is one of Timberland's lightest work boots and it's very comfortable. It's made with premium leather and comes with plenty of features ready for the worksite.
When you put this one on it feels like it has the most padding in the toe area compared to the other two boots. Another plus about this boot is it is slip-resistant, oil-resistant, abrasion-resistant.
It's the most comfortable work boot out of all three boots. It does come at a premium price. In my personal opinion, it's worth the extra cost because you'll be wearing these for at least 8 hours a day.
These are 100% waterproof boots even a hiker could use. The upper part is sewn together with the bottom glued to the upper allowing it more flexibility. It has a nice padded collar and a solid lacing system.
The lacing system has a slider that keeps the tightness from the bottom half of the boot to the top half of the boot. This allows you to have different levels of tightness on each end of the laces.
The insole isn't bad, but you may want to replace it with your own orthotics.
Remember, this is a nice, comfortable, spacious, lightweight boot. It has great flexibility with premium leather and worth the extra little bit of money you may have to pay for it.
Timberland Pro Titan 6" Features
Premium, soft waterproof leather

Waterproof membrane for easy break-in and dry feet

Cement construction for flexibility and reduced break-in time

Molded polyurethane midsole provides lightweight, durable cushioning

A moisture-channeling spacer with mesh comfort lining

It also has antimicrobial treatment for odor control and to keep your feet dry feet

Nylon diffusion shank for structural support and torsional rigidity

There is a contoured open-cell polyurethane footbed

The footbed is an Outlast® Adaptive Comfort® temperature-regulating technology sock cover that keeps your feet drier

Low-profile Timberland PRO® rubber outsole is abrasion-, slip- and oil-resistant

Imported

---
Comparison Table for Men's Work Boots
Related Articles
Best Pull-On Work Boots
The Top 10 Best Lightweight Work Boots