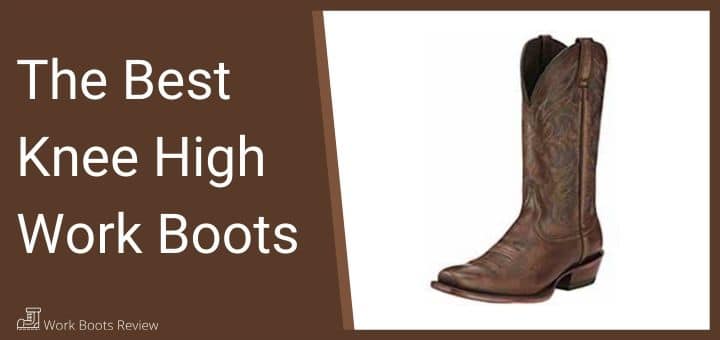 A knee-high work boot is exactly that, a work boot that fits up to your knee, or slightly under the knee.
These boots are normally slightly tighter around your ankle for better support, and they offer full leg protection.
---
Knee High Boot Types and Their Functions
Muck Boots
Muck boots are knee-high rubber work boots, also available in other heights, specifically designed for working in wet and muddy conditions.
The neoprene used to create muck boots offers first-rate waterproofing and insulation, naturally.
Muck boots have the sole purpose of keeping your feet dry, comfortable, and protected in harsh and wet weather, or messy work conditions.
Ranch Boots

When you think of a ranch boot, you think of a western or cowboy style work boot. This in a sense is true, well, for the most part in the past though, because today ranch work boots are found in all shapes and designs.
Ranch boots were specifically used for riding, and have a long shaft, but today a ranch boot is an all over farm or ranch working boot.
Logger Boots
Logger work boots, also known as Caulk, Timber, or Cork boots are footwear that is mostly associated with the Timber industry. Though today logger boots can likewise be used as hiking, or heavy duty industry work boots.
Wellingtons
Ah, Wellingtons, don't we all know them, and love them. But did you know that they are made to be robust and protective work footwear today. Wellington style work boots are tough, waterproof and in some cases insulated, protecting the wearer from wet or messy work conditions.
Hiking Boots
Hiking boots have excellent qualities that can serve you well as a work boot. A hiking boot is designed to withstand weather elements, such as waterproofing and breathability while offering a comfortable fit, endurance and slip resistance on uneven terrain.
Hunting Boots
A hunting boot should be lightweight, durable, waterproof, breathable, and TALL. These features protect you against wetness, abrasion, and snake and insect bites. Similarly, most hunting boots are insulated, keeping your feet and legs warm in extreme cold weather conditions during hunting season.
Cowboy Style Work Boots
Similar to a ranch work boot you will find tall work boots that feature the original Western style while offering you reliable durability, comfort, and protection, ideal for your working environment.
---
Benefits of a Knee High Work Boot
One of the greatest benefits of a tall or knee-high work boot is that it protects not only your feet but likewise your legs and ankles against a variety of hazards.
Likewise, in cold or freezing weather conditions a knee-high boot will keep your legs warm and dry.
Not to mention, the fact that they also protect your ankles and offer good ankle support.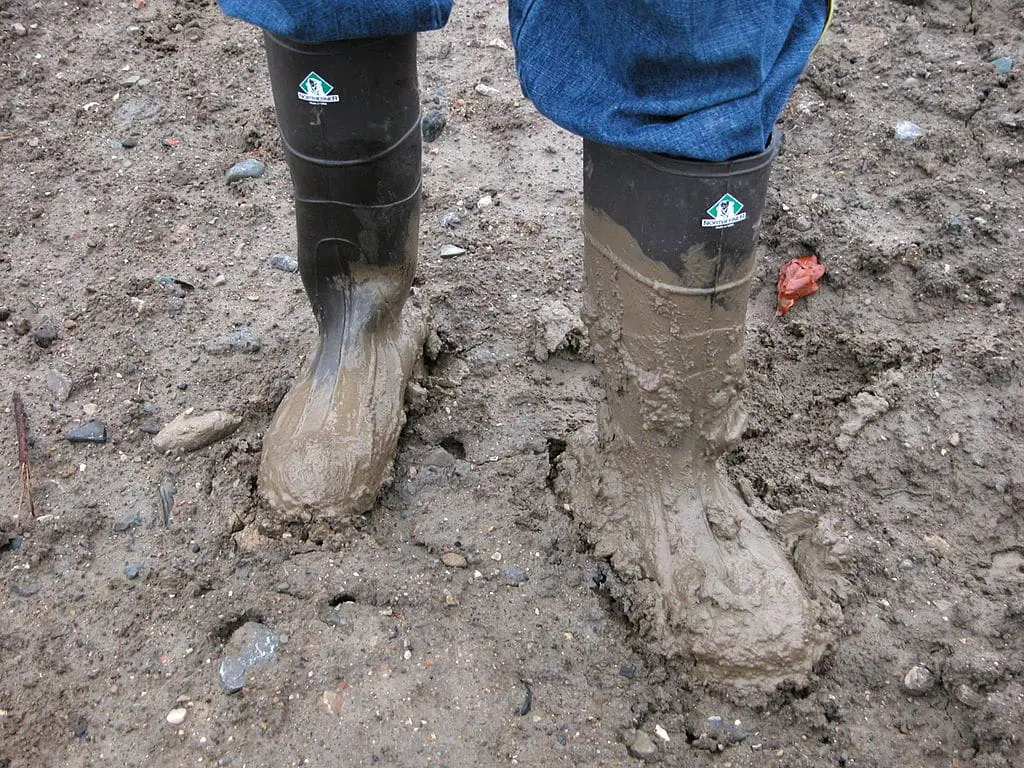 Here are a few Hazards that a knee-high work boot will protect you against in the work environment
Protection in wet and muddy conditions.

Good ankle support.

Protection against snake and insect bites, and scrapes and scratches with outdoor or ranch work.

Warmth and insulation in very cold weather conditions.

Abrasion resistance.

Protection against hazardous chemicals and extreme heat, or hot molten metals.

---
Features to Look for in a Tall Work Boot
Waterproofing such as Gore-Tex or rubber.

A lug slip resistant and oil resistant outsole.

Good gripping outsole for slippery terrain.

Insulation to the degree necessary, such as Thinsulate.

A steel, composite or alloy safety toe.

Electrical Hazard Safety.

Comfort features such as a cushioned footbed, and moisture wicking lining.

---
Reviews: The Best Knee-High Work Boots
1
This gorgeous western styled boot from ariat will make an excellent choice for a more professional and sophisticated work boot for of site and in the office.
Beautifully designed uppers with decorative patterns and pull loops.

Manufactured from the finest quality leather for a sleek and glamorous appearance.

A durable and slip-resistant outsole with a slight heel for a touch of class.

Features advanced tongue technology for improved stability and support.

Easy pull on and pull off design.

---
2
There is no tall boot like the Muck boot. This boot is made for working in wet, and mucky conditions where you need all the waterproof protection you can get.
This is a unisex work boot ideal for farming, ranching, and cement work.

Completely waterproof with a stretchable fit and a breathable mesh lining.

A wider cut heel base for better stability and reinforced Achilles, toe and heel areas.

The kick rim counter offers easy hands-free removal of the boot.

Provides comfort even in cold to freezing weather conditions.

---
3
The Danner Flashpoint is an almost knee high logger boot, ideal for all logger work, particularly in warmer weather conditions, as this boot is not insulated.
Manufactured from genuine durable and supple leather for comfort and long-lasting protection.

A durable and high traction Vibram outsole.

A slight heel, as with all logging boots for better stability and grip.

This boot is ideal for warmer weather and is not insulated.

The lace-up closure offers a snug and secure fit.

---
4
The best comfort and protection characteristics for farming, ranching, or even heavy-duty construction and industrial work. There is no name that comes to the Lacrosse in this regard.
Manufactured from 100% durable and abrasion resistant rubber that is completely waterproof.

The rubber is all natural, handcrafted, and ZXT ozone and tear-resistant.

A double layer of abrasion resistant material is placed around the toe and arch area.

Comes complete with a protective safety toe.

For comfort, there is a cushioned EVA footbed.

---
5
For hunting, whether as a sport or occupation, I would highly recommend this tall work boot. It will protect you against cold and wet conditions while keeping your feet dry and comfortable on the inside.
A tall rubber boot that is naturally breathable lined with a Bogs Max-Wick liner to keep your feet dry and DuraFresh biotechnology to fight odor.

The slip-resistant outsole from durable rubber is non-marking and self-cleaning.

There is furthermore, 7MM of Neo-Tech waterproof insulation for comfort rated to –40 degrees Fahrenheit and Celsius.

The contoured EVA footbed offers outstanding support and comfort.

---
Subsequently
A knee-high work boot comes in many shapes and with many functional characteristics, the type is up to your occupational requirements.
I have chosen a knee-high style work boot for a few main occupations, such as industrial or construction work, Hunting and farming, and ranching work.
These are the best according to their categories that will provide you with all the characteristics you will need for your desired occupation.
---
Index Table: The Best Knee High work Boots