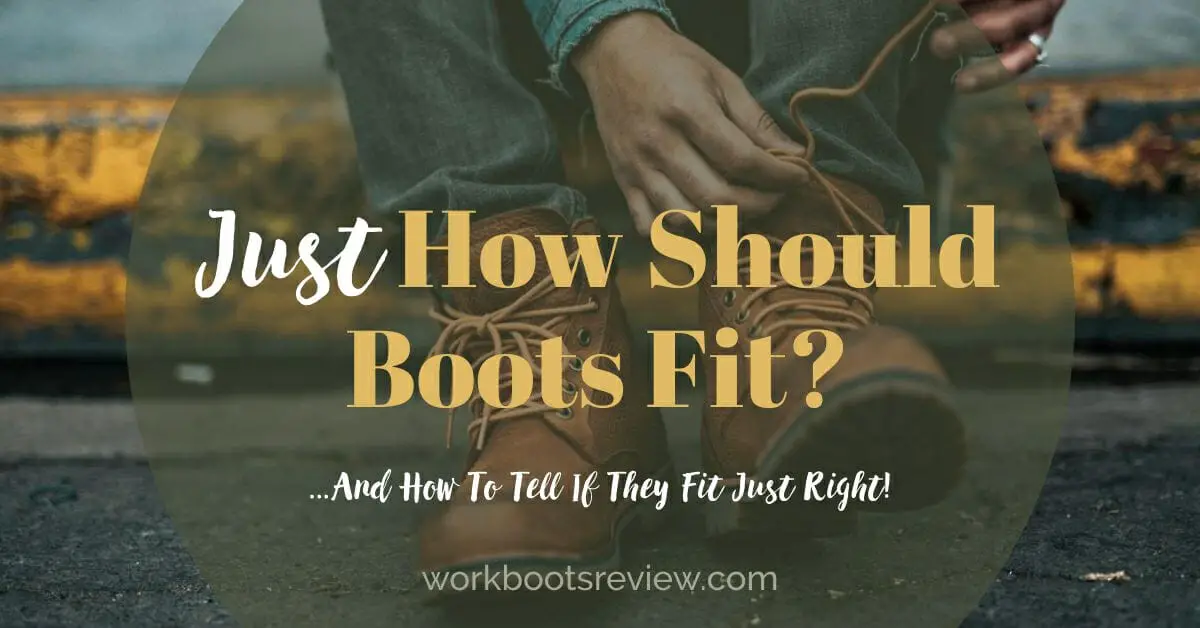 Ill-fitting boots are uncomfortable to wear, can cause foot pain and damage your feet. How should boots fit? This boot fit guide takes you step-by-step through the process of picking the right pair of boots or shoes. Follow these guidelines and select the right size boots without any fit issues.
Boot Fitting Tips For The Right Work Boots Fit
If you were wondering how should boots fit, these elements of fit and tips should help you with the right boot size and proper fit.
Boot Flex Point
The most important thing to remember when buying a  pair of boots is the boot's flex point; the boot must flex where your foot flexes- at the toe line. The flex point is where your boots bend when you walk; it is the natural break-point typically at the broadest part of the boot.
One way to check the flex point is the widest part of the footwear should line up with the ball of your foot which is the widest part of your foot. If a boot breaks at the wrong place, it is a poor fit; when walking, your feet slide forward and backward, the toe box pinches the toes downward, and the boot material rubs against your foot, causing friction.
Boot Width
The width of the boot is second to the flex point. Avoid making the mistake of buying tight-fitting boots and thinking you will stretch them out. Often it doesn't happen, and too tight boots squeeze the ball of the foot leading to inflammation and painful discomfort.
Someone with wide feet should not size up in regular boot sizes; the large boot size may fit over the width but will be too long, causing blisters, slippage, and chafing. Instead, go for half-size that has the same length as a regular size. Most pairs of boots come in various width sizes, from AAA, AA, A for narrow feet to E, EE, EEE for a wider boot. Some brands and boot styles focus more on a wider foot, while others are designed to fit narrow feet.
Your feet swell during the day, changing the width; it's best practice to fit footwear later in the day than early in the morning.
Heel Slippage
How much heel slippage is acceptable? A quarter to half-inch heel slip is admissible; in many quality shoe brands, the heel won't slip at all. However, some people find this type of fit too stiff and uncomfortable.
The leather and insoles form according to your foot shape during the boots' break-in period, and the heel slippage should disappear after 1-2 months. When wearing a well-made boot, the boots should fit snug; feet shouldn't move inside the boots but with the boot.
You can't change the flex point, but slight slipping is easy to fix with heel grips products like Premium Leather Heel Grips or ProFoot Heel Snugs.
When is heel slippage too much?
As mentioned above, when a boot is not broken in, it may slip; the slippage disappears after breaking in the shoes.
Loosely laced boots slip; push the heel back and tie laces tighter.
Too high boots will slip; insert a tongue pad or return the boot.
Too long boots for your shoe size will cause slippage; use a heel grip or return the pair of boots.
Arch Support For Feet
Most boots come without arch support, which is fine if you don't have a foot condition that requires that support. People with flat feet and suffering from plantar fasciitis may benefit from insoles with arch support. When selecting the perfect boots, factor in the space needed for the orthotics.
Dress shoes may not have removable insoles, but most athletic shoes, hiking boots, and many work boots come with removable insoles. You don't have to buy a larger foot size to accommodate the insoles; remove the ones that came with the footwear. Some insoles are so slim that they will fit well in the boot without causing discomfort.
Toe Box Room
The toe box is the least important factor in how boots should fit; it is more relevant for boot styles and fashion. A half-inch to an inch toe room is more than enough wiggle room for toes. Your toes swell during the day and need that extra space in the afternoon.
It's easy to feel the toes in most shoes, but it's almost impossible with steel toe boots or boots with a dense toe cap. As long as the toe box room isn't too small for the toes, you don't have to worry too much about it, especially if the flex point, heel, and width fit comfortably.
Toe Shapes
Toe shapes vary according to functionality, comfort, and style.
Wide toe boots generally have a square or round shape, providing ample room and comfort for the toes.
Narrow or snip toes works well for narrow feet but not for wide feet or swollen toes.
French toe boots create an elegant and comfortable style.
Boot Shafts
Boot shafts vary in brands. The longer the shaft length, the greater the necessity to fit around your calf and lower leg. Most manufacturers supply the shaft circumference and height in the product description. It's no use the boot fits your feet perfectly, but your calves are too thin or too muscled or your lower leg too short for the shaft length of the boot.
Type of Socks
Try boots on with the type of socks you will be wearing with the shoes. Generally, people wear thick socks with boots. If purchasing a pair of hiking boots, personal ski boots, snow boots, or work boots, remember thick socks can change your actual foot size by a half size.
During warmer seasons, thinner socks, like cotton socks, will make boots fit looser than thick wool socks you wear in winter. Keep this in mind when you fit a new pair of work boots.
Boot socks are thicker than athletic socks; the socks have extra padding in the heel and toes that prevent friction and blisters. A boot liner can adjust the fit if you wear different types of socks with your boots.
How Do You Know If Your Boots Are Too Big Or Too Small?
Are Your Boots Too Loose?
Boots are too loose if your feet slide in the boots or shoes and cause short-term and long-term health problems. According to foot surgeon Dr. Neal Blitz, a too-large boot's break-point won't coincide with where your foot bends, and arch support is wrong, resulting in foot problems.
Corns. Feet that slide while walking causes friction, rubbing soft skin against the boot material, resulting in blisters or corns. Corns are hardened, dead skin formed from consistent pressure and rubbing. When corns embed into deeper, softer tissues, it is difficult to remove.
Achilles Tendonitis. A too-big pair of shoes or boots can damage ankle ligaments, resulting in Achilles tendonitis, a long-term problem that needs medical treatment.  
Blisters. Unnecessary rubbing on hotspots results in blisters forming.  
Toenail Injury. Sliding feet bump toes harder against toe boxes than proper fit boots. Toenails break, causing infection and even toenail loss.
Bunions And Hammertoes. To avoid the heel slipping out of a too-big boot, a person repetitively contracts toes, contributing to hammertoes and bunion formation.
Are Your Boots Too Tight?
Your boots are too tight if your feet develop pins-and-needles due to poor blood circulation. If your toes are against the end of the toe-box, you are wearing the wrong size and should opt for a larger size—another sign the boots are too small is experiencing ankle pain during wear.
Athlete's foot. Feet squeezed into a pair of shoes or boots don't have enough air circulation, causing athlete's foot, which is difficult to cure.
Bacterial Swelling. Toenails lift from the bed if toes are forced into tight-fitting shoes creating an environment for microorganisms infections.
Ingrown Toenails. According to foot doctor Michael Ratcliff, tight-fitting work boots can cause painful, ingrown toenails.
Bunions And Corns. Bunions form below the big toe and corns on the other side when wearing too tight-fitting shoes. Bunions are painful and often require surgery.
Hammertoes. The abnormal bend in the middle joint forms a hammertoe causing painful pressure.
Tips On Fitting Different Types of Boots And Shoes
How Should Cowboy Boots Fit?
Cowboy boots, like other types of boots, generally run larger than shoe sizes.
Fitting cowboy boots are the same procedure as fitting work boots, except for the width. Cowboy boots have a unique width system. Men's boots are sized in B (narrow), D (medium), and EE (wide), and cowgirl boots' width sizes are A (narr0w), B (medium), and C (wide).
The boot instep determines the boot's fit; it shouldn't be too tight or too loose over the top of your foot.
Most cowboy boots have heel slippage at the beginning, which lessens the longer you wear the boots.
Wiggle toes to determine if your toes have enough room. Don't press on the toe box; you may damage the boot.
How Should Rental Ski Boots Fit?
The skier type and weight are essential for safety purposes and determine the type of ski boots you should wear; a softer boot is a better option for mild terrain than a stiff ski boot.
Ski boots should fit snug and comfortable.
Heels shouldn't lift when walking or skiing.
Adjust the ski boots straps and buckles for a snug skiing experience.
Toes should have room. However, ski boots are the exception where toes can touch the tip of the ski boot.
How Should Snow Boots Fit?
Snow boots should fit snug; regular shoe size is the right size for snow boots.
The boots design accommodates wearing thicker socks. Snow boots are generally broader and roomier because of the thick fleece lining.
Snow boots are larger than other boots to get your feet comfortably inside the boot; they slip on because of the hardened rubber sole and boot upper.
Snow boots must fit snug; too loose-fitting make you unsteady on your feet and a potential tripping hazard. The maximum wiggle room is a one-finger width gap down the heel.
How Should Hiking Boots Fit?
If you intend on enjoying the hike without blisters and foot pain, your hiking boots should fit comfortably and snug.
Unlaced, push your longer foot forward until your toes press against the end of the hiking boot. The perfect fit has roughly one finger gap between the back of the boot and your heel.
Lace up the hiking boots to check the width. Too narrow boots will pinch toes and sides of feet, and in too loose-fitting boots, your feet slide from side to side. Leather boots stretch across the width more than synthetic boots.
The heel should lock inside the boot without feet sliding inside the hiking boot.
FAQ How Should Boots Fit
Are Boots Supposed To Be Snug, Tight, Or Lose?
The perfect boots fit snug in the instep and don't pinch the toes or the ball of the foot. A proper fit prevents foot pain, foot fatigue, and other short and long-term foot ailments. A good fit means the boots are wide enough, heels don't slip inside the boot, arch support at the right place, flex point is in line with where your feet bend, and there is enough room for toes.
How Much Room Should Be In The Toe Of A Boot?
A thumb width is enough room for toes to wiggle in the toe box. More than an inch means the boot size is too large, and you should fit a smaller size.
Should You Buy Boots Half Size Bigger?
Buy a pair of boots half size bigger if you have wide feet. The half-size is in the boot width, not the length.
How Much Room Should Be In Boots?
Feet should have enough room in boots to be comfortable without a too loose or too tight fit. A thicker sock keeps feet warm but takes up more space inside the work boot than thin cotton socks.
What Is The Right Size and Foot Length?
Your foot length and size are slightly shorter than the perfect boot size and length. Proper fitting boots are about a quarter to a half-inch longer than the length of your foot.
To determine the foot length, trace your feet on a piece of paper. Measure with a ruler or tape measure the distance from the back of the heel to the longest toe.
Brands and styles vary in size and shape. Check the manufacturer's size chart to determine what size you need.