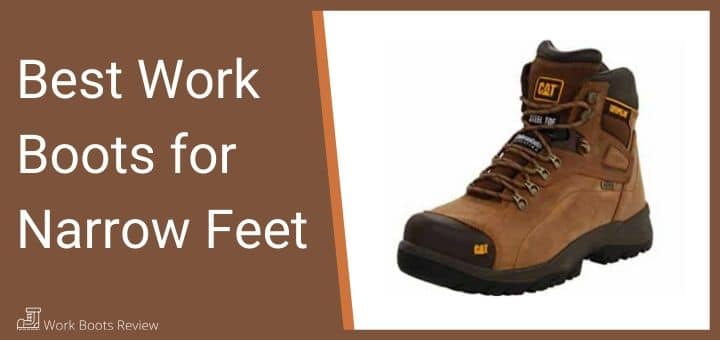 There is nothing worse than an ill-fitting work boot, that is too tight or even too loose.
Just because the size of a shoe is correct does not mean that the width is suitable for you.
The right width in a work boot is just as important as the right size when it comes to comfort and support. When you have a more narrow foot, the width of your work boot is something that should be highly considered.
---
Getting the Perfect Size
Work boots are typically available in six different widths, B (extra narrow), C (narrow), D (regular), E (wide), EE (extra wide), and to end, EEE(Extra, Extra Wide).
When you order or purchase your work boot for a narrow fit it is important to check the width according to these specifications.
Keep in mind generally that work boots should always be half a size bigger than other shoes for men, whereas women will tend to wear their true size in a work boot.
You will also need to regard the thickness of your socks, for a thinner sock you will not need a bigger size or width, but if you are going to be wearing thick socks, a wider width and larger size may be required.
All in all, it is easiest to fit your work boots wearing your work socks, to ensure that you get the perfect fit.
Getting back to a narrow fit, take a tape measure and measure the length of your foot from your heel to the tip of your longest toe, as well as the width from the side of the widest part of your foot.
In general anything below four inches in width requires a narrow fit, whilst above four inches you should opt for a regular fit.
---
Fitting Tips for Work Boots
Here are a few full-proof tips for obtaining the best fit in your work boot;
Make sure to measure both feet as most people do not have feet that both measure the same, take the measurement from the largest foot.

Make sure to find your correct foot shape, and arch height, low, high, or neutral, with narrow feet it is usually high.

Do the fitting when your feet are most swollen, generally during the hottest time of day.

Make sure that you have the best, heel to the ball of the foot, fit.

When fitting on a work boot its best practice to stand and walk around in the boot.

If the work boot feels too tight, it is too tight, most work boots stretch and have a break in period, but they still should initially fit snugly, not tightly.

Make sure that the heel fits snugly and that your heel is well supported.

Keep in mind, exactly like the rest of your body your feet can change in size, becoming, wider, flatter, thinner and longer. This all depends on age and weight gain, and in women, in turn, pregnancy can leave you with wider and larger feet.
The padding in any work shoe becomes less effective and will need replacing in time, to still offer the best comfort and support.
When your work boots become worn and stretched out, do not hesitate to replace them, as with everything in life, your work boots to have an expiry date.
---
Importance of Well Fitting Work Boots
I cannot stress enough how important a well-fitting work boot for your specific foot size, width and type is.
You are going to be working in these work boots all day, for a long period of time.
A work boot, as we all know is likewise an expensive investment, so make it a good one.
I do not have to remind anyone who has had uncomfortable shoes, foot pain, loss of concentration, foot fatigue, and even the risk of injury, not to mention back and knee pain.
Uncomfortable shoes will affect your work performance, as well as your mood in the worse way, there is no two ways about that!
---
Other Safety and Comfort Features
As soon as you have found the perfect fitting work boot, you will similarly need to consider the safety and comfort features for your requirements and work environment.
Some additional safety and functional features you can look out for are;
A protective steel, alloy or composite safety toe.

Waterproofing.

Insulation against cold weather conditions.

Insulation or protection against extreme heat.

Breathability and lightweight construction.

Protective outsole against slips, oil, heat, abrasion, chemicals, and puncture hazards.

Metatarsal protection.

A steel or fiberglass shank for stability.

Heat and molten metal protection.

Electrical hazard protection.

Static electricity build-up prevention.

Durable construction for long lasting endurance.

A comfortable insole and footbed that is well cushioned.

Good shock absorbency.

Arch support and heel support.

Additional padding of the tongue and heel.

A breathable and moisture wicking lining that may control temperature, or has anti-microbial properties.

Taking this all into deliberation, here are some of the top models in work boots that offer a narrow fit;
---
The Best Men's Work Boots For Narrow Feet
---
---
---
---
---
---
---
---
---
---
The Best Women's Boots For Narrow Feet
---
---
---
---
---
Comparison Table: Men's Work Boots for Narrow Feet
Comparison Table: Women's Work Boots for Narrow Feet
---
The Final Takeaway
Comfort should never be compromised when it comes to finding the perfect footwear. People with narrow feet often find this as a challenge as they are never exactly going to feel comfortable with wearing shoes or work boots that are not specifically tailored to their feet.
Imagine walking in loose shoes – doesn't feel quite nice, right?
That being said, with our list of today's best work boots for narrow feet, which one do you think is your perfect fit?