There is nothing worse than an ill-fitting work boot, that is too tight or even too loose.
Just because the size of a shoe is correct does not mean that the width is suitable for you.
The right width in a work boot is just as important as the right size when it comes to comfort and support. When you have a more narrow foot, the width of your work boot is something that should be highly considered.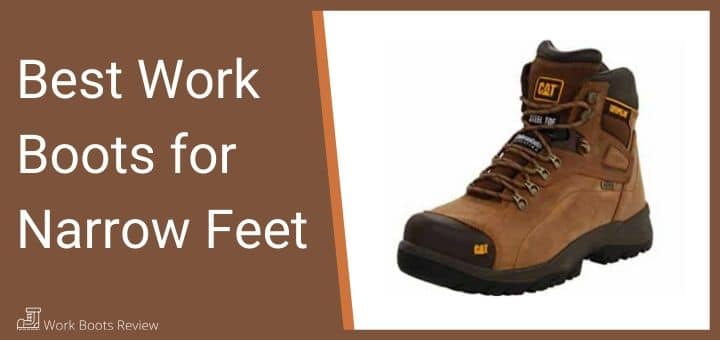 ---
Getting the Perfect Size
Work boots are typically available in six different widths, B (extra narrow), C (narrow), D (regular), E (wide), EE (extra wide), and to end, EEE(Extra, Extra Wide).
When you order or purchase your work boot for a narrow fit it is important to check the width according to these specifications.
Keep in mind generally that work boots should always be half a size bigger than other shoes for men, whereas women will tend to wear their true size in a work boot.
You will also need to regard the thickness of your socks, for a thinner sock you will not need a bigger size or width, but if you are going to be wearing thick socks, a wider width and larger size may be required.
All in all, it is easiest to fit your work boots wearing your work socks, to ensure that you get the perfect fit.
Getting back to a narrow fit, take a tape measure and measure the length of your foot from your heel to the tip of your longest toe, as well as the width from the side of the widest part of your foot.
In general anything below four inches in width requires a narrow fit, whilst above four inches you should opt for a regular fit.
---
Fitting Tips for Work Boots
Here are a few full-proof tips for obtaining the best fit in your work boot;
Make sure to measure both feet as most people do not have feet that both measure the same, take the measurement from the largest foot.

Make sure to find your correct foot shape, and arch height, low, high, or neutral, with narrow feet it is usually high.

Do the fitting when your feet are most swollen, generally during the hottest time of day.

Make sure that you have the best, heel to the ball of the foot, fit.

When fitting on a work boot its best practice to stand and walk around in the boot.

If the work boot feels too tight, it is too tight, most work boots stretch and have a break in period, but they still should initially fit snugly, not tightly.

Make sure that the heel fits snugly and that your heel is well supported.

Keep in mind, exactly like the rest of your body your feet can change in size, becoming, wider, flatter, thinner and longer. This all depends on age and weight gain, and in women, in turn, pregnancy can leave you with wider and larger feet.
The padding in any work shoe becomes less effective and will need replacing in time, to still offer the best comfort and support.
When your work boots become worn and stretched out, do not hesitate to replace them, as with everything in life, your work boots to have an expiry date.
---
Importance of Well Fitting Work Boots
I cannot stress enough how important a well-fitting work boot for your specific foot size, width and type is.
You are going to be working in these work boots all day, for a long period of time.
A work boot, as we all know is likewise an expensive investment, so make it a good one.
I do not have to remind anyone who has had uncomfortable shoes, foot pain, loss of concentration, foot fatigue, and even the risk of injury, not to mention back and knee pain.
Uncomfortable shoes will affect your work performance, as well as your mood in the worse way, there is no two ways about that!
---
Other Safety and Comfort Features
As soon as you have found the perfect fitting work boot, you will similarly need to consider the safety and comfort features for your requirements and work environment.
Some additional safety and functional features you can look out for are;
A protective steel, alloy or composite safety toe.

Waterproofing.

Insulation against cold weather conditions.

Insulation or protection against extreme heat.

Breathability and lightweight construction.

Protective outsole against slips, oil, heat, abrasion, chemicals, and puncture hazards.

Metatarsal protection.

A steel or fiberglass shank for stability.

Heat and molten metal protection.

Electrical hazard protection.

Static electricity build-up prevention.

Durable construction for long lasting endurance.

A comfortable insole and footbed that is well cushioned.

Good shock absorbency.

Arch support and heel support.

Additional padding of the tongue and heel.

A breathable and moisture wicking lining that may control temperature, or has anti-microbial properties.

---
Taking this all into deliberation, here are some of the top models in work boots that offer a narrow fit;
Reviews: Top Narrow Fitting Work Boots
1
The perfect fit for an arrow foot, the Caterpillar Diagnostic features the ERGO comfort system designed to support the natural movement of your foot. Flexibility and stability, with all day comfort and a tough work boot, is all you need for all day comfort.
Flexion design for better stability and flexibility.

ERGO comfort system that caters to your every comfort need.

Waterproof and abrasion resistant leather uppers with a protective steel toe.

EVA sock liner for additional cushioned comfort.

PU midsole that adds stability and support.

Features 200 grams of Thinsulate insulation to keep you warm in colder conditions.

The rubber sole offers excellent traction and durability.

---
2
The Wolverine Dura Shock offer exceptional shock absorbency along with a comfortable slim fit, and all the safety features you may require.
Dura Shock technology ensures only the best shock absorbency.

Comfortable leather uppers from full grain tumbled leather.

A removable dual-density cushioned footbed.

Perfect for slippery work environments, excellent grip.

A durable rubber sole.

The moisture managing sock liner will keep your feet dry and odor free all day long.

---
3
ariat is well known for their high caliber work boots. The ariat Work Hog is ready to tackle any work task, ensuring you are comfortable and protected with all day performance excellence.
The uppers are manufactured from premium full grain leather.

Features electrical hazard safe ASTM rated materials.

Tough Goodyear Welt construction.

The Duratread outsole is oil and slip-resistant.

A unique patented U-Turn entry system for easy on and off.

Well supportive EVA midsole and comfortable insole.

---
4
The Danner Acadia is a true american brand trusted by many satisfied customers. Tough construction, excellent stability, durability, and superior safety features are what you can look forward to in this work boot.
Lightweight leather and Cordura uppers.

Waterproof and breathable Gore-Tex lining.

A slender profile and more narrow fit.

Stitch down construction 8-inch shaft for additional durability.

Fiberglass shank for improved stability.

Available in a variety of widths and sizes.

Comfortable Airthotic footbed.

---
5
For a hard day's work, the best foundation is the right pair of work boots that fit perfectly well.
The Carolina Domestic offers you the best fit in a tough and protective work boot, along with exceptional comfort features.
The superior Dri-Lex lining along with the pillow cushioned insole is surely something to look forward to.

A steel safety cap, steel shank, and heavy plastic dense external MetGuard ensures that you are abundantly protected.

Briar Pitstop leather uppers and welt construction ensure long-lasting quality.

A slip and heat resistant Vibram outsole.

---
6
The Heritage western Style work boot has the ideal design for a more narrow foot type.
Genuine leather uppers with a narrow design.

Available in a few neutral color variations.

,strong>a slip-resistant and durable Duratread outsole.

Stylish design with decorative stitching and an embossed logo at the side.

A comfortable insole and smooth interior linings.

---
7
The Justin Original is a comfortable and durable work boot with a narrow profile and comfortable fit.
Handsome and comfortable leather uppers with a classic rugged look, and narrow design.

A rubber outsole for slip resistance and stability with a slight heel.

Composite protective roomy square toe and narrow heel.

All-day comfort and support with the cushioned insole.

---
8
A classy and professional styled work boot for offsite excursions with a narrow design.
Stability heel and durable slip-resistant outsole.

Soft and flexible sole and design for more comfort.

Full-grain dark brown leather uppers with a ten-inch shaft.

Available in larger sizes and offers a more narrow fit.

---
To Conclude
By following these guidelines you are sure to find not only the perfect fitting work boot, but likewise a comfortable and protective work boot ideal for your work environment, and foot type.
Making this highly sought after work boot last and perform at its best is left in your capable hands.
Take care of your work boots, cleaning and maintenance is crucial in prolonging their life.
---
---
Index Table: The Best Work Boots for Narrow Feet
---
Work Boots Review may collect a share of sales or other compensation from links on this page.