Landscaping contractors have the profession whereby they make natural surroundings look pristine. They spend many hours on their feet usually in mud, water and dirt, therefore having the proper pair of work boots is vital. Landscapers need a pair of work boots that will provide them with comfort, stability, safety and most importantly waterproofing for the conditions that they work in.
Table of Contents for Best Landscaping Work Boots
What Exactly is Landscaping
Landscaping is the activity of changing the visible features of a natural area such as the fauna and flora, as well as the terrain and water bodies to make it look more aesthetically pleasing. It is basically an advanced form of gardening. Landscaping requires the contractor to be an expert in horticulture as well as artistic design.
Hazards Involved with Landscaping Work
When you are a Landscaping contractor you face quite a few hazards and risks.
They use tools such as shovels and garden forks, as well as other sharp tools and equipment that can cause serious cuts and even amputations. Electrical equipment such as saws and lawn mowers are also used which pose electrocution risks that can be prevented by wearing a work boot that offers solid electrical hazard protection.
Ergonomics is another health hazard as a landscaping contractor will not only be on his feet all day, but he will also work in awkward positions for long time periods. Lifting and moving of heavy materials, tools and equipment can pose a falling object risk, therefore a steel or composite safety toe may also be necessary.
Lastly chemicals, water, pesticides, oil, and abrasives may be present resulting in the requirement of a boot that is resistant to all these materials as well as completely waterproof. Slips, trips, and falls can be prevented by choosing a work boot that has a rubber sole which offers good grip and traction on any surface.
Features of a Proper Landscaping Work Boot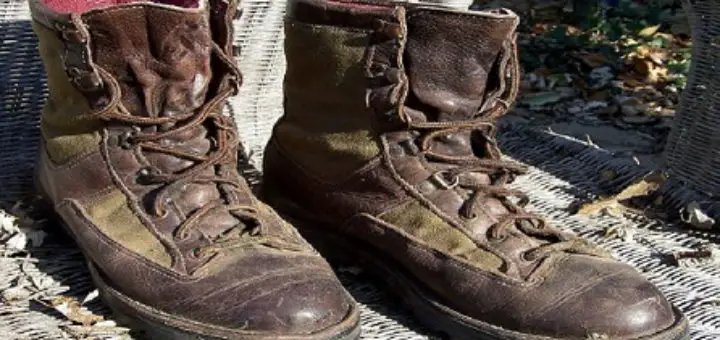 A Steel Shank to support your arch and give stability on different terrains.
Quality construction such as Goodyear Welt construction technology.
Comfort is a very important factor because a Landscaping contractor will be on his feet for long periods of time.
Job site safety, depending on your job requirements and your employer's regulations you may need a boot with a steel or safety toe along with other safety features.
The Top Landscaping Work Boots Reviews
The below list contains reviews on a few of the top landscaping boots that are available for 2016;
1
Timberland prides themselves on making work boots for hard working people for decades. The men's Timberland PRO Mudslinger is a lightweight abrasion resistant boot with comfort and safety features making this boot perfect for Landscaping work.
Durable and abrasion resistant.

EVA midsole for lightweight cushioning.

A mesh lining with Agion antimicrobial treatment.

A single density open-cell polyurethane footbed.

Nylon shank for arch support and stability.

Abrasion resistant steel toe for added protection.

Constructed of durable Nubuck waterproof leather.

Electrical hazard protection that meets ANSI Z41PT99, ASTM F2412-05 and F2413-05 standards.

---
2
This is a work boot that is similar to a hiking boot, it offers high levels of waterproofing and excellent ankle support and comfort.
A heat-resistant rubber outsole that offers electrical shock protection.

A steel safety toe that can withstand compression and impact of up to 75lbs.

Made from waterproof materials so your feet will remain dry in wet conditions.

Lace-to-toe engineering so that you can adjust the fit for extreme comfort.

A combination of lightweight EVA midsole and Rocky Air-Port cushioned footbed for comfort and better airflow.

An IronClad outsole constructed from seven layers of non-slip and oil resistant rubber.

Overall a very durable and comfortable work boot.

Available in brown and brindle brown color variations.

---
3
Wolverine Men's Dublin boots are great not only for Landscaping work but industrial and outdoor work as well. They offer an excellent combination of comfort and protection against the elements and various work risks.
Constructed of high-quality leather.
A 6.5-inch shaft from the arch.

The Removable full cushioned insole offers comfort and the option for added orthotics.

A moisture managing mesh lining to keep your feet dry.

The Wolverine Opanka constructed outsole is tough and durable.

A Nylon Shank for protection and stability.

---
4
If you are looking for a tough performer then the Georgia Mud Dog is just for you. This is a dependable and durable boot with all the safety and comfort requirements of a great landscaping work boot.
A full grain leather shaft and molded waterproof thermoplastic urethane shell foot.

The lightweight Comfort Core insole and moisture wicking Cushmesh lining will keep your feet dry and comfortable all day long.

A supportive steel shank for extra protection and stability.

The non-marking Phoenix rubber outsole offers superb traction.

An orthotic insole for added comfort and support.

A durable and comfortable work boot.

---
5
The Irish Setter Wellington work boot is a classic 11-inch pull on work boot designed for tough in tough terrains. The Irish Setter offers you stability and security as well as electrical hazard protection.
Constructed from full-grain waterproof leather combined with a Vibram sole for excellent durability and traction.

The shaft measures at 11.5 inches from the arch, preventing water and mud from entering the boot.

An UltraDRy waterproofing system.

ASTM standard electrical hazard protection.

A heat-resistant outsole.

The StableFlex technology gives you added stability and comfort.

---
6
The Justin J-max is an authentic and stylish western-style landscaper's work boot.

Comfortable Pull on work boot with a rounded roomy toe.

Removable insoles so you can fit your own orthotics in case you need special ones.

Jel technology and mesh spacer footbed provide extra comfort and keep your feet fresh at all times.

---
A landscaping contractor has a tough job working long hours on his feet on different terrains, many times in wet and muddy conditions and sometimes in high temperatures. Slip and trip hazards, electrical and falling objects hazards are just some of the risks involved in this work. The listed boots will provide a landscaping contractor with the support, comfort, and safety required for this specific occupation.
---
---