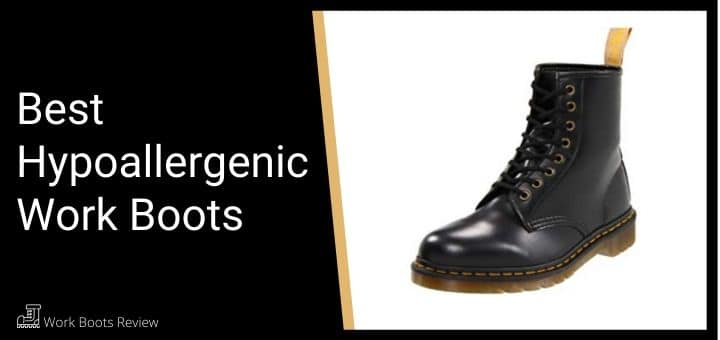 Shoe allergies is a fact that many of us know plenty about.
Chemicals, resin, rubber, leather treatment, yes and even metal in our work boots can cause an allergic reaction which can lead to dermatitis and other itchy and painful conditions.

---
Symptoms and Causes of Work Boot Allergies
When your feet become itchy, red, hot or even start to swell, particularly if you have bought new shoes or even socks, there may be an allergy related to the shoes or socks you are wearing.
Metal – Individuals could be allergic to the metal or chrome used in the shank or protective toe of their work boot.

Rubber – rubber is another well-known allergen which is mostly used in the sole of many work boots.

Dyes – strong synthetic dyes used in the leather uppers or even the interior linings of the shoe could cause an allergic reaction.

Leather – Not too likely but genuine leather may be an irritant to a rare few individuals, this is ware vegan leather comes in handy.

Resin and Glue – some Glues and Reasons used to attach the shoes together can cause an allergic reaction. In this case, look for work boots that are stitched together rather than molded or glued.

---
Shoe Allergy Treatments and Preventions
Soak – You can use apple cider vinegar or green tea to soak itchy and irritated feet.

Topical Creams – Topical creams and cortisone treatments are your best defense against an allergic reaction.

Socks – You may not realize, but it may be your socks causing the allergy all along.

Soaps and Creams – certain soaps and creams could cause an allergic reaction and need to be replaced with products that do not contain irritants such as sulfates and alcohol or perfumes

If all else fails, then your shoes may be the culprit!
---
Features of a Good Hypoallergenic Work Boot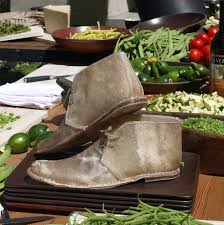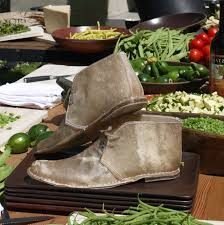 Vegan leather and materials.

TPU rather than rubber in the sole.

Non-Synthetic Dyes.

Genuine leather.

Moisture-wicking dry lining.

Waterproofing.

Composite materials rather than steel and chrome in the toe or underfoot.

---
Reviews: The Best Hypoallergenic Work Boots
here are some Safety Hypoallergenic Work Boots that are perfect for allergies;
---
1
One of my favorite hypoallergenic and vegan work boot brands is Dr. Martens. You are sure to be safe from any allergic reactions in this work boot.
Extremely durable and almost indestructible with Goodyear Welt construction methods, and Vegan abrasion resistant leather uppers.

A synthetic vegan outsole that offers excellent slip resistance and is rubber free.

Two-tone leather uppers with a secure lace-up system.

Very tough and durable with a comfortable insole.

---
2
Rock Fall offers you their TeslaDri vegan-friendly work boots made from natural plant-based materials that are hypoallergenic.
Electrical Static Dissipative properties.

Vegan leather uppers and microfiber construction that is hypoallergenic.

Suitable for individuals with Chrome allergies.

Completely metal-free construction.

A durable slip resistanbt rubber free outsole.

---
3
The Rock rooster is a new and popular brand in work boots that features many safe and natural materials that will not cause an allergic reaction.
A protective steel toe cap encapsulated in the Nubuck leather uppers.

PORON materials with Microban technology for durability and hypoallergenic protection.

A Coolmax temperature control design, to keep your feet cool and dry.

Static Dissipative materials to prevent static build up.

The footbed is anatomically contoured for comfort.

A TPU slip and oil resistant outsole.

---
4
A highly comfortable and durable work boot that is metal-free, rubber free and resin free to protect you against work hazards and allergies at the same time.
Genuine waterproof leather uppers with moisture-wicking mesh and a breathable waterproof membrane.

A composite toe and TPR Lug outsole for high abrasion resistance and slip resistance.

Excellent for individuals with metal and rubber allergies.

A comfortable EPX technology insole that helps to combat foot fatigue.

---
5
The Second Shift from Caterpillar offers you all day comfort and protection in a work boot that is free from unnatural chemical substances and dyes.

Genuine Nubuck leather uppers with a mesh lining and Climaspeher insole for maximum breathability.

Electrical hazard safe materials that are ASTM compliant.

A flexible and rugged design for long lasting durability.

The outsole is made from slip and oil resistant natural rubber.

---
6
The Dr. Martens Winch is made from Hypoallergenic materials and is particularly advantageous to those who have a rubber allergy.
Wyoming leather uppers with a medium to heavy pull-up from snuffed and oiled leather./

The tongue and collar are padded for comfort.

A comfortable and supportive compression molded EVA midsole.

A slip resistant non-rubber PVC outsole with a lug design for grip.

Electrcail hazard safe and lightweight for more flexibility.

---
Index Table: Top Rated Hypoallergenic Work Boots