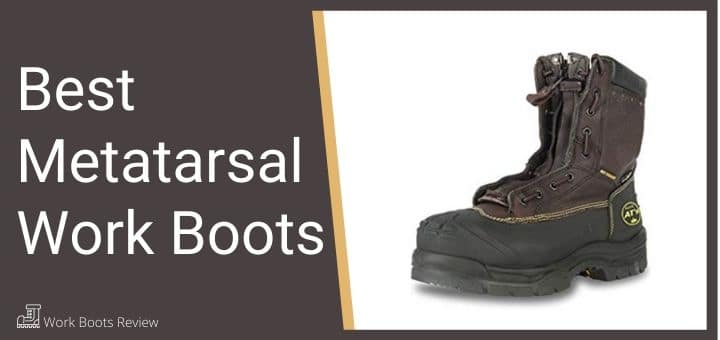 When your work tasks or work environment include hazards that may cause injuries to the top of your foot, then you are in desperate need of a work shoe with an external or built-in metatarsal guard.
In many industries where there are compression hazards and heavy objects that may fall, a metatarsal guard is standard policy in protective work wear.
---
Why You Need a Metatarsal Guard
Metatarsal guards are a part of your Personal Protective Equipment that helps to protect the top part of your feet against compression hazards and heavy falling objects.
A metatarsal guard can be built into the work shoe or be bought separately and placed over the top of your work shoe.
The metatarsal bones in your feet are extremely delicate and prone to injury that can cause severe damage. Any rolling or falling object can easily crush these bones leaving you completely immobile and with much damage.
By wearing a Metatarsal Guard Work Boot, you are assured that this fragile part of your feet is well protected against these dangers.
There are Three Different Types of Metatarsal Guards;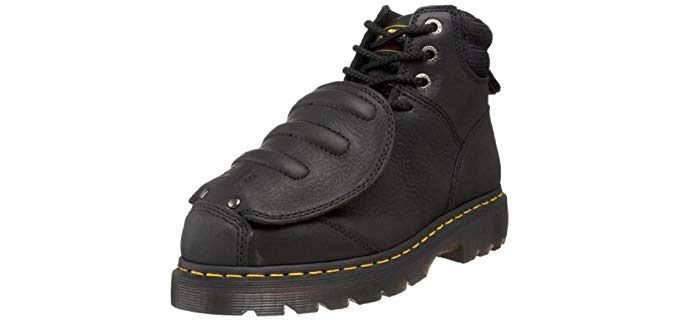 External – A Lightweight and flexible, usually hinge style metatarsal guard that rests on top of your work boot. , This type of metatarsal guard though quite protective and durable can be a little robust and unsightly.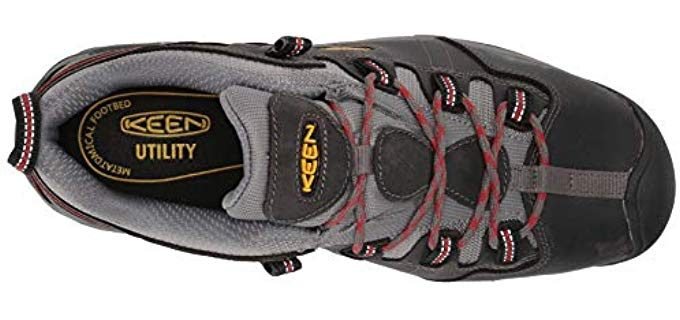 Internal – The internal metatarsal guard is a large guard that is attached to the front part of your work boot internally, under the lacing system resting on the safety toe. Though not visible at all this type of metatarsal guard can be quite rigid and uncomfortable, yet the newer model is more flexible and comfortable.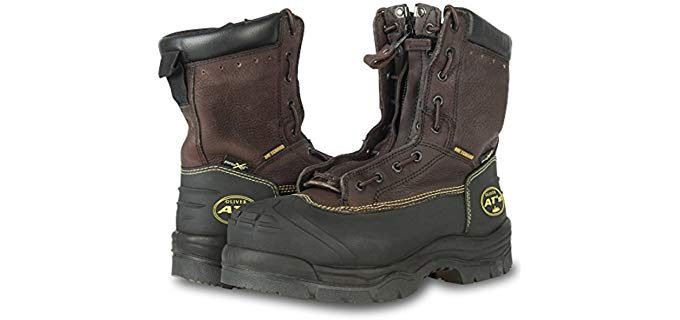 Super Internal and External – The latest in innovations is the Super internal and external metatarsal guard that cover much more of your foot and offer triple the protection

---
Choosing the Best Durable Safety Work Boot
Construction – Look for construction methods such ad Goodyear Welt, and Cement Construction which is your two toughest and most comfortable construction methods. The height of the boot depends on the level of protection that you need and usually comes in a 6, 8 or 10 Inch option. Waterproof membranes or leather construction is ideal for wet environments, and insulation can be advantageous when you work in cold conditions.

Materails – Full grain durable leather for the uppers are your best options, although there are some synthetic materials and leathers such a PU that deems just as good. A mesh for moisture wicking inner lining, EVA or memory foam or PU cushioning in the insole and, or midsole, will offer comfort and support. The outsole should be made out of durable rubber or PU with a slip-resistant tread.


Comfort – Cushioning in the form of foam, EVA, PU and memory foam can be placed in the insole, along with arch support and a heel cup for comfort. A shank will provide stability and PU or EVA in the midsole will ensure excellent shock absorbency.

Soles – Rubber or PU materials used for the soles are your best bet. Make sure to look for soles that provide slip resistance to the specifics of your work environment. You can get either oil, fat, acid, alkali, chemical, abrasion, heat or general slip resistant outsole, or a combination in some work boots.

Safety Features – As we have discussed you have the option of an internal-external, or internal/external super metatarsal guard, depending on the amount of protection you need and how important comfort is to you. You can likewise add a protective, steel, alloy or composite toe to protect your toes, and a composite or steel underfoot plate for puncture resistance. Other protective features include heat resistance, abrasion resistance, and electrical hazard safe materials.

Quality Brands – Always look for well know quality brands if you want a work boot that will last, and perform well.

---
Features of a Good Metatarsal Work Boot
Internal,External or combination super metatarsal guard.

Steel, Composite or alloy toe cap.

EVA or memory foam insole.

PU or EVA midsole.

Rubber or PU outsole that is slip resistant.

Leather or synthetic uppers.

Electrical hazards safe materials.

Waterproof uppers or membrane.

Breathable materials.

Moisture wicking lining.

---
Reviews: The Best Metatarsal Work Boots
Here are some of the latest Technology and best available Metatarsal Work Boots
---
1
One of the latest in Chemical resistant Metatarsal protective work boots is the Olive 65.
Chemical, liquid, and acid resistant SPR leather uppers and a TPU safety cell.

Kevlar stitching on critical seams and reinforced protection on high abrasion areas.

An all-terrain dual density soiling technology and shock absorbing Midsole and outsole made from natural rubber.

The Natural form steel toe protectors you against impacts.

Heat, chemical, slip, oil, acid, alkali and animal fat slip resistant outsole.

ASTM static dissipative properties.

The latest features protective internal metatarsal guard.

---
2
An internal metatarsal Guard work boot from Keen Utility, the Detroit is a popular and tough work boot.
Fabric and leather uppers that are robust and durable.

Features the the Keen Detroit XT internal metatarsal guard and steel toe, which is much more flexible and resilient.

A supportive and highly slip resistant rubber outsole.

A Mesh lining and comfort insole on the inside.

---
3
ariat offers you the handsome cowboy style slip-on work boot with the new technology XRD internal metatarsal guard.
Genuine leather uppers with detailed stitching and a square toe for more toe room.

A durable and high grip Duratread Outsole.

Inside is a breathable and moisture wicking mesh lining as well as a comfortable footbed.

ATS advanced Torque stability technology and a composite forked shank.

Waterproof Pro waterproofing construction.

The Safety toe and electrical hazard safe materials comply with ASTM standards.

---
4
external
Dr. Martens, in general, are well known for being indestructible. The Iron Bridge is one of their toughest work boots that comes fully equipped with a steel safety toe and metatarsal guard for extreme protection as well as long-lasting durability in harsh work environments.
Tough genuine leather uppers with an external Metatarsal Guard.

A Thick slip resistant, oil, alkali, and petrol resistant outsole.

Full grain leather uppers that are completely water resistant with a ballistic mesh padded collar.

For comfort, there is a removable Smartmask insole.

---
5
The Perfect Mining and Construction Work Boot with the latest technology XRD Metatarsal protection and energy absorbing ankle pads, along with a 10-inch long shaft.
Leather uppers with an abrasion resistant leather vamp and Cordura side panels with a protective Steel safety toe.

Hydroguard waterproof construction, with 200 grams of Thinsulate insulation for cold weather conditions.

The rubber outsole is slip and oil resistant made from high abrasion rubber.

Poron XRD ankle pads and Internal Metatarsal Guard, as well as a Lenzi Puncture Resistant Plate.

Gore performance sewing and threads used for better heat and abrasion resistance.

Electrical Hazrad safe materails.

---
6
The Timberland Pro Excave is an external metatarsal guard protective steel toe boot for those very hazardous work environments.
Genuine and highly robust leather and textile uppers.

A protective steel toe and a comfortable padded collar.

There is a Metatarsal Guard Overlay on top for metatarsal protection.

Inside is moisture controlling breathable mesh lining.

The rubber outsole is oil, abrasion, heat and slip resistant with a Ladder Lock< design for better traction.

---
Index Table: Top Rated Metatarsal Work Boots