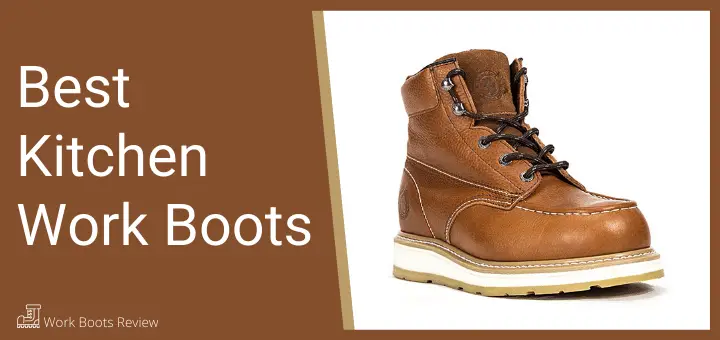 Working long hours on your feet in a hot not to mention, a hazard-filled kitchen can take its toll on your body and your feet alike.
If you have ever worn the wrong shoes for a long time period, I am quite sure that you are no stranger to pain or even an injury caused by such shoes. Therefore in the Kitchen, the right shoe type is absolutely vital.

---
Some Common Hazards in The Kitchen
Whether it is a commercial kitchen or a small home kitchen., every kitchen has its hazards and potential dangers;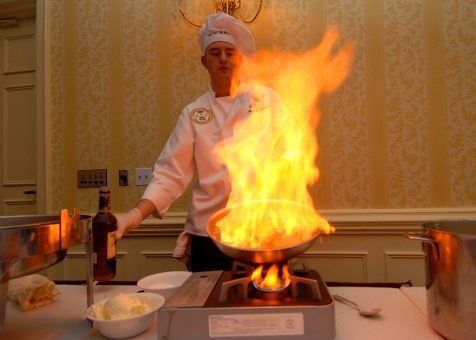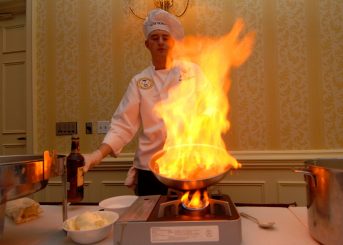 Fire and Electrical Hazards – In the kitchen you are working with hot stoves, ovens, in some cases gas stoves and plenty of electrical equipment. Besides ignition and fire risk, there is also the risk of electrocution. Therefore, make sure that you do not leave hot equipment unattended, and that electrical equipment is used properly and for their designed purpose. Likewise ensures that any materials that can cause an ignition are well out of the way.

Improper Storage – improperly storing heavy or breakable objects can turn into a heavy falling object or broken glass that you can step into. Besides this storing food item improperly or beyond their shelf life can cause food poisoning.Make sure that you store heavy items where they do not risk falling, and food items according to their requirements.

Slips, Trips and Falls – One of the main hazards in the kitchen is slipping and tripping hazards. Oils, fats and even liquids spilled on the floor can be a slip hazard, therefore make sure that you clean up all spills properly and immediately, similarly, a slip resistant shoe can help in this regard. Tripping hazards can be caused by obstructions in walkways and objects lying around, so keep your kitchen neat and clutter free at all times.In the kitchen, you will handle, hot, heavy, dangerous, wet and even sharp tools and equipment that all pose a unique risk. Make sure that you use the correct techniques in every handling method, and do not take chances.

Extreme Heat – Another prominent risk in the kitchen is extreme heat, hot stoves and ovens, kettles and other equipment can cause severe burns when touched or spilled on yours.


Exhaustion – The heat, the long hours, the tension and haste can all cause severe exhaustion. Keep calm, stay hydrated and wear proper and comfortable shoes, these canal help to keep you refreshed and energized.
---
A Few Considerations When Choosing the Best Kitchen Work Boots
Shopping for the perfect shoe to use in your kitchen, keep these tips in mind;
Style – Style is not of vital impORtance, but if you are working with customers or entertaining gUESTs you do want a shoe that looks acceptable and appealing to your profession.

Multiple Pairs – because kitchen work is a messy business and shoes get dirty fast or may become uncomfortable after many hours, it is advisable always to have two or more pairs of shoes for the kitchen.

Slip Resistance – the most important characteristic to look for in a good kitchen shoe is SLIP RESISTANCE, which includes resistance to oils, grease and if required some chemicals. Heat resistance could likewise be an excellent option.

Materails – Always consider strong and durable materials that have some form of heat and water resistance, that will last, and most importantly that is easy to clean.

Safety Features – Safety features can include a steel or composite protective toe, heat and chemical resistance, waterproofing, and electrical hazards safe materials.

Comfort Features – Good arch support for your arch type will help, although I would also opt for ample cushioning and shock absorbency.

---
Features of a Good Kitchen Work Boot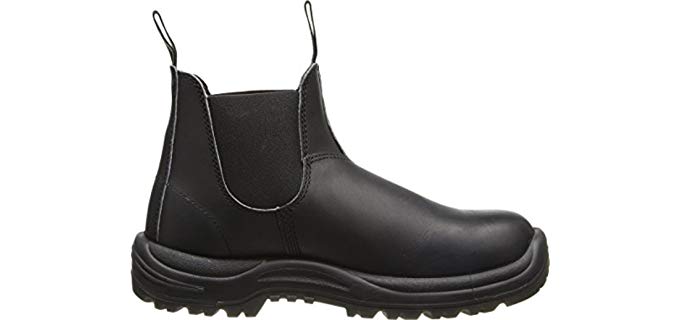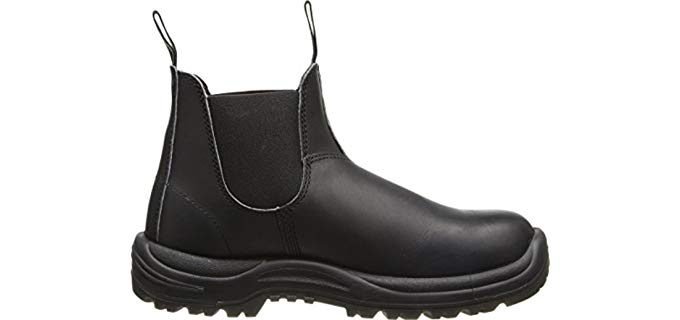 Waterproof uppers.

Slip and oil resistant rubber outsole.

Steel or composite toe.

Electrical Hazard safe materials.

Cushioning and arch support

---
Reviews: The Best Kitchen Work Boots
Here are a few of the best available Kitchen Work Boots for you to Consider;
---
1
The Rock Rooster is a brand in work boots that are fast making name for itself, as you can see from the superb quality materials, construction, and safety and comfort characteristics. Rather an industrial work boot with its light weight and amazing comfort features, and not to mention style, I thought it would make a superb kitchen work boot.
Features a stylish Moc Toe design that is ideal for hosting and kitchen work.

These work boots are very sturdy and made from the finest quality materials such as leather for the uppers, and PU outsole materials.

Completely waterproof and electrical hazard safe with your choice of composite, soft, or steel toe protection.

Comfortable and cushioned to prevent foot fatigue with a shock absorbing PU footbed and COOLMAX fiber technology, to regulate temperatures.

There are enhanced toe and ankle support and a padded collar for comfort.

---
2
The Camel Crown work Boot is a bit more appealing and stylish with a softer and more comfortable toe and design, as well as superb waterproofing technology.
Available in grey, black or tan leather upper options to choose from.

Genuine leather upper construction with a comfortable padded collar.

The oil tanned leather uppers are water repellent and there is a waterproof membrane.

Constructed using robust Goodyear Welt construction methods for long lasting durability.

A contoured shock diffusing under foot plate for stability and that disperses pressure, for those long days on your feet.

The rubber outsole is oil and slips resistant.

---
3
The Blundstone Workboot is new to the industry of popular work boots, yet it has so much more to offer than meets the eye.
Genuine durable leather uppers and a PU midsole and TPU outsole that is resistant to hydrolysis, microbes, oil, acid, and fat.

The outsole is likewise heat resistant up to 284 degrees.

A Broad fitting 200 joule impact resistant steel toe cap.

Features an Xtreme comfort EVA footbed and a Poron XRD heel and forefoot.

The Steel shank ensures correct stepping and flex points and assists with torsional stability and structure.

There is an ergonomically designed toe spring to reduce foot fatigue and a full heel brast along with superb arch support.

---
4
The Danner Vicious features a protective toe for those heavy falling objects, and a Vibram outsole, which is the best when it comes to slip resistance on all floor surfaces.
Completely waterproof leather uppers with a breathable GORE-TEX, membrane.

A cushioned PU footbed for support and comfort.

Dual-density EVA cushioning and shock absorbency in the midsole.

Features the popular Vibram Vicious oil and slip resistant, high traction outsole.

The Safety toe meets all ASTM related standards and is non mettalic.

---
5
The Keen Utility Slip-on PTC is a specially designed kitchen work shoe that is lightweight, comfortable and protective against all kitchen and cheffing hazards.
An ASTM rated highly slip and oil-resistant rubber outsole.

Medial side gore for a better fit and a TPU stability shank for structural integrity.

Features the Keen Cush PU and Memory Foam Footbed.

The rubber outsole is also non-marking and highly durable.

Smooth black leather uppers and a low cut lightweight and comfortable design.

---
Index Table: Top Rated Kitchen Work Boots