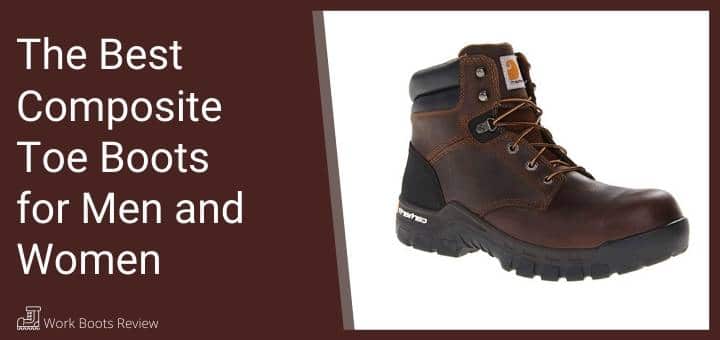 Are you looking for a good pair of composite toe boots?
If you happen to be working in a tough environment, chances are, you are looking for a reliable pair of composite toe boots.
Durable and timeless, this type of work boots provides enough safety and security minus all unwanted weight.
And whether it's for work or hiking purposes, the best composite toe boots are always going to be worth the investment.
Advantages of Wearing Composite Toe Boots
Composite toe work boots are made of tough, non-metal materials, such as Kevlar, durable plastic, carbon fiber, or fiberglass. Due to the non-metallic construction of these boots, they are often preferred by many, especially those who work in the airport and security field.
Essentially, wearing a good pair of composite toe work boots come with the following advantages:
Relatively lightweight, making them more comfortable to wear compared to their steel toe counterpart

Provides safety and security to the feet, especially under tough work environments

They don't set off metal detectors and alarms, making them security and airport-friendly

Some are seam-sealed to be waterproof, making them suitable for use under wet environments

Comfortable and keeps the feet from feeling fatigued, even during extended hours of wearing

Features of The Best Composite Toe Boots
The first pair of safety boots are believed to be manufactured back in the beginning of the 20th century. It was during this period that people started going over on industrial safety issues and laws on compensation were enacted.
Fast forward to the year we're in today and a wide selection safety boots are made available. Among these are comfortable composite toe work boots.
Essentially, a good pair of composite toe work boots carry the following features:
Non-metallic, heavy-duty uppers made of composite material which provides ample protection for the feet

Non-metallic eyelets that are made of nylon or plastic materials that will not trigger security and airport alarms

GORE-TEX membranes that give the boots its waterproofing feature, allowing these boots fit for use under wet conditions

Lugged sole design which enables heavy and high traction, even on muddy, snowy, and slippery surfaces

Puncture, chemical, heat, oil-resistant, and electrical hazard safe, meeting the most basic requirements for safety standards

Reviews: The Top Men's Composite Toe Boots
For the men who work hours doing tough jobs, a reliable pair of safety work boots are a must. And if you're not a fan of the usual steel toe but are looking for safety shoes that will get you covered all-day at work, then composite toe work boots are your option.
Without further ado, here are some of the best composite toe boots for men.
---
---
---
---
---
---
---
---
---
The Best Women's Composite Toe Boots
Women are now working in industries that require extra tough and heavy-duty work. Same for the men, they, too, deserve footwear that will keep them safe and comfortable at work.
Without any further ado, here's our top list of the best composite toe work boots for women.
---
---
---
---
---
---
---
---
Comparison Table: The Top Men's Composite Toe Boots
Comparison Table: The Best Women's Composite Toe Boots
Which Pair Of Composite Toe Boots Is For You?
Whether it's for a whole day of tough work or an occasional hike, your feet deserve a reliable pair of composite toe boots.
Comfortable and durable, these boots provide just enough protection as their steel toe counterpart minus the added weight.
With our list of today's top-performing pairs, which ones do you think are the best composite toe work boots for your needs?