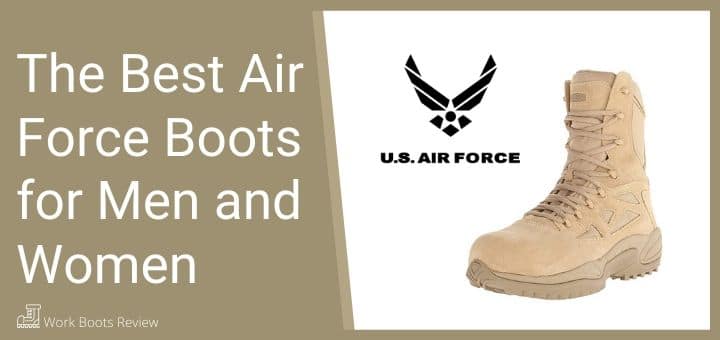 Are you looking for a good pair of Air Force boots? If so, we have reviewed several boots service members in the Air Force may use.
Being in the Air Force isn't only about tactical aerial activities. In fact, only a fraction of its active-duty airmen gets on a plane on a daily basis, while the majority focuses on field-based activities.
Flight support missions, constructing airstrips, guarding missile sites, handling base affairs, and conducting rescue missions are among the many other things that airmen do.
And whether it's onboard on a flying mission, or out in the field, the right pair of Air Force boots will is crucial to getting the job done.
Advantages of Wearing A Good Pair of Air Force Boots
The very first pairs of US military combat boots were manufactured during the War of 1812. These boots were ankle-high and made with straight lasts which have been reported to be uncomfortable and resulted in blisters. By 1858, the US military improved its design to what they called as "Jeff Davis boots."
Essentially, wearing a good pair of Air Force boots come with the following advantages:
Extremely comfortable and suitable to wear even for long, extended hours

Keeps the feet fully protected and secure

Enhances foot strength and lessens fatigue by following the natural contour of the feet

Increases speed and agility, allowing you to move quickly and comfortably

Encourages a more natural gait for the feet

Features of Air Force Uniform Boots
The military combat boot continued to develop century after century and it wasn't long until each branch had varying uniform standards. While all the typical military combat boot aimed to keep a servicemember's feet well-protected and comfortable all day, the branches had different boot requirements.
For the Air Force, their standard boots come with the following features:
Most are crafted with non-metallic construction, making the boots both security and airport-friendly

Lightweight, allowing you to move quickly without the added weight

Waterproof or water-resistant, making them suitable for use under wet conditions

Abrasion, heat, slip, and oil-resistant, making them fit for use on tough terrains and environments

AFI 36-2903 compliant, making them suitable for wearing with the standard US Air Force uniform

Reviews: The Top Air Force Boots For Men
Whether your job involves daily flight missions or working on base affairs, wearing the comfortable pair of Air Force boots is crucial. The right pair is an essential part of the uniform that will get you through longer workdays with ease.
With that being said, we have narrowed down some of the most comfortable Air Force boots for men.
---
---
---
---
---
---
---
---
---
---
Reviews: The Best Women's Air Force Boots
For the woman who is on her feet all day, finding the perfect pair of boots is a must. Whether it's for use on varying work terrains or just the regular field, a comfortable pair will surely do the feet a big favor.
So if you're looking for new Air Force boots for women, have a look at our select pairs.
---
---
---
---
---
Comparison Table: Air Force Boots For Men
Comparison Table: Women's Air Force Boots
Which Pair Of Air Force Boots Is For You?
Whether it's for an aerial mission or for extended hours of fieldwork, the perfect-fitting Air Force boots will surely get your feet through the day with ease.
Additionally, the perfect pair can withstand the varying terrains, all while keeping your feet comfortable, safe, and secured.
After having a closer look at our top Air Force boots for both men and women, which one do you think is the perfect fit for you?