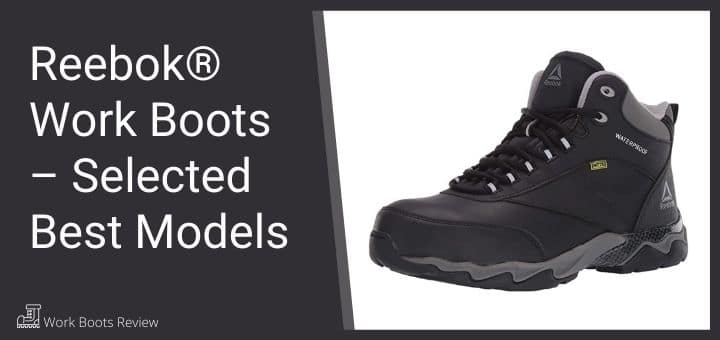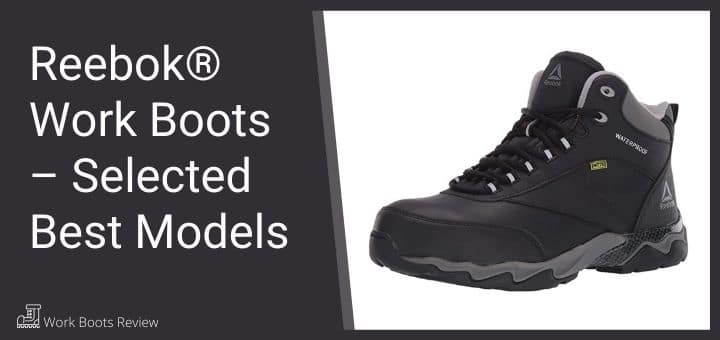 Reebok is a well-known industry in Athletic Footwear and gear, that we have all own or at least heard of in some or other instance.
Reebok has gone so far that they have managed to Launch their own brand of Work footwear for industrial and safety purposes that feature their superb Athletic style comfort, performance, and durability characteristics.
---
Why Reebok Work Boots
Designing superior footwear for industrial work environments is simply a matter of taking strength, and safety features, and adding them to everyday wear the comfortable shoe. This is the method Reebok uses in their new line of WORK BOOTS and shoes.
Reebok builds their work boots from the ground up usingathletic performance technologies, to meet the unique needs and requirements of individuals in specific occupational fields.
Reebok's Work Boot Types
Some work boot types from Reebok include; MILITARY, POSTAL; TACTICAL and INDUSTRIAL Work Boots.
---
Reebok Work Boot Industry Types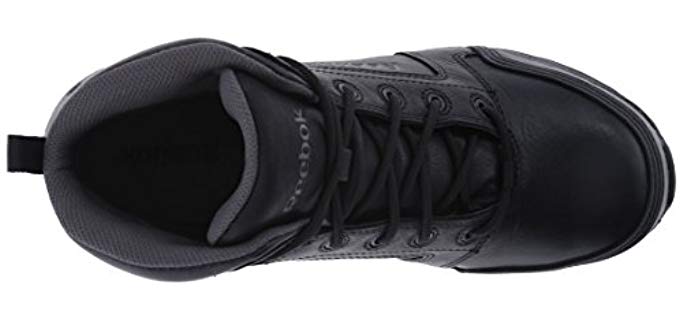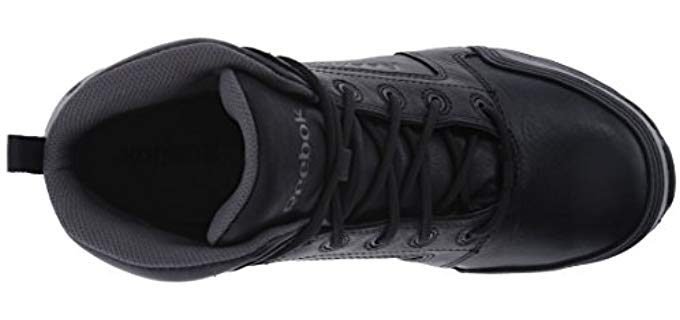 Construction and Landscaping
These Work Boots from Reebok are designed for the best slip resistance on uneven terrain, along with waterproofing to keep your feet dry in wet conditions. A composite toe and abrasion resistance keep your feet protected and improves durability.
Hospitality and Restaurant
These work shoes feature a comfortable slip-on design with many comfort features as well as waterproofing and slip resistance.
Manufacturing and Warehousing
In this industry, they have addressed the main requirements which are comfort and support for standing and walking, as well as a protective toe, and waterproofing in some models.
Postal Service
Comfortable and durable footwear, designed with the requirements of this occupation in mind. These shoes likewise meet the national USPS uniform regulation standards.
Military and Law Enforcement
These Work Boots provide good responsiveness, excellent traction as well as all the comfort features required for this demanding position.
---
Reebok Work Boot Features
Static Dissipative capabilities.

Electrical Hazard safe Materials.

Conductive materials.Slip-resistant Outsoles.

Metatarsal Guards.

Waterproof Construction.

Protective Safety Toe, either Steel or Composite.

Comfort and Support Features
Shock Eliminator Heel Cushion.

Thick Rubber Outsoles.

Cushioned EVA Midsole.

Moisture wicking inner lining.

TU Heel Stabilizer.

Cushioned Footbed.

Breathable uppers in some models.

Waterproofing in other models.

---
Reviews: Best Reebok Work Boot Models
1
The Reebok Beamer is a Tough and Durable Work Boot with an additional Metatarsal Guard for protection against falling Objects and compression Hazards in the workplace.
The perfect Non-Steel Toe Work Boot for an Industrial Work environment

An athletic style hiker inspired work boot with waterproof leather uppers and a moisture-wicking, nylon, mesh lining.

There is an internal flexible metatarsal guard to protect your feet ad an XTR extra-wide composite toe.

A lightweight injected EVA midsole for shock absorbency and dual density high traction rubber outsole.

There is also a stabilizing wrap around TPU heel shank.

Available in either a solid black, or a black and grey mix color option.

ASTM Rated Electrical Hazard Safe.

---
2
An airport Friendly, protective and lightweight Tactical work boot, that meets ASTM testing standards.
Leather upper construction with a moisture-wicking lining.

Electrical Hazard Safe materials.

A tactical style works boot with an easy zipper closure system.

Meets all relevant ASTM testing standards.

A removable F2A comfort polyurethane cushioned insert.

Non-metallic construction, and completely airport friendly.

---
3
For Hospitality and Restaurant related occupations I would highly recommend this Reebok Dayod model. This Boot likewise has appropriate safety features for it to be used on industrial sites and other hazardous work environments.
Leather uppers with an athletic skateboard shoe design inside and a high top.

Electrical hazard safe design meeting ASTM standards for safety in the workplace.

XTR brand extra wide protective composite toe that is also ASTM standard.

A high traction rubber outsole that offers excellent slip resistance and grip.

Lightweight and very comfortable.

---
4
The Reebok Sublite is quite a versatile model, although I would recommend this specific Sublite model for Warehousing and Manufacturing industries.
A protective safety work boot with an alloy metal toe for industrial work environments.

Leather uppers from full grain durable leather and a moisture wicking lining.

A high traction rubber outsole and very lightweight design, that will prevent slips and foot fatigue.

Lace up closure system for a secure and adaptable fit.

---
5
If you are someone with an occupation in the postal or Delivery Business, then the Postal Express is your ideal option.
The Postal Express from Reebok features all the comfort and durability features that you may need for these types of occupations.
Genuine leather uppers that are USPS Postal Express compliant with a high top and safety soft toe.

A removable PI-1000 comfort cushioned insert with a shock eliminator and heel cushion, that reduces shock and cushions your feet to prevent pain and foot fatigue.

The PU outsole is supper lightweight and slip resistant.

---
6
In the Construction work environment and Landscaping work environment, most of your work tasks take place outdoors. Therefore I recommend the durable and comfortable Reebok Zigkick, a favorite among many customers.
Leather and synthetic uppers which are lightweight and breathable.

Full electrical hazard protection and a composite safety toe cap that meets ASTM standards, to protect you against all the most common workplace hazards.

An XTR brand extra wide composite-toe ensure that your toes are fully protected.

The FootFuel Footbed is cushioned and supportive with the most innovative comfort technology, to prevent foot fatigue and keep you going all day long.

---
7
In the Military or Law Enforcement fields, there is nothing that comes close to the Reebok Work Response Tactical work boot. This work boot is ideal for outdoor tasks and tough environments as well as all weather conditions.
A tough and high traction rubber outsole, that ensures you are well grounded with its superb slip-resisting design.

Cattle Hide leather uppers with Ballistic Nylon and a Nylon Mesh lining to keep your feet dry and cool.

A removable F2A polyurethane cushioned insert with shock eliminator heel cushion and insole for exceptional impact resistance and support.

Electrical Hazard safe with a protective composite toe that is ideal for a hazardous work environment where you require safety work shoes or boots.

---
Index Table: Top Rated Reebok Work Boot Models