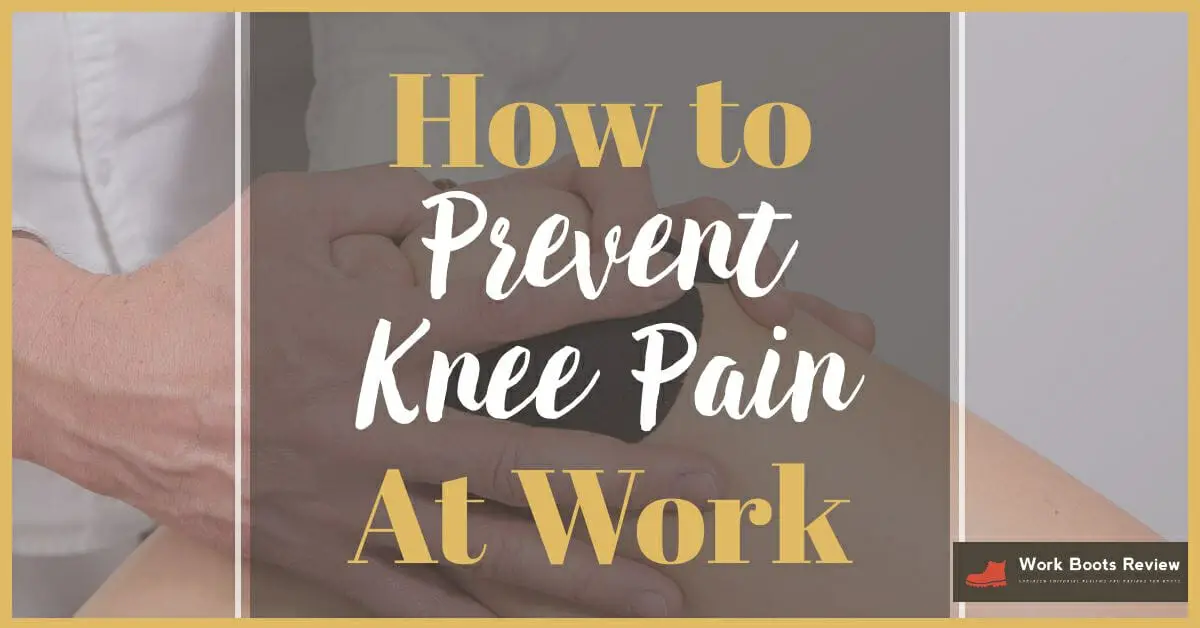 Knee pain is a common problem for people standing long hours at work. Knee pain without apparent injuries is caused by osteoarthritis, bursitis, bleeding in the knee joints, or gout. Ligament sprains (anterior cruciate ligament and medial collateral ligament) and cartilage tears are also common.
Some knee conditions require visiting a physical therapist, doctor, or orthopedic surgeon for surgery, while other conditions are treated at home.
Home Remedies For Knee Pain
Home treatments can often help people recover from knee pain and a common knee injury without needing an X-ray or a doctor. Depending on the cause of the knee problem, these remedies could help alleviate knee pain and joint pain.
About 302 million people globally suffer from osteoarthritis (OA), a common form of arthritis that causes knee pain. This type of arthritis is often the reason for long-term knee problems. Clinical trial evidence by the Arthritis Foundation (AR) and the American College of Rheumatology (ACR) recommends exercise, weight loss, self-management programs, tai chi, yoga, tibiofemoral knee braces, and patellofemoral braces for people with hip and knee osteoarthritis.
Physical Activity And Exercise
A person with/without knee osteoarthritis will benefit from physical activity and exercises that boost knee cartilage tissue health and reduces pressure on kneecaps. Exercise strengthens leg muscles and joints.
Before exercising, always warm up to prevent knee damage. For example, walk, ride a stationary bike, or a low-impact exercises. High-impact activities can contribute to joint cartilage wearing away.
Lose Excess Weight
Lose the extra pounds that place unnecessary stress on joints increasing the risk of osteoarthritis, knee problems, and injuries. Excess body weight and obesity also increase inflammation in the knees and rest of the body.
According to Bush-Joseph, 2-4 times the bodyweight transmits through the knee joint with every step a person takes. By losing that excess 20 pounds, you could relieve knee pain by 50%.
If you aren't sure how to get rid of that extra weight, see a dietician or doctor for a weight loss program.
Good Posture And Body Support
A good posture and support can ease painful knees and knee joints. These guidelines are easy to follow at home or work.
Don't allow joints to become stiff from prolonged sitting and no movement.
Raise the seating level with a pillow if it is too low.
Avoid sinking into a couch or chair and struggling to get up again.
Wear supportive footwear or inserts. Replace shoes that push extra strain and wear them on the knees.
Anti-Inflammatory Medications
Inflammation is one of the most common things that cause knee pain. Strained, torn, or worn cartilages may cause inflammation. Most knee treatments start with lessening inflammation.
Non-steroidal anti-inflammatory medications can help alleviate pain in the knees. Ibuprofen, naproxen, NSAIDs, and other over-the-counter medications often help ease the pain. If the pain doesn't subside, see a doctor for the correct prescription and treatment.
Another treatment for inflammation is PRICE.
PRICE (Protection, Rest, Ice Compression, And Elevation)
PRICE helps with soft tissue injuries, sprains, mild knee pain, or an arthritis flare.
Protection. Avoid further injury by stopping the activity that caused the damage.
Rest. Give the knee tissues time to heal and reduce the risk for further injuries. Don't stop all movement; it may result in stiffness and muscle weakness.
Ice Pack. On day one of the injuries, apply ice wrapped in a towel for 20 minutes intervals.
Compression. A firm knee support and compression bandage improve comfort levels to injured knees.
 Elevation. Raise the leg above the heart level to reduce swelling and improve blood circulation.
Heat And Cold Pain Relief
Treat knee or back pain with heat and cold.
A hot water bottle or heat pad reduces stiffness for better flexibility in the morning. Heat also reduces inflammation.
An ice pack wrapped in a towel provides pain relief when swelling and inflammation subsidies.
Exercise Treatment For Knee And Joint Pain
According to Medical News Today, essential physical activity and exercises at home can help alleviate most forms of knee joint and knee pain. A physical therapist will help a person identify the best daily activities for these common knee problems.
The American Academy  Of Orthopedic Surgeons suggests strengthening muscles to reduce extra stress on your knees and then stretching the strengthened muscles to restore range of motion and prevent injury. Muscle groups to focus on during the 4-6 weeks exercise program are the quadriceps at the front and hamstrings at the back of the thigh, abductors, the outer thigh and adductors inner thigh muscles, and the gluteus maximus and medius on the buttocks. They suggest seeking physical therapy or medical advice regarding the right exercises for knee joints and knee injuries for rehabilitation goals.
Strengthening Exercises
Protect knee joints and avoid knee injuries by strengthening the quadriceps muscles with these types of exercises.
Hamstring Curl Exercise
Stand with feet hip-width apart facing a wall or using a chair as support.
Lift one foot bending your knee and raising the heel toward the ceiling. Lift as high as you can with hips pointing forward and keeping the upper body still.
Hold for 5-10 seconds before relaxing the feet to the floor.
Do 2-3 sets of 10 repetitions with each leg.
More Strengthening Exercises for A Painful Knee
Step-ups. Step with one foot and then the other foot on a step and then step down.
Sit or lie down to straighten and lift the legs repeatedly.
Leg Raises. Lie or sit to straighten and then raise the legs.
Sit and Stand. Sit on a chair and stand slowly without using hands for support.
Squats. Squat while holding onto a chair. Repeat ten times.
Stretching Exercises
Stretching Heel And Calf Muscles
Place hands flat against a wall.
Move one foot back as far as it feels comfortable.
Toes should face the wall, heels flat, and knees slightly bent.
Keep the back leg straight and bend the front leg when leaning forward, holding for 30 seconds. Don't arch your back.
Repeat twice for both legs; you should feel the stretch in your back leg.
Standing Quadriceps Stretch
Hold onto a wall or chair to stretch the front leg muscles.
Bend one knee with the heel toward your glutes.
Grab your ankle and gently pull your heel closer to your body without discomfort.
Hold for 30-60 seconds and let the foot return to the floor.
Repeat with the other leg without arching or twisting the back.
Stretching Hamstring Muscles
Lie on a mat with legs straight; if more comfortable, bend the knees with feet flat on the floor.
 Lift a leg off the floor and place your hands behind your thigh below the knee.
Keep the leg straight and gently pull the knee toward the chest until you feel a slight stretch.
Hold for 30 seconds before lowering the leg and repeating with the other side.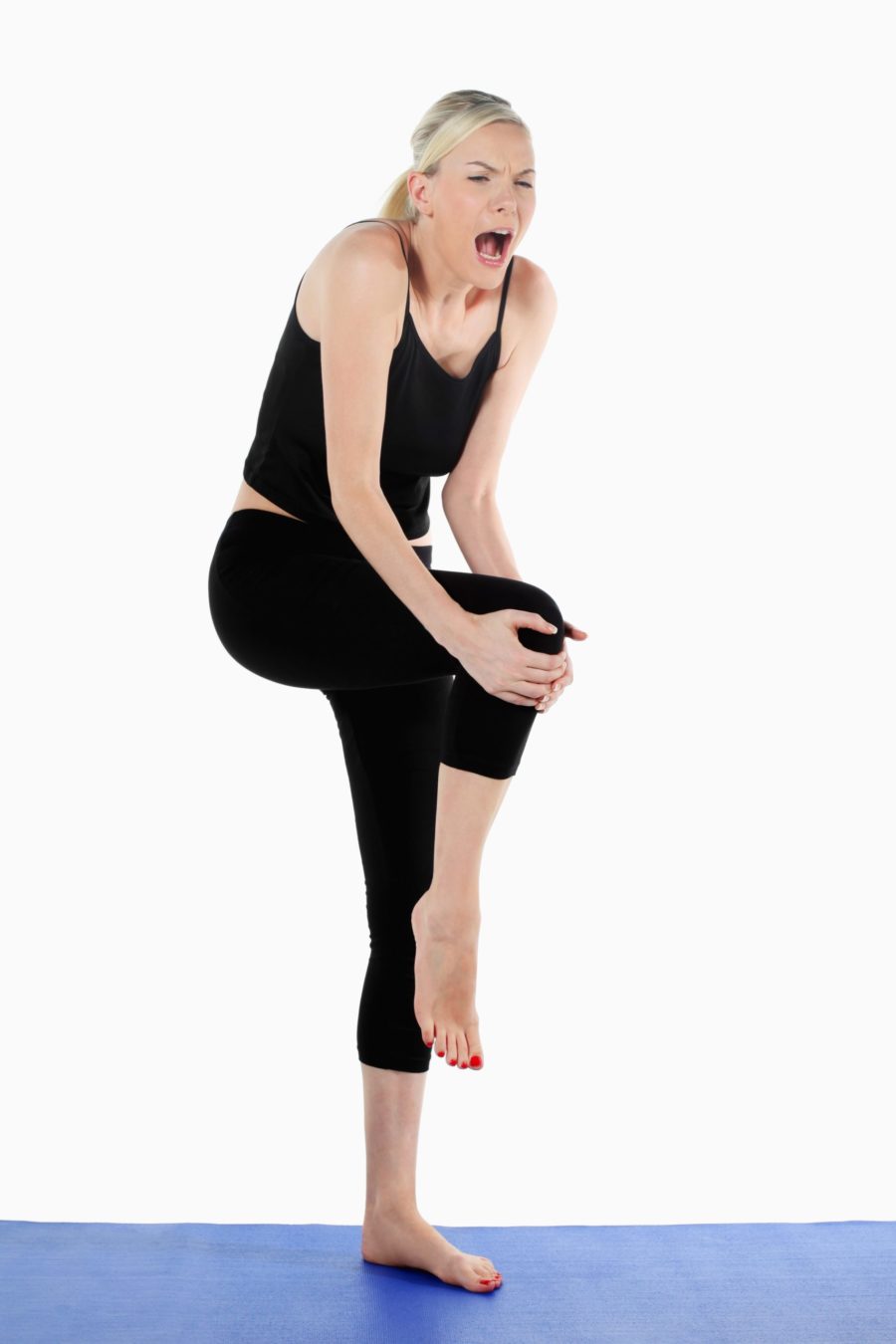 Preventing Knee Pain
You can avoid knee pain and injuries caused by repetitive stress on the knees. Here is some expert advice on keeping knees strong, moveable, and without pain.
Don't stop exercising. Strength exercises can reduce pain. The best activities for people with structural knee problems are water aerobics, swimming, an elliptical machine, stationary bike, walking on level ground, and other nonimpact aerobic exercises.
Right Footwear. Douglas J. Abeles recommends wearing flats or pumps instead of high heels that add stress to quads and knees. Well-fitted and comfortable shoes help legs maintain the right balance and leg alignment.
Weight Training. The correct weight training exercises can reduce injury risks by strengthening knee and leg muscles.
Which exercises or home treatment helped you the most to alleviate knee pain from standing at work?