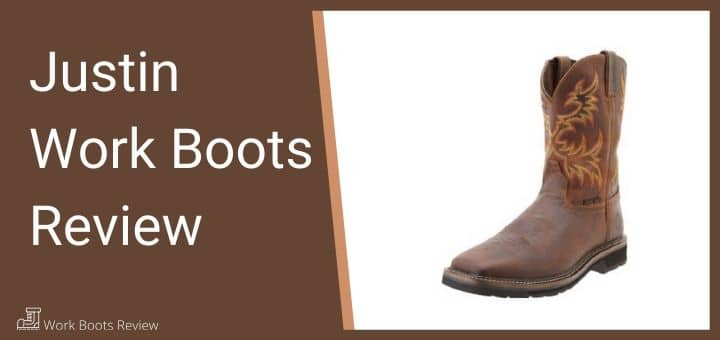 The Justin Original is one of the toughest boots that you will find with the highest levels of Safety and Protective Characteristics.
The Justin Original is not only the toughest and most durable industrial work boot that you will find, but it also has an exceptionally fashionable and classic design that closely resembles the appearance of a Cowboy or Western boot.
The Justin Original is a Western Style boot that has a sharper toe, with a longer shaft to protect your legs and ankles and is stitched with creative and fashionable designs.
---
What is Special about the Justin Original Boots?
The Justin Original is constructed with Metguard containing Poron XRD, which is an impact absorbing technology that will give your metatarsals the same type of protection as a piece of metal armor.
A steel toe boot alone does not provide adequate protection for your metatarsals and a metatarsal injury can by excruciating as well as taking a very long time to heal.
Metguard is a thermal plastic urethane shield built with Poron XRD technology; it overlays your steel box toe running to the top of the instep to give protection to that entire part of the foot.
Justin Original also has a flame resistant boot made from specially treated leather with heat rated outsoles and designed according to specifications to provide excellent levels of safety and comfort where there are spark and flame hazards present. These boots have been FR rated according to industrial standards.
In general, Justin Original promise a pair of work boots that is meant for the toughest jobs and will provide you with the highest levels of Safety and Comfort!
Justin Originals are handcrafted from the finest imported and local materials with all the necessary safety technology required for any industrial and heavy duty occupation.
---
History of Justin Original Work Boots
Justin Originals date back to 1879 and were popular among the Western folk, a stylish and functional boot worn by every cowboy and cowgirl. Today because of the high-quality standards and beautiful design of these boots, cowboy or not, you will be tempted to have a pair of your own.
---
What Characterizes a Justin Original Work Boot
A longer Shaft with a Western Style in most boots and decorative detail.
A round, square or pointed toe that can be steel capped or a soft toe.
The J-Flex comfort system with improved flexibility.
In some models an added steel shank for protection and stability.
---
Reviews: Top-Rated Justin Original Work Boots
With no further a due, here is a list of some of the Best picks of the Justin Original Work Boots;
---
---
---
---
---
---
---
---
---
<2>Conclusion
The motto of the Justin Boots Brand is to command performance while providing you with superior comfort using the latest and most efficient technology. Justin Original surely stick to their highest standards and keep to their classic style. You can choose from a Western Style or Lace Up style a round, square or pointed toe; Justin Workboots are all made to be tough and durable, withstanding harsh work environments and still retaining an element of style.
---
Table of Contents: Best Justin Original Work Boots