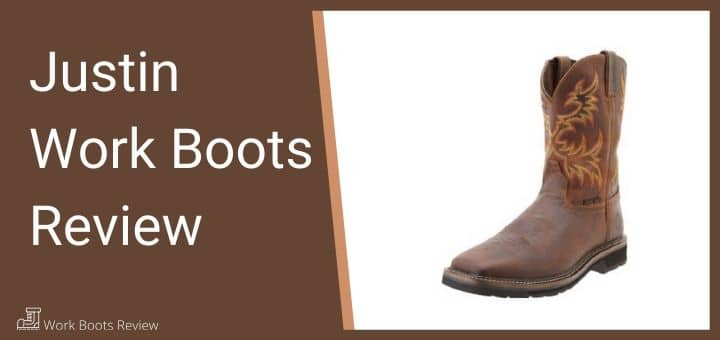 This is a Justin Boots review – to help you pick the right Justin Original work boot in 2023.
Justin Original Workboots have been a trusted name in American-made workwear since 1879. The company began as a small bootmaker in Nocona, Texas, over a century ago and today their boots are still handcrafted in the same tradition of quality and durability. What sets Justin Original boots apart is their commitment to using only the finest materials and construction techniques. Their boots are made from full-grain leathers that are soft yet tough, and they feature Goodyear welt construction for a comfortable, secure fit.
We've taken a look at what great boots are available on the market today,  and have crafted a list of the best Justin Boots for the workplace. We spend all day researching and reviewing footwear in order to find the right pair for different work situations – so you know we know what we are talking about.
Most review sites aren't going to mention this, but we will: shopping for boots on Amazon isn't easy. There will be multiple listings for the same boot. Sometimes a listing will be a one-off for a certain specific size – like a 10.5. And listing change all the time.
That's why we are including other shoe stores in our listing. It's frustrating to find the right pair of footwear only to discover they are out of stock. Hopefully this will help you in your search.
I'm sure one of the Justin Boots on this list will fit the bill for you!
---
What To Look For In A Great Pair of Justin Boots
We all know that Justin makes good boots – but what specifically should you be looking for in a work boot to help make your decision?
Justin Work Boots Compared
Justin Mens 8 Driller Waterproof Square Toe

Check price at

Justin Womens Wanette Western Steel Toe

Most Popular

Check price at

Justin Original Work Stampede Amarillo Pull-On

Lowest Price

Check price at
Top Justin Boots Reviewed
Here our our Justin boots reviews that go over more specifically what boot features you'll find in the different models.
Check price at
These are the best overall pair of work boots for a daily general contractor, construction worker or factory employee. Why?
You get protection for your feet with an amazing level of comfort. I know people that wear these as a pair of weekend boots because they just feel good.
This boot is tough. It features a rugged golden brown leather upper exterior and water resistant material to protect against the outdoor elements. The Justin Driller also provides comfort for your feet with its square composite toe design that provides armor-like shield protection to you metatarsals (the toes).
The J Flexible Comfort System® insole adds cushioning for your feet so you'll be ready to be on your feet for a long time -no matter how tough things get! Combined with the electrical hazard protection you get with this pair of Justin boots, and you've got a great value.
While I can't say it's typical, some reviewers have gotten over seven years of usage out of a pair of boots from daily abuse on a farm. YMWV – but with care you can expect these Justin boots to last.
These aren't for everyone though. There's no insulation provided, so you won't find them fun to wear outside in winter weather conditions. These work boots aren't particularly slip-resistant either, so they might not be best in an oily environment.
Check price at
Justin also makes some AWESOME work boots for women. By far the most popular model is the Wanette – and for good reason.
First, they have style. No one has written in stone that steel safety toe boots have to look boring – and these boots prove it! There's both a leather vamp and upper – with diamond cut details that look great on this work boot. They aren't over the top on the cowboy boot theme, but you could definitely wear these out straight from work and no one would blink an eye.
Wanette boots also provide all the protection you'd expect in a high-quality pair of protective work boots. You get I75 and C75 protection from the steel toe – which means your feet are protected from most crushing and electrical hazards while wearing them. They also meet Mark II and Satra slip resistance tests, so you won't be sliding around while walking like some cowboy boots do.
You might want to get a pair just for working around the yard or riding a horse – they don't have to be kept on the job site or on the factory floor. They only weigh just under 3 1/2 pounds, so your legs won't get tired wearing them all day.
Check price at
Not every job needs the added weight and bulk of a protective toe work boot.
If this describes your situation, the Justin Amarillo Pull-On is a great pair of boots to check out. These square toe boots still provide your feet plenty of protection. You get a non-metallic book shank which helps provide stability and protection in one package.
The Stampede is a workhorse that can withstand anything you throw at it. The durable rubber outsole provides sure-footed traction, while resist breakdown for longer wear. Inside the OrthoLite orthotic comfort cushioned insole delivers all day long support with cushioning wherever your feet may roam – whether they're standing up high on top of building site or sitting low to ground level working outdoors!
This is a removable orthotic insert as well – so if it eventually becomes smelly or otherwise gross, you can replace it.
With this boot meeting ASTM F2892-11 EH standards for electric shock protection, its perfect not only as safety gear but also just wearing around on the weekend.
The pull on boot is something I personally like – it's just easier to get the boot on and get going then lace-up boots that require the time to loosen, tighten and tie. Of course, this comes with a little less stability
What's Special about Justin Boots?
Justin Boots are a brand of work boots known for their quality and durability. You also have a great deal of choice due to the wide range of models they offer.
The boots are made from a variety of materials, including leather, suede, and canvas, and they are available in a variety of styles, including cowboy boots, hiking boots, and work boots. The boots are found in a plethora of sizes, widths, and colors to suit the needs of any foot size or style. Justin Work Boots also feature a number of unique features, including a comfortable fit, an anatomically correct design, and a slip-resistant outsole. These features make Justin Original Work Boots an excellent choice for anyone who needs a boot that is both comfortable and durable.

Justin Original also has a flame resistant boot made from specially treated leather with heat rated outsoles and designed according to specifications to provide excellent levels of safety and comfort where there are spark and flame hazards present. These boots have been FR rated according to industrial standards.
In general, Justin boots promise a pair of work boots that is meant for the toughest jobs and will provide you with the highest levels of safety and comfort!
Justin Originals are handcrafted from the finest imported and local materials with all the necessary safety technology required for any industrial and heavy duty occupation.
---
History of Justin Original Work Boots
Justin Originals date back to 1879 and were popular among the Western folk, a stylish and functional boot worn by every cowboy and cowgirl. Today because of the high-quality standards and beautiful design of these boots, cowboy or not, you will be tempted to have a pair of your own.
---
What Characterizes a Justin Original Work Boot
A longer Shaft with a Western Style in most boots and decorative detail.
A round, square or pointed toe that can be steel capped or a soft toe.
The J-Flex comfort system with improved flexibility.
In some models an added steel shank for protection and stability.
---
Justin Boot Questions Answered
Are Justin Boots Made In America?
Many but not all of Justin Boots are made in factories in the United States of America. It's one of the leaders in keeping work boot production in the USA.
As of 2022, the Justin Transcontinental, Justin Conductor, Justin Balusters and Justin Cargo were confirmed to be made in America. Other Justin work boot models may be – we just weren't able to confirm that information.
Check the product description for more up to date location of origin information.