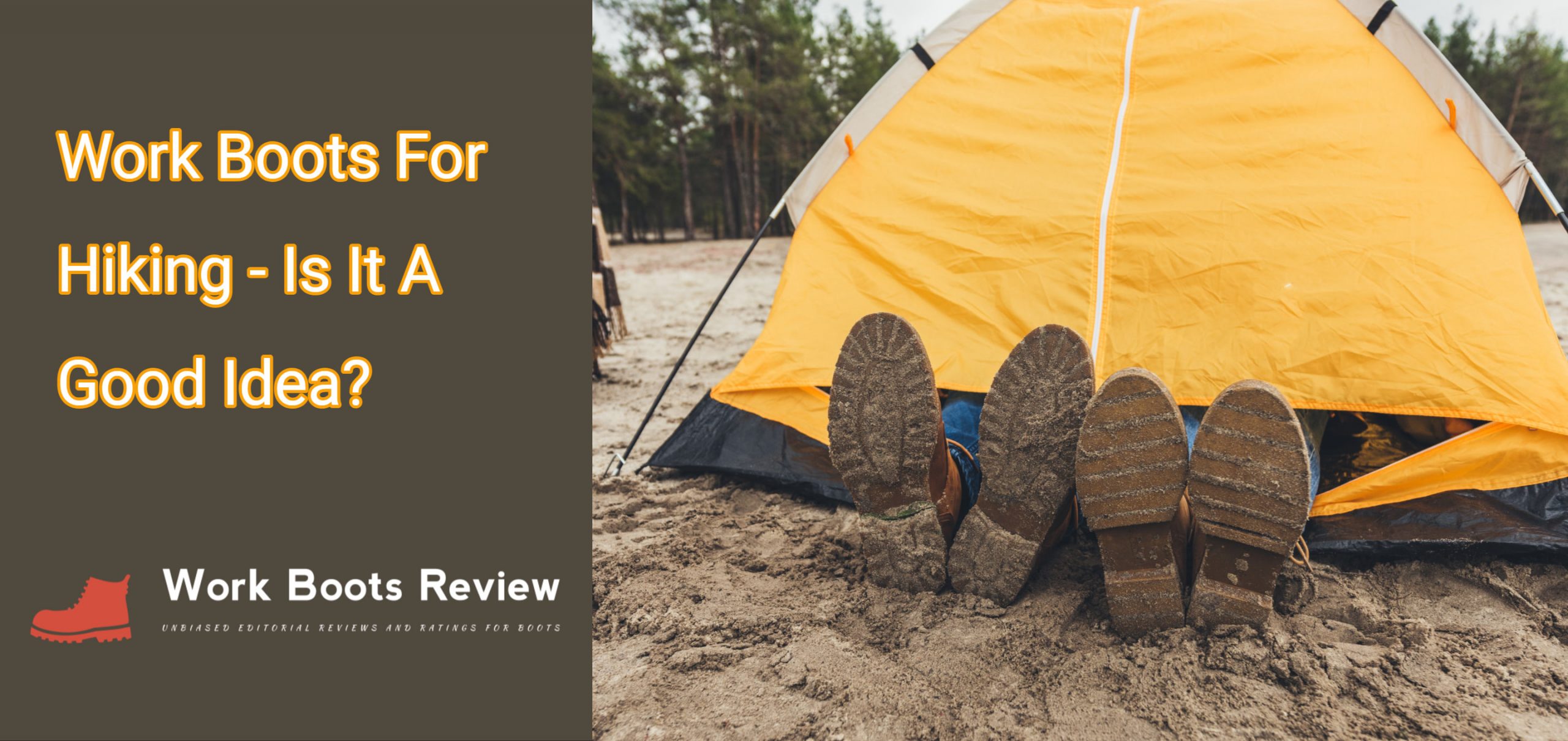 When preparing to hit the hiking trail, it is crucial to have a pair of comfortable hiking boots. Many people wonder if you can wear work boots when you want to hike, but is it a good idea? Should you get a new pair of boots?
When it comes to hiking boots, it's essential to know the types of hikes you plan to take. Are you going on a few hikes on a local trail, or are you going on multi-day hikes in all weather conditions?
By comparing the differences between work boots and hiking boots, you can prepare for a great hike!
What's the Difference Between Hiking Boots and Work Boots?
Work boots and hiking boots serve different purposes. But that doesn't mean there isn't some crossover between their functions.
Look at the product differences to find a good pair of boots for all your needs.
Durability
Hiking boots and work boots are more durable than running shoes. But they tend to hold up better in different conditions.
Hiking boots hold up better than most work boots in all weather conditions. They keep your feet dry, even with repeated exposure to water. If you plan to hike in rain or near bodies of water, work boots may not protect your feet.
Most work boots aren't as good with water as hiking boots. But full-grain leather work boots are some of the best when it comes to water resistance.
Work boots are also much more durable on the top of the foot and toes. That is because they protect workers from on-site dangers.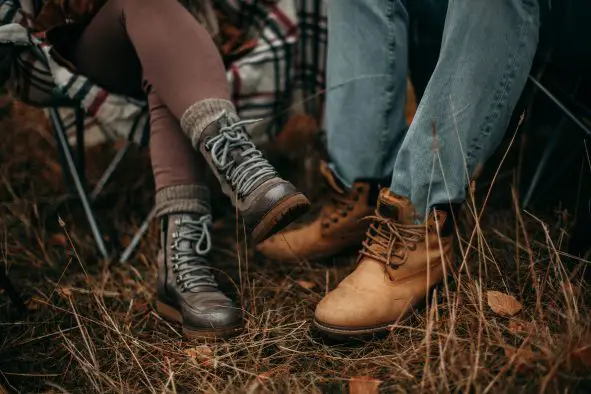 Weight
Generally, work boots are heavier than hiking boots because they have steel toes.
If you plan to go on many long hikes, you don't want the extra weight of heavy steel.
Not all work boots are steel-toed, though. Some work shoes with composite toe fronts are on par with hiking boots. A good pair of hiking boots can make all the difference for long-distance traveling.
Flexibility
Most work boots have less flexibility than hiking boots. This difference in flexibility is because work boots tend to have puncture-resistant soles. So practically nothing will penetrate the work boot's thick sole.
The soles of most hiking boots are less durable than work boots. Because of this, hiking boots do not provide as much protection.
But, hikers don't generally need protection from metal scraps. Increased flexibility is more important when walking on uneven paths.
Construction Material Used
When looking at boots, it is important to look at the materials used.
Uppers
A leather upper is one of the most common materials in both hiking and work boots. There are three common types of leather used: full-grain, split-grain, and nubuck.
Full-grain is the toughest leather and provides the best water resistance. Split-grain pairs with other synthetic materials to offer breathability. Nubuck is a form of softened leather. Nubuck is flexible and water-resistant. But Nubuck has a long break-in period before it's comfortable to wear.
Work boots are more likely to have synthetic materials than hiking shoes. Synthetic materials are breathable and keep your feet cool in hot conditions. But that breathability lets water enter the boot with ease.
Midsoles
Hiking boots and work boots have two types of midsoles to choose between. Those are Polyurethane or EVA foam. EVA is like memory foam in that it is soft, comfortable, and provides excellent arch support. Polyurethane is more durable and better for longer distances. Or when flexibility isn't as important.
The type of work or hikes you plan on doing determines which midsole is best for you.
Outsoles
Almost all work and hiking boots' outsoles are rubber and feature lug soles. But, there is a big difference in how the treads distribute across the outsole.
The best hiking boots have treads of varying shapes and sizes. This helps grip surfaces on uneven ground, even when it is wet.
Work boots generally have more treads, but they are smaller. This provides a better grip on flat, slippery floors.
Price
Hiking boots and work boots have different price ranges. As with most things, you get what you pay for. But depending on your needs, there are options for good hiking and work boots at all price points.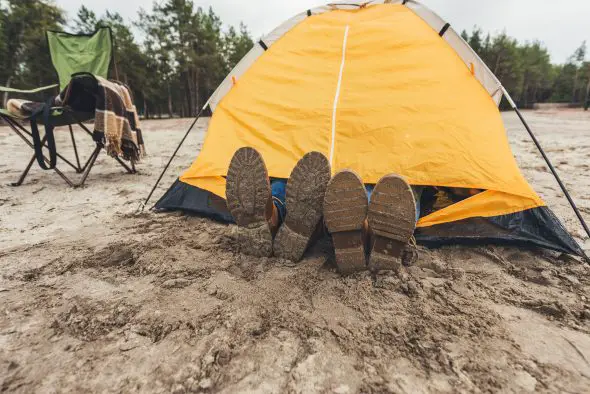 Entry-Level Hiking Shoes Versus Work Shoes
If you're looking for a basic hiking boot, the RedHead Skyline Hiking Boot may be for you. It's one of the cheapest options on the market. This boot is lightweight and waterproof with a polyurethane midsole.
They are not as durable as some higher-priced shoes, but these boots are good for someone new to hiking. That way, you don't have to spend too much money on a hobby you're unsure if you'll enjoy.
Cheap work boots are never good for the long term. Long shifts multiple days a week will feel even longer when you aren't getting footwear support. But, if you need a safety boot for work, Oliver Steel Toe Boots are some of the safest you can find on a budget.
These boots provide toe protection, are water-resistant, and are rated against electrical hazards. But coming in at a whopping 4-lbs, these shoes may feel quite heavy after a long shift.
Mid-range Hiking Shoes Versus Work Shoes
A good mid-range hiking shoe will fit the need of most casual intermediate hikers. One good option is the Wolverine Spencer Waterproof Hiking Boot. This lightweight shoe can keep your feet dry and comfortable across uneven ground.
An excellent mid-range workwear boot is the Wolverine Bandit CarbonMAX. Coming in at 1.75 lbs, these shoes are waterproof and lightweight. And they provide proper arch support.
Top-of-the-Line Hiking Shoes and Work Shoes
Once you start looking for the best hiking or work shoe, you usually have a very specific need. Do you need trekking boots? Shoes to go multi-state backpacking?
It's the same when looking at shoes for work. Do you work construction? Manufacturing? Do you work around electrical dangers?
For the best hiking and work footwear options, be fully aware of your needs. And be sure that you look at the protections that will help you the most!
Questions & Answers
Here are some frequently asked questions about using hiking boots and work boots.
Can You Go Hiking in Working Boots?
Yes, you can go hiking in work boots, but it will not feel as good as comfortable wearing hiking boots.
A work boot is generally heavier than a hiking boot. And the extra weight can negatively impact the hiking experience.
While both hiking and work boots are slip-resistant, they are for different surfaces.
The lug soles of hiking boots are less symmetrical than the soles on work boots. This makes hiking boots better for a slippery trail. A work boot is better for slippery surfaces such as grease or water on a kitchen floor.
When looking at hiking boots vs work boots out on the trail, work boots can get the job done, but not as well as a hiking shoe.
Can Hiking Boots Be Used for Work?
It depends. While some hiking boots provide the same safety features as work boots, many do not.
Hiking and work boots generally both have slip-resistant soles. The soles of work boots and hiking boots have different treads for different dangers. A work boot is better against slippery floors. Whereas a hiking boot is better for outdoor, slippery terrain. Without the proper treads for the occasion, you aren't protected.
There is usually some form of toe protection in work shoes. The most common two styles are steel and composite toe. Hiking shoes don't normally feature toe protection. So if you need toe protection at work, a hiking shoe without toe protection will not be enough.
If you work with electrical hazards, your job site might require special boots. Boots with thick rubber soles and a rubber outsole to protect against electrical danger.
Your hiking boots must have the protections necessary to keep you safe at your job. If they do not feature special protections such as toe protection or thick rubber, they are unsuitable. And the hiking boots should not be work boots.
Should I Be Hiking in Steel-Toe Boots?
You can hike in steel-toe boots for short distances, but you should not wear steel-toe boots on frequent, long treks. The problem with boots with steel toes is that there is a lot of weight. The extra weight is hard on your feet, knees, and joints. You need proper arch support and proper ankle support to lug a pair of heavy boots across uneven terrain.
In the long run, most steel-toe work boots do not provide proper foot support for long hikes. Or rough terrain.
Can You Wear Lightweight Hiking Boots Every Day?
Yes. A lightweight hiking boot with good ankle support and an EVA foam insole with arch support is great for everyday wear!
Hiking boots are necessary for rough terrain. But as long as they are lightweight, they do not pose any negative effects from standard daily wear.
Hiking Boot vs Work Boot Conclusion
A work boot protects against working hazards. While a hiking boot handles weather conditions better.
If you don't plan on going on long excursions very often, a work boot is for the short term.
If you want to visit hiking trails as much as possible, you're better off buying a pair of comfortable hiking boots.