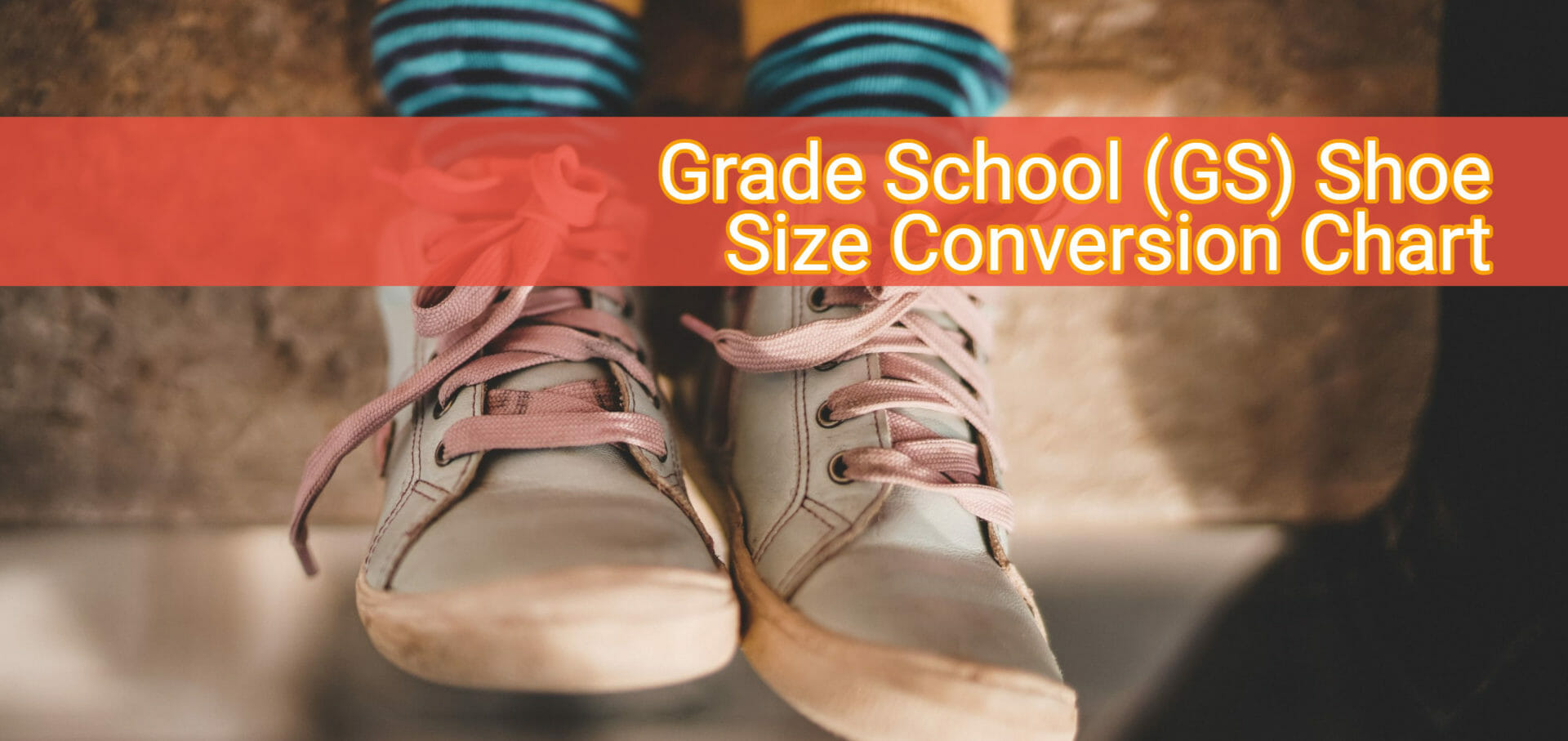 A GS or Grade School shoe size chart is helpful to any parent wanting to buy their kids a pair of sneakers, especially Nikes, Jordans, and other brands using the grade school sizing. The popular size for an age group may not be the perfect fit for your child's feet; brands and models vary in size too.
Children grow, and so do their feet. Buying shoes 2-3 times per year for growing feet is an excellent reason to find the right fit each time. The GS shoe size charts will help parents understand size options and avoid buying the wrong shoe size.
TD, PS, And GS Meaning For Shoes
TD, PS, and GS are three kids shoe size ranges in the well-known and loved brand. The three acronyms divide kids' shoe sizes into three age groups for convenience. Understanding these three acronyms will help find the correct size shoe for your child using international shoe size charts or brand-specific charts like the Nike or Jordan size chart. 
TD stands for a toddler—the toddler shoe size range from T2-T10, fitting the foot size of 1-3-year-olds.
PS stands for preschool. The average shoe size fits preschoolers and is the foot size between toddlers and grade-schoolers.
GS stands for grade school. Grade school shoes are the biggest size and fit older kids with larger foot sizes. Shoes are often marked with a Y (for youth) and for younger kids a C (for Child) or K (for Kid). Foot size range from 1Y to 7Y. The next size up is adult sizes. 
GG and BG indicate the difference between girl grade school and boy grade school shoes. However, unisex sizes fit kids up to 12 years old with normal children's shoe sizes.
How To Measure Your Child's Foot Size
Although there is a standard range for shoe size, brands sizes do differ. The Jordan Brand and Nike sizing chart can help choose the correct brand size according to your child's current size. If you know your child's foot length, it is easier to use a shoe size chart to select the correct size for the specific brand. Here's how you measure your child's heel-to-toe-foot length.
Trace your kid's foot on paper or have them stand against the wall with heels and shoulders against the wall.
Use a ruler to measure the distance from the wall to the child's toes. 
Measure both feet; one foot might be larger than the other. 
Feet swell during the day; for a comfortable fit, measure your child's feet in the afternoon. When fitting shoes, have them wear the type of socks they plan on wearing with the sneakers. Thick and thin socks will influence how tight or lose the shoe fits.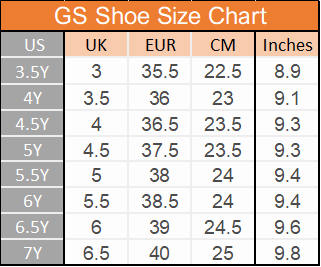 Understanding GS Shoe Size Charts
GS shoe size charts and conversion charts help parents finding the correct size for their children. Kids' sizes vary between brands and models. If you know the child's current foot size, it's easy to navigate a helpful shoe size chart.
GS Nike Shoe Size Charts
The GS Nike shoe size chart is one of several Nike size categories displayed in useful size charts. Grade school US Nike sizes range from 3.5Y to 7Y. Converting to UK sizes, the size ranges from 3 to 6.5. The 3.5Y is the smallest-sized Nike shoe.
GS Nike shoes feature Zoom Air anti-vibration protection, skin ventilation, and shock protection padding, ideal for young joggers.
GS Jordan Shoe Size Charts
GS Jordan sizes have the same range of sizes as the GS Nike shoes, with the smallest size 3.5Y and the largest size 7Y. Grade school is a size modification specifically for kids' Jordans and Nikes. The GS Jordan shoes are designed for kids older than preschoolers and toddlers. Being the biggest size for kids shoes, adults can also wear GS shoes; the larger sizes are 1.5 sizes different from US women sizing shoes.
GS Jordan shoes are great for wearing during school time. Features like the built-in zoom air, ankle pads, breathable mesh, and rubber shanks provide comfort and are an excellent fit for wearing all day.
GS Asics Shoe Size Charts
GS Asics size sneakers for kids range from US size one to size seven which is the same size shoe as the US 7Y. The multifunctional design of the Asics athletic sneakers makes them an excellent choice for kids during sports time and daily activities.
Understanding Women's Jordan Sizing Guide
A women's Jordan sizing guide is helpful because Jordan sizing can vary across Jordan models and silhouettes. Jordan, Nike, Vans, and Converse shoe sizes are about the same in women's size, usually half a size bigger than a woman's standard shoe size.
There wasn't a Jordan's women's line for a decade, and women had to buy kids' or men's sizes. With the current women's line and the unisex special-editions, since 2020, the choices for females have broadened even more. These tips and a helpful shoe size guide should clear the confusion for the extended size range women can wear, from GS, women's to unisex sizes.
Grade School To Women's Jordan Sizing
The larger size in grade school shoes for kids could fit a woman with tiny feet. The women's Jordan size is 1.5 sizes bigger than the grade school sizes. For example, a women's US 6 is the same size as a grade school 4.5Y. 
Although cheaper, grade school sneakers may not be as high-quality as the adult sizes. Kids GS sneakers may have less padding, tighter fit, smaller toe box perforations, and less vibrant colorways than adult sneakers.