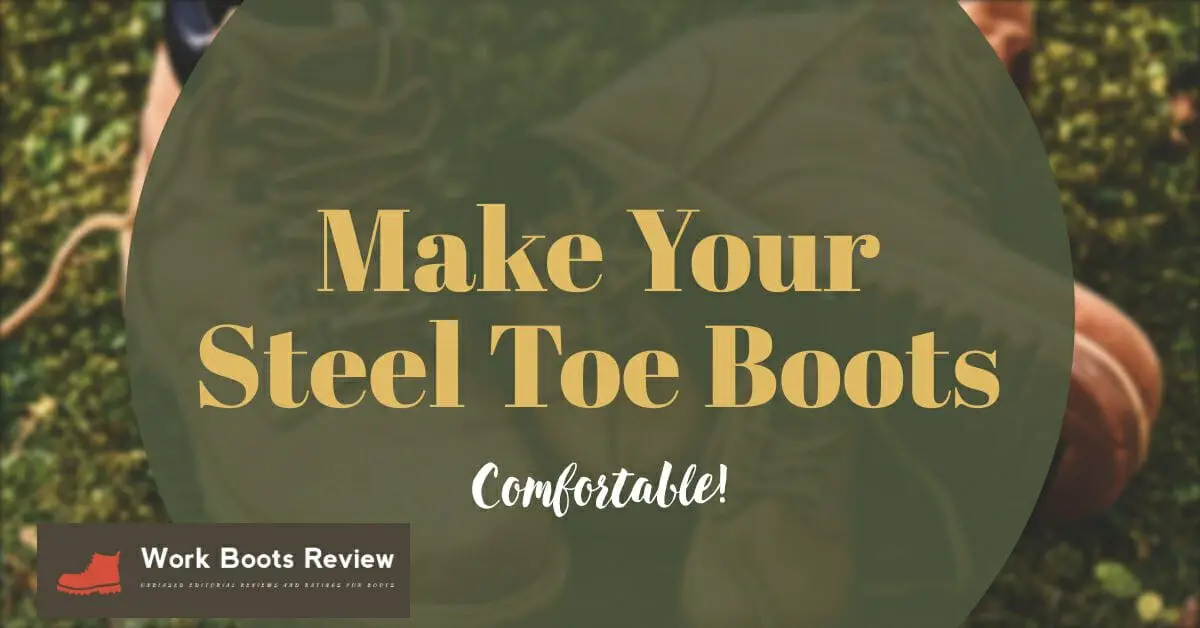 You thought you bought a pair of comfortable steel-toe boots until you started wearing them. Then you realize the toe box is uncomfortable, and the boot leather material chafes your heels and the top part of your feet. Before you decide to replace the boot in question, here are some tips on making your steel boots more comfortable. 
Are Your Steel Toe Boots Uncomfortable?
The boot style, size, and poor-fitting toe box are common factors that make steel-toed boots uncomfortable. Bootmakers use lasts that fit the majority of people. The boot style can be too narrow for your foot shape, creating additional pressure. Your foot doesn't bend where the boot bends in size too big, causing other foot issues. Custom work boots made to fit your foot shape could be a more comfortable boot.
Materials used in the boot construction take up space in the toe box, reducing available room for toe flexibility. The rigid material presses against the toes causing discomfort and foot pain. The steel insert protects the toes but adds extra weight irrespective of purchasing shorter boots or taller boots. However, a wider boot could give your toes that spare room they need. 
Some Tips To Make Steel Toe Boots More Comfortable
If your steel toe boots are uncomfortable, these tips should help you increase the comfort level reducing the strain on toes and feet. 
Get The Right Steel Toe Boot Shape and Size For Your Foot
Buying the proper safety footwear doesn't mean one-size-fits-all all brands. Bootmakers use different lasts, and boot brands' styles and shapes vary. Take the time to fit the steel-toed boots before purchasing. 
A boot that is too small or fits too tight, like a pointed cowboy boot, will pinch toes in the toe box, creating issues. Instead, buy a half size up to give your toes room in a narrow toe box or make sure the toe box shape accommodates your foot shape. Asymmetrical toe caps are more natural to foot shapes and will make boots comfortable to wear. 
Buying the cheapest boot that fits the safety requirements isn't always the comfiest work boots. Paying more for expensive boots could make the difference between ultimate comfort and healthy feet to sacrificing foot comfort and creating all kinds of foot issues. 
Wear The Right Socks
A pair of steel toe socks have extra cushioning in the heel and toe area. The right pair of socks gives you that extra comfort and protection if your safety boots cause discomfort or foot pain. Wool and wool blend socks are breathable, durable, and comfortable socks providing additional cushioning. Wool socks assist in moisture management for all-day comfort, and breathable socks keep feet and boots fresh from odors.
Cotton socks don't wick moisture away from feet like merino wool and other wool blends. Sweaty feet enhance the discomfort, and damp cotton socks lose their cushioning ability. 
Wearing a thick pair of socks protects feet by forming a protective layer between the boot material and feet, shielding feet from rubbing against hard toe caps and heels, causing blisters. 
Give Those Tongues Some Padding
Tongue padding can prevent the top of your feet from rubbing against the boot material and rigid seams. The soft tongue pads create a cushioned layer between the steel-toed boots and the top and sides of the feet.  
Sometimes your small toe can catch on rough edges or stitching material, causing friction and pain. A quick fix is cutting tongue pads into smaller strips and inserting them between the toes and the steel toe cap. The strips prevent toes from rubbing against the hard steel toe cap or brushing against the rigid material to the sides. 
Choose Laced Safety Shoes
Comfortable work boots feature laces for a secure fit that prevents feet from moving around inside the boot. The flexibility of a lacing system allows you to adjust the laces to your foot shape and shoe size; you can loosen across the broad part of the foot and tighten more securely around the narrower areas of the feet. Using different lacing techniques can tighten where your feet need the most support. 
Quality steel-toe protective footwear doesn't pinch toes but provides room for toe flexibility. A pair of boots with a steel toe cap and laces will not only shield toes but ensure a snug, secure fit. Without laces to secure the feet, toes will consistently bump against the steel toe cap causing blisters, foot pain, and fatigue.  
Cut The Insole Of The Toe Area
When you cut the toe area of the insole, you create more space in the toe box. The lack of room in the toe box makes steel toe boots uncomfortable; instead of removing the entire insole and causing additional foot fatigue and discomfort, cut only the toe area where lack of room causes foot issues. 
Arch Support Is Necessary
Comfortable steel-toed boots with arch support enhance the comfort level because the shoes support your feet in the right place to reduce foot fatigue and foot pain. Lack of arch support makes any pair of work boots uncomfortable, increasing foot issues caused by flat feet or high arches. Boots with removable insoles allow you to replace the insole with custom insoles that support your arch.  
Use Bandaids or Bandages On Your Toes
Bandaids on the sensitive areas will protect the toes against more friction that leads to sores and blisters. Applying a bandaid on a specific area leaves enough room for the toes to flex. To cover a larger area on the foot, use a bandage to shield feet and toes from rubbing against the inside wall. . Make sure the bandage completely covers the sensitive area. 
Bandages and bandaids are helpful to avoid blisters during the break-in period of steel-toe shoes. You could also use cotton as an alternative to a dressing. 
Apply Vaseline
Vaseline or petroleum jelly is an excellent remedy for sore feet. Vaseline provides a coating that protects feet against blisters and calluses. The application method is also soothing to the feet, causing sore muscles to relax. 
Get Proper Insoles
Boot insoles affect the level of comfort in steel toe boots; the insoles in safety footwear aren't always designed for extreme comfort to wearers. Investing in proper insoles that support your foot shape and arch contour will provide the daily comfort your feet need when working long shifts.
Rotate Different Pair Of Shoes
Buy a second pair of shoes with steel toes that are different in style than your first pair of boots. Then rotate the footwear; it increases the durability of the shoes and offers an extra level of comfort. The footwear fits differently, reducing friction and boot pinching at the same spot that makes boots uncomfortable, causing blisters and sores.   
Which remedy helped you transform discomfort to wearing a pair of comfortable steel-toed boots for long hours?