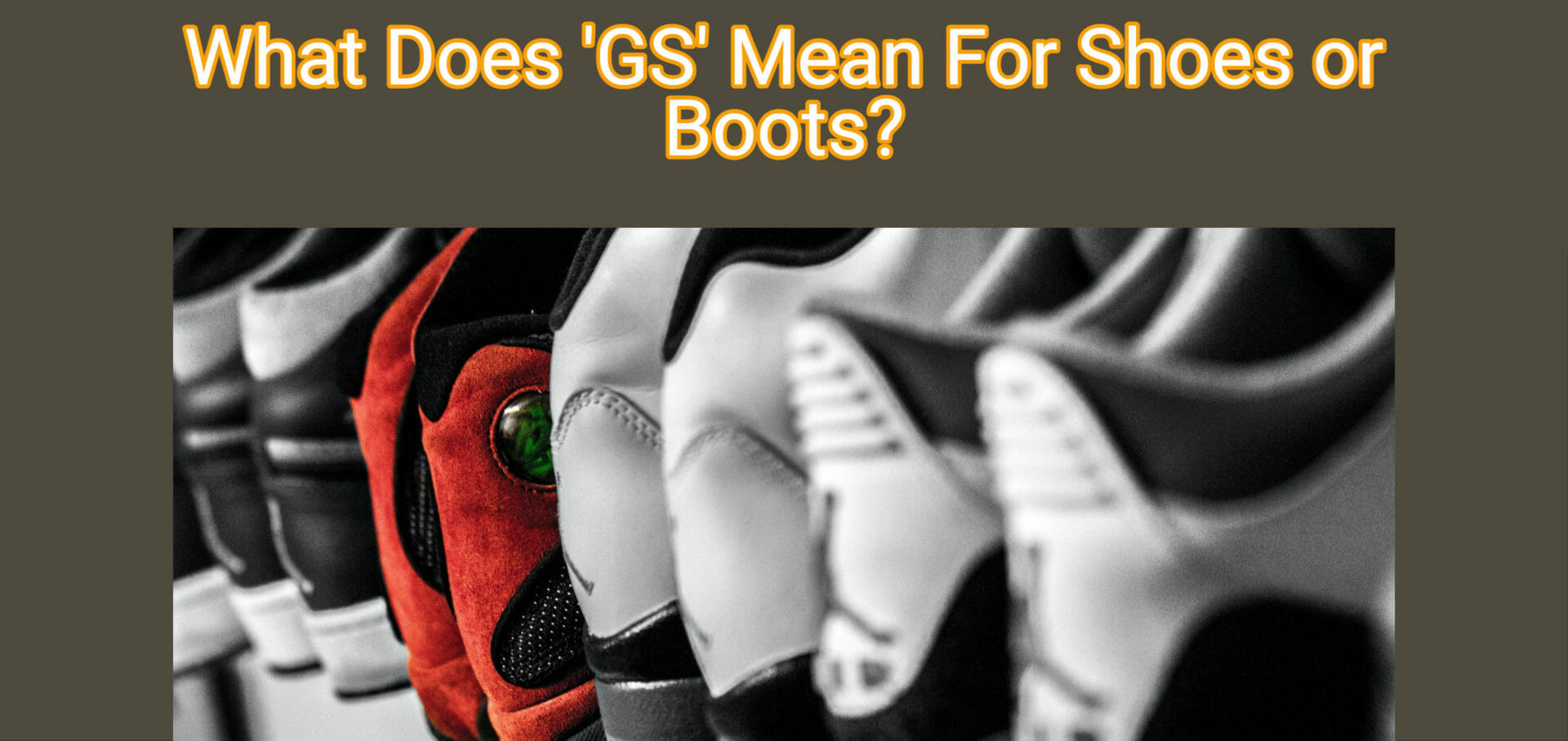 If you know what the acronym GS stands for in a pair of shoes, you or your kids are probably Nike, Air Jordan, and/or basketball fans. The original Air Jordan sneakers were designed for the NBA Finals MVP Michael Jordan in 1984. However, GS is no longer unique to Nike sneakers and Air Jordans. What does GS stand for in Nike shoes, and what does GS mean when buying shoes or boots for kids? Is it relevant for adult shoes and boots too?
What Does GS Stand For In Shoes?
The acronym GS stands for grade school-aged-children shoes. Grade school is the expected shoe size range for kids in grade school. The shoe size is geared toward a specific age group, making it easier to select the correct shoe size for your child with the wide range of shoe fits.
Where TD is a shoe size chart for toddler-sized feet and PS for preschoolers, GS is a shoe size chart for kids old enough to be in grade school.
What Does GS Mean For Jordans? 
Jordan GS, meaning in shoes, is the size modification specifically for Nike sneakers and Jordans. Nike Air Jordan shoes are the main reason for the grade school shoes acronym.  The Jordan grade school sneaker's shoe size measurement coincides with a child's average shoe size.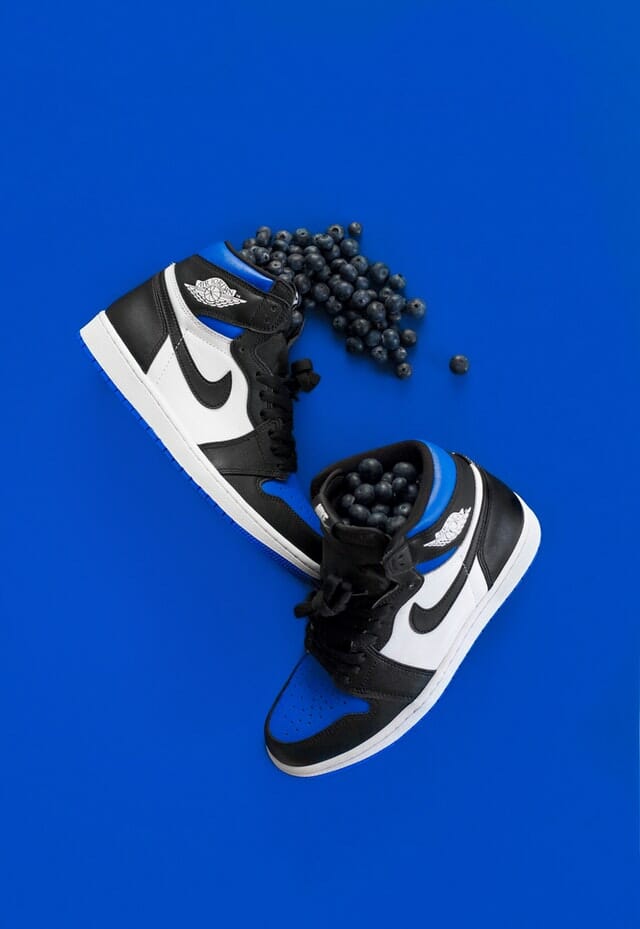 Although Nike mainly used the acronym for their Air Jordan line, it is no longer exclusive to Nike and the Air Jordan brand. Other brands have followed their example of creating shoe sizing charts for kids in specific age groups.
More Shoe Acronyms
GS isn't the only acronym parents should be aware of when buying shoes for their kids or adults with smaller feet. You will notice on the GS sizing charts other letters too.
Y Sizes 
Y stands for youth and C for a child. A number followed by the letter y indicates the expected shoe size for an average child at that age. For example, 4Y stands for a size four shoe, which generally fits a ten-year-old youth. 
Children develop and grow at different paces. A child's feet, just like clothing sizes, could be larger or smaller than their age group. Use the indicated size shoe as a guideline to select the correct size shoes for your kid. 
A 7Y shoe is for a child, whereas a 7M indicates an adult medium-width shoe. Although the same size in length, one shoe is designed for a child's foot and the other for an adult.
K Sizes
The letter K stands for kid and indicates shoe sizes the same way as Y sizes. Stores use the letter K and Y interchangeably; they mean the same thing. For example, a 7K is the same shoe size as the 7Y US. Likewise, C and PS are for younger kids and target the same age group.
OG 
The acronym OG stands for original or original release; it has nothing to do with a kid or adult boot or shoe sizes. The OG Nike, Air Jordan sneakers have different color arrangements and patterns on their sneakers than to new Air Jordans, even in the same line. These original colorways indicate the originality of the sneakers and are marked with the acronym OG. For example, OG Air Jordan 1 would be the 1985 release with its unique arrangement of colors; the OG also indicates that it is the first release and not a re-release. If you have an authentic sneaker collection, then the OG acronym will help identify coveted releases like the first release Jordan brand sneakers.
Retro
Unlike OG, which is the original release of a shoe, Retro indicates the re-release of a colorway after the particular sneaker model's original release. The Jordan brand uses OG and retro acronyms to differentiate between the original release and retro sneakers. 
GR
GR stands for general release. GR refers to mass market sneakers produced in large volumes. GR sneakers can become available in a variety of colorways at once.  
GG And BG
An entire range of casual sneaker sizes could fit boys and girls; their foot size and shapes don't differ that much at that age. However, there are sneaker designs specifically for boys or girls. You'll notice grade school shoes marked with GG or BG acronyms.
GG stands for girls grade school sizing 
BG stands for boy grade school sizing
What Range Of Sizes Are GS Sizing?
GS shoe sizes range from US 3.5 to 7 or S-XL. The next size is men's 7.5. The GS sizes will run from UK 3 (similar to US 3.5Y) to UK 6 (similar to US 7Y) in the UK sizes. For more details, check out this GS Shoe Size Chart. (add a link to our GS shoe size chart article)
TD (toddler) and PS (preschool) shoe sizes are the smaller sizes. Infant shoe sizes run from 0-4, toddler sizes from 2-10, and 8-13 are typically marked with a K for kids. Preschool foot size range from 10.5-3 or 4-7X. Bigger kid's sizes range from 1-7. For example, a 5T is for a toddler, but 5K is for older kids.
Can Adults Wear Grade School Shoes? 
Yes, adults with a smaller foot size can wear the large GS sizes. For example, US GS size 4Y is approximately the same size as a woman's size 5.5, and the GS 7Y runs about the same as a men's six or woman's 8.
To convert a regular woman size sneaker to Jordan's grade school girls size, subtract 1.5 from your standard shoe size. For example, an average size 8 in a woman's shoe would be a size 6.5 in a grade school girls size. 
Quality and price could differ between GA and adult sneakers. GS sneakers could be cheaper than buying the same sneaker in adult sizes. 
How To Measure Your Child's Feet
The heel-toe length is the most common foot measurement used to assess the average foot size and the strongest indicator of your child's shoe size. However, the instep size, foot width, and arch height can also affect how comfortable the shoe fits.
Measure your child's foot size when they stand straight with their back and heels against the wall. Use a tape measure to meet the foot length from the heel to the biggest toe of each foot. Always measure feet in the afternoon; feet swell and are slightly bigger later in the day than the actual size early in the morning. 
When you enter the measurements of your child's feet into a sizing tool, it will give you the correct shoe size for your child. If one foot is larger than the other, buy sneakers size for the larger foot. 
Sneakers may be the most comfortable pair of shoes for a day at school, at the park, or casual wear, but isn't suitable for dressier occasions. Irrespective of the occasion and type of shoes needed, shoes should fit right for the most comfort and support.
When buying boots, sneakers, or shoes for your child, use the brand-specific size charts for shoe size. A conversion chart will help parents with international shoe size systems and the various shoe sizing of designer sneaker brands. Kids should try on the shoes before parents buy them; it saves a trip back to the store if the shoes aren't the correct size. Kids' feet grow; make sure the shoe is the same size as your child's current size.