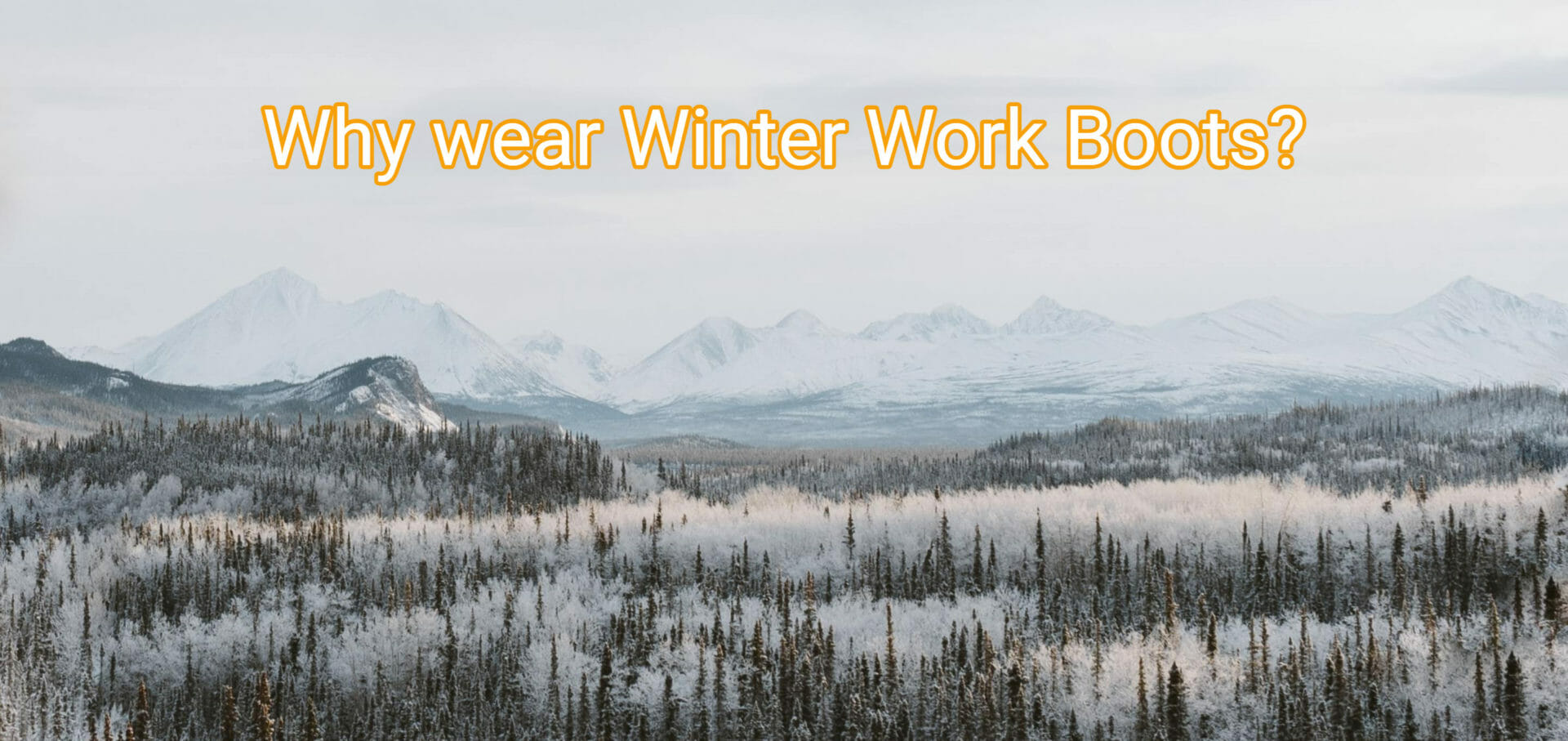 Warmth, dry feet, traction, and extended life of footwear are the main reasons for wearing winter work boots instead of regular work boots in cold weather. Comfortable work boots in the winter mean waterproof and insulated work boots with the required safety features for the job site.
Winter Work Boot Advantages
Keep Your Feet Warm – Insulation
A pair of winter work boots with the proper insulation can keep your feet and body warm. Body heat circulates if kept inside; one way of preventing body heat loss through extremities is wearing insulated work boots in cold weather. 
Boot insulation keeps a warm foot snug by keeping the heat inside the boots. Your feet and body generate the heat necessary to stay warm, not the insulation; the insulation function is to avoid body heat from escaping. A work boot for winter should have insulation and a roomy toe box; the combination works well together to keep your feet warm. 
Wearing warm merino wool socks with comfortable work boots gives extra warmth without causing feet to sweat from too much heat. Sweaty feet in boots are normal, but some sock materials have better moisture-wicking features than others. For example, merino wool socks will keep feet in boots warm without excessive sweating, whereas cotton socks are great for warmer temperatures but have poor wicking benefits.
Which Is Warmer Composite-Toe Boots or Steel Toe Boots? 
Ample toe box room is more important for warmth than choosing between composite-toe boots or steel-toe boots. Heat emitting from the feet collects around the forefoot and toes in the air pocket if the toe box is roomy, providing space for air circulation.
Although a non-metallic work boot (composite toe boots) is better for cold weather than steel-toe boots and safe to wear, some job sites require heavy-duty work boots like steel-toe boots for better foot protection. You would think your feet will be colder in steel-toe boots than composite-toe boots because of metal's thermal conductor abilities. Boot manufacturers know what is expected of heavy-duty work boots from safety regulation requirements and winter conditions perspective. The boot companies manufacture and sell composite-toe boots and steel-toe boots with insulation, waterproofing, and boot safety features that comply with additional work boot safety requirements for specific job types.
According to the Occupational Safety and Health Administration's cold stress guide, insulation and waterproofing are key factors for people working in cold temperatures. Merino wool socks will give workers that extra layer for warmth when wearing different types of boots like hiking boots, logger boots, steel-toe boots, or composite toe boots. Steel-toe boots versus composite-toe boots are essential when complying with industry standards and safety regulations, jobs, and work environment requirements.
Keep Your Feet Dry
A pair of winter work boots with a waterproof membrane will keep your feet dry. Breathable work boots have a mesh lining that wicks moisture away from feet.
During hot summer months, you need the moisture-wicking features of breathable work boots to keep sweaty feet dry. In winter months, your feet don't sweat that much, and keeping your feet dry from snow and rain becomes more critical. Try working on a long driveway with your top of the line snowblower without insulated boots – you'll see what I mean.
A waterproof layer inside insulated boots also has breathability features; air flows through tiny holes wicking excess foot moisture away from the feet. Water molecules are larger and cannot pass through the waterproof membrane. Breathable work boots for the summer are water-resistant but do not always feature a waterproof construction as snow boots and winter boots. Likewise, all-purpose waterproof work boots are excellent for a mild winter but may not be sufficient for freezing winters.
Avoid Falling With Better Traction
Winter boots, like logger boots, must have deep outsoles with tread patterns and deep multi-directional lugs for aggressive traction. The dig-in traction will keep feet steady and workers safe on any slope or rough terrain. Icy surfaces are incredibly slippery; boots with excellent traction help prevent injuries. Logger boots' design focuses on deep lug outsoles for superior traction on rugged terrain and waterproofing materials to keep feet dry.
Protect Your Other Work Boot Investments
Winter work boots are designed to handle winter hazards. Snow and ice damages leather boots and regular work boots, shortening their lifespan. Comfortable work boots are designed for harsh winters, keep your feet warm and dry, and protect regular work boots from exposure to snow and chemicals. Slush and salt can ruin the wrong kind of boot, leaving ugly stains and damaging the material. 
What Are The Different Insulation Levels To Look For In Winter Work Boots
Insulation is one factor why wearing regular work boots in the winter isn't such a good idea. The type and weight of insulation aren't the same in all insulated work boots. Boot companies manufacture boots with different weights of insulation to accommodate climate and weather conditions.
200g Insulation – Lightweight
200g is the lightweight choice for insulated work boots. It should be sufficient in mild winters and being outdoors for short periods like running errands. People with natural warm body temperatures would prefer lighter insulation to avoid feet sweating from the heat. If your job requires you to move multiple times between the cold outdoors and warm indoors, a 200g insulation could be a better option. 
400g Insulation – Midweight
400g is the most common weight of insulation for work boots worn in moderate winters. The balance between keeping feet warm without excess heat works well for construction workers. The feet will stay warm during breaks and won't be too hot and sweaty when working on outdoor projects.
600g-800g Insulation – Hefty
Winter boots with 600g-800g insulation are perfect for harsh winters and people working outdoors for extended periods. Construction workers and line technicians, whose workday is spent outdoors, will appreciate the heavyweight of insulation to keep heat trapped inside. If you sit or stand all day without moving around to stay warm, the heavier weight of insulation will help keep your feet warm.
1,000g-2,000g Insulation – Maximum
1000g-2000g Insulation is a good choice for various types of boots like logger boots, hunting boots where the hunter waits for hours in a stand, or miners working above-ground. Maximum insulation is for those extreme conditions; most insulated work boots are warm enough with 400g-600g insulation.