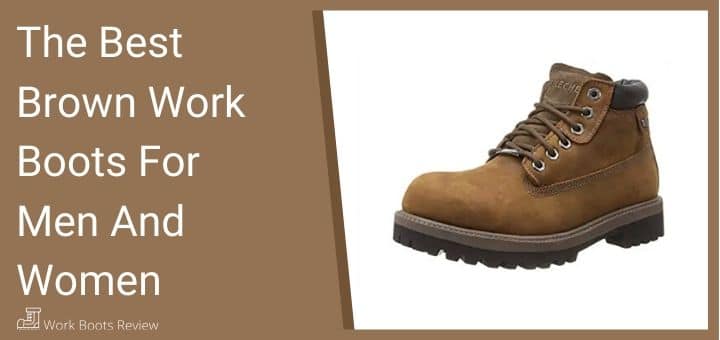 The type of shoes you wear can make or break your overall look. And for those who want to have a little less edgy look, then brown work boots make the excellent go-to option.
Easy to pair with most outfits, this all-time classic also never goes out of style. Whether for work or for casual strolls, there's a pair of brown leather work boots that will surely match your needs.
Features of The Best Brown Work Boots
A good pair of brown work boots truly is a good investment. Perfect both for day-to-day casual and work use, these boots generally boast a classic look that can never go out of style.
Essentially, the best brown work boots will have the following features:
Nice, durable, uppers that are crafted using premium, oiled, or smooth brown leather

Sturdy, high-traction rubber or synthetic outsoles, offering reliable grip against varying surfaces

Moisture-wicking linings that keep the feet not only dry but from developing unwanted odors and bacterial buildup as well

Durable construction yet breathable, allowing the feet to feel comfortable all-day

Waterproof construction, allowing the boots to be fit for use under wet environments

Reviews: The Top Men's Brown Work Boots 
Whether your work uniform calls for a brown pair of work or you are simply looking for work boots that are brown in color, this section of the article will get you covered.
So without any further ado, here's our list of the top brown work boots for men.
---
---
---
---
---
---
Nex on the list is brown work boots from a brand that has been tested by time. The Wolverine Men's Raider is a comfortable pair that boasts some of the brand's most iconic boot features.
---
---
---
Reviews: The Best Women's Brown Work Boots
A reliable pair of timeless brown work boots will surely make a good addition to a woman's wardrobe. Whether it's for work, a casual stroll, or a long hike, the best brown work boots will always be worth the investment.
That said, here are six of today's top-performing women's work boots.
---
---
---
---
---
---
---
---
Comparison Table: The Top Men's Brown Work Boots
Comparison Table: The Best Women's Brown Work Boots
Which Pair Of Brown Work Boots Is For You?
Brown work boots are just among those things that will surely never go out of style. Absolutely timeless, these rugged and sleek boots are a great add up to anyone's wardrobe.
Additionally, brown leather work boots simply add up that flare to the outfit. These boots can easily match work uniforms and casual outfits.
And with all of these stylish, rugged, durable, and comfortable boots – which pair do you think will fit your needs and personal preferences the most?