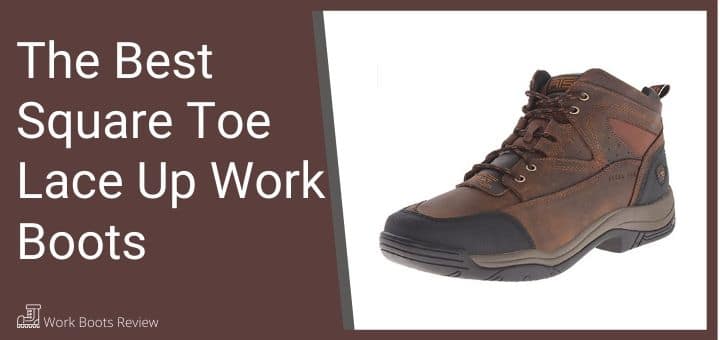 While square toe work boots are incredibly stylish, it can be challenging to find a solid pair of square toe lace-up work boots.
More than just a fashionable trend amongst cowboys, below the advantages of wearing a lacer square toe are discussed, their best features as well as where you can purchase a pair.
---
Advantages of Wearing A Square Toe Lace Up Work Boot
While there is little difference in wearing a square toe over a round toe boot, they will prove to be far more practical than a pointed toe.
A pointed-toe boot is only genuinely suitable for cowboys who want to insert their boots faster into stirrups. For construction, this type of boot will just get in your way and deteriorate very quickly!
Here are a few advantages why wearing a lace-up square toe is better than wearing a traditional pull-on square toe or any other kind of boot.
When leaning over or kneeling down, your feet will remain in one position.
The toe box of a square toe shoe is traditionally wider than a pointed or round toe, making them more suitable for bigger or wider feet.
The square shape has a more masculine feel to them and is seen as a lot more stylish by many.
In the cowboy boot world, square toes have been the leading trend in fashion for the last decade.
A lace-up square toe allows you to adjust the tightness, whereas a more traditional pull-on tends to have one set tightness.
---
Features of a Good Square Toe Work Boot
The features below will make your square toe lacers better than the average square toe boots.
EH Rated – EH or Electrical Hazard rating means that the boots have been tested and proven to protect you against electrical hazards like shocking yourself or being current conducting.
Superior Traction – Square toe boots were not originally made for working in and many of them today are fashion items. Make sure your square toe lace-up boots have perfect traction to prevent you from slipping on the job.
Torque Stability – Torque stability means that the boots will be far more stable, having been scientifically crafted to maintain a centered balance.
Lightweight Composite Parts – Lightweight composite safety toes and shanks will help to take the strain off your feet, which is complementary to the wide toe box a square toe has to offer.
Shock Absorbency – Work boots with shock absorbers will take the brunt of the impact before deflecting the force away, keeping your feet from getting fatigued.
Moisture Wicking – A moisture-wicking mesh lining protects the feet from moisture build-up and blisters, keeping them dry and comfortable.
---
Reviews: The Top Square-Toe Lace-Up Work Boots
Below are the best of the best square toe boots, rated for their durability, comfort and safety profiles.
---
1
The classic modern lace up work boot reinvented with a square toe, the ariat's Terrain is perfect for all-day protection and style.

Top quality full-grain leather and Cordura uppers attached to an abrasion resistant outsole for increased durability and endurance.

The square toe profile gives your toes more room, especially if you have wide feet.

A moisture-wicking lining ensures that your feet remain dry and fresh after a long day of heavy duty work.

Advanced Torque Stability technology combined with a lightweight composite shank provides you with exceptional balance, grip, and support.

Duratread outsoles with potent shock absorbency offer maximum traction and prevent foot fatigue.

The front conceals a toe-protecting steel toe to keep your feet safe under high pressure.

---
2
Ariat's high 8 inch profile cascade work boots incorporate the Western square toe boot style into a functional lace up work boot.

The outsoles are oil- and slip-resistant, preventing you from falling while on the work floor.

Crafted from premium full-grain leather for the best quality.

The soles are heat resistant allowing you to work in high temperatures without scorching yourself or melting the underside of the boots.

A steel toe that meets all safety standards is included to match the wide square toe profile of the boot.

Goodyear welt construction ensures the soles will stay attached to the base longer.

A lightweight shank, Advanced Stability Technology, and a moisture-wicking, gel shock-absorbing footbed ensure your feet are always dry, comfortable, and optimally supported.

---
3
Third, on the list is the Durango Maverick XP. An absolutely timeless pair, these square-toe lace-up boots feature durability, convenience, and unmatched comfort under a very reasonable price tag.

The Durango Maverick XP boasts durability as the pair is made of full-grain leather uppers.

The pair is built for all sorts of terrains as the boots are engineered with sturdy rubber outsoles.

Designed to provide unbeatable comfort, these square-toe lace-up boots are equipped with soft mesh linings.

These boots are also equipped for use under wet conditions as they come with waterproof membranes.

The Durango Maverick XP is also durable without the added weight as the pair is carefully crafted with fiberglass shanks.

---
4
Square toe, lace up and lightweight with a composite safety toe, these western-style work boots are great for outdoor jobs.

Ariat's signature Advanced Torque Stability are present in these modern cowboy safety boots.

The soles are both oil and slip-resistant, keeping you up with excellent traction.

In-Built electric hazard protection helps to prevent you from accidental shocks.

Superior style, full-grain leather, and Goodyear welt construction ensure a long and happy relationship with your favorite pair of safety boots.

The lining is made from a ventilating mesh to channel any perspiration out the boot.

---
5
The ideal work boot for farm workers and wild horse riders, Justin's Original Boots has over 150 years of experience at servicing true cowboys.

The square toe design with vintage stitchwork makes these the boot of choice for many.

Made with superior traction outsoles to prevent slippage.

Gel shock absorbers in the soles will deflect most of the shock that comes your way, alleviating pressure off your joints.

A safety toe combined with a premium leather upper protects your feet for the majority of hazards on the ranch.

The orthotic insoles are built for comfort and can be removed should you need a different type of support.

---
6
The King of Square Toe safety boots, Ariat is proud to present the Overdrive work boot.

A wide square toe profile is complemented by a lightweight composite toe as well as abrasion-resistant ExGuards to keep the boots and your feet in excellent condition.

Premium leather covering has been treated to be transformed into a Waterproof Pro solution which will keep your feet 100% dry.

Advanced Torque Stability and Duratread outsoles prevent you from toppling over, even on the most slippery of surfaces.

The shoes have been Electrical hazard rated and will prove useful against electrocution.

A composite shank, moisture-wicking insole, and a comfortable footbed will keep your feet dry and happy all day long!

---
Comparison Table: Square Toe Lace Up Work Boots