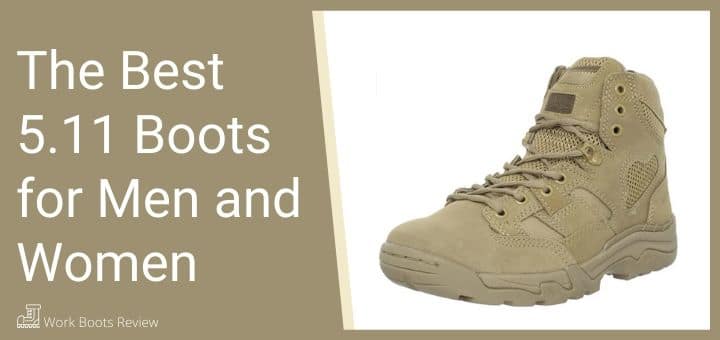 Are you looking for a good pair of 5.11 boots? We've reviewed dozens of men's and women's 5.11 tactical boots & narrowed them down to the best ones.
Known as one of the top-selling brands when it comes to tactical and outdoor footwear, 5.11 has been a go-to for both tactical professionals and enthusiasts.
It simply is a brand that is built on a foundation of durability, value, and comfort which made its products a cut above the rest.
Finding the perfect pair of 5.11 boots may be a little tricky, but surely, it is worth the investment.
---
Advantages of Wearing 5.11 Boots
5.11 is a brand established in 2003 that has been manufacturing purpose-built apparel since its inception. The brand is popular for its wide range of boots that are functional, durable, and comfortable to wear.
Wearing 5.11 boots comes with the following advantages:
Most of them are lightweight, allowing the feet to move freely and comfortably

Most 5.11 boots are AR670-1 and/pr AFI 36-2903-compliant, fit for military use

Designed to be energy-savvy which keeps the feet from feeling fatigued

Durable and sturdy which can withstand varying tactical conditions

Most of these boots come with side pockets that are fit for tactical purposes

Features of Tactical 5.11 Boots
A good pair of 5.11 boots mostly meets all of the uniform and quality standards set by the military and other tactical industries.
Below are some of the best features of the product line's boots:
Crafted with a mix of leather and nylon for the uppers, giving the boots both durability and breathability

Sturdy rubber or synthetic outsoles that provide excellent traction

Cushioned insoles that are engineered with Ortholite sock liners for comfort and protection from unwanted odors

EVA midsoles along with non-metallic shanks for full support and stability

Optional functional side-pocket for tactical purposes

Reviews: The Top Men's 5.11 Tactical Boots
Whether you are an active-duty soldier or a police officer, 5.11 has established a wide selection of tactical boots that are fit for daily use. Below are some of the brand's top-selling and best-performing boots for men.
---
---
---
---
---
---
---
---
Reviews: The Best 5.11 Women's Boots
Women work just as hard as men in the security and operations industry. For this reason, they, too, deserve the best pair of comfortable and durable 5.11 boots out there.
Here are six of the top-performing 5.11 boots for women.
---
---
---
---
Comparison Table: Men's 5.11 Tactical Boots
Comparison Table: Women's 5.11 Tactical Boots
Which Pair Of 5.11 Boots Is For You?
Whether you work as an active-duty military service member, a police officer, or a security officer, 5.11 has the right pair for you.
And with the wide selection of 5.11 boots, finding the perfect pair that is fit to meet all of your daily tactical needs should be easy.
Which ones do you think are the best pairs of 5.11 boots for men and women?