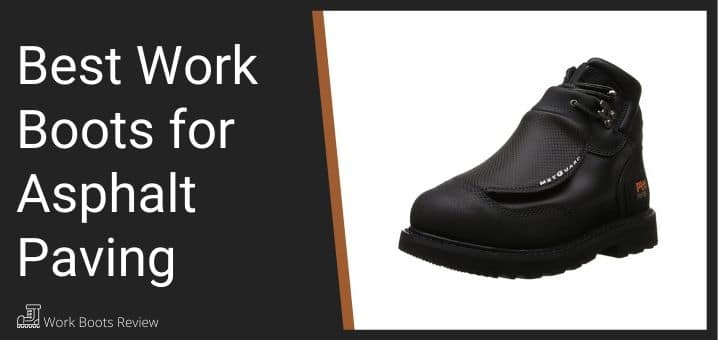 Are you looking for the best work boots for asphalt paving?
Asphalt Paving. Let's face it, is brutally hard work, that is hard on your body, and hard on your feet, with searing heat and unforgiving hard and hot surfaces.
Wearing the proper work boots for Asphalt paving can help to protect your feet against the hazards and risks involved with this industry, as well as provide long-lasting comfort and pain relief from standing on your feet all day.

---
Does an Asphalt Paver Really Need a Specialized Work Boot?
Yes, definitely yes, whether you are part of the paving crew, or even if you are just a supervisor or tool supplier, you do need special work boots in any job description regarding Asphalt Paving.
Asphalt paving is absolutely exhausting and takes a huge toll on your feet and body, so the last thing you want is uncomfortable and unsupportive shoes or shoes that do not protect your feet against this harsh environment.
Unfavorable conditions in this industry include working with hot molten tar that can reach up to 300 degrees Fahrenheit, and walking on extremely hard surfaces all day.
---
Advantages of Wearing Asphalt Paving Boots
Asphalt paving can be a very tough job that requires not only hard work but also the right equipment.
Wearing asphalt paving shoes is also crucial as the right pair attributes to the overall safety of the worker.
Essentially, wearing a good pair of paving boots comes with the following advantages:
Keeps the feet safe and protected from hazards that come with asphalt paving

Ensures that the feet feel comfortable all day, even on extended hours of wearing

Gives the feet snug fit along with secure laces that won't get in the way of working

Provides excellent ventilation and breathability for the feet which is especially helpful during extremely hot workdays

Keeps any unwanted debris from getting in and keeps the feet dry all day

---
Hazards Involved with Asphalt Paving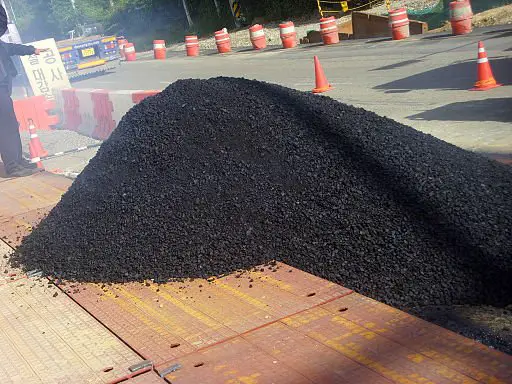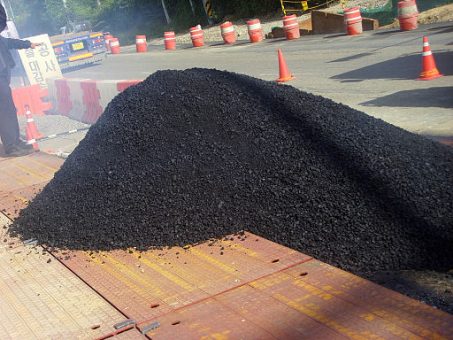 Extreme Heat – with Asphalt paving you are working in extreme heat conditions in some case, with extremely hot tar.

Molten Tar – The Molten tar can reach up to 300 degrees Fahrenheit which is extremely dangerous and hot, this can burn your feet and cause a blister and overheat.

Hard Surfaces – Asphalt surfaces are hard and unforgin=ving, placing much impact a strain on your feet and lower limbs when walking or standing.

Sharp Objects – You may come into contact with sharp and protruding objects that can puncture through thin or unprotected soles of your shoes causing an injury.

Slippery Surfaces – asphalt can have loose gravel and become slippery, particularly when it rains or becomes wet.

---
Features of a Good Asphalt Paving Work Boot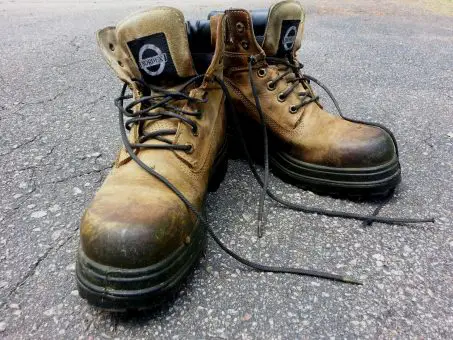 Flat Outsole – One of the key features in a good Asphalt Work Boot is a FLAT OUTSOLE. You also want a shallow tread pattern or no tread patterns to prevent pebbles and gravel from collecting and clogging up your soles. No heels are a must because any heels or patterns can be imprinted on the soft asphalt. A wedge heel or sole is likewise a good option and can provide some support and protection features.

Heat Resistant Sole – Both your insole and outsole needs to be manufactured from heat resistant materials that can withstand very high temperatures. A Polyurethane compound that is specially designed to withstand extreme heat can be used. You need to look at up to 8 hours of heat resistance for up to 300 Degrees Fahrenheit.

Safety Toe – In any industrial environment or occupation a safety toe work boot is a must. In the case where your work in extreme heat conditions I would recommend a Composite toe rather than a metal or steel toe, as metals can become quite hot and will transfer heat. Look for fiberglass, plastic or another composite material toe.

Full Gusset tongue – This is quite important to prevent hot molten tar or stones and debris from entering your shoes. Likewise, a metatarsal guard can be very helpful in this regard.

Fit – A shoe that fits improperly is not only uncomfortable and a health hazard, but likewise becomes a safety risk. Make sure your shoes fit well and do not chafe or squeeze when you walk.

Comfort – for long hours on your feet support and comfort features are a must, so look for cushioning, and arch support and other comfort features, as well as a moisture-wicking lining, and breathable design.

Durability – Asphalt Paving is a hard job in an even more harsh environment, durability features are key in this aspect. I would recommend tough and durable leather uppers and a Vibram or rubber outsole with Goodyera Welt or Cement construction.

---
Reviews: The Best Asphalt Paving Work Boots
Without further ado, here are the best available Asphalt Paving Work Boots.
---
1
Topping the list of the best asphalt boots is a pair from Timberland. The Timberland Pro 40 000 features a flat and heat resistant sole, along with a steel toe and metatarsal guard.
These Timberland asphalt boots are durable yet comfortable, providing complete overall protection for the feet.
Leather uppers that are durable and comfortable with a full metatarsal guard to protect your feet.

A protective steel toe for toe and forefoot protection.

Similarly features a thick heat-absorbing, slip-resistant and durable rubber outsole.

Inside there is a comfortable insole and smooth interior lining for comfort and support.

---
2
Next on the list are Cofra asphalt work boots. Boasting durability, comfort, and extreme protection, the COFRA® Men's US Road Treadless Asphalt Paving Work Boots may just be the best work boot for asphalt paving.
Leather uppers with a crush-resistant composite safety toe and a puncture-resistant safety plate under the sole.

Heat resistant polyurethane/Nitrile rubber outsole.

An Insulated thermic insole to protect your feet against high temperatures.

Anti-perforation feature that ensures the safety of the feet against electrical hazards.

Completely chemical resistant, and designed to withstand harsh refinery conditions.

---
3
Making it to the list are Irish Setter boots. The Irish Setter® Men's 83606 Asphalt Paving Work Boots feature outsoles that are specifically designed and constructed to work on extremely high heat surfaces.
These paving work boots can also withstand conditions over 300 degrees Fahrenheit, making them easily among the best work boots for asphalt work.
Durable genuine leather uppers and a comfortable and cushioned polyurethane footbed.

The outsole is made from rubber and heat resistant up to 475 degrees Fahrenheit.

There is a Non-Woven interior lining to keep your feet dry and comfortable.

The Heel is molded to the counter for slight stability and support.

Features electrical hazard safe materials.

Meets ASTM safety standards.

---
4
Dr. Martens is well known for making the most durable and highly slip-resistant work boots. The Spate offers you just that, along with electrical hazard safety and a comfortable fit.
Soft and flexible leather uppers that are durable and comfortable.

A thick rubber outsole with a very light tread and good heat resistance.

Electrical hazards safe materials.

Extremely durable construction and a waterproof membrane for protection in wet conditions.

---
5
The Oliver 65 Series from Honeywell is one tough and highly protective work boot, you will not find more robust and safe than this boot.
This work boot is Liquid, chemical and acid resistant, with SPR leather uppers and a TPU safety cell reinforcement for protection against cuts and abrasions.

Constructed with heavy-duty Kevlar stitching on all the critical seams.

There is an all-terrain Dual-density Soiling Technology, soft shock absorbing rubber midsole and a high-density durable rubber outsole.

The rubber outsole is heat, oil, slip, and chemical resistant with an additional underfoot puncture plate that is non-metallic and highly flexible.

This work boot likewise meets ASTM standards for Electrical Hazard safety.

---
Index Table: Top Rated Asphalt Paving Work Boots
Which Pair of The Best Work Boots for Asphalt Paving is For You?
Asphalt paving, without a doubt, is a demanding job. And more often than not, finding a good pair of asphalt paving work boots can be tricky.
However, keep in mind that not all asphalt paving work boots are created the same, and when it comes down to finding the perfect pair, the answer will always be dependent on your preferences.
The durability, comfort, protective attributes, and fit of the boots are among the top things you should consider in finding the best boots for asphalt paving.
That said, which one do you think is the right pair for you?